Take this stat: In 2019 (the event was cancelled last year), 35 percent of lineups were created sub-optimally, meaning they had absolutely no chance to win the contest's top prize. The structure of your lineups—if done successfully—will give you a better chance than most weeks just from the start. Make sure the six players in your lineup are from different quadrants, meaning they won't meet until the Elite Eight. Never pick two players from the same groups—you are guaranteeing you won't have six players making it as far as they can. And that's how you make real money this week.
DraftKings scoring embraces the match-play format, and you must build your lineups accordingly. Here's how DraftKings scoring is different this week: Winning a match (five), Winning a hole (three), halving a match (two), halving a hole (0.75), losing a hole (-0.75), number of holes not played (due to you winning a match early) (1.6) and then various streaks: winning a three consecutive holes (five points) and never trailing (7.5 points).
Of course, you'll need to pick the correct players, which is tough. In 2019, only five of the top 16 seeds made it out of their group. So embrace the volatility!
Here are my favorite plays (and a couple golfers most likely to disappoint) in each price range for the 2021 WGC-Match Play.
High Upside: Rory McIlroy ($10,200 DraftKings)
Let's be clear, McIlroy is struggling right now and hasn't hoisted a trophy since the end of 2019. You know what else he hasn't done since 2019? Play in the WGC-Match Play, where he has dominated during his career. The idea is simple, it's really hard to win a stroke-play event against 140 other golfers. You need to be nearly perfect and get lucky for that to happen. In match play, you only have to beat one guy, which means blow-up holes aren't as detrimental. I'm definitely concerned about McIlroy, but this might be the spark he needs considering he's boasting a 16-6-2 record at this event since 2015.
Safest Option: Collin Morikawa ($10,400 DraftKings)
It's rare for a debutant to make noise in an event as unique as this, but Morikawa has proven that he's not afraid to make noise! Already with four wins in his career, including the most recent WGC event, Morikawa will play the Match Play for the first time. His putter scares me, but his ability to give himself repeated looks at birdie is going to grind on his opponents all week long. Speaking of birdies, Morikawa ranks fourth on tour in birdie average this season, which is how you go about winning holes in match play.
Most Likely To Disappoint: Justin Thomas ($11,200 DraftKings)
Thomas paid the bills at The Players—and I love the state of his game, but he's in a really difficult group with Kevin Kisner, Matt Kuchar and Louis Oosthuizen. Kisner hasn't been in great form but is the defending champion and has reached the championship match in back-to-back years. No golfer has won more matches in this event than Oosthuizen since 2015 (17-7), and Kuchar boasts a 11-6-4 record. Per the RickRunGood.com golf database, all three of Thomas' opponents rank inside the top-six in points earned at this event since 2015. It's a terrible draw.
Pick To Win: Bryson DeChambeau ($10,900 DraftKings)
Imagine how deflating it's going to be to play against DeChambeau in match play as he bombs it past you and hits wedge into every green. Not only is he one of the best players in the world, but his playing style should be devastating in Match Play. For a guy who loves information, he will have plenty of information from his opponent who will likely hit every approach before he does. If that wasn't enough, DeChambeau is one of the best putters in this field, which has plenty of correlation to success at the WGC-Match Play.
High Upside: Louis Oosthuizen ($8,100 DraftKings)
If Justin Thomas is in the "Group of Death," then so is Oosthuizen, but his record in match play is too good to look past. He has a stunning 17-7 record at this event, which is more wins than any other golfer since the start of 2015. Whoever ends up getting out of this group has a fairly clean path to the Final Four.
Safest Option: Paul Casey ($8,900 DraftKings)
Casey is almost the de-facto favorite in his group, considering how much Webb Simpson has struggled at this event. Simpson has a dismal 3-7-2 record in four trips to Austin, while Casey touts a 11-6-2 record. He will go as far as his putter allows him, but he seems to be a great option to advance out of the group stage.
Most Likely To Disappoint: Sungjae Im ($8,800 DraftKings)
As much as I love backing Im, there are a few red flags that have me concerned. Per my modeling at RickRunGood.com, he has lost strokes on approach in four of his past five starts, which is a significant concern. He has off set that with sublime putting, but if that goes sideways this week, he's going to have trouble making it out of his group. If he does make it out of his group, he has a Sweet 16 matchup penciled in with Dustin Johnson.
Pick To Win: Matt Fitzpatrick ($8,700 DraftKings)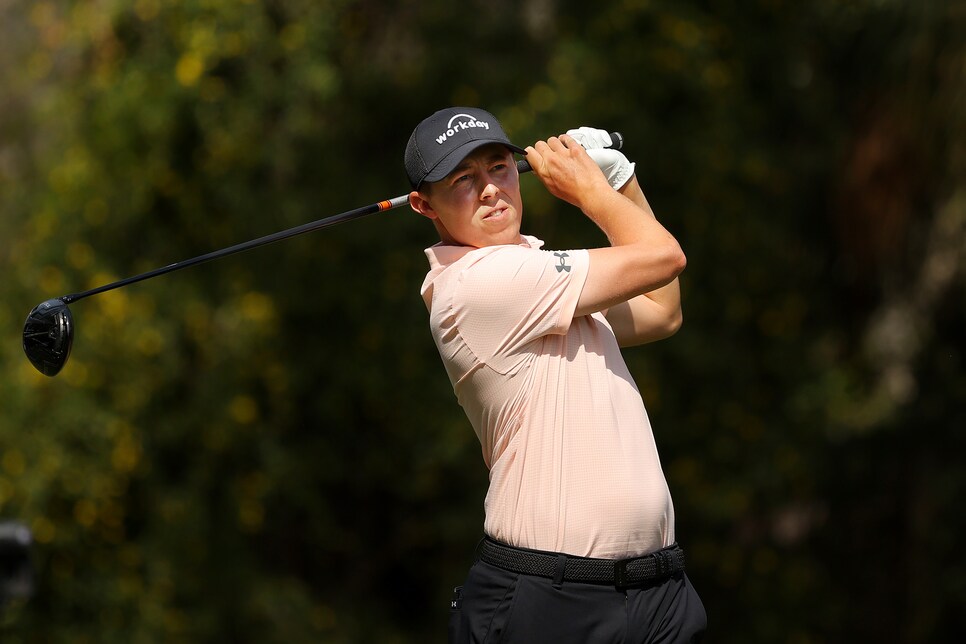 Fitzpatrick is in the midst of the best statistical season of his career, now gaining at least 0.20 strokes per round in each major strokes-gained category. There are few golfers on tour who can boast that accomplishment. His strong suit lies with the flat stick, which can be devastating in match play. He also gets a group draw with lots of question marks—Wolff, Conners, Spieth.
High Upside: Jason Kokrak ($7,500 DraftKings)
Jason Kokrak doesn't back down from any challenge, as evidenced by his victory at the CJ Cup last year. Also, most people probably don't realize how good he's played. He enters this week with three consecutive top-10s—The Players, Arnold Palmer Invitational and WGC-Workday. Those are stacked fields and difficult courses. He draws a group of Finau, Zalatoris and Frittelli, which makes Kokrak very appetizing.
Safest Option: Lee Westwood ($7,700 DraftKings)
After a missed cut last week, Westwood should have gotten some much needed rest. In terms of recent form, his run of back-to-back runner-up finishes is the best in this pricing range, and he will be in a very comfortable group with three other Europeans—Hatton, Garcia, Wallace. The savvy veteran seems likely to make it out of his group, but I would start to worry the deeper he goes. Remember, this will take seven matches in five days to hoist the trophy on Sunday. That's a lot of golf for anyone, especially a 47-year-old Westwood.
Most Likely To Disappoint: Tommy Fleetwood ($7,800 DraftKings)
Fleetwood is super interesting in this event. He's shown brilliance in match-play formats across the globe and is known as one of the better ball-strikers on tour. But I'm worried about his group draw. Not only does he have to battle Bryson DeChambeau, but Si Woo Kim is a madman. Kim could get absolutely scorching hot in a moment's notice and has thrived on Pete Dye courses in his career. This just feels like an awkward situation for Fleetwood, who missed the cut at The Players.
Pick To Win: Max Homa ($7,400 DraftKings)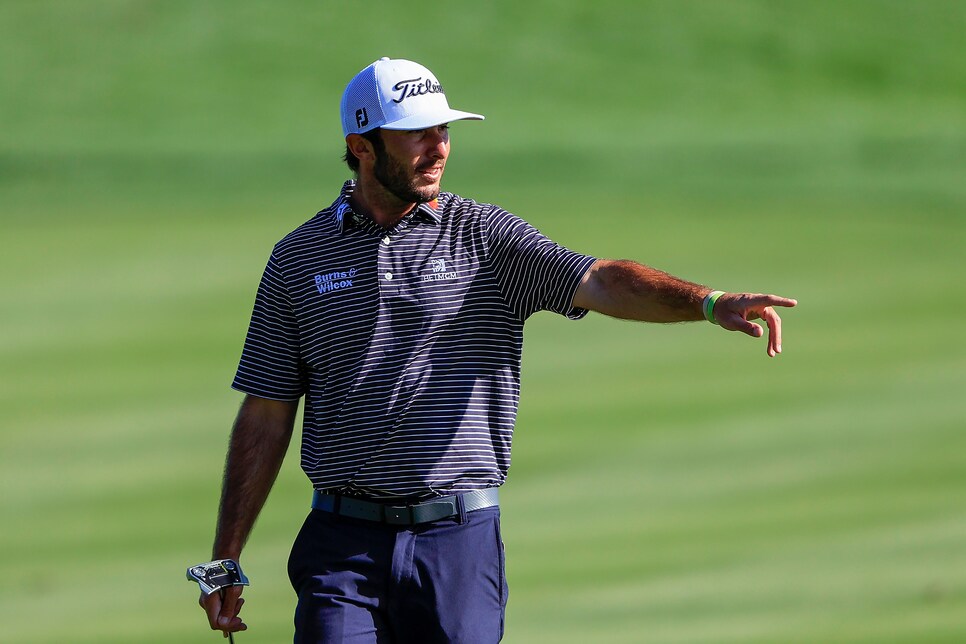 You don't have to go far to see how Homa responds to a pressure-filled sudden-death situation. His victory at The Genesis Invitational was filled with adversity—missing a three-footer for the win on the 18th hole and getting stymied by a tree on the first playoff hole. He was able to bounce back, stay focused and find a way to beat Tony Finau for the biggest win of his career. That's the mentality that makes plenty of noise in match play.
High Upside: Lanto Griffin ($6,900 DraftKings)
There are two things that can allow a golfer to get hot and run over their opponents: iron play and putting. Luckily for Griffin, those are his two best attributes. He ranks inside the top 20 in each of those two categories, which can cause havoc for his opponents. His draw, with Rory McIlroy, is less than favorable but you could argue that McIlroy's recent form leaves him exposed in a format like this. If Griffin has his "A Game," he might be difficult to beat.
Safest Option: Ian Poulter ($6,700 DraftKings)
We all know the story—Poulter is deadly in match play. This has been proven correct at countless Ryder Cups to the demise of the American squads. His record, across Ryder Cups and WGC-Match Play events, is a staggering 43-18-5. He seems to find a way to summon his putter whenever necessary and snatch victory from the jaws of defeat.
Most Likely To Disappoint: Matt Kuchar ($6,700 DraftKings)
For this price, a chance to buy into Kuchar's tournament history seems like a steal. He's 11-6-4 since 2015 and finished runner-up to Kevin Kisner in 2019. That's where the good news ends for Kuchar, who will have to battle against Kisner, Louis Oosthuizen and Justin Thomas to simply get out of his own group. Not to mention recent form, but Kuchar hasn't notched a top 15 in over a year. That leaves us with more questions than answers for Kuchar.
Pick To Win: Dylan Frittelli ($6,500 DraftKings)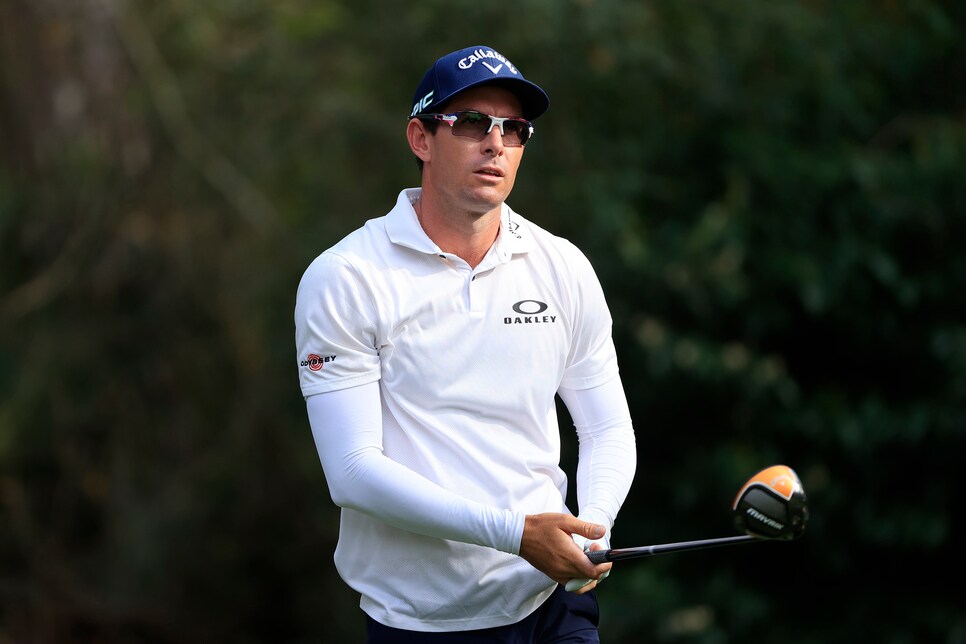 If you're this deep in the player pool looking for a winner, you need to find some upside, which Frittelli possesses. He played well at The Players (T-22) and has earned huge finishes in big events the past few months. Those are highlighted by his T-5 at the Masters and T-11 at the ZOZO Championship. I would argue that his group of Tony Finau, Jason Kokrak and Will Zalatoris is one of the softer groups in this event, giving Frittelli an opportunity to sneak through as the 64 seed.