Must-See Matches
The 10 unmissable group-stage showdowns at the WGC-Dell Match Play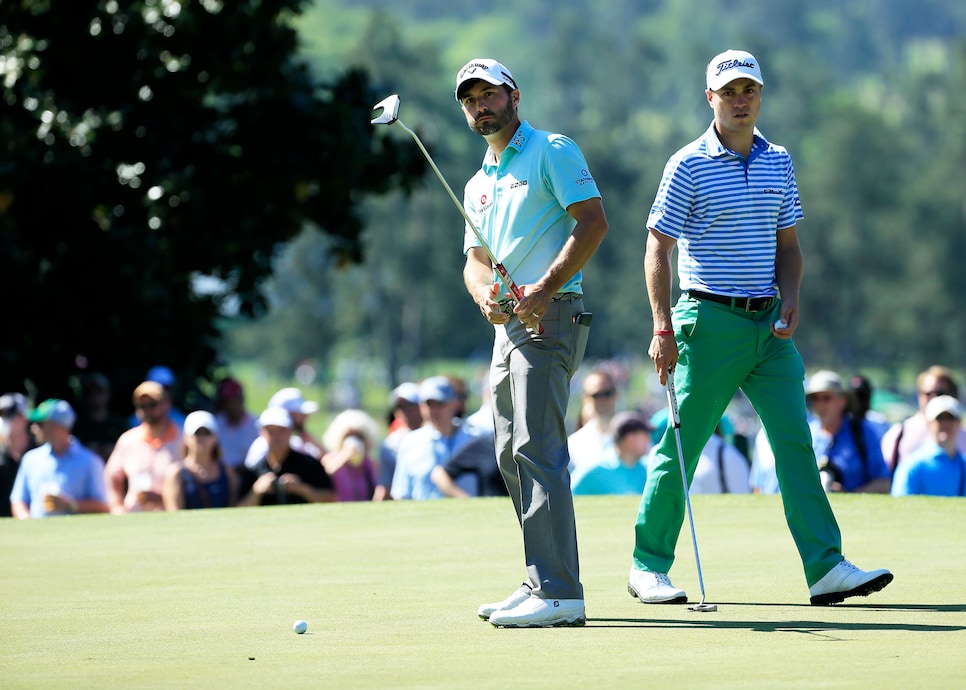 Photo By: Augusta National
AUSTIN — No need for much preamble here. The WGC-Dell Technologies Match Play, for my money the most exciting non-major of the year, begins Wednesday. Groups are drawn, schedules are out and along with all the drama set to play out in Texas, you know we've all got our eyes on another match-play event being held later this fall in Wisconsin.
At Austin Country Club, you get a 2-for-1: A great tournament in its own right, and a preview of sorts for the Ryder Cup. With all that in mind, here are the 10 (plus one) most exciting matches in the group stages, held Wednesday through Friday. We count it down to the best:
Honorable Mention: Daniel Berger, any match
If you're Steve Stricker right now, or the U.S. Ryder Cup team in general, what you want more than anything are young, energetic Americans who are going to pick up the flag and reverse decades of failure. Other than Justin Thomas and Patrick Reed, we still really don't know who those players are. Berger, who turns 28 next month, looks like an obvious candidate: He's tough as nails, he can win and he's not going to shy from competition. Weirdly, though, his singles match-play record (2-8) is very poor. He's ninth right now on the Ryder Cup points list (top six are automatic selections), and frankly, the rest of his group in Austin—Harris English, Brendon Todd, and Erik van Rooyen—look pretty weak by comparison. Berger can show a lot here, and frankly, he should.
10. Patrick Cantlay vs. Brian Harman, Wednesday, 10:13 a.m. (all times EDT)
Speaking of young Americans, Cantlay is 11th on the Ryder Cup list and acquitted himself pretty well in the Presidents Cup, posting a 3-2 record that included a crucial 3-and-2 Sunday win over Joaquin Niemann in 2019 at Royal Melbourne. Cantlay has been decent at the WGC-Match Play, and while conventional wisdom might pick Hideki Matsuyama out as his most intriguing opponent in his pod, the real curiosity lies in what happens against Harman, who, as Joel Beall noted, must always be referred to as a "bulldog" and who has had success here before. Like Berger, Cantlay has a big chance to make a match-play name for himself.
9. Dustin Johnson vs. Robert MacIntyre, Thursday, 2:32 p.m.
As the American story plays out, there is also the parallel drama of the young, mysterious Euros. Who will be the next Poulters and Garcias to make—or, rather, keep—life miserable for the Yanks? MacIntyre is still a relative unknown in the U.S., but he showed some inventiveness and charisma in a Players practice round (note to MacIntyre: stop putting stupid music over your Twitter videos), and I'm curious to see what kind of nerve he's got against the swaggering alpha male of American golf.
8. Lee Westwood vs. Tyrrell Hatton, Friday, Time TBD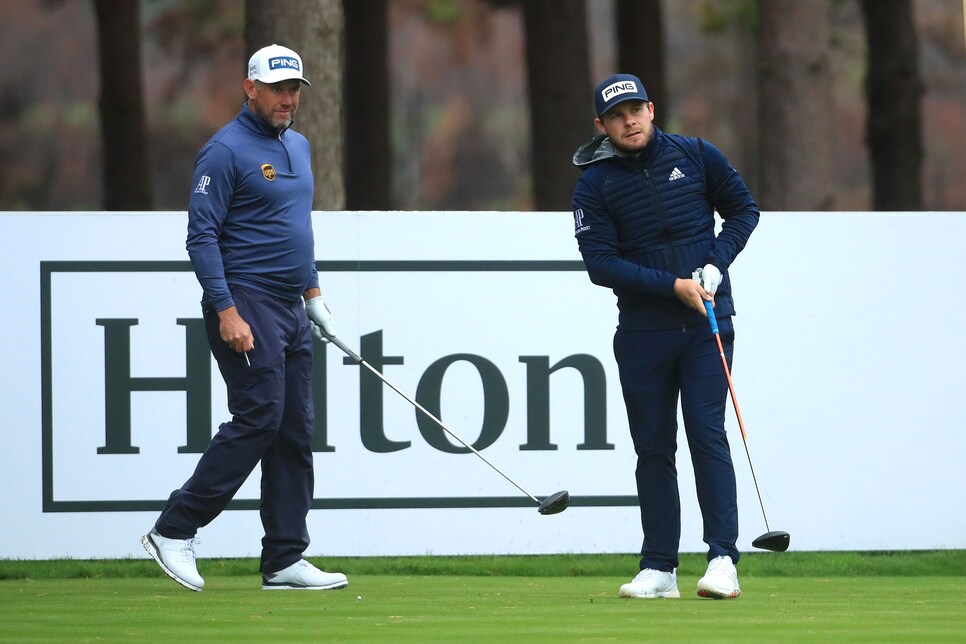 Forgot Ryder Cup implications: This one's just fun. Westwood is red hot, Hatton is a top-10 player with three wins in the last year to his name. How can you not be psyched to see how Hatton's bite-your-ear-off terrier style meets Westwood's cooler, almost detached game. Strange fact about Westwood, though—he's .500 for his career in singles match play, and only 3-7 in the Ryder Cup. As your classic English golfer who plays like a dynamo in team events and struggles on his own under pressure, it'll be fascinating to see him withstand all the double-barreled salvos Hatton has to offer. Let's hope the stakes are high for this one come Friday.
7. Victor Hovland vs. Abraham Ancer, Friday, Time TBD
A potential rising star of the European Ryder Cup team versus a potential rising star of the Presidents Cup International team? Yes please! Again, with any luck this will be a match to win the group (Kevin Streelman and Bernd Wieseberger are the others they're contending with in their group).
6. Matthew Wolff vs. Jordan Spieth, Thursday, 11:25 a.m.
One of the most considered, neurotic players of his (still very young) generation against one of the most wild, unpredictable, and perhaps immature players of his (even younger) generation. Matt Fitzpatrick is the top-seed in Group 15, but for me, this is the most interesting match in the pod.
5. Collin Morikawa vs. Max Homa, Thursday, 1:04 p.m.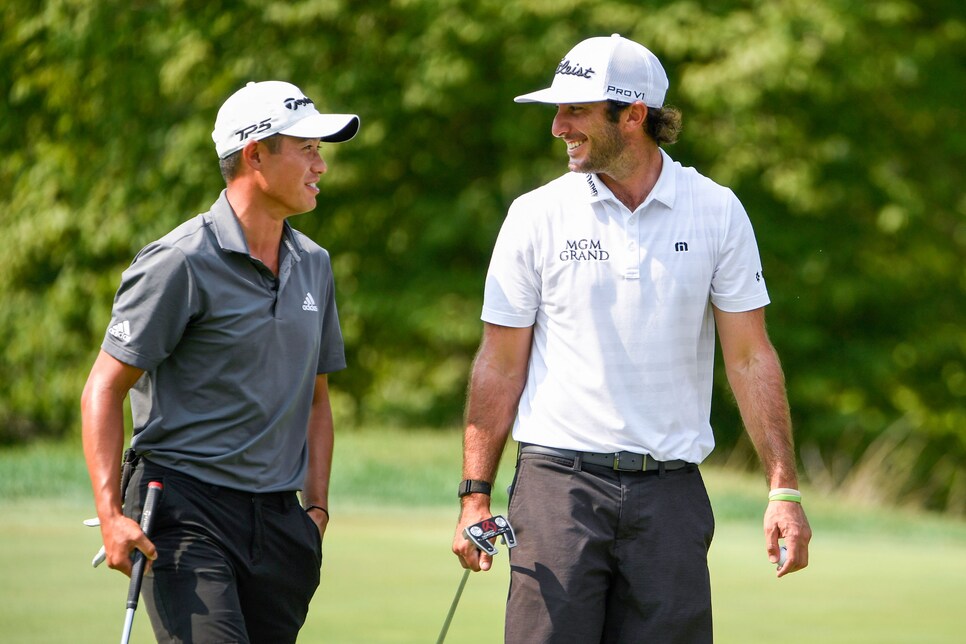 Speaking of contrasting styles, I was at TPC Sawgrass before the world turned in 2020. I asked Homa to describe Morikawa, and he used the word "robot." A good robot, mind you—Homa was complimenting his fellow Cal alum. Watching Morikawa win the WGC in Bradenton last month did nothing to debunk that description as the reigning PGA champion showed once again the firepower inherent to a game defined by Tiger-like iron play. That emerging brilliance, plus Homa's top-notch sense of humor and their inherent connections—expect to hear a lot about them both being Berkeley Bears during the telecast—will make this an entertaining clash, even if Homa looks outmatched on paper.
4. Patrick Reed vs. Bubba Watson, Wednesday, 10:35 a.m.
C'mon, we can admit this is funny! Right?? Interestingly, while Bubba has won one of these things, Reed is still waiting for his big moment at the WGC. He's collected some signature scalps over the years, but he's yet to advance very deep in the tournament. Considering his group—Niemann and Bezuidenhout are players Reed should eat for lunch in this format—this feels like the year. He'll have to hold off Bubba in his first match, but if he does, it's hard to see Reed not making the knockout rounds.
3. Rory McIlroy vs. Ian Poulter, Wednesday, 8:45 a.m.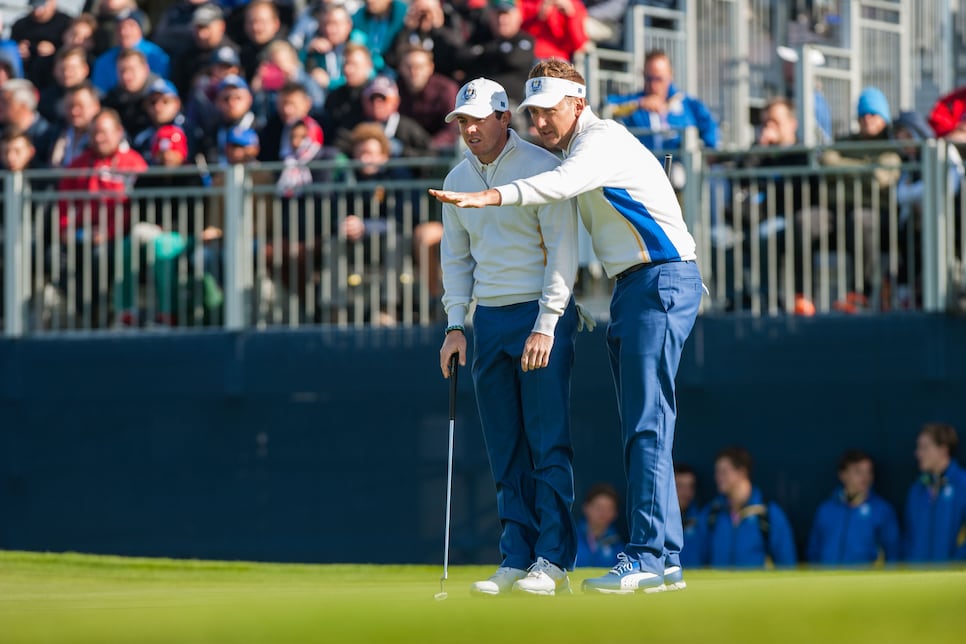 Montana Pritchard/PGA of America
The first match of the entire tournament is a beauty: The best European match-play golfer vs. the best European stroke-play golfer. Now, those titles may not quite apply at this very moment (at least to Rory), there's so much magic in these two guys that despite their mutual respect and their history together as Ryder Cup teammates, you know they'll be out for blood. Being in Austin this week, you'd have to strangle me to keep me from following this one for the duration.
2. Bryson DeChambeau vs. Tommy Fleetwood, Friday, Time TBD
Perfect. The darling of Europe's Ryder Cup team in 2018 against the most controversial, content-driving golf figure on the planet not named Tiger Woods. To be honest, I'm still not sure Bryson is cut out for a match-play format. His record as a pro, while limited, has been dismal, but—this is a big but—he did win the U.S. Amateur in 2015. Still, he's looked iffy to the point of disinterest in Ryder Cups and Presidents Cups, so it'll be interesting to see how the enfant terrible of American golf will match up against a guy on so-so form but who emerged as a match-play juggernaut in Paris.
1. Justin Thomas vs. Kevin Kisner, Thursday, 11:36 a.m.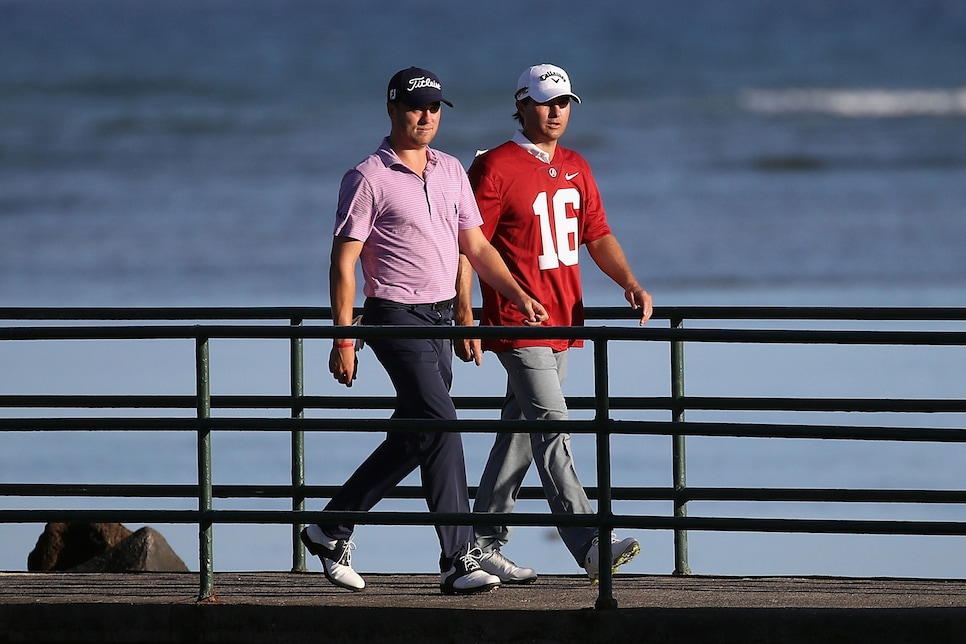 Maybe I'm alone in placing this match at No. 1, but I have always thought that Kisner was a phenomenally talented match-play golfer (he's the defending champion here with the 2020 edition of the championship wiped out by COVID after reaching the final in 2018). Given that, it seems the U.S. powers-that-be are making a mistake not seeing his unique skill set and how it could translate in team competitions. On Thursday, we'll get to see Kisner go up against Thomas, whose phenomenal stroke-play record actually obscures how ridiculously good he is at match play, too. (All you really need to know about him, if you're not into the numbers, is that when Tiger Woods needed a security blanket as a partner in Melbourne, he picked JT every time.) This is not just a good match-play battle; it's phenomenal, and it could be a huge moment for Kisner. I can't wait.