Players Championship
Players 2021: Bryson DeChambeau and Lee Westwood top/slice/butcher TPC Sawgrass' fourth hole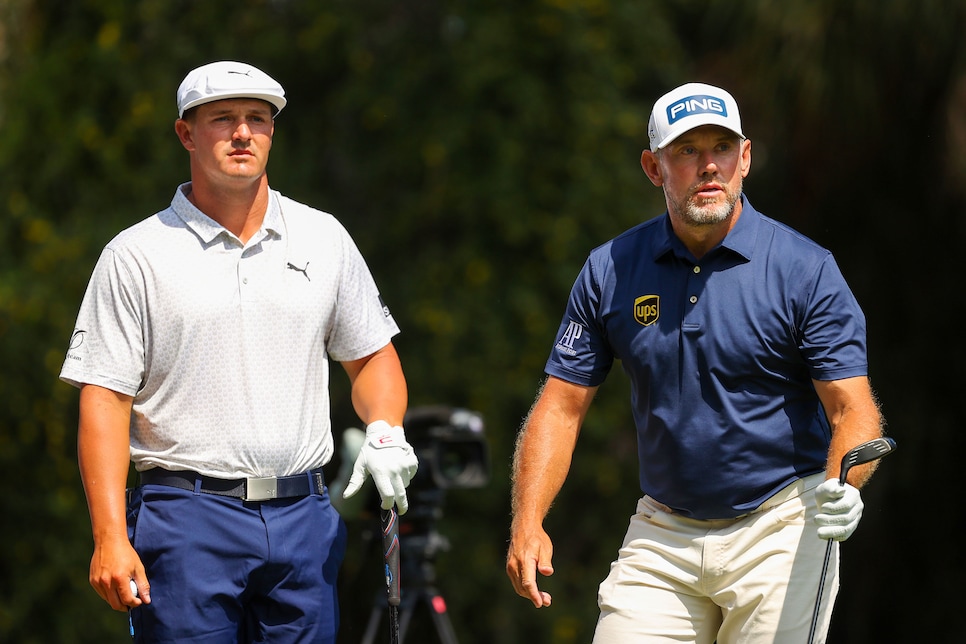 PONTE VEDRA BEACH — Last week, Bryson DeChambeau drew gasps at Bay Hill with a 377-yard drive.
This week, he drew gasps at TPC Sawgrass with a cold-top fairway wood into the water.
It happened on the fourth hole at TPC Sawgrass on Sunday afternoon. DeChambeau, at 11 under and just two back of leader Lee Westwood, was just trying to bunt a fairway wood into the fairway. At 382 yards, it's a position hole.
DeChambeau tried to flight something low and, well, he topped it. There's simply no other way to put it. According to Shotlink, it traveled 143 yards before nosediving into the water hazard.
Incredibly, Westwood followed it up with an almost equally horrible tee shot. Holding a two-shot lead, the 47-year-old hit a block-slice that found that same water hazard, which is right of a bunker that runs up the right side of the fairway. A solid 50 yards right of his target.
DeChambeau then dropped in front of the water hazard and went for the green from 240 yards. The ball, however, squirted well right and finished 66 yards dead right of the hole, prompting a "What is going on?" from the reigning U.S. Open champion.

DeChambeau couldn't quite get his fourth shot to the green and still had 47 yards for his fifth. He then played an incredible shot from the pine straw, under the tree and trickling out to seven feet. He holed the putt for a double-bogey 6 to limit the damage.
Westwood's third finished just long of the green, and he managed to get up and down for bogey. So Westwood still had a two-shot lead upon leaving the hole, but now it was over four other contenders, with DeChambeau now three back.

It's a reminder of just how crazy this game is, and just how real Sunday pressure is. These guys have been in control all week, and out of nowhere, chaos.