RBC Heritage
Cam Smith is a better golfer than fisherman, Reagan Cink's legend grows and a relaxed Billy Horschel keeps it rolling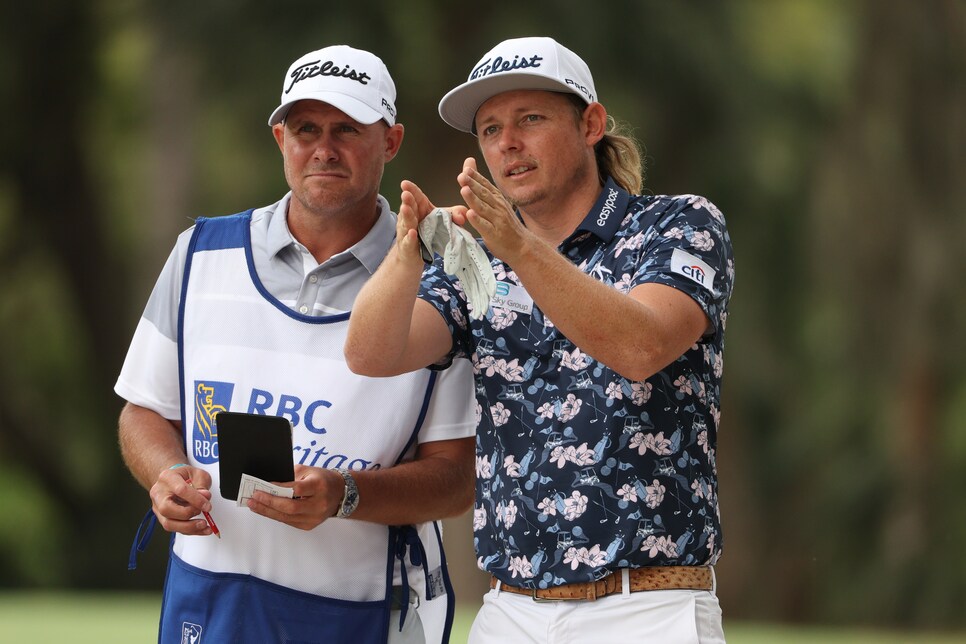 Brace yourselves, folks. Scorching hot take incoming. Cameron Smith is a better golfer than he is a fisherman.
Now that you've recovered from that five-alarm fire, we will provide the proof to back it up. Prior to settling Harbour Town ablaze with a nine-under 62 on Thursday in the first round of the RBC Heritage, Smith traded in his clubs for a fishing pole during Wednesday's practice round. Smith, who says he's "addicted to fishing," had very little luck in actually catching one. Here's the video from the PGA Tour:
Ahh, yes, the ol' "no live bait" excuse. Seen it a thousand times.
Smith needed no excuses for his remarkable round on Thursday. There was no "just couldn't make any putts," or "didn't get enough out of my round" canned tour pro responses. Nor should there have been following a 62 on the tricky Pete Dye design.
"Everything just came together," Smith said. "It was a great day on the green. I was hitting my irons really good. I had lots of good looks, and I just took advantage of them."
Smith nearly had a similar round at last week's Masters, where he wound up finishing in the top 10 for a third time in his last four tries. On Friday, he was threatening the course record at Augusta National, having gone seven under without a bogey through 13 holes. But a bogey at 14 and a disastrous double at the par-5 15th spoiled a special day. Still, the 27-year-old Aussie managed a 68, then shot a Sunday 70, two clear signs his game is clicking at the moment.
"I just feel really comfortable," he said. "Mentally I feel very free out there. I feel like I can hit the shot that I need to hit and going ahead and trying to execute it. I just feel like every shot I'm hitting, I'm putting 100 percent into it, and on a day like today, it's really rewarding."
Almost as rewarding as waiting around all day and catching a big fish, which Smith would have tried to do on Wednesday until trouble showed up.
"We were actually out there for about 45 minutes and then security came out and escorted us off. I tried my best to stay out there. I'm addicted to fishing. But I just thought it was best to just leave."
Like golf, fishing requires the right mindset, one we're sure Smith knows about all too well. For now, we're still comfortable saying he's much better at his day job.
Three other takeaways from Round 1 of the RBC Heritage.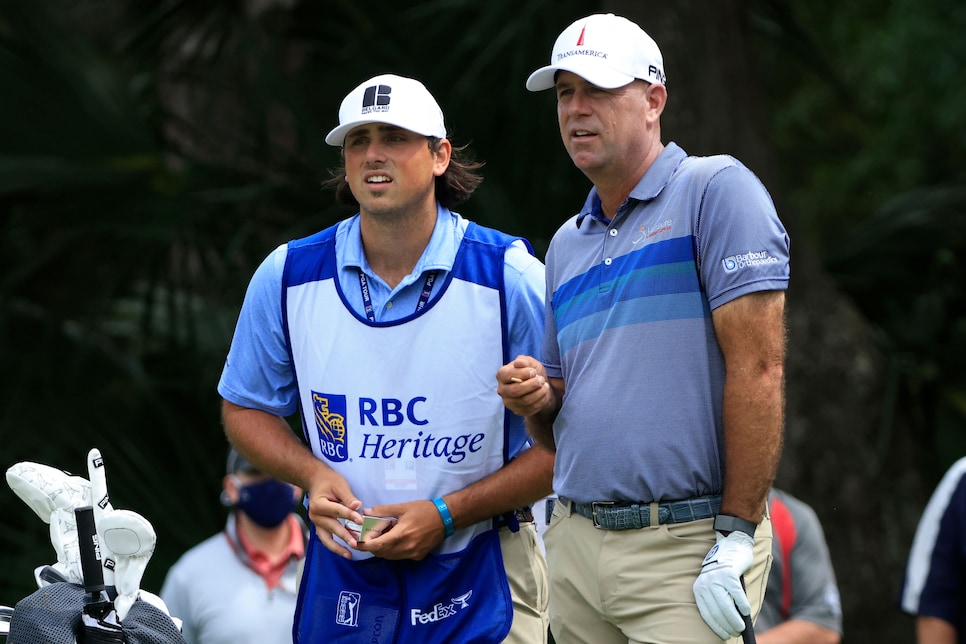 As much as we love a good "new caddie is inspiring his/her pro!" narrative (See: Westwood, Lee; Storey, Helen), Stewart Cink's late-40s resurgence has been a product of Stewart Cink playing much better golf than he had been over the last few years. He's hitting it as long as he ever has, ranking 29th on the PGA Tour in driving distance at 305.4 yards. He's hitting greens at a ridiculous rate, ranking second on tour in greens-in-regulation percentage. As a result, he's making plenty of birdies, ranking 24th in birdie average. That's why he has a win, plus a pair of top-10s this season, plus an impressive T-12 at last week's Masters. That's why he shot a eight-under 63 on Thursday at Harbour Town, putting him one off Smith's lead.
HOWEVA, it'd be foolish to not point out that throughout Cink's resurgence, which began in September with his Safeway Open victory, he's had his 23-year-old son Reagan on the bag. After another strong start at Sanderson a month after Safeway, though, Reagan appeared to reach the end of his road, as pops said it was time for him to get back to his regular job. Fast forward to April and Reagan is still looping for dad, and dad is still killing it. On Thursday, Cink even pointed out that his lone bad shot of the day, which was his very first swing, was because he didn't listen to his caddie.
"It really was a very smooth round once I got past the obstacle of the first hole," said Cink, who turns 48 next month. "Reagan was just joking with me that the only shot I didn't consult with him on the whole day was the tee shot on 10, and I promptly cranked it straight into the lake."
Sons know best, as the old saying goes (it doesn't go like this but we'll roll with it). Let the legend of Reagan continue to grow.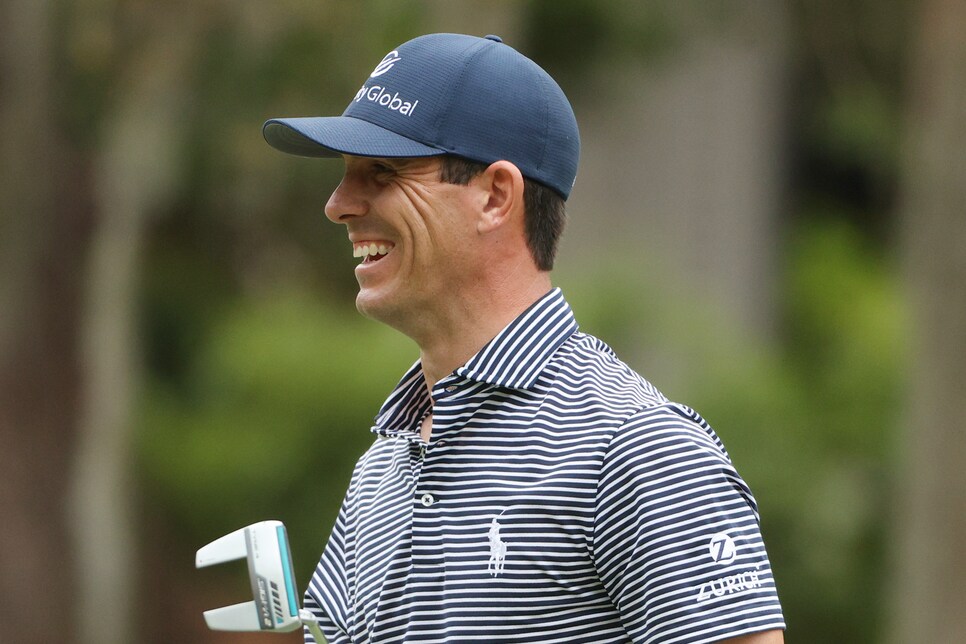 A relaxed (???) Billy Horschel gets back on track
By his own admission, Billy Ho was anything but "relaxed" last week at Augusta National. Some troubles at the 13th hole certainly played a role in that, but he seemed to keep his cool despite those struggles at Amen Corner. Then, at the 18th hole Saturday, cameras captured him slamming his club into the bottom of his bag repeatedly, and it instantly went viral on social media. Horschel later apologized for his actions on social media.
Enter Harbour Town, the RBC Heritage, otherwise known as the most chill tour event on the schedule. It could not have come at a more perfect time for Horschel, who was hoping his WGC-Dell Match Play win and other recent success would carry over into the Masters. It did not, leading to his frustrations, but his momentum returned on Thursday, with Horschel shooting a five-under 66. He attributed the solid start to the laid-back atmosphere in Hilton Head, which is obviously in stark contrast to the atmosphere at the Masters.
"This week's so much more relaxed than last," Horschel said. "I was just so excited to get to Augusta, can't wait to play, and by the maybe middle of the week or after the first week, gosh, this place just drives me insane. You know, like we can't wait for the week to be over.
"It's just one of those weeks where it drives you a little insane with the way the wind can be, the way they set it up. It just requires a lot from you as a golfer. So it's nice to come over here. This course … requires very similar to what you need over there. Really good iron play, distance control. But it's not obviously long and the greens aren't nearly as challenging as Augusta.
"So always nice to come over here after a stressful challenging week like it would be at any major."
"Relaxed" and "Billy Horschel" rarely belong in the same sentence, but that's the power of Harbour Town, Hilton Head and the Calibogue Sound. "Vibes" is the operative word here.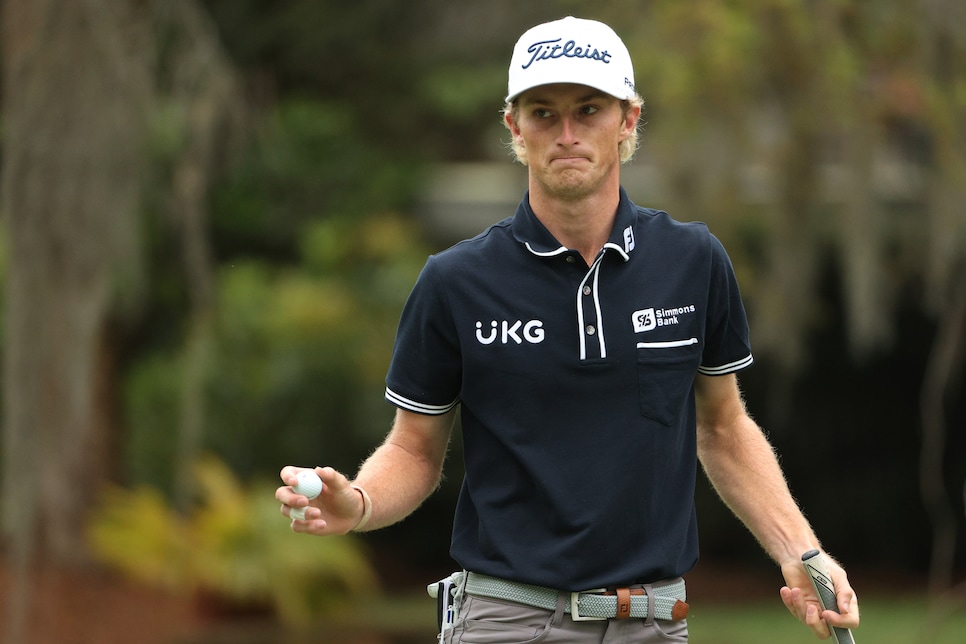 No Masters hangover for Will Zalatoris
Willy Z? Big Willie Style? Zally? Happy Gilmore's caddie? No idea what we're calling this guy yet, but we better all agree on something soon because this kid ain't going anywhere. Fresh off his Masters runner-up, he opened with a three-under 68 on Thursday, and that was with a double bogey at the par-5 second. Shockingly, it did not unnerve him one bit, as he ended up getting both shots back and one more with three birdies on his final four holes. He's got plenty of game and plenty of guts, which makes him an absolute joy to watch.