Martin Trainer is a professional golfer. Last week was Masters week. He was not there, and it hurt.
In the golf's ecosystem an invite to Augusta National is an invite to the cool kids' table, a symbol of status and station as much as it is achievement. It can be an uncomfortable reality for those that don't make the trip, glancing wistfully across the proverbial lunch room to dream what it would be like to have a seat and a reminder of where they sit.
"It's an interesting experience, watching golf when you're a golfer. The fun is playing the course you're seeing on TV, understanding how hard those shots are," Trainer says in a conversation last week. "The less fun is knowing what you did and didn't do well. And now you're watching guys succeed. Fans can't imagine; they don't have context. Where as a player, you have a context. You wish you were good enough to be on TV."
But Trainer pauses, conveying the excitement for the pageantry and nostalgia that many hold for the Masters. Besides, Trainer's plight is different from his brethren watching at home. Forget the cool table; he's locked himself out of the entire cafeteria, and is trying desperately to get back in.
"It will be nice," Trainer says, "to see it through the lens of a fan instead of contemplating my existential existence on tour."
Struggles on tour are primarily divided into two categories. The first are the struggles of superstars. They are the struggles that are discussed the most and the struggles that aren't really struggles, but rather a blanket term for any former world beater who now looks human.
On the other end of the spectrum are the struggles of those on the fringes. The players fighting to keep their tour cards, the rookies overwhelmed and overmatched by their first sip of the big leagues, the 40-and-older crowd realizing what was once familiar is now foreign.
Somewhere in the space that lies between is Martin Trainer.
The 30-year-old who lives in Palo Alto, Calif., is in the struggle, MCs so attached to his name it appears he's moonlighting as a deejay. Prior to last month's Corales Puntacana Resort & Club Championship, Trainer had failed to make the weekend in 42 of the past 45 tournaments and one of those made weekends was the no-cut 2020 Tournament of Champions, which he came in last. He finished 216th in the FedEx Cup last year off 21 starts; the next lowest player who made at least 20 appearances was J.J. Spaun at No. 185. This season has been much of the same, Trainer entering this week's RBC Heritage 214th in the FEC standings and No. 960 in the World Ranking.
"There hasn't been a period in my career where I wasn't missing cuts," Trainer says. "Ultimately when I look at my career and skills, that's something I have to keep in mind. This is no exception."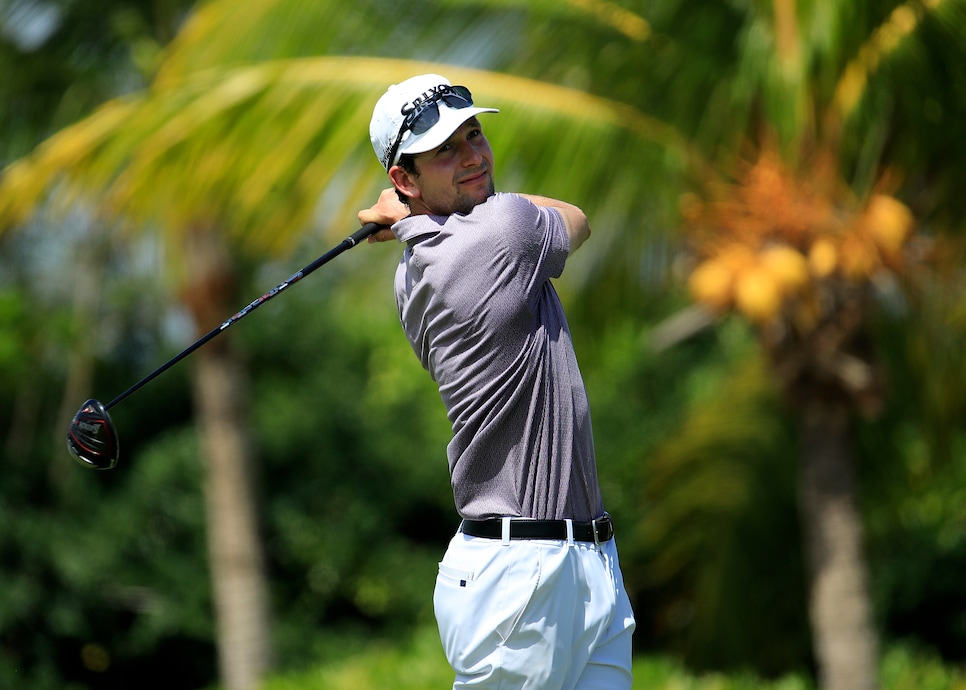 Prior to last month's Corales Puntacana Resort & Club Championship, Trainer had failed to make the weekend in 42 of the past 45 tournaments on the PGA Tour.
Andy Lyons
Trainer isn't exaggerating. The trail he's on now looks like the path he took to get here.
His amateur career had flashes of special—winning the prestigious San Francisco City Golf Championship at 16, capturing the Pac-12 Championship at the University of Southern California as a sophomore in 2011. But they were just that, flashes. He spent his senior year at USC away from the team to nurse an elbow injury and turned pro in 2013 because, well, he figured he'd try. He spent three years (2014-'16) on the Latin America and Mackenzie circuits, enjoying modest results yet nothing that signaled a star in the making, and his 2017 campaign—nine starts, one cut—raised the question if golf was a viable career.
Still, though he hadn't grasped sustained success, he didn't feel it was out of reach. "You always have to delude yourself to believe you're one of the best in the world," Trainer says. "It's a weird concept. And hard, especially when every week is a referendum on your game. But it also isn't blind faith, at least for me. I felt I had the tools to compete."
He regained status on the Latin America Tour in 2018 through Q School. On the way to South America for the LA Tour's opening event, Trainer decided to enter a Web.com Tour qualifier for the hell of it. He survived a 3-for-1 playoff to earn a spot into the 2018 El Bosque Mexico Championship, where he strung together a 14-under performance to win, a victory that immediately turned into a full-time gig on the Web.com circuit. He proceeded to miss eight of the next 11 cuts, but finished T-9 at the Utah Championship in mid-July and won his second Web event two weeks later at the Price Cutter Championship to secure a PGA Tour card for 2018-19 season.
Mirroring his minor-league experience, Trainer got off to an inauspicious start on the PGA Tour, missing five cuts in his first seven starts and finishing no better than T-60. It was a quick lesson that, though the scenery was different, the hard truth was the same.
"You play on the mini tours, move up the ladder, then make it to the PGA Tour, no one imagines they're going to play bad," Trainer says. "You think that you've made it on tour. You have figured it out. It will be smooth sailing. Those first struggles are a tough adjustment."
It was an adjustment he made, cracking the top 30 at Pebble Beach. Then two weeks later, Trainer hit pay dirt in Puerto Rico, a 69 and 67 on the weekend giving him the alternate event title. A PGA Tour win in just his ninth career start. The guy who had no status anywhere 14 months before now, at age 27, had security for years.
A good thing, too, because Trainer has been in the wilderness ever since.
He was the rare winner who failed to qualify for the PGA Tour's postseason, with 10 MCs and a WD in his last 11 starts in 2019. He made just one true cut the next year and opened the 2020-21 super-season reaching the weekend once in his first 13 starts. As for what's gone wrong, there's no surface-level Achilles' heel. He's 198th in strokes gained/off-the-tee, 215th in approach, 173rd in SG/around-the-green, 195th in birdie average and 212th in bogey avoidance. Whatever is plaguing Trainer is systematic.
"People think guys like Rory McIlroy or Sergio Garcia, well they're good but they can't putt. That's the biggest misconception. There are no holes in anyone's games out here," Trainer says. "You don't win without being good at everything."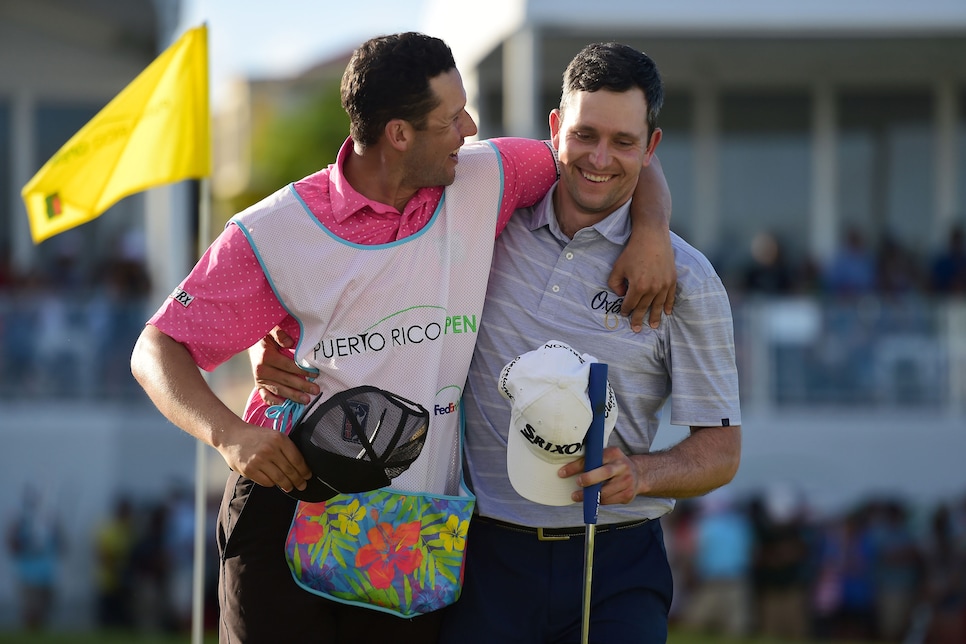 In just his ninth start on the PGA Tour, Trainer claimed victory at the 2019 Puerto Rico Open.
Jared C. Tilton
When a slump hits, everything needs to be recalibrated. For Trainer, that started with his tee-to-green game. He pursued improving his driving and iron work, a journey that took him to a number of coaches. Some said he needed an overhaul, that his swing needed to be technically perfect. Others asserted his problems would be solved with small adjustments, while a contingent questioned if his woes were between the ears.
The job security helped soften the blow, and Puerto Rico was proof he could get where he wanted to go, to fulfill his potential. But Trainer knew something was off halfway through his rookie season on tour. It was one thing to miss cuts, another to miss them by 10 strokes. And the near-misses did not sting any less.
"You want something sustainable," Trainer says. "Let's say you missed the cut by one. Well, you were still miles from the leaders or those contending. That's where you want to be. Every single tournament I missed was a small blow to my confidence.
"Yeah, I would remind myself, I've been through this before. At the same time, it's fair to wonder, What am I doing here? And sometimes, Do I belong here?'"
Trainer is an upbeat soul, and he reminded himself how lucky he was to be where he was. Because of the rollover nature of the tour's status during the abbreviated 2019-'20 season, he gained an extra year of secured status. Conversely, he is also a cerebral mind in tune with his surroundings. With truck slam after truck slam, you have to be a special kind of ignorant to keep the doubts from creeping in.
Trainer hopes to build on his recent success—he's made the cut in two straight tournaments heading into Harbour Town, a first since 2019.
Sam Greenwood/Getty Images
Trainer goes back to the notion of blind faith. To him, that is the worst mindset to have, the idea that it's just going to work out because he keeps chipping away. "Just hoping it would pop up again wasn't my strategy," he says. He tried to understand his own game and where things were going wrong, a process he says that has been difficult. "Because it's not obvious what has and hasn't worked."
Part of that battle is the battle that happens when your passion is your profession. Golf is what he loves, and what he does. It is also a game, and soon it became difficult to keep the game a game. "Inevitably it will be soured. That's human nature," Trainer says. "We try to appreciate the journey. Not just specific to golf but to life. Playing a beautiful golf course that is perfectly manicured in front of fans is an amazing experience. It wears off when you're trying to succeed and you're not, and your time might be limited."
Yet, while Martin Trainer is a professional golfer, at heart, he's a golfer. And golfers, no matter their station in life, continue to chase those ambitions and spirits only they can see. For Trainer, this means continuing to find new solutions. He knows it's out there, even if what "it" is is unknown.
There is hope. Trainer has started working swing coach Kevin Kirk. They want to recapture Trainer's delivery and impact position when things were going good in 2019. There are early returns: After making just two full-field cuts in two years, Trainer survived brutal conditions to reach Saturday at Puntacana, finishing 56th. He made his second-straight cut in his next start at the Valero Texas Open, the first time he made consecutive weekends since the 2019 Arnold Palmer Invitational and Players Championship.
"Ultimately I'll see what happens with [the new adjustments]," Trainer says. "You can get it back. It's a double edged sword, as quickly as it goes, that train can come back."
In Round 1 at Harbour Town, coincidentally his 30th birthday, Trainer opened with two birdies and an eagle, briefly putting him in the lead at Heritage. He cooled off, making four bogeys and a double, although he's in a position Friday to find Saturday. For a player who owns a PGA Tour title, who wants to keep the bad days at bay and, yes, who aspires to play the Masters, these may not seem significant. To an extent, Trainer agrees.
But, as he restates, Trainer knows the struggle. And when you're in the struggle, small victories can make a man stand tall.
"I'm slumping. No doubt. But that slump, that struggle, is gone on Thursday morning," Trainer says. "Your baggage is gone. You start new every week fresh. Fresh to find success. To find something. And the good news is, no matter how lost you feel, you're not that far away."