RBC Heritage
Will Zalatoris looks like he's adjusting to his new celebrity status just fine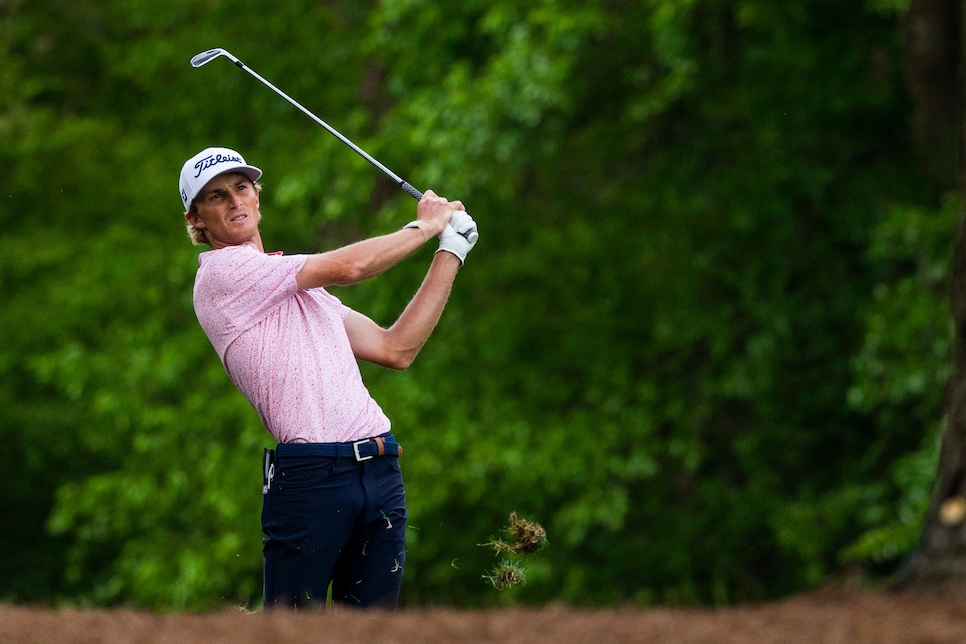 It's a moment that only happens once in a player's career, if it happens at all—that transitional day, or week, or month, when he steps out of the shadow of relative anonymity and becomes Somebody You Know. If you're a serious golf fan, 24-year-old Will Zalatoris has been on your radar for a while now. He won on the Korn Ferry Tour, he was on all the "young players to watch" lists coming into 2021, and if you're lucky, you managed to draft him in your fantasy league late enough that your friends are still mad about it today. That's called being "golf famous," and he's kept it up throughout the year, with solid play and a few top-10 finishes on the PGA Tour that improved his World Ranking from 119th before last year's U.S. Open to 45th before the Masters.
And then there was the Masters. That's the tournament where you can go from "golf famous" to "famous famous," and become a household name with that broader demographic called the American sports fan. On Sunday, on the front nine, he seemed to be the only player with a chance to catch Hideki Matsuyama, and with the eyes of the world on him, he hung on and stayed within range. Everything got wild late on the back nine, but after Xander Schauffele's balloon burst, and after Matsuyama nearly handed it away, it was Zalatoris sitting in second again, just one tantalizing shot away from a playoff.
It didn't happen, but now America knew his name. Now he was getting tweeted at by Adam Sandler, and responding:
On Wednesday at the RBC Heritage in Hilton Head, he reflected on how his life is changing and how it feels to be on that strange precipice of fame.
"You know, if I didn't like it I'd probably need to find a new profession pretty quickly," said the 24-year-old who still technically isn't a member of the PGA Tour. "It's definitely different, going and picking up some food and people asking for autographs or pictures. I kind of humble myself and say, I didn't win, I finished second. It's like, I've felt like I've been getting some treatment like I won, but to me it's funny. Obviously I enjoy it."
He's well-suited to the spotlight, or so it seems. At the WGC-Workday Championship, in February, I got my first taste of something that has come to define Zalatoris in his early career, which is his sense of humor. I took a small risk and asked him if people had ever told him that he looks and sounds like a dead ringer for Owen Wilson, and he responded with a pitch-perfect impression of Wilson's one-word catch phrase:
It's another natural strength of his persona. Like Viktor Hovland, Zalatoris is somebody you watch and immediately like. He's plenty down-to-earth, and his default facial expression is a wry smile that makes you think he's ready to laugh at whatever the world throws his way. On Wednesday at the Heritage, he showed more of that self-deprecating streak when asked about the various comparisons people are making now that his face is all over television.
"The Owen Wilson comparison, the Happy Gilmore's caddie comparison, Butch [Harmon] saying I look like a 1-iron without a grip on it, I think it's hilarious," he said. "You've got to embrace it. … Hey, this is entertainment. This is obviously the really fun side of the job. Yeah, trust me, a year ago if you said that Adam Sandler was going to send out a tweet about me, I would have thought you were on something."
And if you don't believe him that he gets a laugh out of it all, just look at his wedges. There, he's stamped the various "compliments" onto the club itself. Peek inside the bag, and you'll read things like "Mr. Gilmore, I'm your caddie." Harmon's quote about the grip-less 1-iron, which might make another player mad, now holds pride of place on his new 60-degree wedge.
"You don't need to take this job too seriously," Zalatoris said, which is funny for a golfer who has emerged as one of the more serious young contenders on tour.
That skinny body that people like to joke about is the product of a mother who ran track and field at Oregon—the "marathon sprint" events like the 400 and 800 meters—and there's athleticism and strength packed into every inch. He's incredibly talented and competitive, and the fact that those traits co-exist with the laid-back, unpretentious attitude makes him very likable. It's a combination that has seen him catch on like wildfire in the last few weeks, and he's not complaining.
The onset of real fame is a tricky thing for anyone to navigate, but Zalatoris has worked hard to get here, and you only have to know him for a little while to understand that he loves the stage.