In Limbo
Despite nearly winning the Masters, Will Zalatoris still isn't eligible for the FedEx Cup Playoffs (Wait, what?)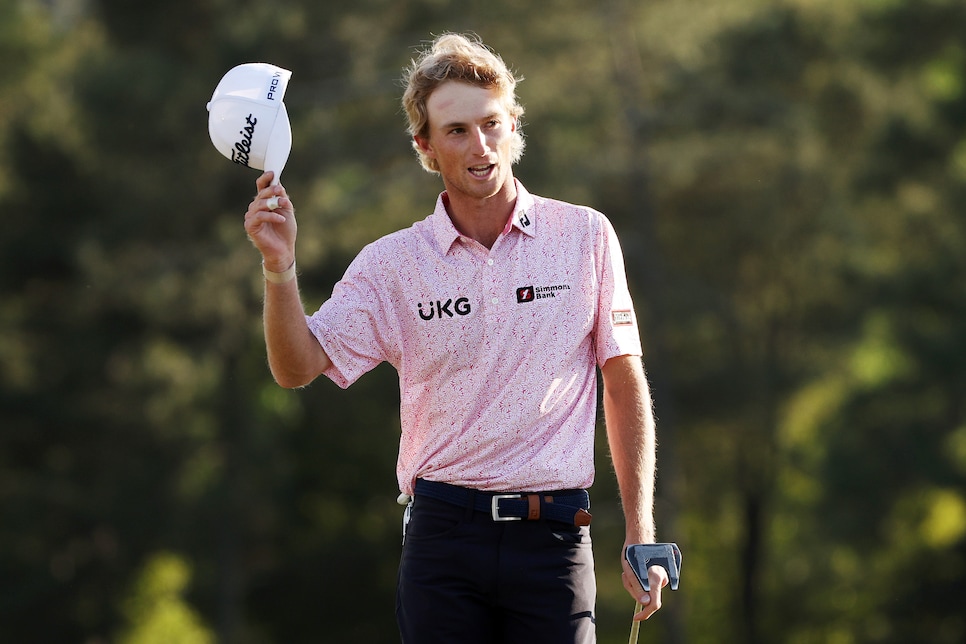 There is no doubt that Will Zalatoris can play with—and beat—the best golfers in the world after a runner-up finish in his Masters debut last week. When he's allowed to, that is.
It may surprise many that the 24-year-old actually can't play in some of the biggest remaining PGA Tour events this season. That's because despite being one of the hottest players on the planet for the past year, Zalatoris still isn't qualified for the FedEx Cup Playoffs. Say what? Let's explain.
To qualify for the tour's lucrative postseason, a golfer has to be a full PGA Tour member. Zalatoris is currently on a special temporary membership, which gives him the ability to accept an unlimited number of sponsor invites for the rest of the season (normally, a player is capped at eight). But that doesn't make him eligible for the the playoffs, which consist of the Northern Trust, the BMW Championship, and the Tour Championship.
Zalatoris could still earn his way into those three tournaments by winning a regular season PGA Tour event. If he were to do that, only then would he officially earn the FedEx Cup points from his other results that include six top-10s and 11 top-25s in 15 starts—highlighted by that runner-up at Augusta National and a T-6 at the U.S. Open.
Currently, Zalatoris would be No. 13 in the FedEx Cup standings. Again, if his points counted. He talked about being in this weird situation earlier this year at the AT&T Pebble Beach Pro-Am.
"I could finish second the next 25 weeks in a row and still not make the FedEx Cup Playoffs," he said. "So every week I've got a chance to go out and tee it up and hopefully win and get myself in those playoffs. But that's kind of what I said, I'm playing with house money. I know my card's locked up for next year and the only way I can move up I guess is by winning. So every week, it's kind of all or nothing, but at the same time keep gaining the experience and keep getting the exposure and eventually throw myself into contention and hopefully be able to hoist a trophy on Sunday."
It gets stranger by the fact Zalatoris could also qualify for the PGA Tour postseason by returning to ... the Korn Ferry Tour? Yep. If he were to win two more KFT events this year to give him three for the extended 2020-2021 season, he'd earn the automatic "battlefield promotion" to the PGA Tour. He could then accrue FedEx Cup points.
Of course, none of this would be an issue if not for COVID-19. When the season was shortened last year, the PGA Tour decided that no current members would lose their cards. On the flip side, that meant no one from the Korn Ferry Tour would earn a PGA Tour card so Zalatoris, who was No. 1 on the developmental tour's money list, had to earn his current special temporary membership through sponsor exemptions.
But even after doing that and continuing to sizzle, there's still a good chance he won't be in the postseason. As The Fried Egg's Andy Johnson wrote, it would be like someone getting called up from the minors during the MLB season, becoming a star player, and not being allowed to be on his team's playoff roster.
At least in Zalatoris' case, his status as a top-50 player in the world (he moved up to No. 27 after the Masters) gets him into golf's four majors as well as the World Golf Championships. And what other tournament wouldn't extend an invite to the Wake Forest product who looks like Happy Gilmore's caddie, but plays like a young Johnny Miller?
So golf fans will still see a lot more of Zalatoris the rest of this season—even if he doesn't qualify for the postseason. And in the meantime, if he plays extra aggressive when he's in contention on Sunday again, now you know the reason why.