Masters 2021
Masters 2021: If you know Will Zalatoris' story, you're not surprised he nearly won a green jacket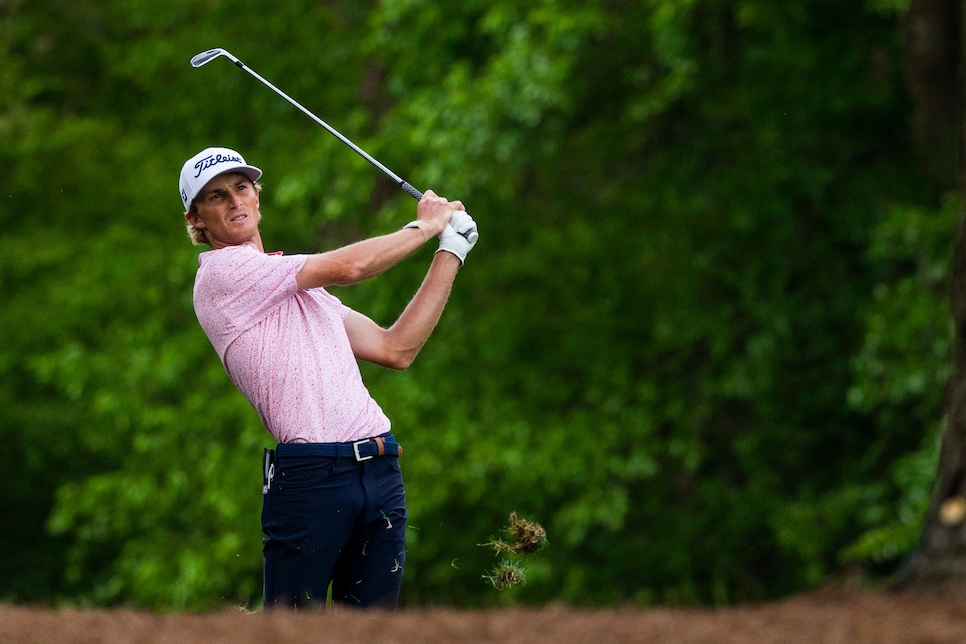 Will Zalatoris hits a shot during the final round of the Masters.
JD Cuban
AUGUSTA, Ga.—You can't really know if the bravado's legit until the rubber meets the road. Or, in this case, the driver meets the ball.
Will Zalatoris said the right things all week. How he belongs out here, how he's playing with house money, how he's "stupid enough to think I can win." But Masters Sunday is a different animal, especially when the wind is a factor. Surely he'd come back to earth, make a few nervy bogeys, fade from the mix, settle for a top-10, bank some world ranking points, collect a fat check and call it a day.
Zalatoris went full alpha from the get-go on Sunday at Augusta, birdieing his first two holes and emerging as the only guy with the gumption to chase down Hideki Matsuyama. He fell one shot short—one shot!—in a bid to become the first player to win his Masters debut since 1979.
"I think the fact that I'm frustrated I finished second in my third major says something," he said with a smirk. He's one of those people who cannot speak without smirking. "And the fact that I didn't let any moment really get to me was really exciting.
After he signed his card to make his two-under 70 official, Zalatoris was whisked away by a green coat into a cabin for a CBS interview. Fellow Texan Jordan Spieth was holding court with media when he caught a glimpse of his old pal. He stopped mid-answer: "Great playing, dude." Zalatoris thanked him earnestly, but there was no hierarchy involved. This wasn't a kid awed that the great Jordan Spieth paused to acknowledge him. Because Will Zalatoris always expected to be here, and Jordan Spieth always expected Will Zalatoris to be here.
"Not surprised," Spieth said upon learning his training partner had taken solo second.
There's a temptation to portray Zalatoris as a kind of Cinderella story. You know the drill: "Just a kid from Dallas," yada yada yada. A year ago, he had no PGA Tour status. A year before that, he played mini-tour events. And here he is, disappointed with finishing second in his first Masters.
The facts tell a different story. Yes, of course, his rise to the upper echelon of the professional game has been rapid. But everyone is a nobody until they're a somebody. Everyone's world ranking is low until it isn't. Just because something happens quickly doesn't mean it was unlikely to happen in the first place.
Zalatoris was born in San Francisco into an affluent family; his father was a member of the vaunted California Golf Club for 20 years. (Good luck getting a tee time there). When he was six, Ken Venturi taught him how to grip a golf club. (Overlap grip, which he uses to this day.)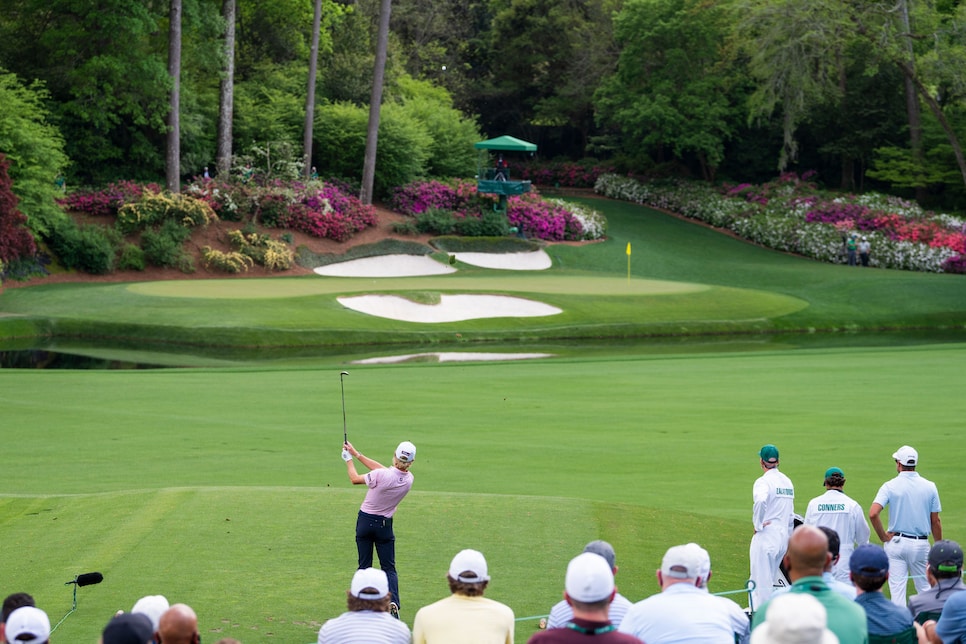 Will Zalatoris hits his tee shot into the 12th hole during the final round of the Masters.
JD Cuban
When the family moved to Texas, he struck a quick friendship with some blond-haired kid who made every putt. (The one who's mentioned a few paragraphs above.) When he was 14, Lanny Wadkins gave him tips on how to play Augusta National. (Always triple-check the wind on 12). At 17, he won the Texas State Amateur with Scott Fawcett, perhaps the premier statistician for PGA Tour players, on his bag. (Aim your approaches at the fat side of the green and trust your shot shape). Later that summer, he won the U.S. Junior Amateur. (Beat his future roommate, Davis Riley, in the final). The next year, he matriculated to Wake Forest on the Arnold Palmer scholarship. (Two-time All-American).
In 2017, he was featured on a comically stacked Walker Cup team alongside Collin Morikawa, Scottie Scheffler, Cameron Champ, Maverick McNealy, Doc Redman and Doug Ghim. (Went 3-1 in a 19-7 drubbing).
"He's been striking it at a top-30 level since he was 17 years old," says Fawcett, who played professional golf himself.
While at Wake, he began working with Dr. Michael Lardon, a psychiatrist who has worked with five major champions.
"He's always had that baseline," Lardon says. "It's not that other pros don't, but some of them are comfortable making their millions and keeping their card. But this is Will's comfort zone; it always has been."
Which is why a barren spell toward the end of 2018 hit so hard. Zalatoris had always rubbed shoulders with golfing elites, but professional golf is a meritocracy. So after failing to advance in Korn Ferry qualifying school, he was staring at a winter of mini-tour events. Instead of pouting, he grinded.
A revamp of his putting sparked a major turnaround. He tried every grip and stance imaginable in college but couldn't shake a weak right miss. Then Josh Gregory, head coach of Augusta University's golf team and short-game guru, suggested he try something completely different. Armbar, closed stance, and a claw grip with the right hand.
"The idea is to just take the right hand out of the stroke completely," says Gregory. "He basically putts it entirely with his left hand. All the weight on his left side, too.
"He's an ideal student for me. His work ethic is unbelievable; just does the same two drills over, and over, and over again."
Armed with the new grip, he snuck through a couple Monday qualifiers and elbowed his way into Korn Ferry status in 2019. By then, though, some of his Walker Cup teammates were already PGA Tour winners.
"It wasn't frustrating," Zalatoris said of watching his peers soar. "It was actually motivating and exciting because I knew I could do what they are doing. And even if I wasn't playing at their level, I knew I was capable of doing what they were doing."
By early 2020, he'd emerged as the premier player on that tour, only for his momentum to be halted by COVID-19. He spent the break playing five times a week with Tony Romo. (This kid's iPhone contacts must be out of control.) Then, in a stroke of luck, the USGA handed out one-time pandemic exemptions to a handful of Korn Ferry players. He finished tied for sixth that week.
"That was just huge for him," Gregory says. "He didn't play his best that week, and he finished sixth in a U.S. Open at Winged Foot. That showed him he could play with the best in the world."
You know the rest. He gets into PGA Tour events, he keeps playing well in those, his world ranking continues to rise, he gets into the Masters, he nearly wins the Masters. Spieth's not surprised. Neither is Romo, nor Morikawa, nor Gregory, nor Dr. Lardon. Are you?