Voices
Masters 2021: Out of sorts on the golf course, Rory McIlroy is strong enough to find his way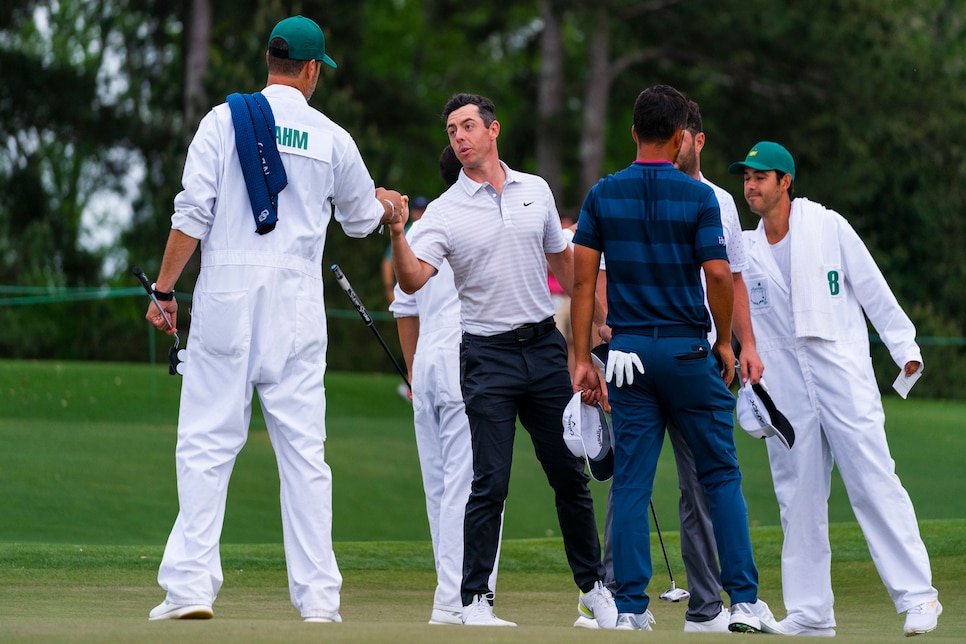 In the final scene of "The Wrath of Khan," the second of the original Star Trek movies, Captain James T. Kirk gives a eulogy for his late friend Mr. Spock. "Of my friend I can only say this: Of all the souls I have encountered in my travels, his was the most … human."
I couldn't help but think of that line Friday afternoon watching Rory McIlroy limp through the last few holes of his 2021 Masters, headed for a 76-74 finish that would leave him three shots outside the cut line. The pain he was feeling could be seen on his face. Ten years after shooting 80 on Sunday at Augusta when he had started the day with a four-shot lead, the Masters remains his windmill—the only major title he hasn't won … yet.
I thought of Kirk's words about Spock for one reason: Of all the souls I've encountered in my travels covering golf, McIlroy's is the most … human.
He's a lock for the World Golf Hall of Fame, even if he doesn't add to the four major titles he won between the U.S. Open in 2011 and the PGA in 2014. He's been a Ryder Cup star on five different occasions, helping Europe to four victories.
His humanity, though, isn't just because in a world populated by people who can churn out clichés faster than an Indy car circles the track, he never fails to give an honest answer to a question. It goes beyond that. McIlroy's the guy who forgot Chicago was in the Central time zone at the 2012 Ryder Cup and almost missed his tee time for his singles match against Keegan Bradley. He arrived at Medinah Country Club with 10 minutes to spare and then beat Bradley—who had been the Americans' best player for two days—2 and 1, to help Europe pull off a stunning come-from-behind victory.
McIlroy readily admitted that he'd seen his tee time on television before going to bed on Saturday, but had failed to notice the times on the screen were Eastern. No excuses, just "I screwed up." Then he thanked the police officer who had driven on sidewalks to get him to the club on time.
He's also the guy who lost his temper during a 2016 press conference at Troon two days before the Open Championship when an indignant golf writer demanded to know if he didn't feel he had an "obligation" to his sport to play in the Olympics—even though a number of top players were also passing on the return of golf to the Olympics that summer.
After patiently explaining that he felt the best way for him to help grow the game was to play well and be a good sport win or lose, he was asked if he'd watch the Olympics on television.
"I'll watch the sports that matter," he said with a smile, "like track-and-field and swimming."
Golf is about as insular as any sport in the world. Many in the golf media found that comment infuriating and attacked McIlroy for saying it. McIlroy didn't care much.
"Probably should have left out the 'sports that matter' part," he said later—still smiling at the memory.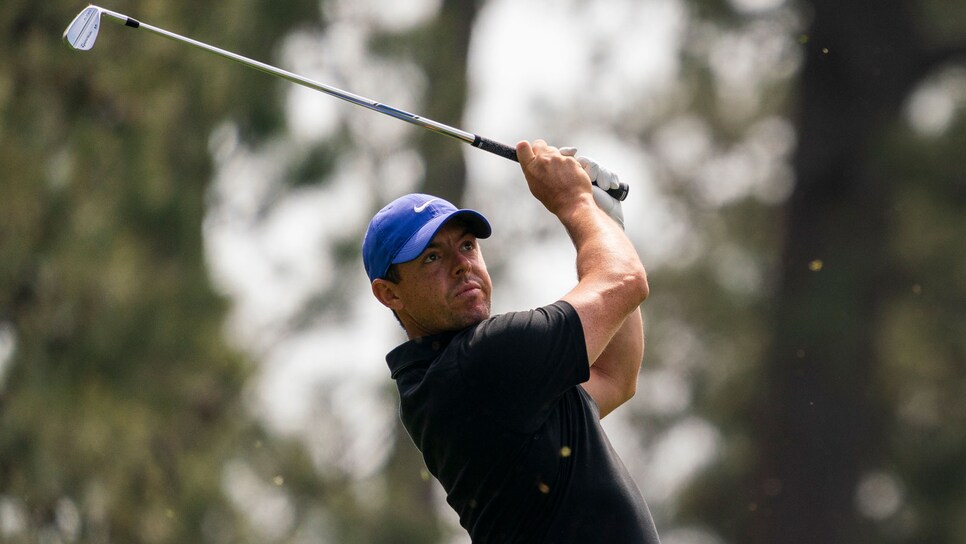 Rory McIlroy's swing issues continues en route to a 76-74—MC at the 2021 Masters.
JD Cuban
Upon missing the cut at the Players Championship last month, he freely admitted he'd changed his swing after watching Bryson DeChambeau overpower Winged Foot on his way to winning U.S. Open last September. Unlike DeChambeau, who now looks like Popeye after he's had his spinach, McIlroy, who is 5-foot-9 and about 165 pounds, still looks as if he could run a marathon although he's put on muscle by working in the weight room in recent years. Even so, he still hits the ball as far as almost anybody.
McIlroy knew he'd made a mistake by changing his swing and said so. He's still paying the price and has now hired Pete Cowen to work with him and his lifelong teacher Michael Bannon. In recent years when McIlroy has come up short in majors, his ball-striking hasn't been the issue, his inconsistent putting has been the problem. He'll fix the golf swing. Then he will go to work—again—on his putting.
Since the Sunday meltdown 10 years ago, McIlroy has finished in the top 10 at the Masters six times. Some of those finishes have been backdoors when he had no realistic chance of winning. His best crack at a win came in 2018 when he began the final round three shots behind Patrick Reed, paired with him in the final group. He had a five-foot eagle putt on the second hole that would have tied him for the lead—and missed it. From there, it was downhill. He shot 74 to finish T-5.
One of golf's many traditions is for players to claim they aren't bothered by the holes in their résumés. Colin Montgomerie often said, "I'll have had a great career if I never win a major." Apparently the World Golf Hall of Fame agreed because he was inducted in 2013.
McIlroy wants badly to complete the career Grand Slam and join Gene Sarazen, Ben Hogan, Jack Nicklaus, Gary Player and Tiger Woods in that elite club. He has tried a different approach to Masters prep almost every year and, although he has played well most years, he still doesn't have a green jacket.
"I have to keep knocking on the door, get myself into position to win and then get it done late on Sunday," he said a couple of years ago. "I'm still young, and I should still have a lot of Masters to play. I just have to keep going after it. I believe I'll get there."
I'm sure he still believes it, even after his embarrassing 36 holes last week. That's another thing about McIlroy: He will have his down moments, but he'll never hang his head for very long.
Disappointed by his early exit at Augusta, McIlroy has the right perspective to get through his struggles on the course.
JD Cuban
David Feherty, who knew McIlroy's parents, Gerry and Rosie, well when he was an assistant pro at Holywood Golf Club many years ago, drove to the house where McIlroy was staying after the disastrous final round in 2011.
"I knew he'd answered all the questions from the media and handled it brilliantly," Feherty said. "But I wanted to see how he was doing when there weren't cameras around. I was concerned about him. I got to the house and said, 'Tell me, really, how are you feeling?'
"He smiled at me and said, "If this is the worst thing that ever happens in my life, I'll have a pretty good life.' "
Two months later, McIlroy won the U.S. Open by eight shots. It has now been almost seven years since he last won a major and right now his golf game is about as far away from the brilliance that made him the No. 1 player in the world as it's been since he was a teenager.
But McIlroy isn't going to go away. He'll be 32 next month—a year younger than Phil Mickelson was when he won his first major and two years younger than Hogan was when he won his first.
I've been fortunate enough to spend a good deal of time with McIroy in recent years. Never once has he said the words, "off the record" to me or snapped at a question. Last Wednesday was another example when, during his pre-Masters press conference, he criticized the new Georgia voting rights law—knowing full well that a majority of people in the sport would disagree with him.
On Thursday, after his opening 76, he and his father were both able to joke about a wayward shot from Rory on the seventh hole that hit Gerry in the back of the leg. Gerry wondered if perhaps Rory would autograph a glove for him, the way players often do when they hit spectators. Rory said perhaps he'd autograph a bag of frozen peas.
At that moment, there was still hope things would get better before the week was over. Friday, after another miserable day on the golf course, McIlroy did something he has almost never done throughout his career—he turned down a request to talk to the media.
That was completely out of character. But, after all, he IS human.