Features
Boo Weekley (remember him?) is anxious to make another comeback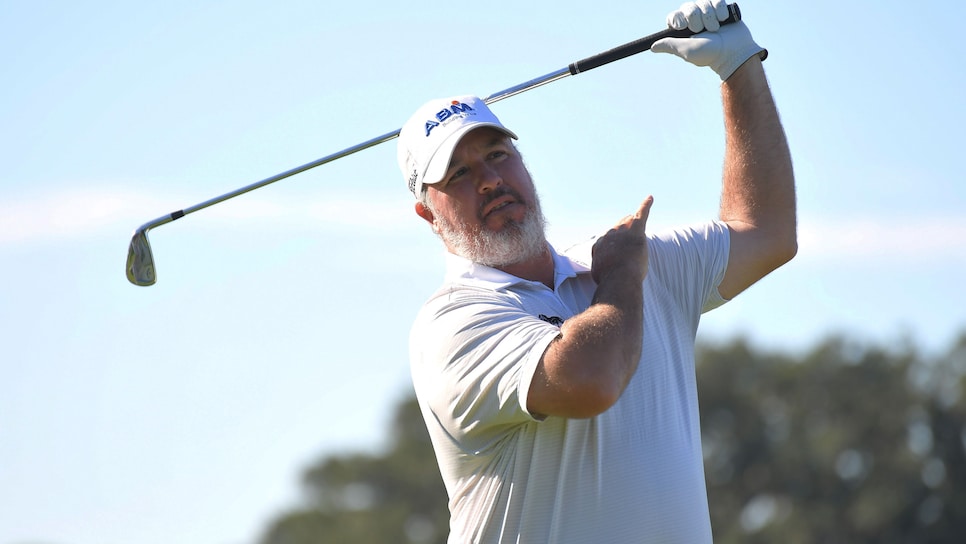 Boo Weekley hit a small bucket of balls on a driving range last week, yellow ones to be precise. He was wearing a mesh trucker's cap, wrinkled tan shorts and a faded, loose-fitting gray t-shirt with the image of a large deer head and a tree screened on the back between the words "Save a tree, Harvest a buck." That's what a guy who boxed an orangutan at the county fair as a teenager in the 1980s and did the Happy Gilmore bull dance off the first tee at the 2008 Ryder Cup wears when he hits a bucket of balls. Thankfully for Weekley, who will turn 48 this summer, his odds of one day returning to professional golf are better than they were that night long ago against the long-armed pongo, which knocked him out with one punch.
At least that's the hope.
In January, Weekley underwent surgery to have his left hip replaced after it was discovered that the cartilage that serves as a cushion between the hip socket and the femur, or thigh bone, had worn out, leaving the two bones in excruciating contact with one another. Had it been a decade ago, it would have been career over for the former three-time PGA Tour winner. Advances in modern medicine being what they are, the man born Thomas Brent and nicknamed after a fictional character (Yogi Bear's sidekick Boo-Boo) instead has a chance to author one final chapter in a career that most would find hard to believe.
"It feels good," Weekley says, in a country twang thick as putty, of the new hip that's constructed of metal, ceramic and polyethylene after taking his first swings of a club in 18 months. "My back was sore from just not having practiced, but I can actually turn into my hips.
"I'd been fighting with it off and on for about five years, so the doctor finally just recommended it and said I need a whole new hip."
The hip joint is made up of a ball that sits atop a socket above the femur. To perform the replacement, the surgeon makes an incision over the front or side of the hip and through layers of tissue, removes any damaged bone and cartilage, and implants the prosthetic into the pelvic bone to replace the damaged socket. Dr. Matthew Mai of the Institute for Orthopedics in Gulf Breeze, Fla., an hour south of where Weekley lives in the tiny town of Jay (population 620) in the state's panhandle, performed the procedure. Mai, who as it turns out lives a few houses down from where golf retail pioneer Edwin Watts used to reside, does about 700 hip replacements a year and it's the only thing he does.
"When you have hip pain from hip arthritis or other hip conditions, it's really going to affect your golf game because your follow-through won't be very good," Mai said. "The hip affects everything you do. When you can eliminate that pain and you can get that strength back that you've lost over the years, people should be able to get back to a high level of golf afterwards."
The timeline, Mai said, depends on how debilitated the hip is and how many related issues someone has. To return to high-level professional competition would probably be a minimum of six months, although one would start to see advancements after about three months, right where Weekley is now. Full recovery would be typically close to a year.
As long as the road ahead is for Weekley, he has already endured his share of obstacles in recent years.
Plagued by tendinitis in his right elbow in 2017, he underwent surgery that summer. But the recovery was arduous and prevented him from hitting golf balls for nearly a year. By the time he was able to swing the club, another problem popped up, this time a painful cyst in his right shoulder. Weekley had the cyst removed and was en route to Disney World and Legoland with his two sons, Parker (now 19) and Aiden (12), when his doctor called to tell him the tissue samples pulled from the cyst were cancerous. The bonding trip continued as planned, but when Weekley returned home, he went under the knife again to have the cancerous cells removed. It wasn't until November 2018 that he could finally resume practice. When he did, the rust was brutally obvious. Weekley, who in his prime could strike it as pure as a summer day is long, could barely crack 125 yards with a 9-iron. Worse yet, he hit a number of shanks.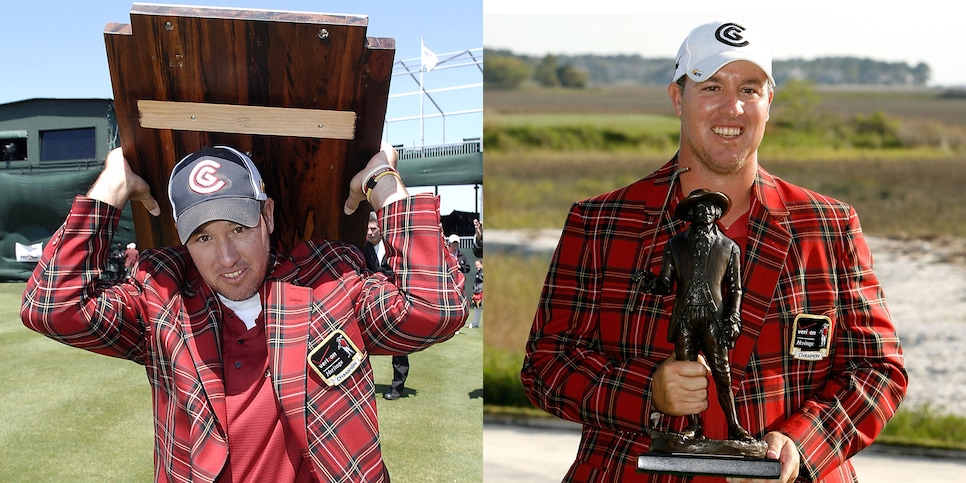 Weekley won back-to-back years at Harbour Town in 2007 and 2008, the first two of his three career PGA Tour titles.
By the time he returned to competition in January 2019, operating on lowly past champion status, things improved only slightly. Weekley missed 12 cuts in 24 starts across the PGA and Korn Ferry Tours, with a T-10 at the KFT's Louisiana stop his best result. Away from the course, he endured his share of struggles as well.
In 2007, Boo and his wife Karyn, whom he'd met on a Florida golf course in 1999, briefly split up before getting back together the following year. The relationship lasted eight more years, until 2016 when they parted ways for good. An acrimonious divorce along with its relative financial strain took a toll, according to Boo.
"I ended up losing a bunch of stuff that was personal to me," Weekley said. "My goal now is getting back out there to play golf, make it to the Champions Tour in a few years and make me some more money back to where I can retire."
Yet being able to do so still feels a long way off. Between the COVID-19 pandemic and being sidelined, the 6-foot-tall Weekley said his weight ballooned as he put on more than 20 pounds to tip the scale at a robust 250. Physical therapy has helped shed some of those extra pounds, but he still struggles with range of motion because of the hip replacement, to the point where it's a challenge to put on his socks and shoes.
Meanwhile, Weekley says he's heard little from his peers on the tour since he's been injured. Out of sight, out of mind. It has been dispiriting but understandable. Weekley did make it out two weeks ago to watch the KFT's Emerald Coast Classic in nearby Destin. Though most of the faces on the secondary circuit were as unfamiliar to him as his was to them, he caught up with a few old friends like Tommy Gainey, Rod Pampling and Steven Alker, among others. "You know, people forget about you out there," Weekley said. "I miss it. I miss the travel. I miss the camaraderie."
At the height of his career, however, he was anything but forgettable.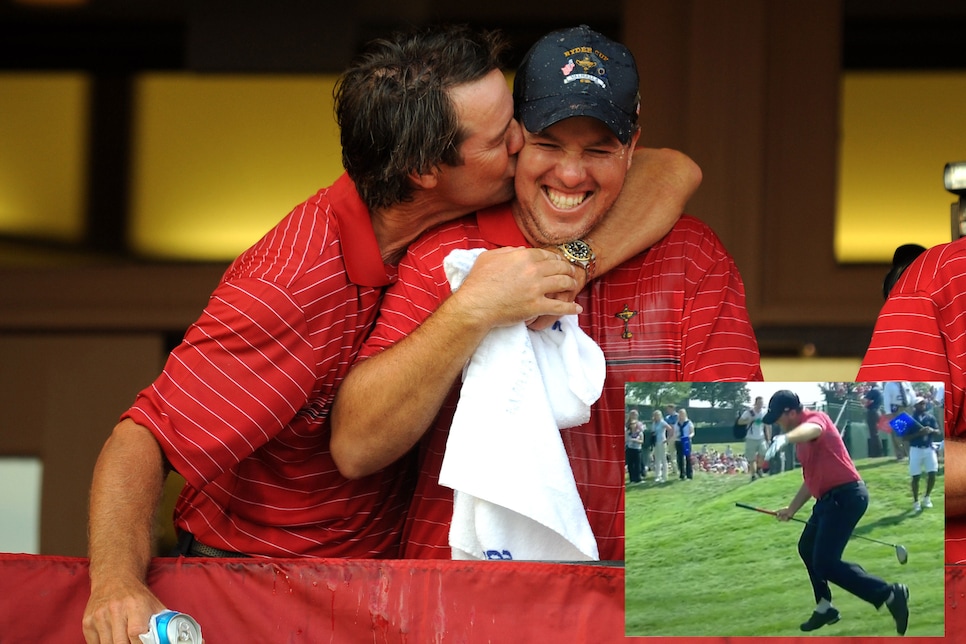 U.S. Ryder Cup captain Paul Azinger kisses Boo Weekley during their victory celebration at Valhalla in 2008, Weekley having won his Sunday singles match and riled up the crowd with his Happy Gilmore antics on the first tee.
Bloomberg
Born in Milton, Fla.—the same small town that somehow also produced fellow tour players Heath Slocum and Bubba Watson—Weekley didn't seriously consider pro golf for a career until age 23. After just a year at Abraham Baldwin Agricultural College in Tifton, Ga., where he also played on the golf team, he quit school and returned home to take a job hydroblasting ammonia tanks for a chemical company in Pensacola. Three years later, he lost the job when he learned the company was going to lay off a co-worker with a wife and four kids so he took the layoff instead.
Weekley turned pro in 1997 and spent much of the next decade playing mini tours and eventually the Nationwide Tour, save for 2002 when he made it to the PGA Tour via Q-School but quickly flamed out, missing 19 of 24 cuts to lose his card. In 2007, he was back on the big tour and that year chipped in on the 17th and 18th holes to win the RBC Heritage. A year later, he won there again, climbed to inside the top 25 in the world and earned a spot on the U.S. Ryder Cup team, where he helped the Americans snap a three-Cup skid with a rousing 4-and-2 win over Oliver Wilson in singles play. The Americans won in a blowout at Valhalla, but the indelible image from the event—and his career—was Weekley riding his driver like a bull down the first tee in his match against Wilson.
"He was a big part of the fun and looseness we experienced that week," says Steve Stricker, a member of the team and the 2021 U.S. Ryder Cup captain. "There were some real characters on that team. Boo and Anthony Kim fired up the home crowd."
The years that followed, though, were more tumultuous. From 2010 through 2012, Weekley missed 31 cuts in 76 starts. The big kid from little Milton, Fla., was having a little too much fun being Boo. He rebounded in 2013, finishing second in Tampa then winning at Colonial and ended the year on the rise and just outside the top 50 in the world. It didn't last long, though, as the trend reversed itself again. Then the spate of injuries started to mount. His last PGA Tour start came in November 2019 at the RSM Classic.
"This surgery was probably the lowest point," Weekley said of the hip replacement. "At first I didn't know if I was just gonna be able to do the regular things that I like to do again."
"Chasing deer, catching fish, it's still turkey hunting season down here," he said in that unmistakable drawl. "We stay busy 'round here, yessir."
That includes hitting a few golf balls.
"Oh yeah," Weekley said. "I want to come back. I'm ready man."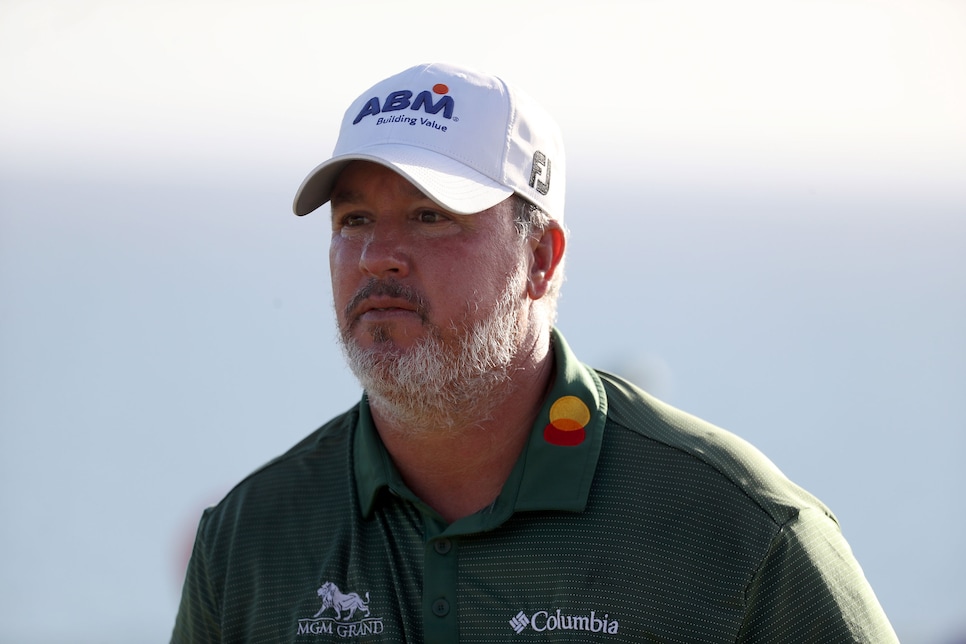 As he continues to heal from hip-replacement surgery, Weekley hopes there's more competitive golf in his future.
Rob Carr