RBC Heritage
Stewart Cink follows one bad shot with 62 good ones to get in contention at Harbour Town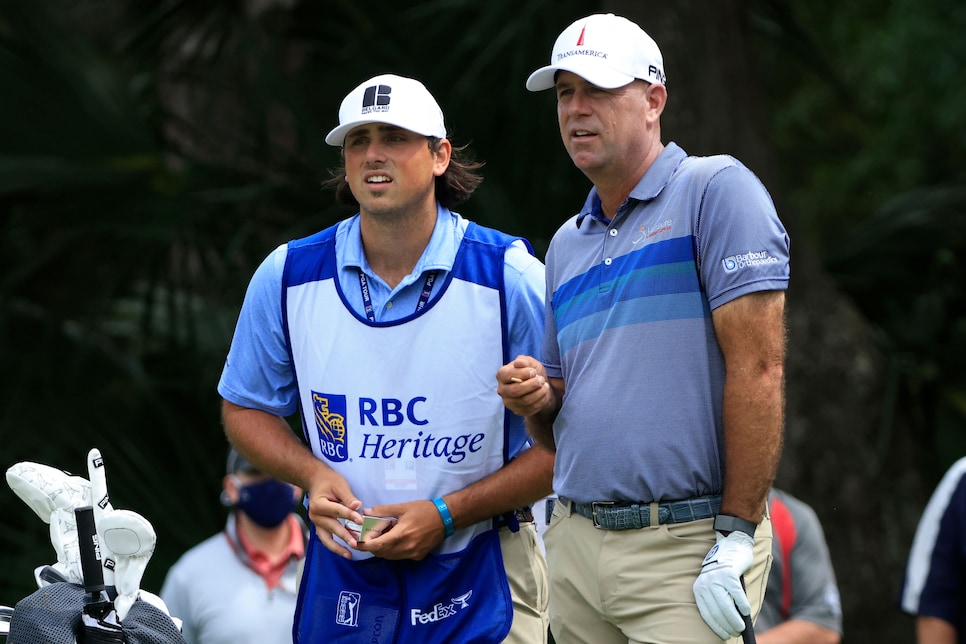 Stewart Cink talks with his caddie/son, Reagan, before hitting his tee shot on the seventh hole during Thursday's first round at the RBC Heritage.
Sam Greenwood
The worst shot of Stewart Cink's opening round at the RBC Heritage was the first. The 25-year PGA Tour veteran stood on the 10th tee Thursday, and he felt so relaxed, so at ease, that he decided to forgo his usual preparation—pick out a target, remember the swing cues, consult his son and caddie Reagan for any last bits of pertinent information—and just rip it.
Which he did … about 25 yards off-line, straight into the water.
"Just completely went to sleep at the wheel," he said afterward. "It was horrible. I had to hit lumber in on my third shot."
As Cink noted, an experience like that can rattle you. On Thursday, though, it might have been the best thing to happen to him. It was a wake-up call, and the message was clear: Yes, you just had an intense but rewarding week at the Masters, finishing T-12 and early an invite to the 2022 edition. Yes, the island vibe in Hilton Head is the perfect comedown from that "grindhouse." But it's still tournament golf, and if you lose focus, you're still going to slap a ball into the water.
Reagan Cink was quick to get in his father's ear. He advised him to learn from the error, to be a little less lazy, and to let the moment guide him through the rest of his round.
After that, things turned around in a hurry. Cink saved bogey on 10, made three birdies on his front nine to post a 33, and then caught a wave on the back nine with four birdies and an eagle to finish the day with a 63. At eight under, he held the lead after the morning wave, two shots clear of his nearest competition, Matt Wallace.
Counting the 2009 Open Championship, the 25-year PGA Tour veteran has won seven times on the PGA Tour, and two of those wins came at Harbour Town. The last of those came in 2004—a long time ago—but there's still something familiar for the former champ.
"The course hasn't really changed that much," said Cink, whose 63 was the lowest round he's ever shot at Harbour Town in 75 competitive rounds. "It's been through a couple renovations, added a few tees here and there. It's the same course for the most part. There is very little difference out there. It's just a great course. The kind of course that stays the test of time because it has some innate defense against distance."
That defense is critical for Cink, 47, who is not exactly a slouch off the tee, but who finished T-113 in driving distance last season. But playing at Hilton Head, while it limits the bombers, also plays to his strengths.
"It's a little bit odd here," he said. "The ball … you don't get the full distance. You have to make adjustments, playing for some change and your yardages, and that's something we adjust to pretty well."
At the end of his post-round presser, Cink was asked if his game plan will change now that he's jumped out to a lead. He answered the only way he could: Absolutely not.
"A round like this shows you what you're doing is already dead on," he said. "Why change anything?"