The Loop
Stewart Cink is the new, improbable fan favorite at TPC Scottsdale after rocking this Kevin Durant Suns jersey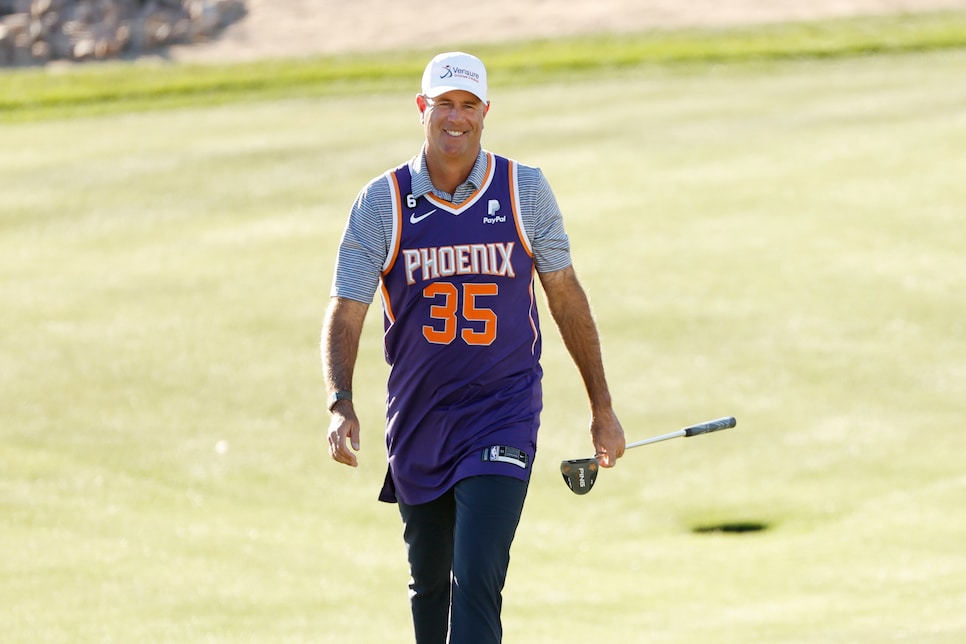 Listen, we're not trying to bash our old pal Stewart Cink, but the 2009 Open champ isn't exactly the hippest guy on the circuit anymore. He's not wearing joggers. He's not funny on Twitter. He's where golf is coming from, not where it's going. There's no shame in that. We'll all be there one day if we aren't already. This is the way of the world on and off the golf course, and that's OK.
And yet, despite all that, something miraculous happened on Thursday. Upon entering the Waste Management Phoenix Open's cauldron-like 16th hole, he was met with rapturous roars and thunderous applause. Why here? Why Cink? Well, it just so happened to do with what he was wearing …
As you've probably already heard, hours before the Phoenix Open tee'd off on Thursday, Kevin Durant was traded from the Brooklyn Nets to the Phoenix Suns. The deal fully dismantled the Nets' big three—once thought to be too good to lose—and is already being touted as one of the most seismic deadline day moves in NBA history. Cink saw an opportunity to make in-roads with the locals, and he grabbed it with both hands.
So how did Cink get said hands on a custom KD jersey while the ink on Durant's contract was still wet? The old-fashioned way, that's how.
Legend. He didn't ask a big-wig buddy at Nike to throw their weight around. His agent didn't stay up all night sewing "Durant" on one excruciating letter at a time. He worked for it. Let this be a lesson to Cink's new legion of young fans out there: Emails, texts, and DMs are great, but if you want to get sh*t done, sometimes you just have to pick up the phone and call.