U.S. Amateur
Sam Bennett, playing the underdog card, gets some revenge as he works his way through the match-play bracket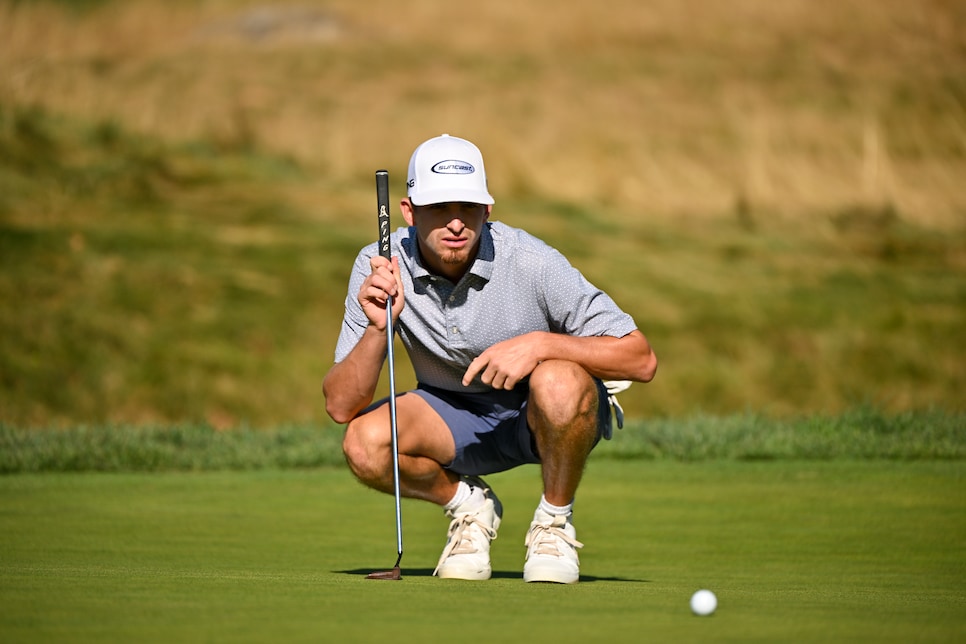 PARAMUS, N.J. — Nothing about Sam Bennett's résumé screams "underdog." The soon-to-be fifth-year senior at Texas A&M is currently the No. 3 ranked amateur in the world, and had he not decided to go back to College Station this fall for that fifth year, he would have likely finished in the top five of the PGA Tour University ranking in June, which would have earned him full status on the Korn Ferry Tour this past summer. All signs point to the Texas native being one of golf's next young stars.
But, as any sports documentary will tell you, any perceived slight is all the great ones need to launch a legendary career. The 22-year-old got all the ammo required in the leadup to this week's U.S. Amateur at Ridgewood Country Club, where he defeated Brazil's Fred Biondi, 6 and 5, in Thursday morning's second-round match to advance to the Round of 16.
"I got a little chip on my shoulder," Bennett said after closing out Biondi with a monstrous birdie putt at the par-5 13th. "I'm the third-ranked amateur in the world, now the highest ranked left, and no one's really talking about me. I mean, they were talking about Vig [Ludvig Aberg], [Austin] Greaser, [Michael] Thorbjornsen and [Dylan] Menante and I'm like, Where's my name? It's whatever."
Among the top-10 ranked amateurs in the world, Bennett is one of three left standing. The other two are Dylan Menante (No. 8) and David Puig (No. 10). Puig is the Arizona State senior who could make things very awkward should he continue to advance in New Jersey, given his appearance in two LIV Golf events earlier this summer. Bennett's opponent in the Round of 16? Puig.
"Puig's a competitor," Bennett said. "He's from Spain, and he's a good player. He's fierce. But anybody you play when you get to this point is playing good golf. Just got to play good golf to win."
That's all Bennett has done so far, shooting rounds of 71 and 73 in stroke-play qualifying and then taking down the 13th-ranked amateur in the world, Nick Gabrelcik, 1 up, on Wednesday in the first round. Next up was Biondi, one of the four co-medalists from stroke play and the top-ranked player in the PGA Tour U listings heading into the upcoming college season. Bennett and Biondi had a little bit of history, too; Bennett jumped all over him early, making birdie at the first to go 1 up and then playing the next 12 holes in four under to close him out with five holes to spare.
"Biondi's good, and I wanted some revenge," he said. "He beat me in the Palmer Cup this year in Switzerland, so I was really looking forward to this match. I was able to put the ball in play, which you have to do out here, and I was able to put pressure on him to be hitting first a lot. Hitting it in the right spots, and the putter got hot and I never let up. I think I went around this place without making a bogey and made four birdies. Tough to beat out here doing that."
Tough to beat in any format, but in match play particularly, a format that seems to suit Bennett quite nicely.
"I grew up playing multiple sports, and I feel like match play brings out the best in me when it's just one-on-one and you've just got to beat the guy in front of you, whatever it takes," Bennett said.
He'll need that competitive fire against Puig, who has become a prolific winner at Arizona State. Like Bennett, Puig also forfeited a prime PGA Tour U opportunity, though for much different reasons. Either way, it's a matchup of two guys unafraid to bet on themselves, which Bennett did by announcing he'd use his COVID year of eligibility to play one more season at A&M.
"I would have probably finished No. 1 [in the PGA Tour U rankings]," Bennett said. "Tour golf will always be there. I like college, and I want to get my degree. I feel like it's the right decision, especially with all the stuff that's going on with PGA Tour right now. I think I'm in a pretty good spot."
We'd say so. Bennett says he plans to turn pro after the 2023 NCAA Championship, hoping to first win a national title as an Aggie. For now, he and his coach/caddie Brian Kortan have a 2:20 p.m. third-round match on tap, when he'll gladly continue to play the underdog card despite all evidence pointing to the contrary.
"My coach is really good. He knows my game well," he said. "We're going to be tough to beat."