U.S. Amateur
How an untimely double bogey led to this first in U.S. Amateur history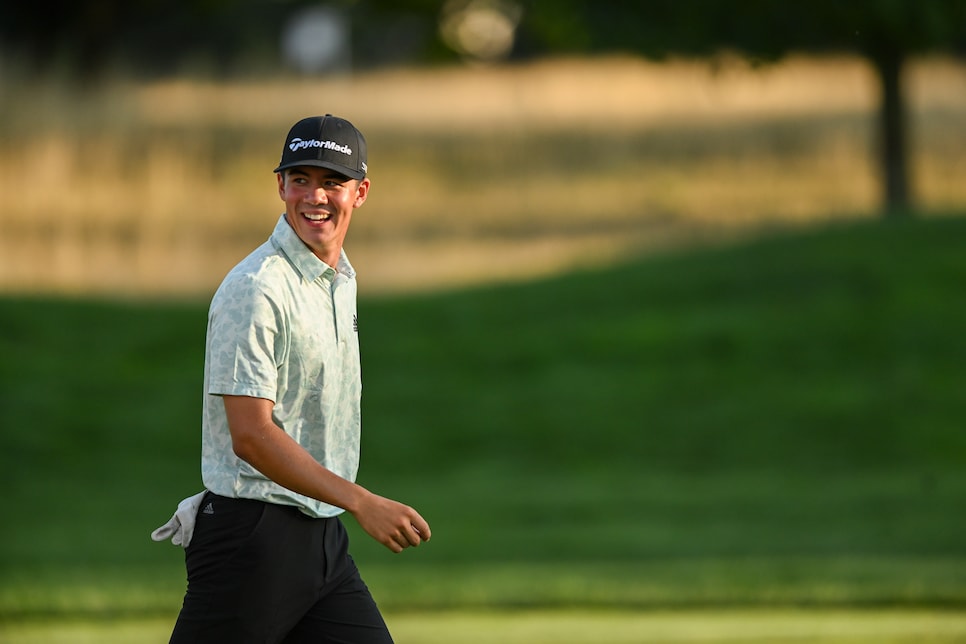 PARAMUS, N.J. — Prior to Tuesday evening, the 36-hole stroke-play portion of the U.S. Amateur had never had more than three co-medalists at the completion of stroke-play qualifying. It was a record that stood for more than 100 years.
It first happened in 1909, when Robert A. Gardner, Charles Evans Jr. and Thomas M. Sherman tied for medalist honors with a 36-hole total of 151 at Chicago Golf Club (Gardner went on to win). It happened again in 1919, when S. Davidson Herron, J.B. Manion and Paul Tewkesbury tied with a total of 158 over two rounds at Oakmont Country Club (Herron went on to win). The third occurrence came 12 years later in 1931, when Arthur Yates, Charles H. Seaver, and John E. Lehman tied at 148 at Beverly Country Club in Chicago. The eventual winner that week was Francis Ouimet, who had previously won the 1913 U.S. Open as an amateur at Brookline, and the 1914 U.S. Amateur at Ekwanok Country Club in Vermont.
Stunningly, in the 90 years since, there were never more than two co-medalists in the 36-hole stroke-play portion of the event. Keep in mind, between 1931 and 1979, the format bounced between stroke-play qualifying then match play, straight to match play for the entire field, sectional stroke-play qualifying and four days of pure stroke play. Beginning in 1979, the USGA made the switch back to 36-hole stroke play, then match play for the 64 who qualified for good.
On Tuesday at Ridgewood and Arcola Country Clubs, the record of three co-medalists after 36 holes was poised to remain fully intact, as Michael Thorbjornsen, the No. 6-ranked amateur in the world, was running away with solo first. Thorbjornsen began his week with a three-under 68 at Ridgewood on Monday, and on Tuesday at Arcola all he needed was par on 18 for a second straight 68, which would have locked up solo medalist honors by two strokes.
But Thorbjornsen stumbled home at the 452-yard par 4, making a round-ending double-bogey 6 that gave him a 36-hole total of three-under 138. That created a four-way tie at the top, something that has never happened in the U.S. Amateur.
Joining Thorbjornsen in first were Luke Gutschewski of the U.S., Fred Biondi of Brazil and Hugo Townsend of Sweden, a quartet that's now a part of U.S. Am history. Gutschewski, the son of journeyman PGA Tour pro Scott Gutschewski, matched Thorbjornsen's rounds of 68 at Ridgewood and 70 at Arcola, and he earned the No. 1 seed in the match play bracket via a random draw. Thorbjornsen is the No. 2 seed, Townsend No. 3 and Biondi No. 4.
All four will now have to deal with a medalist jinx of sorts. The last player to earn medalist or co-medalist honors and then go on to raise the Havemeyer Trophy was Ryan Moore in 2004 at Winged Foot, where the now five-time PGA Tour winner took down reigning Farmers Insurance Open champ Luke List in the final match. No pressure, guys.
Thorbjornsen, Gutschewski, Biondi and Townsend will all be back at it on Wednesday at Ridgewood, with all four players set to begin their first matches after 1:40 p.m. ET.