Amateur obsession
The incredible quest to find every golfer who played in the 1974 U.S. Amateur
David Repetto caddied in the '74 Amateur at Ridgewood C.C. and wondered what happened to those who played in the championship. After years of sleuthing, he tracked down 175 of the 200 competitors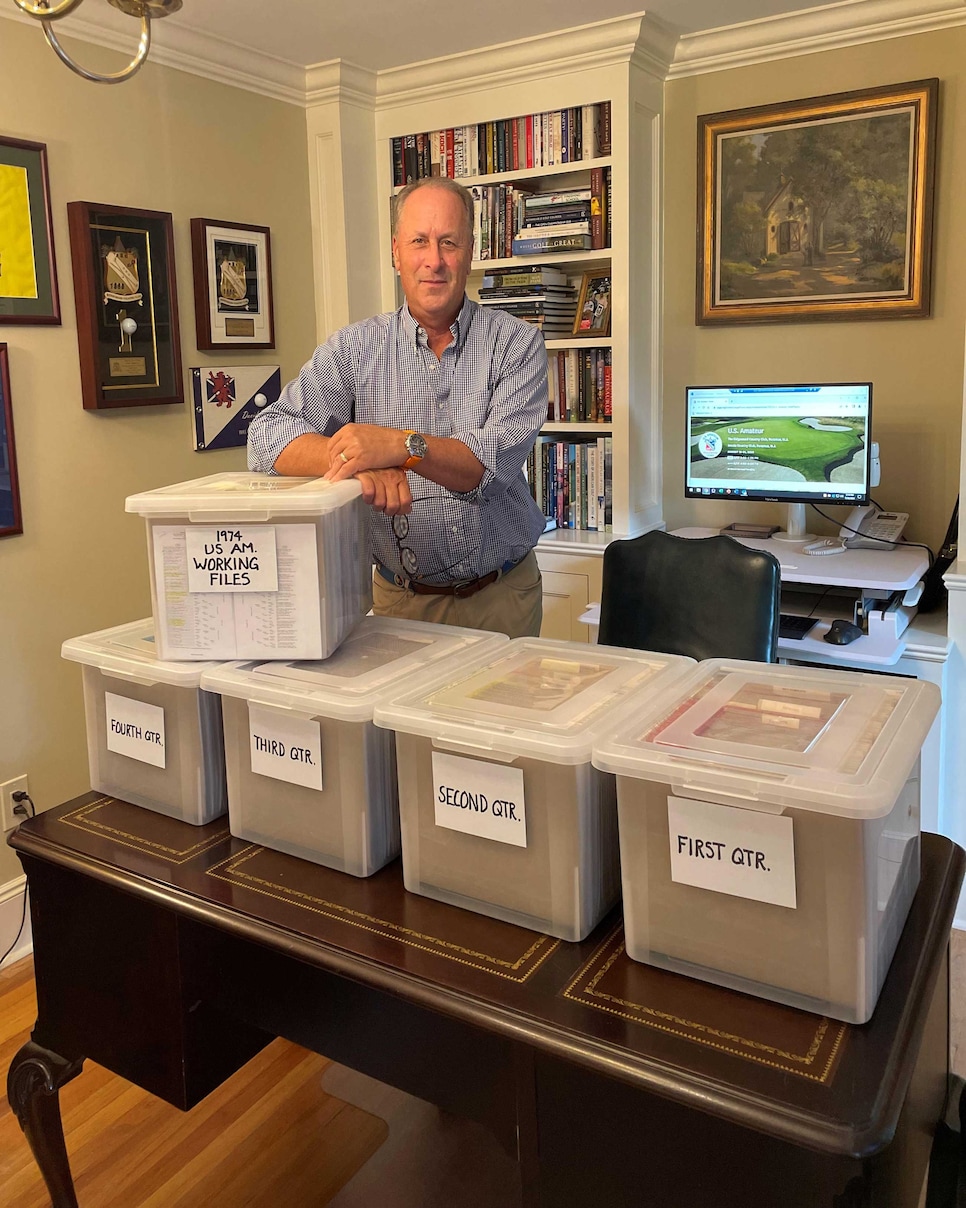 Two hours. That's how much time David Repetto had to kill between matches in the soccer tournament his daughter Erica was playing one summer day more than a decade ago. They were in central New Jersey, not far from the USGA's headquarters, museum and renowned golf research library, and Repetto, a lawyer and avid golfer, was curious about something. In 1974, as a 17-year-old high schooler, he caddied in the U.S. Amateur at Ridgewood Country Club in Paramus, N.J., where he was now a member. Repetto worked for two players that week—Stan Moore and Dale Kutz—and wondered what might have happened to them.
Little did Repetto know where that curiosity would eventually lead him: to years of Internet sleuthing on a project that would capture a club and a governing body's fancy as the 122nd U.S. Amateur returns to Ridgewood this week.
With his daughter and son, Peter, in tow, Repetto stopped at Golf House, visited the library, and asked to see the file on the 1974 championship. What he was handed shocked him. "The folder was as thin as it could be with something in it," Repetto said. "I opened it up and it had a program, it had some articles from the New York Times, and it had the [match-play] brackets. And he made a copy of those for me."
That night, Repetto looked through the bracket, filled with the names of all 200 contestants in that year's field. He then hopped on his computer to see if he could find anything about Moore or Kutz, starting only with the hometowns listed from decades earlier. Over the next few days, he eventually tracked down contact information for both, then reached out via email hoping to start a digital reunion.
"I sent a note to Dale, and I said, 'Dear Mr. Kutz, this might sound strange but by any chance did you play in the U.S. Amateur in 1974 at Ridgewood Country Club? And if you did, I was your caddie and I want you to know the 4-iron you hit out of the woods on the 18th hole to win the match is still one of the best shots I've ever seen,'" Repetto said. "Well, I got an email back from him the next morning. He couldn't believe it."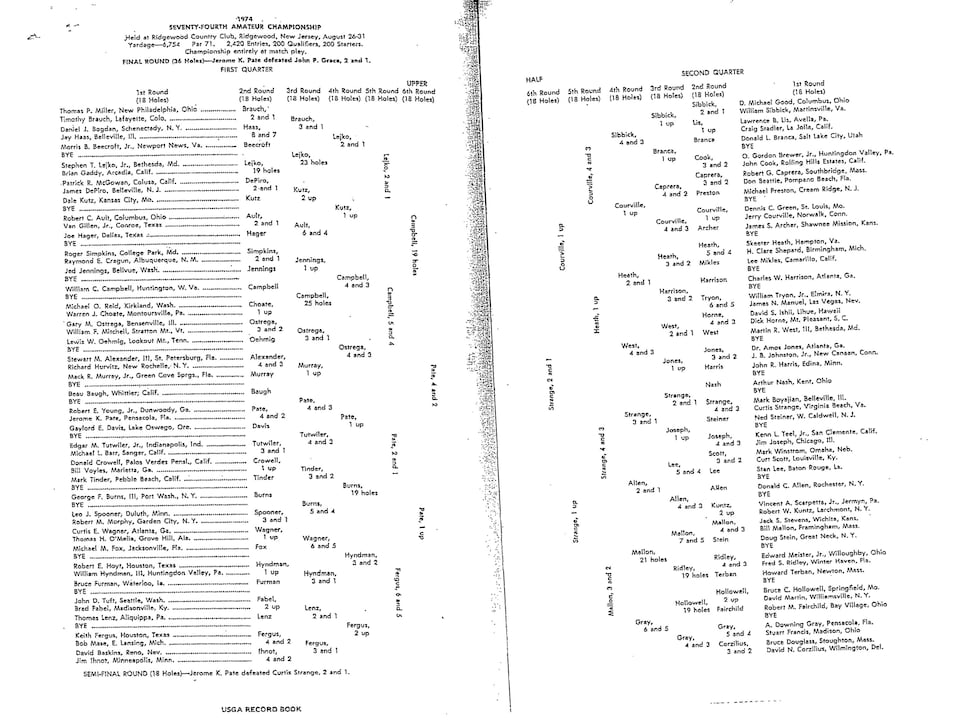 The match-play bracket from the 1974 U.S. Amateur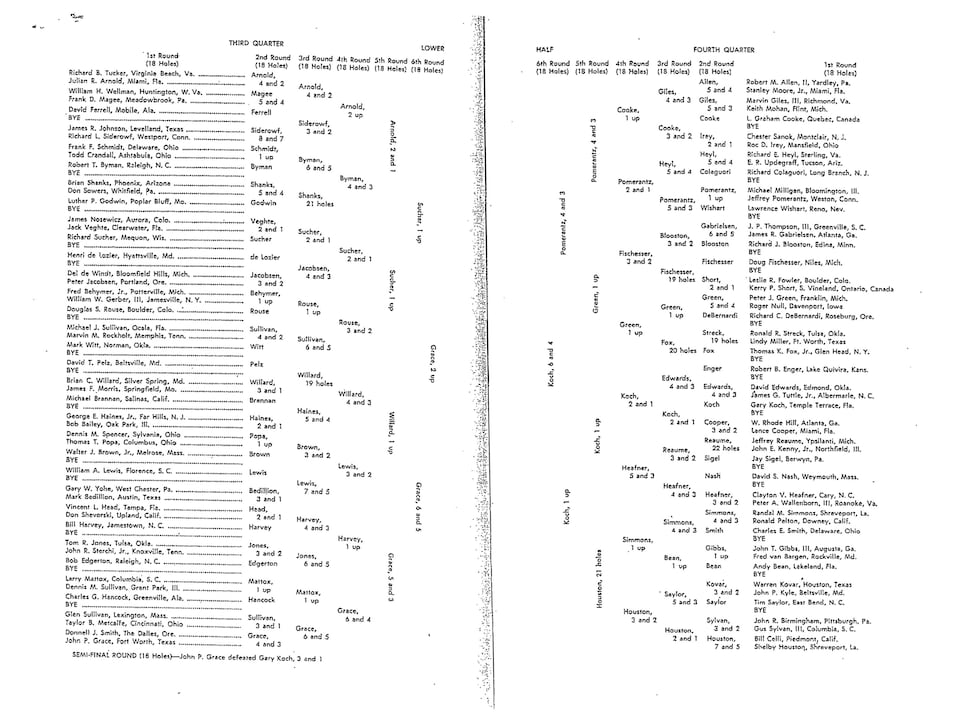 Slippery slopes are called that for a reason, the potential to slide into parts unknown. The search for Moore and Kutz inspired Repetto to undertake something similar, yet far more expansive. After Ridgewood was picked in 2019 to host this year's U.S. Amateur, which began on Monday, Repetto wondered if he could uncover what happened to all 200 people who played in the championship 48 years earlier.
Roughly three years and thousands of hours later, Repetto, remarkably, has connected on the phone or via email with all but 25 players (or family members) who competed in the championship.
"It's been a sheer labor of love for me," Repetto, now 65, said. "I've had fun finding people, reading about people. There are some amateurs who I had never heard of who are remarkable players."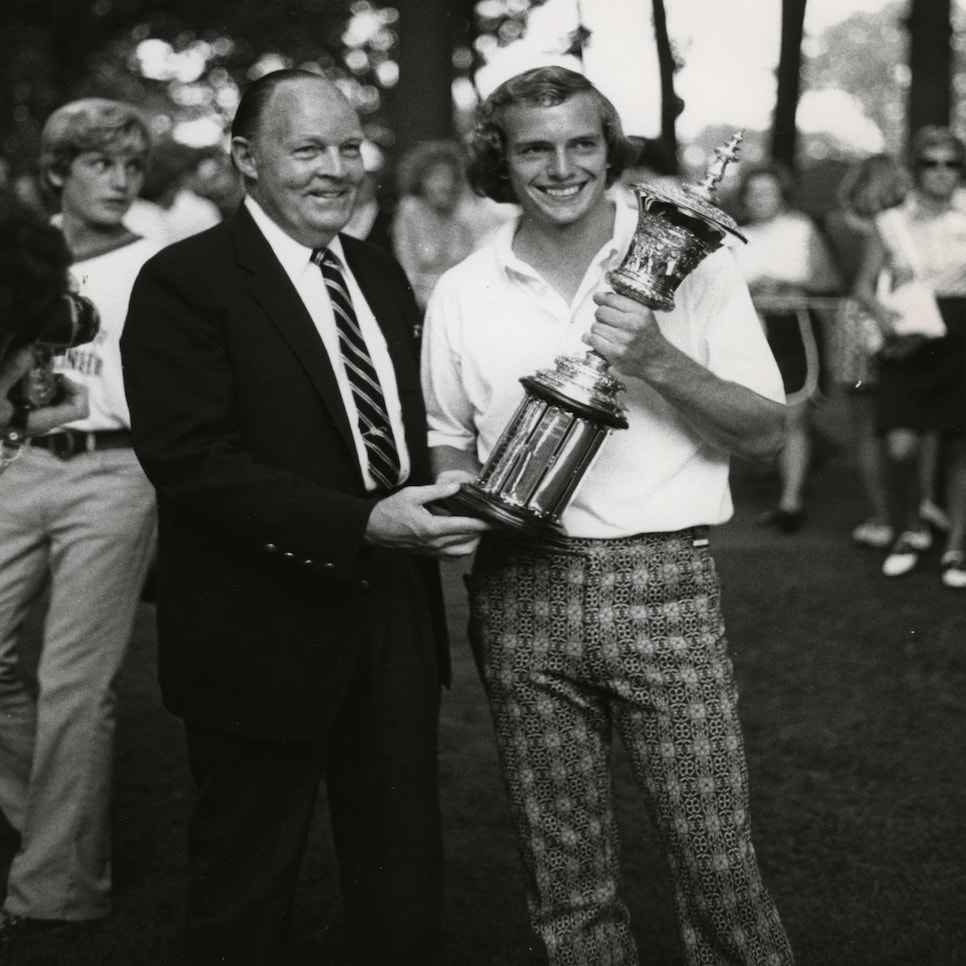 Harton S. Semple, left, presents Jerry Pate the Havemeyer Trophy after he closed out a and-1 win over John Grace in the '74 championship match at Ridgewood Country Club.
Unknown
Some of the players from '74 would be familiar to even casual golf fans, including the winner, Jerry Pate, who beat John Grace, 2 and 1, in the championship match, as well as semifinalist Curtis Strange and Gary Koch. Several others competing also went on to successful careers as tour pros, including Jay Haas, Peter Jacobsen, Craig Stadler, John Cook, Andy Bean, David Edwards and George Burns.
Those connected with amateur golf might recognize notable career standouts who played in 1974, including Bill Campbell, O. Gordon Brewer, Vinny Giles, Dick Siderowf, Bill Hyndman, Downing Gray and Jay Sigel. (The field would have nine players who either won or would go on to win the Havemeyer Trophy in their careers.)
Others at Ridgewood that week didn't go on to become famous tour pros but continued to have influence in the golf world. Stu Francis is ending a three-year term as the USGA president. Fred Ridley, who went on to win the U.S. Amateur title a year later at C.C. of Virginia, is the chairman at Augusta National after serving as a USGA president. Future instructor Dave Pelz competed, as did Graham Cooke, who met Robert Trent Jones that week at Ridgewood, an encounter that helped spur Cooke to become a golf course designer.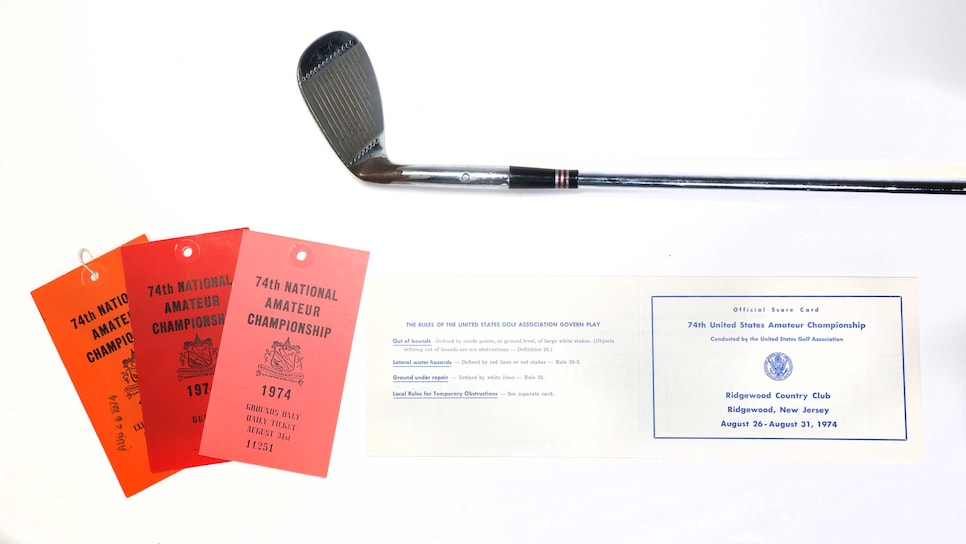 Repetto established a routine for his research, making a hanging folder for every player (in 1974, there was no stroke-play qualifying leading into a 64-player match-play bracket, but simply straight match play). He then used his investigating skills as a former prosecutor in Bergen County. Initially working only off the names and hometowns from the bracket, he did Google searches to see if players could be located.
"I would type in the contestant's name, and 'golf' or 'golfer,'" Repetto said. "It was like a scavenger hunt."
He also became adept at using the GHIN system to track people down. He began by putting in a players' name and try different states in the region from where they was from in 1974. ("I was surprised how many people didn't move away.") He then cross-referenced their current handicaps to see if they seemed low enough to have been former scratch golfers who could have played in the USGA's oldest championship. When he thought it was a potential match, he then often called the course's pro shop to see if indeed he had the right people.
Repetto organized his hanging folders in four bankers boxes, one for each quarter of the match-play bracket. Inside the boxes, he organized the players who were still amateurs, players who turned pro and those who had died (57 by his count). In a fifth box were all the players he was still searching for.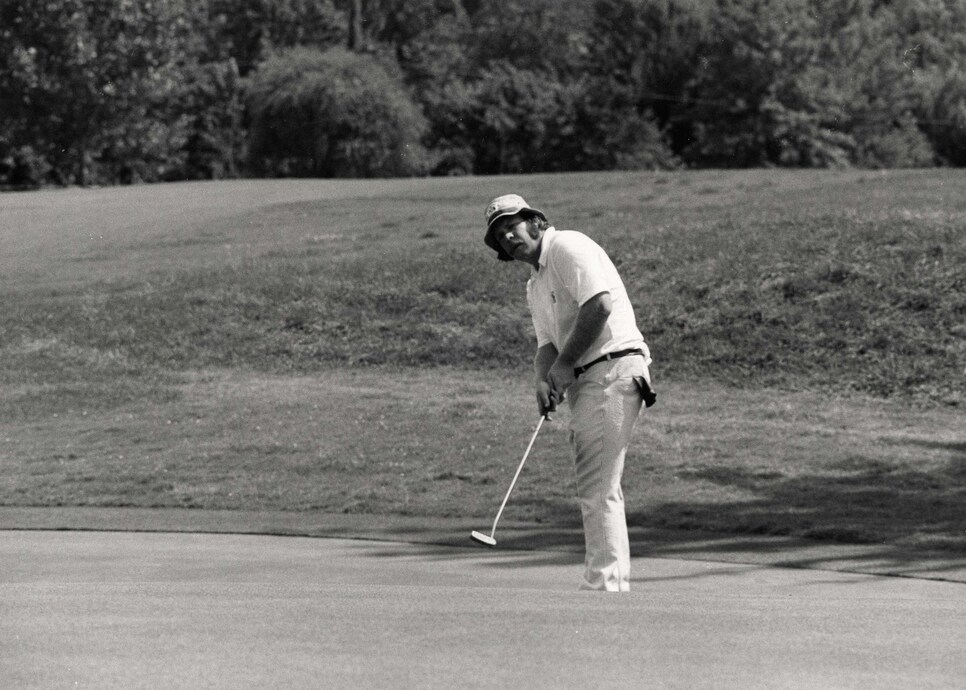 Among the competitors in the 1974 U.S. Amateur were Craig Stadler.
unknown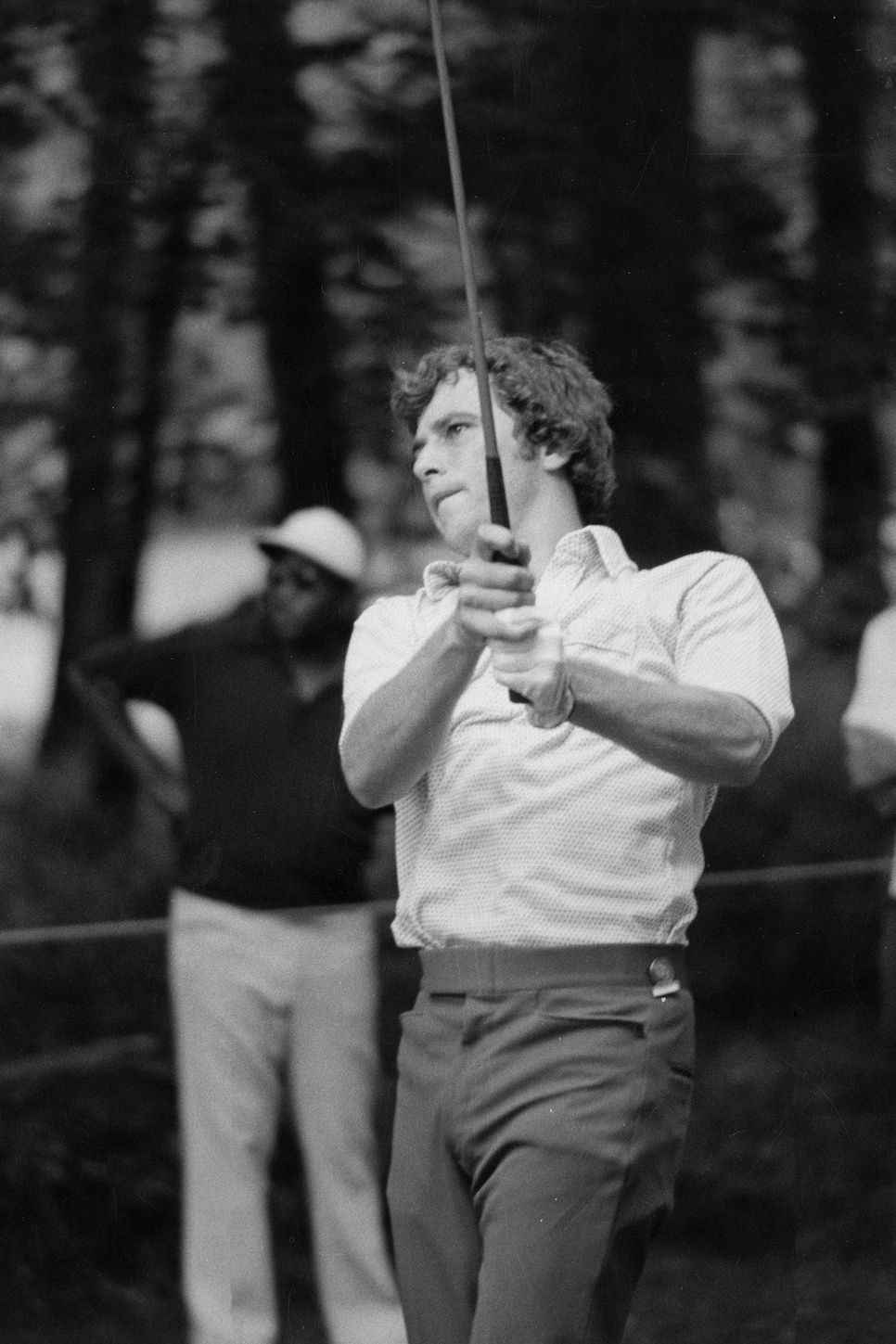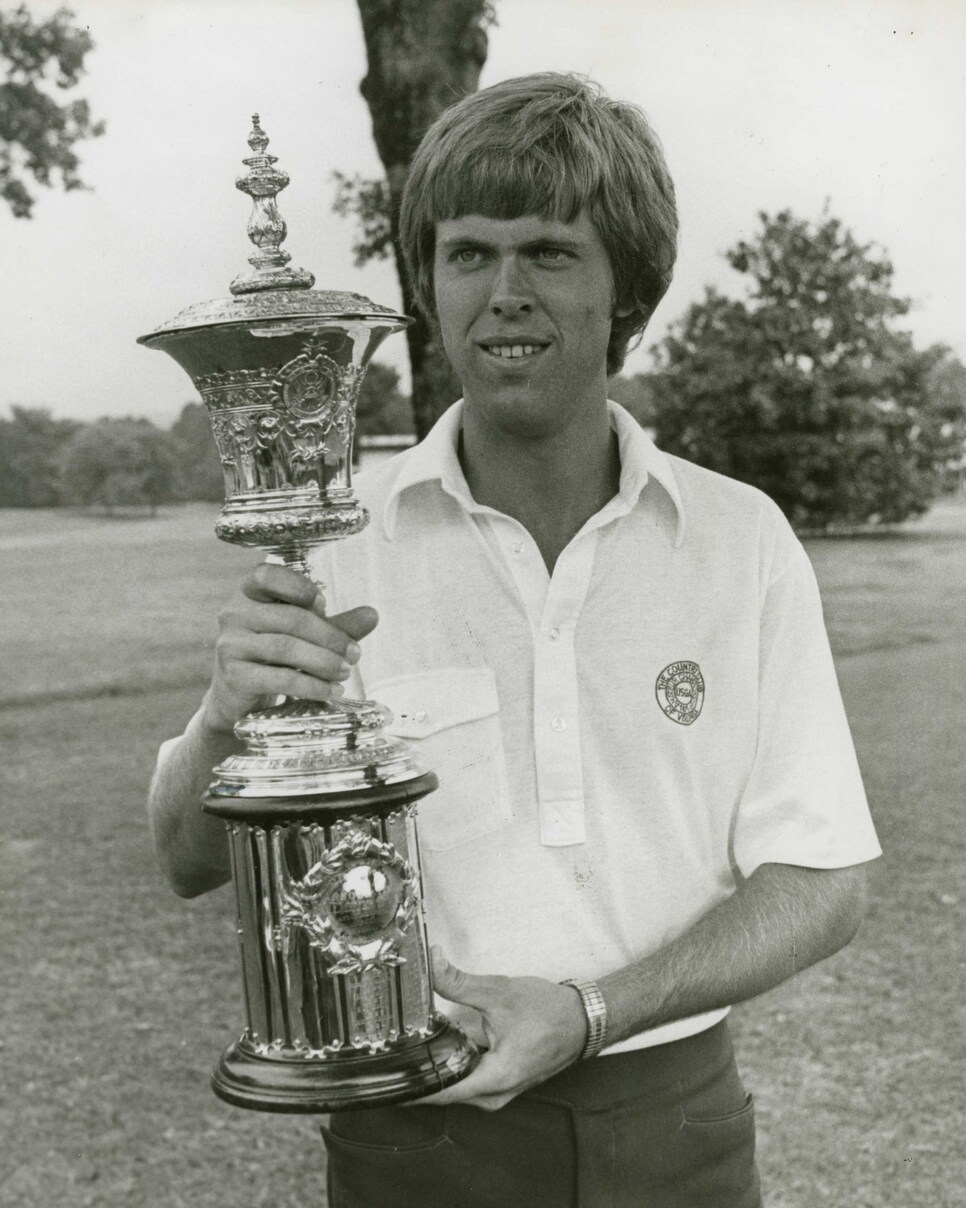 and Fred Ridley, who would win the U.S. Amateur title himself a year later, becoming the last champion who never turned professional.
Unknown
The project fit Repetto's personality. "He's a super extroverted guy," said Kevin Shea, a co-chairman of the U.S. Amateur at Ridgewood. "And he's curious."
Shortly after starting his research, the COVID-19 pandemic hit and put things on hold. Repetto was uncertain when or if he'd re-start the search, but later in the year, he decided to pick things up again.
"It's gotten me through some long winter nights because I'm a summer guy," Repetto said. "I don't like the cold winter, early nights."
As Repetto built up momentum with new finds, proudly removing them from the "missing" box, his project gained the attention of the USGA.
"There was a conference call with the USGA and our media committee, and my son is on that committee," Repetto said. "He called me up after the call and said, 'Dad, you know the USGA was talking about your project.' And he said they said if anything should come of this, they're going to do something about it during the championship. So that's the second turning point. I thought if I could help this championship be a little more special and help the USGA, that became the second turning point."
As he connected with former players and gathered a wealth of background on them, the question was what to do with the information. After talking with other members at Ridgewood, Repetto turned the research into a series of articles for the club's website. He's written more than a dozen, including stories that featured the finalists, the professionals who competed in the event, and a story about Francis and Ridley.
"Remember, initially when you're contacting people you have no idea what the reaction might be," said Mike Policano, the other U.S. Amateur co-chair. "And then as more and more people were acting so positively, we just took the natural next step. … You know it's not so much surprise and we just didn't think it out that way."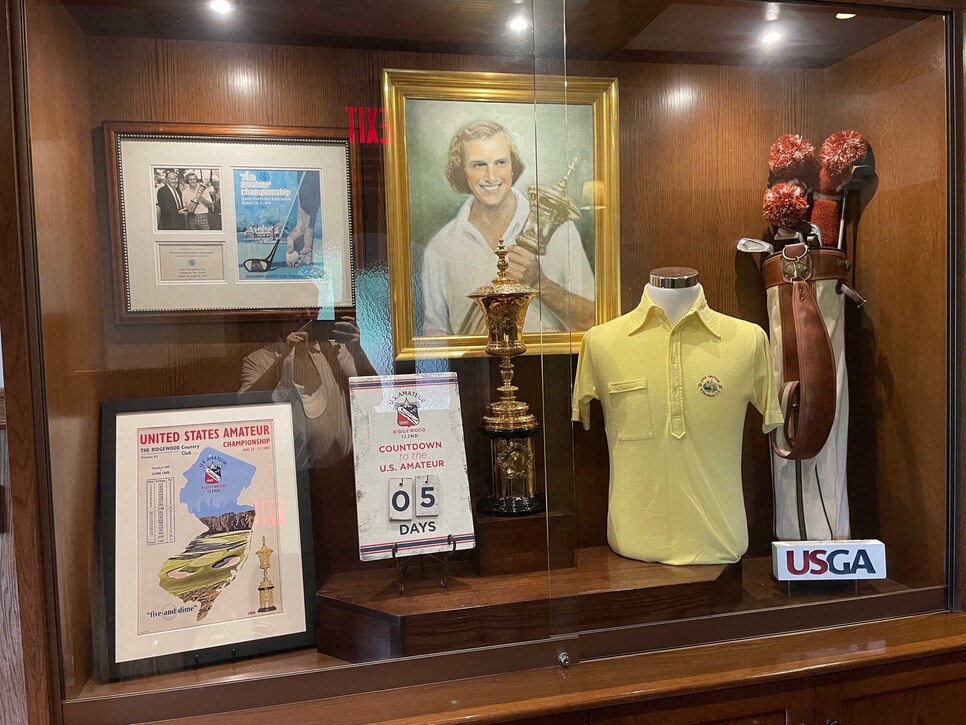 A display case at Ridgewood Country Club highlights the 1974 Amateur.
"Nobody has done anything other than give of themselves to make this project successful," Repetto said.
In turn, the articles have gotten the Ridgewood membership even more excited about hosting this year's championship, according to Shea.
The most satisfying find for Repetto was a player named Gary W. Yohe, of West Chester, Pa., who had become a bit of a white whale. Early web searches turned up the name in conjunction with an environmental economics professor at Wesleyan University. This Gary Yohe was part of United Nations team that shared the Nobel Prize in 2007 with Al Gore for their work on researching climate change. But was that really the same person who competing at Ridgewood in 1974? Sure enough it was.
"He doesn't play much golf anymore," Repetto said. "But he's an amazingly compelling story. To think that the field produced a Nobel Prize winner is amazing."
Says Shea: "The event either gave them the passion for golf or the sort of energy to go on to other successful endeavors. It's pretty neat."
Repetto's work also inspired the club to host a reunion luncheon hosted by Gary Williams this coming Friday (the day of the quarterfinals) for any players from the 1974 championship to come and be recognized. More than 20 players are expected to be back, and they've also invited Ridgewood members who worked the championship as volunteers to attend.
When this year's Amateur comes to a close, Repetto being given the honor of being a standard bearer for the championship match, his bankers boxes are being donated to the USGA museum. "The happiest person about that is my wife," he joked, "because we can move it all out of the house."
Repetto meanwhile can have the satisfaction of knowing when someone goes to kill time at the USGA library and wants to look up the 1974 U.S. Amateur, they'll need a lot more than two hours to spare.