When the finalists at the 122nd U.S. Amateur Championship square off in the 36-hole championship match on Sunday at Ridgewood Country Club in Paramus, N.J., they will have each endured the same grueling week. Each will have advanced through 36 holes of stroke-play qualifying, where the 312-man field is whittled down to 64. They will have then prevailed in five matches over four days on a testing A.W. Tillinghast layout. All signs indicate that the two players capable of passing such a thorough examination are of similar skill and possess similar potential, regardless of who takes home the Havemeyer Trophy.
Yet, over the last 32 years, U.S. Amateur winners have enjoyed more widespread success at the professional level compared to their vanquished foes, the runners-up often failing to capitalize on their amateur promise. U.S. Amateur winners since 1990 have amassed more than $455 million in PGA Tour earnings, while the runners-up have earned a little more than $119 million. The champions in this span have captured 167 tour wins compared to just 19 for the runners-up.
It may be easy to chalk this disparity up to the prolific success of U.S. Amateur winners Tiger Woods and Phil Mickelson, who have combined for more than $215 million in tour earnings and 127 wins (we're counting Woods' accomplishments for the champions just once despite the fact he won three times from 1994-1996). Throw them out, however, and the winners collectively still have won more than twice as much money ($239.3 million to $119.4 million) and captured more than twice as many wins on tour (40 to 19) as the runners-up. In fact, the runner-up has gone on to out-earn the champion who beat them just eight times in those 32 years.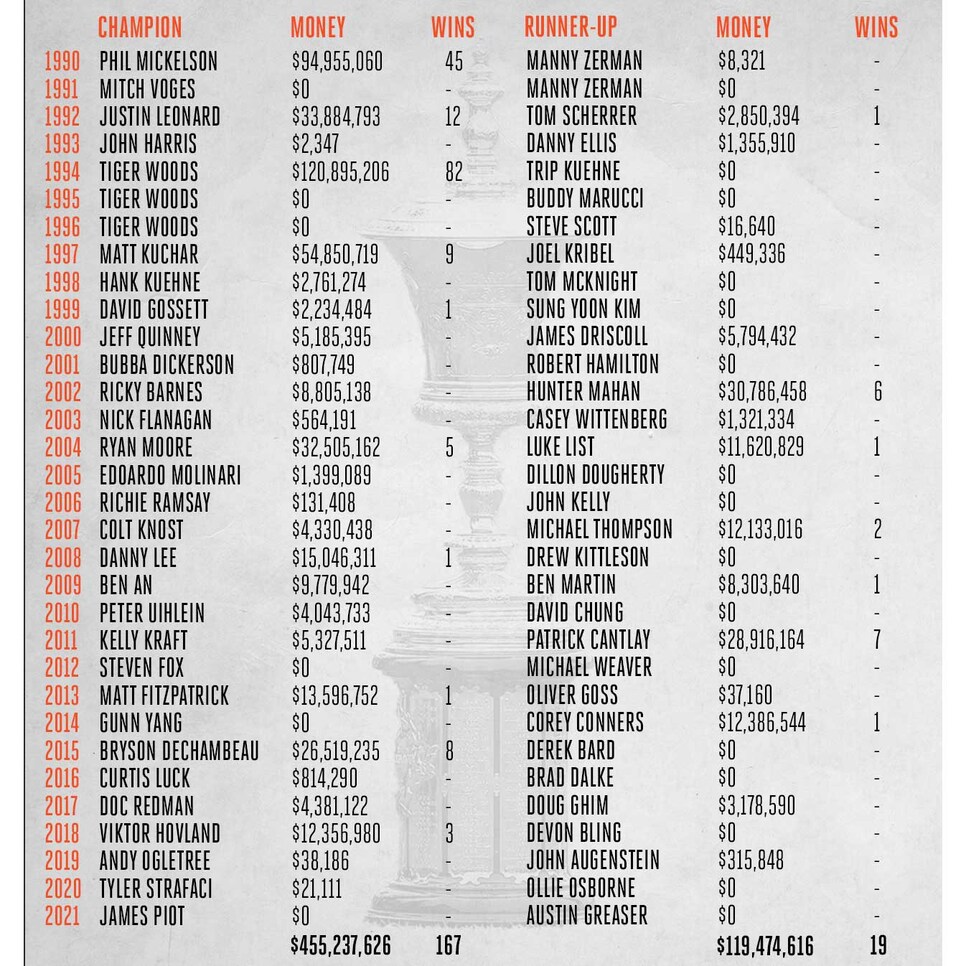 * Woods' tour earnings/wins are listed only once despite three U.S. Amateur titles.
** Zerman's tour earnings/wins are listed only once despite two runners-up finishes.
In some ways, this disparity should not be surprising. Winning the U.S. Amateur gives a player a host of opportunities beyond the exemptions into the U.S. Open and Open Championship, as well as a likely invitation to the Masters. (The runner-up also earns a spot in the U.S. Open and a likely spot in the Masters.) Winners routinely receive numerous sponsor's exemptions into PGA Tour events the following year, allowing them valuable experience to turbo-boost their careers as they decide when to turn professional. Moreover, the endorsement deals that often come with such a résumé boost provide winners' financial safety net should their career get off to a slow start.
Arguably the most compelling reason why it shouldn't be a surprise that the winners outperform their opponents is just that. They won. In the biggest amateur championship in the world, with all the perks and exemptions looming, the victor was better able to manage the pressure and perform. Yes, there are the vagaries of match play that many love to tout when a surprise player emerges from the U.S. Amateur brackets. But pulling out a win remains as good an indicator of future success as a pro as any.
While winning the U.S. Amateur is by no means a guarantee of a long, lucrative career in pro golf, the performance of champions since 1990 compared to the runners-up shows the importance of the final match. Though both finalists will reach Ridgewood's first tee on Sunday having enjoyed a week's worth of success, the victor may be best positioned to turn the triumph into a professional payday.