U.S. Amateur
Thought you could escape LIV at the U.S. Amateur? Think again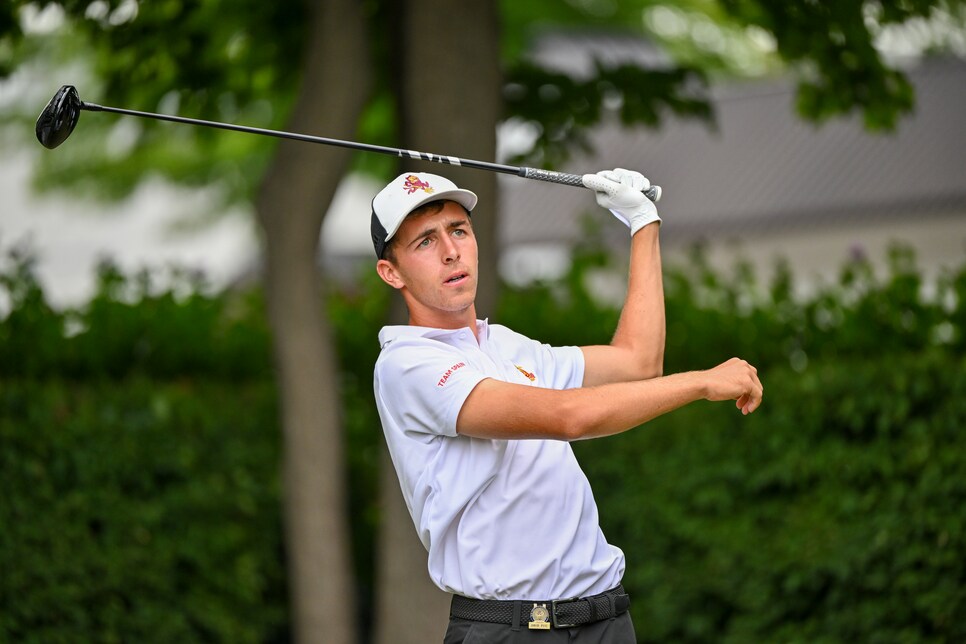 PARAMUS, N.J. — Remember that feeling after the 150th Open Championship at St. Andrews? The "back to reality" feeling, the reality being that the LIV Golf vs. the PGA Tour saga had only just begun. For one week in Scotland, we all forgot about that reality. And then it smacked us in the head like an errant tee shot that was missing a "FORE" call on that Monday morning.
This week's U.S. Amateur at Ridgewood Country Club should have, in theory, allowed us to recapture that feeling. Pure golf. Match play. No obscene $4 million check handed out at the end. Just a gold medal, invitations into three of next year's majors, and the glorious Havemeyer Trophy, which deserves way more love in the sports-trophy hierarchy.
But it's no longer possible to avoid the LIV Golf discussion, even at the elite amateur level, David Puig's first-round victory on Wednesday serving as further proof of that. Puig, a rising senior at Arizona State, has already competed in two of the events on the Saudi-backed series, the first in London and the second last month at Trump National Golf Club Bedminster, right here in the Garden State.
Puig, a slender, soft-spoken 20-year-old from Spain, technically "earned" $267,000 in his two LIV starts, finishing 40th out of 48 players in London and 42nd out of 48 in Bedminster. Of course, he could not accept any of that prize money, as that would forfeit his amateur status. Puig also says there is no NIL deal, which was rumored to be a possibility for amateurs playing in LIV events.
"They were great," Puig said of the two LIV experiences. "As I keep telling everybody, it's a great opportunity for amateurs, especially for a guy like me from Europe. I never had any chance to play on the PGA Tour, and I only had one chance to play on the European Tour. They [LIV] contacted me and offered me to play those two tournaments. Both were really good and I had a lot of fun."
The Spaniard is not 100 percent sure, but he says he'll likely tee it up in one more LIV event this year, the LIV Golf Invitational at Rich Harvest Farms outside Chicago, which will take place Sept. 16-18. Then he'll be back at school in Tempe, Ariz., to complete his final season before turning pro after the 2023 NCAA Championship.
Puig, currently ranked 10th in the World Amateur Golf Ranking, was not the only amateur player LIV targeted. Defending U.S. Amateur champion James Piot, who turned professional in May and signed a reported $1 million deal with LIV, has played in all three events. Thailand's Ratchanon "TK" Chantananuwat, who was in the U.S. Amateur field this week but failed to reach match play, played in the London event at Centurion. And Eugenio Lopez-Chacarra changed his mind about coming back for a last year at Oklahoma State in the fall after receiving a lucrative offer from LIV. The All-American, ranked inside the top five of the World Amateur Golf Ranking at the time, turned pro in late June and has played in the last two LIV events.
If Puig continues to play well at Ridgewood, all eyes would suddenly be on him, as is the case with all things LIV Golf. He's already received plenty of criticism on social media, and he's well aware that more could be on the horizon.
"I've actually already got some bad words from people that think LIV is not the best option," Puig said. "I understand everybody's opinion. I really don't pay attention to the bad stuff because the people that know me know what I'm doing and the things I'm doing are the right thing for sure. So, I'm pretty relaxed on that part.
"It happens," he added. "I don't know, there's people that hate LIV, there's people that hate the PGA Tour. I really don't care what people think, I know what I'm doing and if I'm doing it it's because I believe it's the right thing to do for me. If not, I wouldn't do it. I'll say it again, it's not for the money or anything. It's just that they gave me an opportunity and the other tours didn't. I don't care if I play here or there right now. As a golfer I want to play against the best in the best tournaments and to get to that point I need experience, and those LIV events are giving me experience. That's pretty much it."
As Golf Channel's Ryan Lavner reported in May, part of what went into Puig's decision was that, barring a heroic senior season with the Sun Devils, he was unlikely to finish in the top five of the PGA Tour University standings, which would earn him full Korn Ferry Tour status. If he finished sixth-through-15th, he would have received status on one of the PGA Tour's other umbrella circuits. By playing in the two LIV events, Puig forfeited those two opportunities, the PGA Tour announcing in May that players would be forfeiting their eligibilty if they competed in an event that is not recognized by the Official World Golf Ranking.
Puig sounded very much at peace with that decision on Wednesday, though he, like many other LIV players, is still holding out hope he could play on the PGA Tour one day.
"I've watched the PGA Tour since I was a kid, and I really don't know what's the controversy with LIV and for PGA Tour," he said. "I'm like a shadow in all of that, you know? It's the tour we all love, we all watch. I don't know how it's going to end. I'm hoping to play everywhere."
For now, Puig will be playing at Ridgewood again on Thursday morning at 8:50 a.m. ET against Bryce Lewis, having advanced on the strength of a 1-up victory over Griffin Barela. It's already been a strong week for Puig, a previously unknown amateur to the golf world at large despite this being his third U.S. Amateur appearance. Should he continue to advance, that will change rather quickly, for better or worse.