College Golf
Florida's Fred Biondi tops preseason PGA Tour University ranking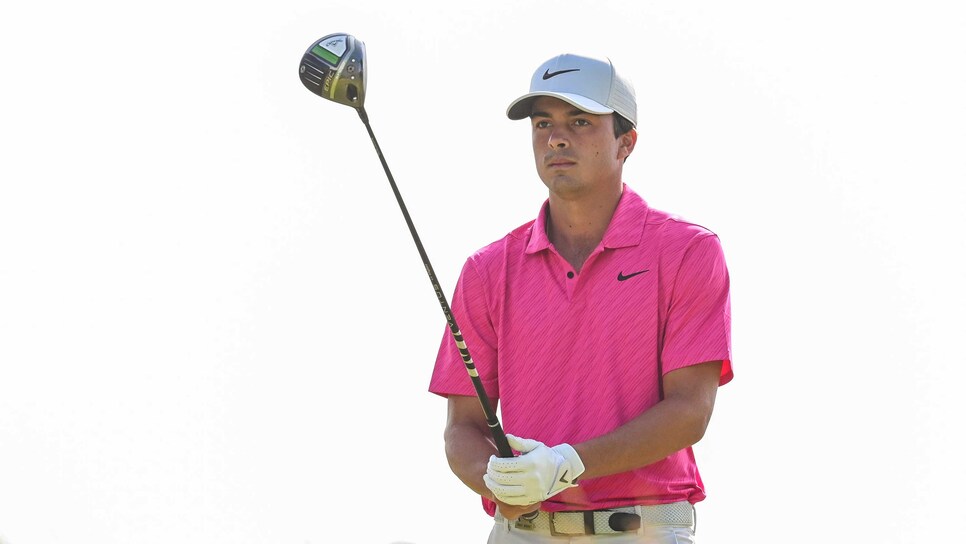 Fred Biondi prepares to play his shot from the 10th tee during the first round of the 2022 U.S. Open.
Keyur Khamar
The fifth-year senior at the University of Florida topped the preseason list released on Wednesday. A 21-year-old from Brazil, Biondi outpaced his fellow rising seniors, who will all be working during their last year of college, beyond helping their teams fight for an NCAA title, to get inside the top five of the ranking and earn membership on the Korn Ferry Tour for the summer of 2023.
And if you think that isn't much of a reward, think again. Texas All-American Pierceson Coody finished No. 1 at the end of the 2022 season in early June, and in his third KFT start this summer won the Live and Work in Maine Open. With two regular-season events to play, he has an outside shot of slipping into the top 25 on the KFT points list (he's currently 32nd) and earning a PGA Tour card for the 2022-23 season. His current spot gets him into the Korn Ferry Tour Final Series, where 25 other PGA Tour cards are on the line.
It's not just the top five players at the end of the college season who earn a place to play the next summer. Those finishing sixth through 15th on the PGA Tour U. points list earn membership on either PGA Tour Canada or PGA Tour Latinoamerica.
Biondi's résumé includes two wins and two runners-up with the Gators during the 2021-22 season. He also qualified for the U.S. Open at The Country Club (he missed the cut) and was 2-0-2 for the victorious international side at the Arnold Palmer Cup this summer. In January, he finished runner-up at the Latin America Amateur Championship, and he is the highest ranked Brazilian golfer in the history of the World Amateur Golf Ranking (21st).
Not far behind him in the rankings are two players who have been in the thick of the PGA Tour U. chase in previous seasons. Texas Tech's Ludvig Aberg, ranked second, was going to wrap up his college season last spring, but an injury caused him to push back his departure a year. Similarly, Texas A&M's Sam Bennett was No. 1 in the PGA Tour U. ranking at the end of the fall semester in 2021, but decided to use a remaining year of eligibility and defer his senior season to 2022-23. He's third in the pre-season ranking.
PGA Tour University Velocity Global Ranking—Preseason 2022-23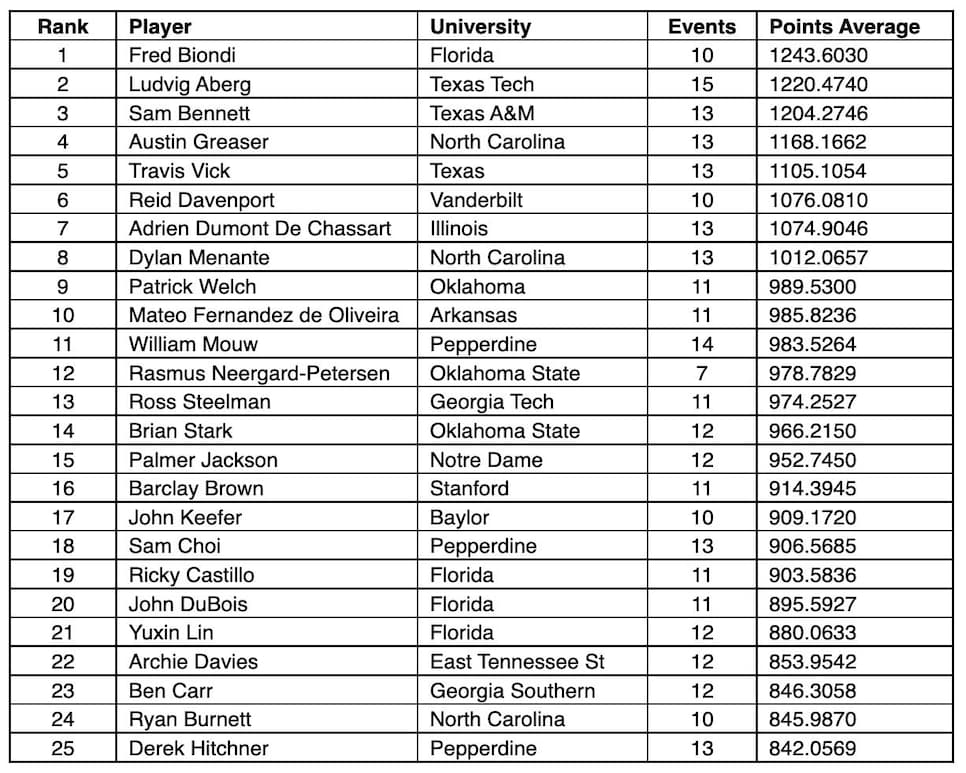 Rounding out the top five are North Carolina's Austin Greaser, the runner-up at the 2021 U.S. Amateur, and Texas' Travis Vick, a key member of the Longhorns' 2022 team that captured the NCAA title and the low amateur at the U.S. Open at Brookline.