KORN FERRY TOUR
Pierceson Coody closes whirlwind month with win in third professional start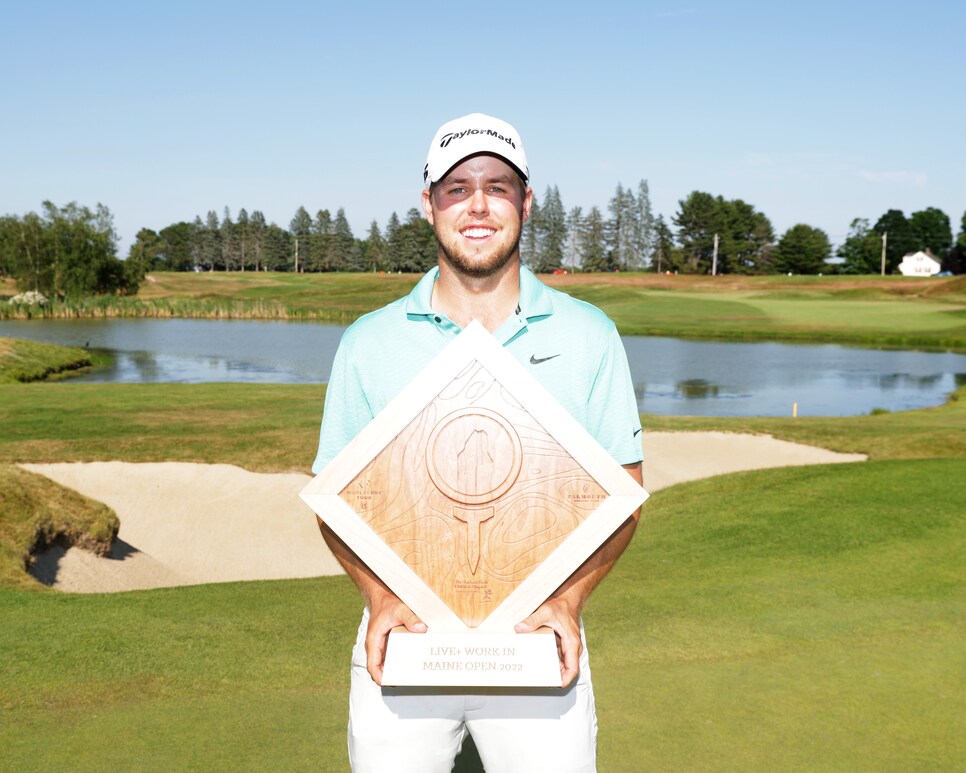 Pierceson Coody started June with a victory and Sunday in Maine he closed the month with one too.
Coody followed a fourth-place tie last week in Kansas with a dominating victory Sunday at the Live and Work in Maine Open at Falmouth Country Club. The 22-year-old shot 69-62-67-66 for a 20-under total and won by five shots, matching the largest margin of victory on the Korn Ferry Tour this year.
"It's crazy, it feels like a blur," Coody said. "I don't know how to describe it."
The second-round 62 tied the course record and included seven birdies and an eagle. He remained in contention after a solid third-round performance, then went out early in the final round and shot seven-under 28 on the front nine to stomp the competition. He made five birdies and an eagle in that opening stretch and held an eight-shot lead at one point. After bogeys on the 10th and 11th holes, Coody closed with seven consecutive pars to capture his maiden professional victory.
Not bad for a man who admitted his goal was to simply finish inside the top 75 on the Korn Ferry Tour's regular season points list and earn a spot in the tour's finals. Now, the victory vaulted Coody to No. 31 on the season's points list where the top 25 at the end of the year earn PGA Tour status.
"It won't sink in for a while," Coody said. "Hopefully I get to keep playing with this kind of momentum and can see where it takes me."
Before the tournament even started Coody made news for another reason. The grandson of 1971 Masters champion Charles Coody told Golf.com that LIV Golf officials had reached out to his family and agent in May and presented them with a "multi-million-dollar" offer to start his professional career on their eight-event series.
According to the report, the family had 12 days to make a decision—his twin brother Parker was offered a different amount which was done in order to help entice Pierceson to join—but Pierceson turned down the deal, saying that his dream growing up was always to play on the PGA Tour.
"Seeing that kind of money was kind of a wow moment for me," Coody said. "It was a crazy amount of money, but I love the American tour. I never saw myself as a LIV golfer, but a PGA Tour golfer."
After victory Sunday in Maine, he's much closer to his longtime goal.