NCAA Championship
Coody twins lead Texas to victory at 2022 NCAA Championship, claiming school's fourth national title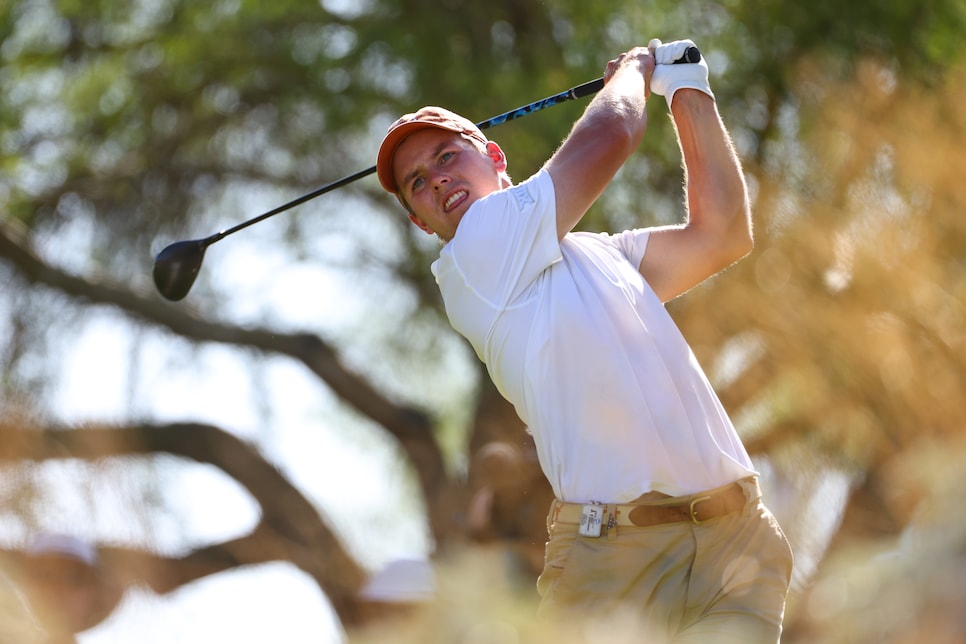 Texas senior Parker Coody tees off during the NCAA Championship.
Justin Tafoya
It probably should be no surprise that the final of the NCAA Men's Championship, contested between two heavyweight programs, was won on the strength of twin branches from a family tree that has a green jacket.
University of Texas seniors Parker and Pierceson Coody, twin grandsons of former Masters champion Charles Coody, delivered the first two points for the Longhorns, who went on to defeat Arizona State, 3-2, at Grayhawk Golf Club in Scottsdale, Ariz., on Wednesday. It was Texas' second national championship in 11 years and the fourth in school history.
The clinching point came from Travis Vick, whose two-putt par on the 18th green gave him a 1-up victory over Cameron Sisk.
The Coody twins along with fellow senior Cole Hammer—nicknamed "The Three Amigos"—have had big expectations since arriving in Austin back in the fall of 2018. They lost in the finals of the NCAA Championship to Stanford as freshman in 2019, missed out on a chance to play for a title in 2020 due to COVID and then failed to qualify for match play with a disappointing effort at nationals in 2021.
Things looked like they also might go sideways during the 2022 season when both Coody brothers broke a bone in their right arms in freak non-golf accidents in November. Each managed to return this spring, and the Longhorns won back-to-back titles in April to hint that the team was rounding into championship form.
"It's been such a long road, a lot of adversity," Vick said. "We had a target on our back when the Coodys and Cole [Hammer] first came in. To be able to get it done was really special."
"They're three of the best golfers ever to play at Texas," said UT coach John Fields, who was coaching in the NCAA final for the fourth time, his team winning previously in 2012 and losing in the 2016 final. "We're going to miss them. They're three of the best people on the planet."
Parker Coody, who lost in a playoff in the individual title on Monday, set the stage for this victory over the Sun Devils, who were pursuing their third NCAA championship in school history and playing in front of hometown fans in Scottsdale. Parker took a 2-up lead by making three 3s to open his match with James Leow and cruised to a 6-and-5 victory.
Pierceson had a tougher match, but prevailed, 2 and 1, over ASU star freshman Preston Summerhays. After Summerhays missed a short birdie attempt at 17, Pierceson holed his birdie putt to end it.
"It's hard not to tear up," Pierceson said after his match. "Especially this year. So much adversity, and to end up here and watching everyone play like this, it's something I'll never forget."
At one point, it appeared Texas would win handily, but the Sun Devils gamely hung in and even threatened to pull off a remarkable comeback. Mason Andersen defeated Hammer, 3 and 2, for Arizona State's first point, while Vick's match came down to the 18th hole and David Puig's birdie at 17 tied his match with Mason Nome. Both Puig and Nome parred 18 to send it to extra holes.
Nome appeared headed to a victory, but when Vick, 1 up at 18, lagged his birdie putt to within inches, he was conceded his par, giving the Longhorns their third point and the championship. Nome then conceded his match to Puig, as the celebration began.