College Golf
Texas' Coody twins each break arm in fluky non-golf accident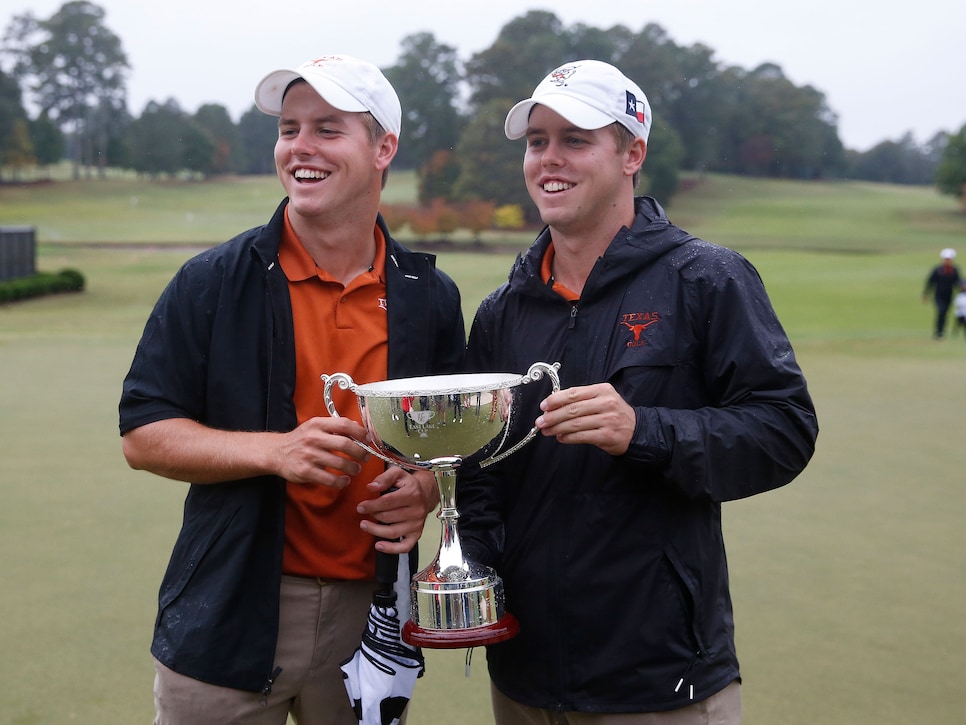 Pierceson and Parker Coody hold the East Lake Cup after Texas' win in the match in 2019.
Mike Zarrilli
Pierceson and Parker Coody might be taking this identical twins thing a bit too far. The 21-year-old star senior golfers at the University of Texas are both expected to miss the start of the spring college season after each broke a bone in his right arm in a fluke non-golf accident.
First reported by GolfChannel.com, the brothers were competing in a post-workout relay race at UT's indoor Athletic Performance Center earlier this month. As they crossed the finish line, both brothers crashed into a padded cement wall, their arms bracing for the impact. However, as it turned out, each one broke a bone in his right arm when hitting the wall, both suffering radial-head fractures, according to GolfChannel.com, just below the right elbow.
"For us to be literally in slings together, doing physical rehab together every day, it's kind of ironically funny," Pierceson, the No. 2 golfer in the World Amateur Golf Ranking and the PGA Tour U ranking, and a member of the U.S. Walker Cup team last spring, told GolfChannel.com.
Indeed, the brothers, who turn 22 on Jan. 7, are trying to get healed back home in Plano, Texas, in hopes of missing as little of the spring schedule as possible. The recovery from the injuries is likely to take eight to 12 weeks, with neither brother expected to be able to hit balls until mid-January at the earliest. Texas coach John Fields told Golf Digest that they are progressing well and currently on track to compete mid-spring.
The Longhorns open the spring portion of the 2021-22 season at the Southwestern Invitational in California on Jan. 24-26 followed by the Amer Ari Invitational in Hawaii on Feb. 3-5. The team's third spring event isn't until late February.
Pierceson finished the fall semester with a 72.0 average, playing in three events with a top finish of T-11 at the Colonial Collegiate Invitational. Parker, 68th in the OWGR, also played three times, posting a 72.67 average with a sixth-place showing at the Maridoe Collegiate.
Texas closed out the fall ranked eighth in the Golfstat ranking and has a talented roster that includes two-time U.S. Walker Cupper Cole Hammer and U.S. Amateur semifinalist Travis Vick.
"I told the guys at the beginning of the year that COVID would challenge us in different ways, on and off the course," Fields said. "Patience, perseverance and flexibility wuld be our best friend. This is just another in a series of curve balls."