College Golf
A grateful Pierceson Coody earns top honors in final PGA Tour University ranking of 2021-22 season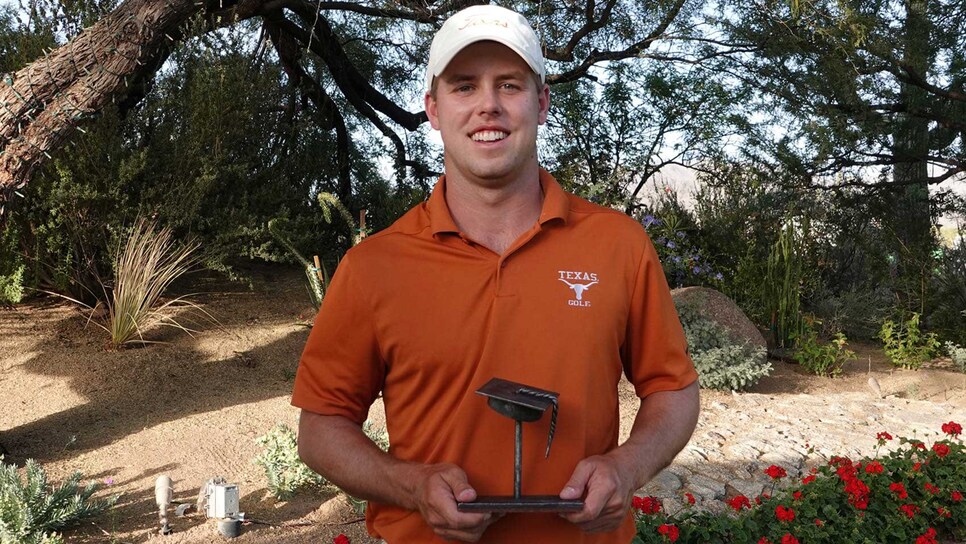 Pierceson Coody finished No. 1 in the Class of 2022 PGA Tour University Velocity Global Ranking. (Taylor Crosby/PGA Tout)
All's well that ends well for Pierceson Coody. On Wednesday, the 22-year-old University of Texas All-American earned a crucial point with a 2-and-1 win over Arizona State's Preston Summerhays to help the Longhorns claim the NCAA Championship at Grayhawk Golf Club in Scottsdale, Ariz. It was a storybook end to a senior season that just six months ago looked far less cheerful.
In December, Coody broke a bone in his right arm in a freak accident during a conditioning drill. As unusual as it was, it was made more unbelievable by the fact his twin brother, Parker, did literally the same thing on the same day.
After both missed the early part of the spring season, each was playing again by March, Pierceson winning the Augusta Haskins Award Invitational with the third-lowest 54-hole score in school history (17-under 199). He went on to finish tied for 15th in the individual portion of the NCAA Championship on Monday before going 2-1 in match play to help clinch the team title for the Longhorns, the school's fourth national championship in men's golf.
"This year, to go through all of the adversity and to end up here and watch everyone play like this," Pierceson said after his final match, his voice cracking, "it means the world and is something I'll never forget."
While enjoying the happy finish to his college career, Pierceson has reason to celebrate his future as a pro, too. Thanks to his play over the last 24 months, Coody claimed top honors among seniors in the PGA Tour University rankings and with it has a spot on the Korn Ferry Tour for the remainder of the summer.
In its second year, the program sponsored by Velocity Global provides the top-five ranked players among college golf's senior class full KFT membership through the end of the 2021-22 season. Joining Coody in earning "First Team" honors are Clemson's Jacob Bridgeman, Oklahoma's Logan McAllister, Washington's R.J. Manke and Texas' Cole Hammer.
Manke's inclusion came thanks to some solid play at the NCAA Championship. Competing as an individual at Grayhawk, the Lakewood, Wash., native had a T-15 showing at nationals that allowed him to jump from sixth in the ranking entering nationals to fourth.
Players ranked sixth to 15th in the final PGA Tour U standings receive "second team" honors and earn membership on either of the PGA Tour international tours. SMU's Noah Goodwin is wasting no time in using his new status. The former U.S. Junior Amateur winner starts his pro career on Thursday by playing in PGA Tour Canada's first event of 2022, the Royal Beach Victoria Open.
As it turns out, Parker Coody also used a successful finish at nationals to leap into the top 15. Parker was part of a four-man playoff for the individual title on Monday, won on the first extra hole by Vanderbilt freshman Gordon Sargent. That T-2 finish allowed him to jump 12th spots to No. 13 in the final ranking.
Rank/Player/School/NCAA Finish/Pts Avg
1: Pierceson Coody, Texas, T-15, 1240.85
2: Jacob Bridgeman, Clemson, DNP, 1115.87
3: Logan McAllister, Oklahoma, T-25, 1107.41
4: RJ Manke, Washington, T-15, 1056.35
5: Cole Hammer, Texas, T-20, 1054.82
6: Alex Fitzpatrick, Wake Forest, DNP, 1042.69
7: Chris Gotterup, Oklahoma, T-5, 1042.43
8: Trent Phillips, Georgia, T-57, 1041.98
9: Jackson Suber, Ole Miss, T-40, 1007.38
10: Joe Highsmith, Pepperdine, T-43, 1000.99
11: Ryan Hall, South Carolina, DNP, 993.93
12: Noah Goodwin, SMU, DNP, 980.23
13: Parker Coody, Texas, T-2, 918.09
14: Cameron Sisk, Arizona State, T-5, 917.21
15: Aman Gupta, Oklahoma State, T-47, 916.89
16: Sam Choi, New Mexico, DNP, 889.86
17: Joey Vrzich, Pepperdine, T-52, 878.46
18: Albin Bergstrom, South Florida, T-99, 868.31
19: Walker Lee, Texas A&M, T-85, 857.74
20: Ryan Gerard, North Carolina, T-25, 838.6