Ryder Cup history
Ryder Cup 2021: Members of the One-Time Club are thankful for the experiences of a lifetime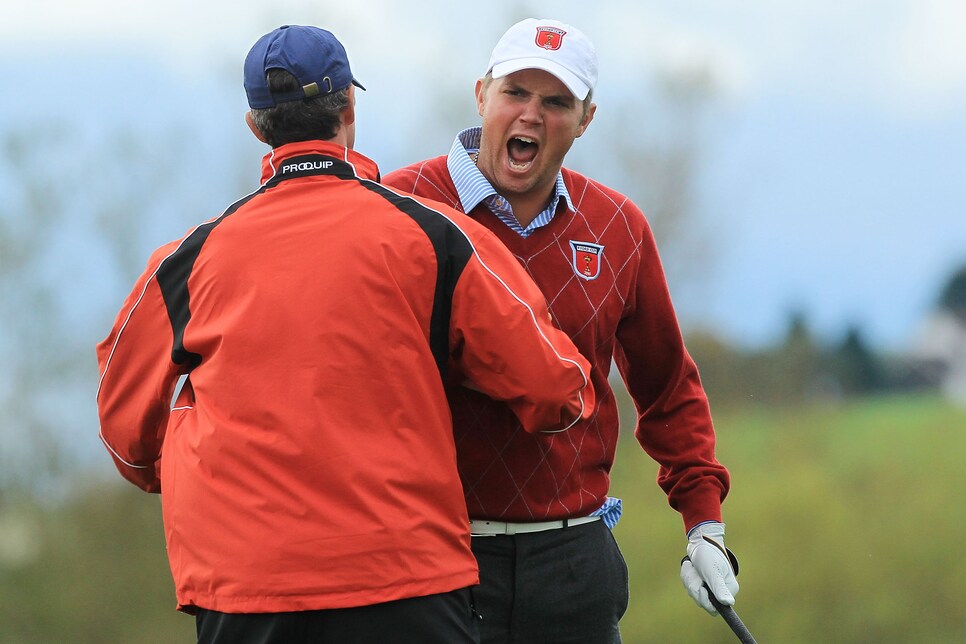 It's likely, if not a certainty, that being known as a major winner is the pinnacle of a player's career, an identity that every professional golfer covets.
A close second is being included in the roll call of Ryder Cup competitors.
"All of the wins I've had in my career on both tours [the PGA Tour and PGA Tour Champions], winning the U.S. Amateur, those were very special to me," said John Cook, who played on the victorious 1993 U.S. Ryder Cup team, the last American squad to win abroad. "And then winning that NCAA title at Ohio State [in 1979], that was one of the greatest experiences of my life. But being a part of that Ryder Cup team and taking the cup back to the United States, that was as big an accomplishment as anything I've done in golf. I was so jazzed. That experience … it's something that never leaves you."
Cook has especially strong feelings about the Ryder Cup because he only played in one. He is among more than 70 players on the U.S. side who made just one appearance in the biennial match-play event that has become arguably golf's biggest spectacle. And while playing in one Ryder Cup is better than never having that chance at all, it's also difficult to have only gotten that one shot at it.
"The thing about a Ryder Cup that is different from a regular tournament," said Ben Curtis, a 2008 participant, "is the crowds. They are huge on every hole. At other tournaments you have these pockets of fans, but other places on the course might be quiet. Take Phoenix for an example. Before 16 you don't see too many people and then all of a sudden it's a crazy atmosphere. Well, that's the Ryder Cup on every hole. That, to me, makes it something you never forget."
And, of course, you carry that with you the rest of your career.
"If I go anywhere to give a talk, the subject that everyone wants to know about is the Ryder Cup," said J.J. Henry, who played in 2006 at the K Club in Ireland. "It's the coolest thing in the world to be known as someone who was a part of it, even if just once.
"I would kill to be on another team. Pretty sure any of us would."
He's right. We reached out to several one-and-done U.S. players who unanimously agreed that making that single Ryder Cup team was like trying to eat one Lays potato chip. You can't have just one. And, of course, they all have their favorite memories from that lone experience.
Below, they share their best stories:
1993, The Belfry
Record: 1-1-0; U.S. won 15-13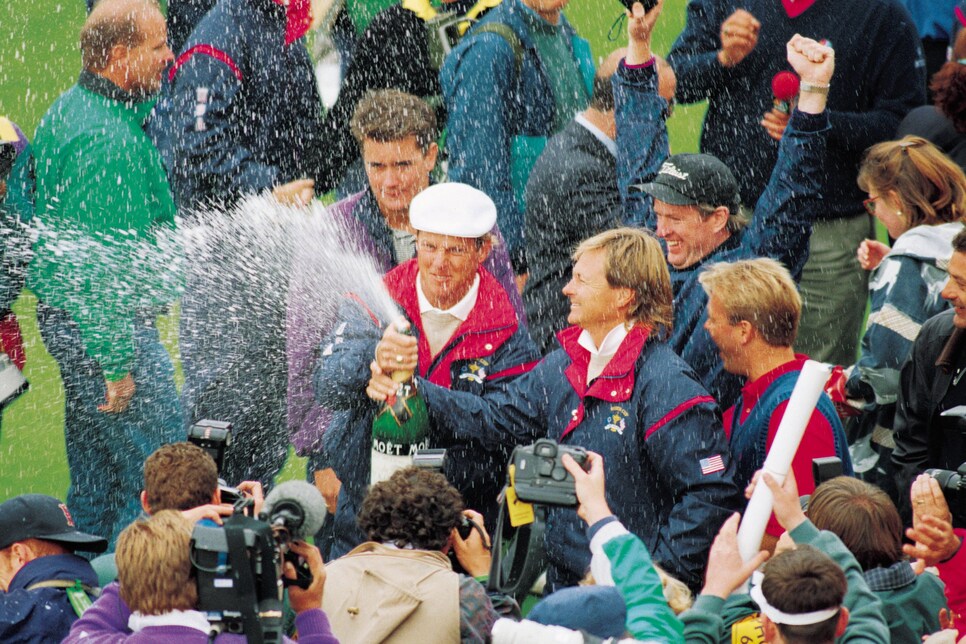 John Cook and Payne Stewart celebrate with champagne after the the U.S. victory over Europe in the 1993 Ryder Cup.
David Rogers
There was this sort of inter-competition among the four rookies on the team. We were so jazzed to be there, and we all wanted to contribute. [Chip Beck, Davis Love III and Lee Janzen were the others.] Chip and I didn't get to play, though, until the last session on Saturday; we were the sacrificial lambs against [Nick] Faldo and Monty [Colin Montgomerie], and we ended up winning, 2 up, and I can tell you, there was no way he and I were going to lose that four-ball match because that was our chance to win a point.
Faldo made about a 20-footer on the first hole, and I thought, "Here we go," but then I topped him. We got ahead, and we never lost a hole. Then in the team room that night before singles we were going around the room, and Chip stood up and said, "Gentlemen, the will to win can overcome any mechanical breakdown." And then he sat right back down. We all looked at one another and we're like, "All right. Let's go." We loved that attitude. I just said to him, "God bless you, man." I didn't have any follow up to that.
2008, Valhalla
1-1-1; U.S. won 16½-11½
I think if you asked the other guys, they'd tell you that the experience at Valhalla was probably a lot different than a lot of other Ryder Cups because of the pod system. Paul Azinger was just tremendous. He had everything pretty much figured out. And it was a great system. But it felt more or less like we had three four-man teams. Me, Steve Stricker, Stewart Cink and Chad Campbell were together. We ate together, we practiced together, we played together. Our practice times were spread out by 30 minutes, so we didn't see the other guys on the course. We hardly saw anyone except in the team room.
Of course, we were all together at the end after we won, and that was the best part of the week, sharing that moment with the rest of the guys.
The one weird thing I remember is Dave Stockton giving Stricker a putting lesson early in the week. Stockton was our pod leader, co-captain, and we were standing there going, "Uh, Stricker is our best putter. He's one of the best putters in the world. Don't mess with him."
2004, Oakland Hills
1-1-1; U.S. lost 18½-9½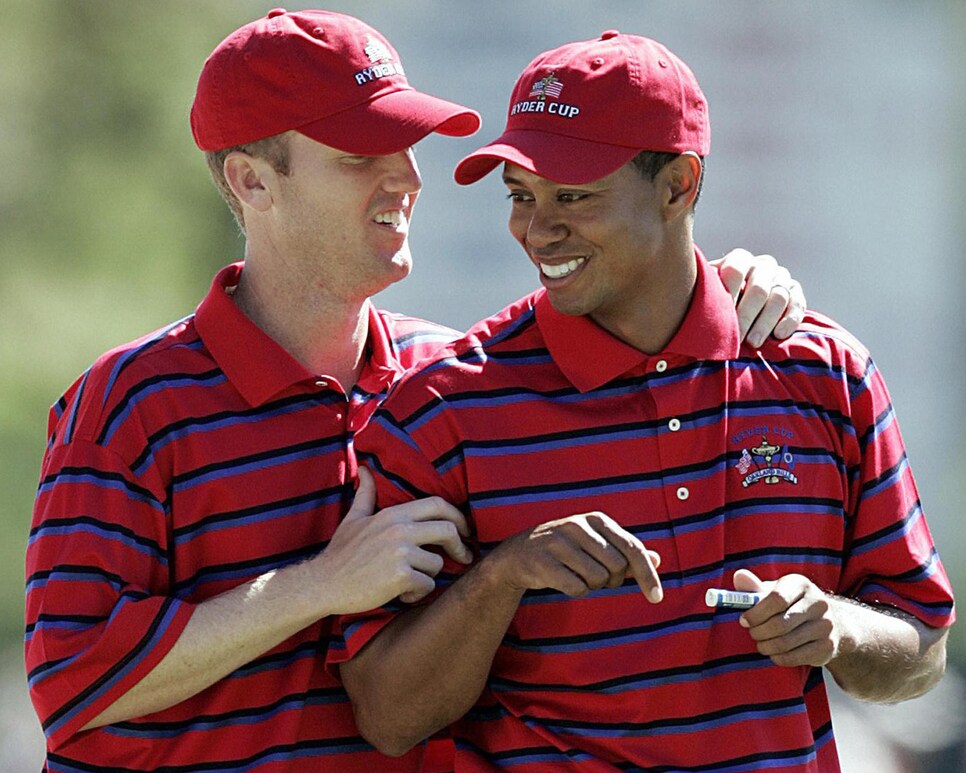 Tiger Woods and Chris Riley celebrate after their win over Europeans Darren Clarke and Ian Poulter in the 2004 Ryder Cup.
TIMOTHY A. CLARY
I'll never play in a Ryder Cup again, and the older I get the more it means to me. The thing I'll cherish the most is getting to play with Tiger on the second day, when we beat Darren Clarke and Ian Pouler, 4 and 3, in four-ball. Tiger and I go back to playing together in junior golf in the Canon Cup in the AJGA, and then the Walker Cup, and then we got to play in the Ryder Cup.
I remember being out playing practice rounds with Tiger, and he was so relaxed. He was just Tiger. He didn't have to act a certain way. You could just be yourself. Another guy on the team was my college roommate at UNLV, Chad Campbell, and with Chad and Tiger I could tell them to get lost if I wanted to. I always acted the same around Tiger, and he probably got a kick out of me. He thought I was so full of crap. I'd talk trash to him.
After Tiger and I won, (captain) Hal (Sutton) said some of his guys were too tired to play in the afternoon on Saturday, including me. I don't know why Hal said that. I hold no ill will against Hal. Being the captain is a tough job. But I would have played every match with Tiger if they'd let me. The reality was that Tiger and Davis Love were going to play alternate shot together on Saturday because they'd done it before. We never even practiced alternate shot; I had never played it before.
One of my other favorite memories is riding in the car with Tiger going back to the hotel. He was furious that we were getting beat so bad. I'll never forget him talking about Sergio Garcia—he's, like, "Sergio's never even won a major! I'm just sitting there going, 'Man, I'm so happy to be here right now!'"
1987, Muirfield Village
1-1-2; U.S. lost 15-13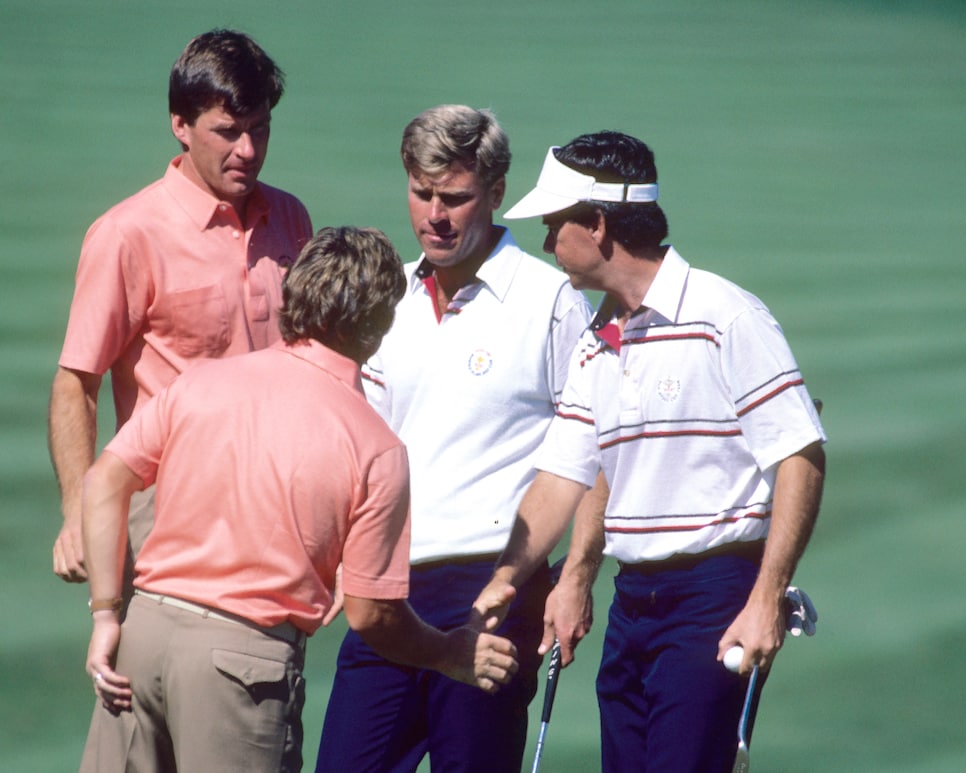 Hal Sutton and Larry Mize shake hands with Nick Faldo and Bernhard Langer after their match in the 1987 Ryder Cup.
Jeff McBride
Probably the coolest thing about it was playing for Jack [Nicklaus] at his course. Jack was my favorite golfer growing up, and to have him as the captain in itself was pretty special, let alone all the things that go with playing in a Ryder Cup.
I remember at one point on Saturday, I think it was, I was paired with Hal Sutton for both four-ball and foursomes, but Jack came up to me on the eighth hole and offered some words of encouragement, and that was a moment that stuck with me—having Jack out there kind of cheering you on. Like I said, he was my favorite player, and here I am playing for him on his golf course and having that experience and the camaraderie that we had as a team was tremendous, and other than winning the Masters, there really isn't anything else that comes close as far as career highlights.
2010, Celtic Manor
2-2-0; U.S. lost 14½-13½
Somebody mentioned when we got there, 'Be ready because this thing's like golf on steroids.' And it was. It was raining inches of rain. And you have all the passionate fans out there and they're yelling and screaming. There was so much energy. … I was just trying to enjoy every moment of it. And just trying to control my emotions because I knew just what an emotional event it was going to be. I don't know if there's anything you can really do to prepare for it.
[The "Boom Baby" moment, holing out from the fairway during Saturday four-ball] was definitely the emotions pumping through my system. I think [Bubba Watson and I] were 3 down at the time. The other guys were in there close. And it was like when the ball went in, all the emotions left my body and came out. I just reverted to something I did back in high school, clowning around with some friends. I don't know where it came from.
It's definitely fun to have a little bit of history like that. Kind of being remembered for something in the golf world. There was just so much emotion in that thing, and to be able to hole one like that, it was definitely revealing.
1995, Oak Hill
3-1-0; U.S. lost 14½-13½
The Ryder Cup was by far the highlight of my career. It was a great experience, and I still feel bad about the fact that we didn't pull it out for [captain] Lanny [Wadkins]. We went into Sunday ahead, and we just didn't get it done in singles, and I've regretted that ever since.
I thought we would win, especially after Saturday. Corey Pavin and I beat Nick Faldo and Bernhard Langer 1 up, and I just remember it so vividly how we won that match. Last match of the day. I played 25 feet left of the pin on 18—pin was front right—and Corey hit it through the green into the back rough. Corey wanted me to putt first after Langer missed his putt just outside of me. I lag it down there to about a foot and half, and Corey says to me as he's walking by, "You can make that, can't you?" And we sort of laugh. It was a tap-in, but they made me mark it. They didn't give it to me. Then Corey lines up his chip shot, and while he's doing that, I'm looking at Faldo. Well, Corey chips it in the hole for a 3. I'm still watching Faldo, and he walks around behind his putt, and he has a smile on his face.
I thought it was a unique, interesting thing. Like he knew Corey was going to do that, and he kind of appreciated it. Then he missed his putt, and we won the point. That was a big moment at the time.
2006, K Club
0-0-3; U.S. lost 18½-9½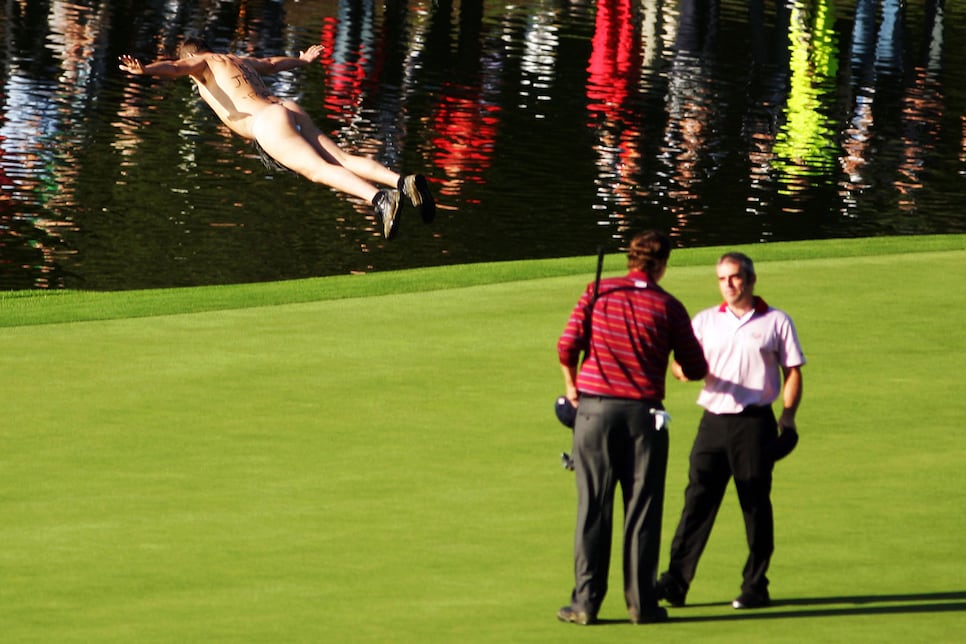 A streaker dives into the water by the 18th green as Paul McGinley (right) shakes hands with J.J. Henry after they halved their singles match in the 2006 Ryder Cup.
Scott Halleran
I wish that my singles match against Paul McGinley had more meaning. By the time we reached 18, [the U.S.] had already lost. Then again, it probably was good that it didn't matter. I was lining up a birdie putt of about 20 feet on the 18th green, and there was this commotion behind me. I turn around and there's this 240-pound guy running around the 18th green pretty much butt naked. The crowd is going crazy. I guess I could have had my Peter Jacobsen moment and lived in Irish lore for years to come and tackled the guy, but he's running around, and guards are chasing him and Paul, who has a putt inside me, maybe 15 feet, just says, "Why don't we just call it good-good?" It was a great gesture of sportsmanship, and we halved the match. We shake hands, and as we are shaking hands, this guy is doing a perfect swan dive into the pond behind us.
Well, there is a picture of this, and I think you could look this up, but it might have been picture of the year in Irish sports. Something like that. I love telling that story. I've said to myself that I have to get a photo of Paul and I shaking hands with that streaker diving in the water and blow it up and have Paul sign it for me. Not that I want some huge photo hanging in my office of some guy with his ass hanging out, but it would still be fun to have.
—Additional reporting from Tod Leonard and Ryan Herrington
MORE RYDER CUP PREVIEW STORIES FROM GOLF DIGEST