The Ryder Cup affords golf fans the unique opportunity to watch a generation's best players join forces. The results aren't always positive—looking at you, Mickelson/Woods 2004—but when the pieces fit just right and the putts start to fall, magic happens. Seve Ballesteros and Jose Maria Olazabal projected an air of impassioned invincibility. Patrick Reed and Jordan Spieth exuded a youthful bravado. Tommy Fleetwood and Francesco Molinari made golf look impossibly easy and irresistibly enjoyable.
Those power duos inspired a thought experiment: Say you're the captain of an all-time Ryder Cup team. Ages do not matter, nor do physical concerns like distance or equipment. You can choose any two Americans and any two Europeans to play together, regardless of era. Who would you take? (And no, you can't use Seve more than once). Our answers are as follows.
Seve Ballesteros/Ian Poulter
Their competitiveness alone would be enough to kill a horse. Ballesteros, part of the European "Famous Five" that played a role in elevating the Ryder Cup to the massive institution it is today, endeared himself to his teammates and incensed his opponents with his hard-nosed, combative style and his sheer unwillingness to lose. Poulter hasn't matched Ballesteros' record in golf tournaments not named the Ryder Cup, but the Englishman has emerged as a spiritual offspring of sorts, serving as the emotional spark for the six teams he's played on and compiling a 14-6-2 overall record with a 5-0-1 singles mark. There'd be fist pumps and guttural yells, belly laughs and probably an awkward moment of contention with the Americans. It'd be delicious.
Paul Azinger/Justin Thomas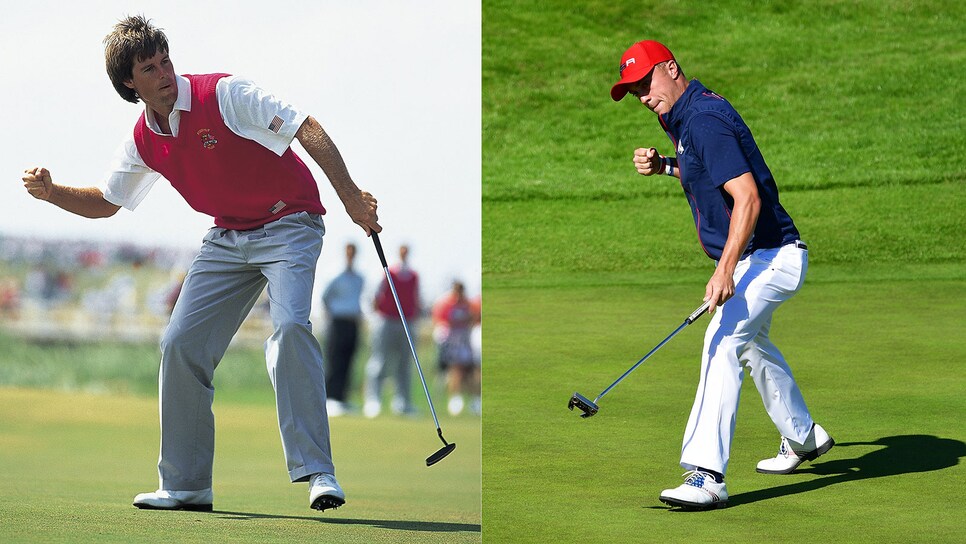 The American answer to the above pair. Azinger and Ballesteros clashed in the 1989 and 1991 Ryder Cup, with the Spaniard accusing the Floridian of lying after a particularly testy face-off at Kiawah Island. Azinger refused to back down from Ballesteros, beating him 1 up on European soil in the first singles match in '89 but losing both his matches alongside Chip Beck to the Ballesteros/Olazabal powerhouse in '91. Azinger's overall record is a pedestrian 5-7-3, but this is less about wanting to win and more about wanting to watch him and Seve go at it. Thomas, on the other hand, is off to a 4-1-0 start in his Ryder Cup career after he was a rare bright spot for the Americans in Paris. He relished the chance to face Rory McIlroy in the first singles match and beat him, too. There's not a more competitive player on this year's American side and his fiery tendencies should play well in the many Ryder Cups in his future.
Bernhard Langer/Henrik Stenson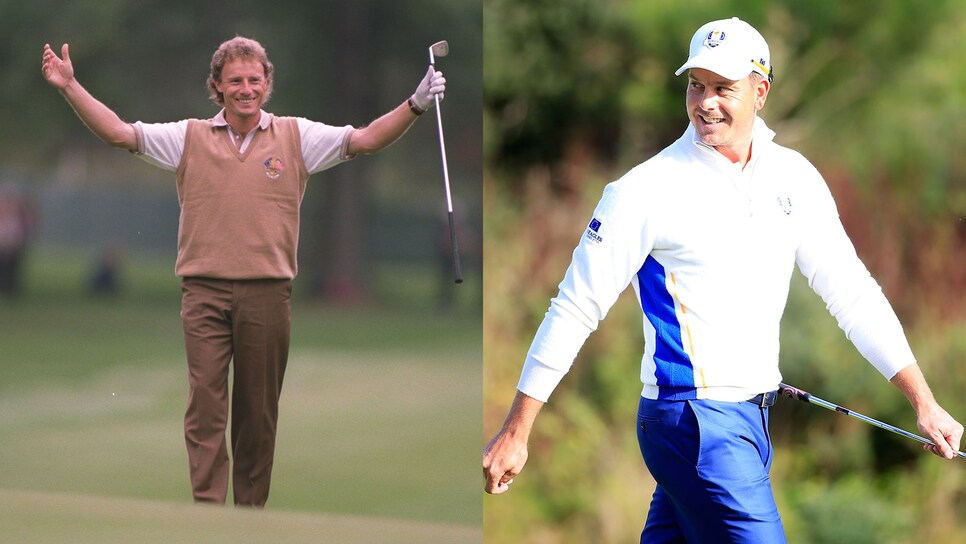 Two stone-cold ball-striking assassins. Langer, another Famous Fiver, played on 10 Ryder Cup teams and ranks third all-time in points won with 24—despite his Ryder Cup career being most closely associated with his missed five-footer at Kiawah in 1991. Stenson, known affectionately as the Ice Man, has gone 10-7-2 in his five Ryder Cup appearances. Think of this duo as the anti-Ballesteros/Poulter; while those guys are making miraculous up-and-down pars and infuriating their opponents with their celebrations, Langer/Stenson would wear you out with fairways and greens, and hardly smile as they polish off a 4-and-3 victory.
Tiger Woods/Jack Nicklaus
Who wouldn't want to watch the consensus best and second-best players of all-time—we'll let you decide the order—tee it up together? Nicklaus and Woods are two different men with two different styles of competing, but it's what they share that makes this such a tantalizing what-if: prodigious length, flawless execution under pressure and a propensity for making huge putts in massive moments. Give prime Jack Nicklaus 2021 equipment and we're willing to bet he could keep up with early 2000s Tiger Woods, who was the longest player on the planet. No U.S. captain could ever quite figure out a perfect partner for Woods—he's an awful 9-19-1 in non-singles matches—but something tells us he and the Golden Bear would click just fine. Real recognize real, as the kids say.
Arnold Palmer/Phil Mickelson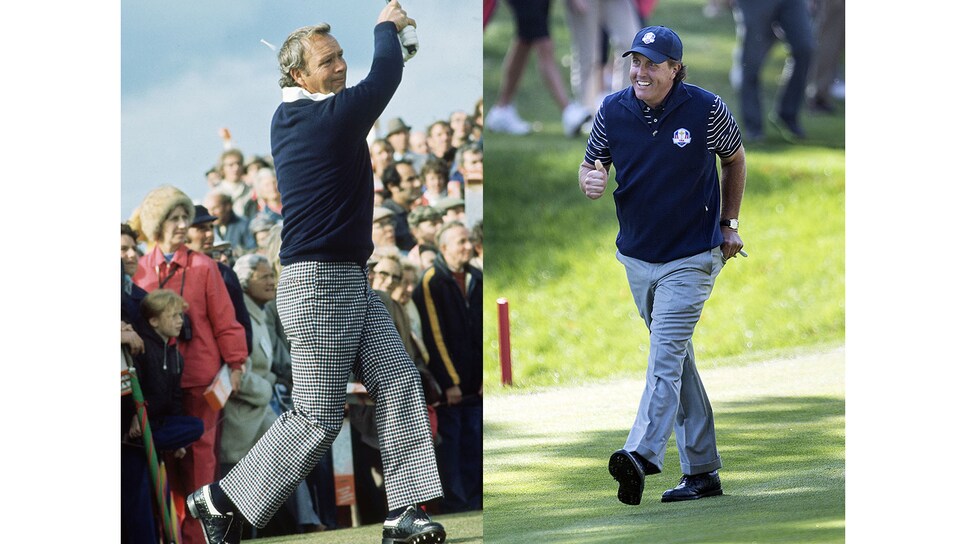 Palmer became universally loved for his daring style, legendary kindness and an ability to naturally mingle with fans. No one is Palmer, but when it comes to fan adoration and go-for-broke style, Mickelson is about as close as we've got. Palmer's Ryder Cup career came mostly during the non-competitive years of the 1960s and 1970s, so we'd love to see how he'd react to the spirited dynamic now that continental Europe is involved. The galleries following this one would be good for a few holes, because even the most hostile European crowd wouldn't be able to root against Lefty and The King. Damn, that has a nice ring to it.
Jordan Spieth/Lee Trevino
They'd simply never shut up, and it'd be hilarious to witness. Spieth's constant narration of his round and his Michael! shouts to his caddie would pair beautifully with Trevino's aimless musings and classic one-liners. Plus, Trevino's ball-striking combined with Spieth's short-game magic could produce an unrivaled foursomes duo. They're also both from Texas, albeit from vastly different backgrounds—Spieth grew up at the country club, Trevino working on the cotton fields. Something tells us these two would have loved playing with each other.
Tommy Fleetwood/Francesco Molinari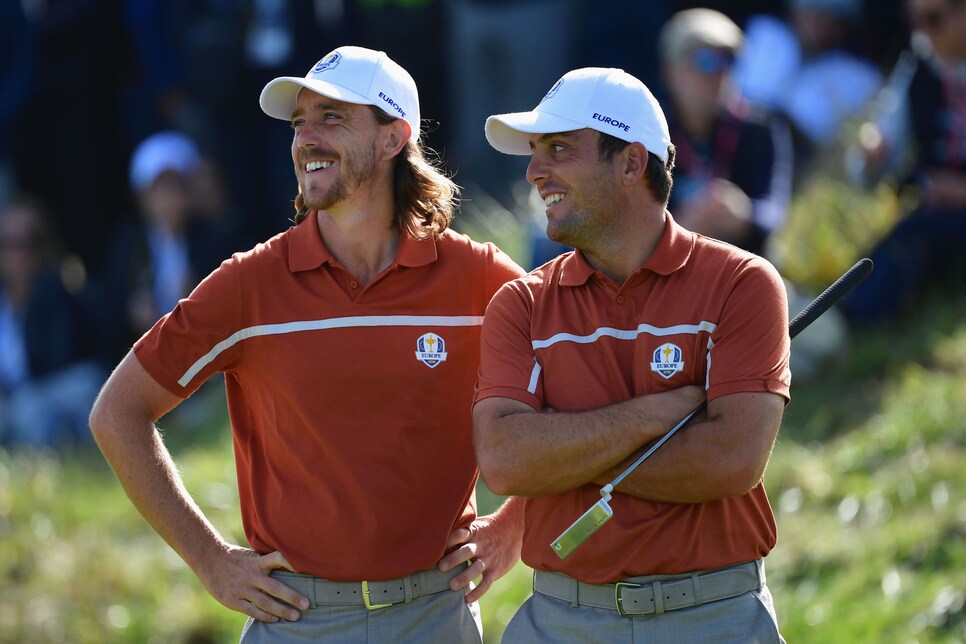 They were already good pals going into the 2018 Ryder Cup, but they left it joined as one: Moliwood. The two won all four matches rather easily in Paris—including three over Tiger—and could not have enjoyed themselves more in the process. Yes, we know, the point of this exercise is to pair two players of different eras … but if it ain't broke, don't fix it. #MoliwoodForever.
You could put Anthony Kim with anyone and they'd probably make it on this list. That's how much we miss AK, who was so perfectly in his element at the only Ryder Cup he played, in 2008, when he went 2-1-1 and crushed Sergio Garcia in singles. He was Captain America before Captain America, so to speak. And while Reed's Ryder Cup reputation has taken a hit with a poor performance in Paris (and his blabbering afterwards), early career Patrick Reed was an absolutely all-time Ryder Cup character. Pairing a 23-year-old AK and a 23-year-old P-Reed would be a whole mess of chaotic brashness in the best way possible. If only.