Deep Dive
Ryder Cup 2021: A complete breakdown of every U.S. player's strength and weakness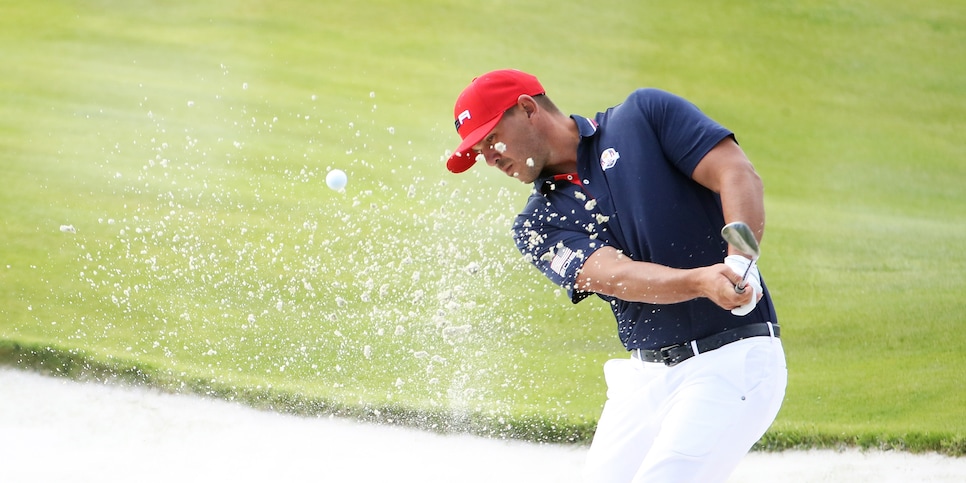 Photo By: Christian Petersen
What really goes into making a Ryder Cup lineup? Yes, personalities are important. But an even bigger factor is having a complementary playing style.
We asked Golf Digest 50 Best Teacher Brian Manzella to evaluate the U.S. Ryder Cup team and pick the shot each player would most want to hit and most want to avoid, how that goes into making pairings and what you can take away from that intel for your own game.
American Ryder Cup captains and vice captains: You're welcome for the free advice.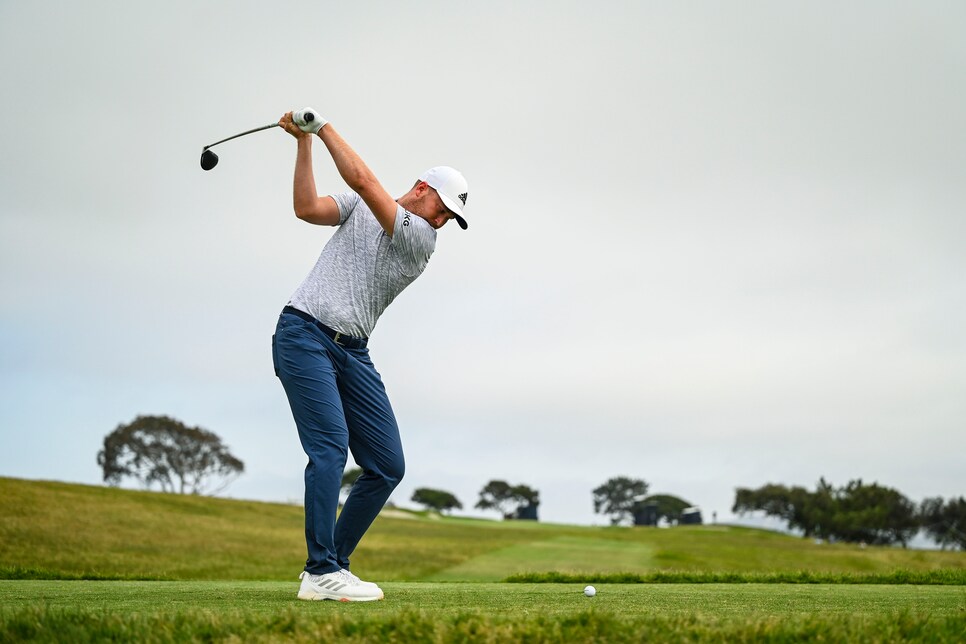 Shot He Loves: Middle irons (Ranked seventh in greens in regulation)
Shot He Hates: Tee shot on a long par 4 (110th in driving distance)
What you need to know: Daniel Berger's swing might look funny, but he does a great job of controlling the face. He's very accurate with irons. He's not a big guy, and he doesn't go at it hard. His game is precision. He'll just kill you with the wedges. He concentrates on the halfway down to halfway through part of his swing.
You can have all sorts of different moves before halfway down, but if you can get the club to stay on plane in that part of the swing and open your body enough so the face doesn't close, you're going to hit good shots. Put him with Bryson and those guys will just wear people out.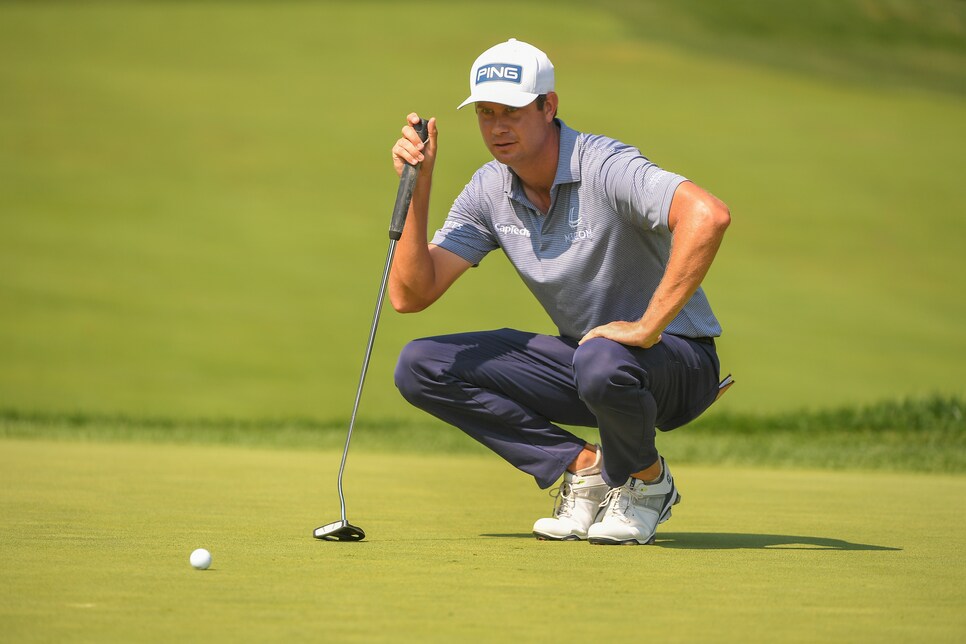 Shot He Loves: Creative short-game shot (fourth in scrambling)
Shot He Hates: Playing from off the fairway on full shots (178th in rough proximity)
What you need to know: English is great at putting himself in places where his short game can save him. I like him in an alternate-shot scenario because he can save the day with that short game and creativity.
Before you go copying what he does on those low-trajectory spinners, go find a square stance, square face shot that you can hit every time from a good lie. Most players who are bad at short game are trying to hit a cut or lobbed shot, when you can stand square with a modern wedge and just play a normal one and get enough loft.
Shot He Loves: Greenside bunker shot (Ranked second in sand saves)
Shot He Hates: Tee shot on narrow par 4 (126th in driving accuracy)
What you need to know: Out of the bunker, I love that he always seems to find a way to look like he's swinging completely to the finish. He makes speed. He's not a chunk-and-run guy. He gets spin and controls how far the ball goes. Most amateurs make a giant backswing all the time and follow through short and hit way behind it. They play defensively and just try to get it out. He's trying to make it.
The driving accuracy stat is concerning, but if I was captain, I'd tell every player, you better work on the one boring shot you can hit in play off the tee—even if it's 20 yards shorter than normal—and bring it with you to Wisconsin. That's something nobody seemed to do in France.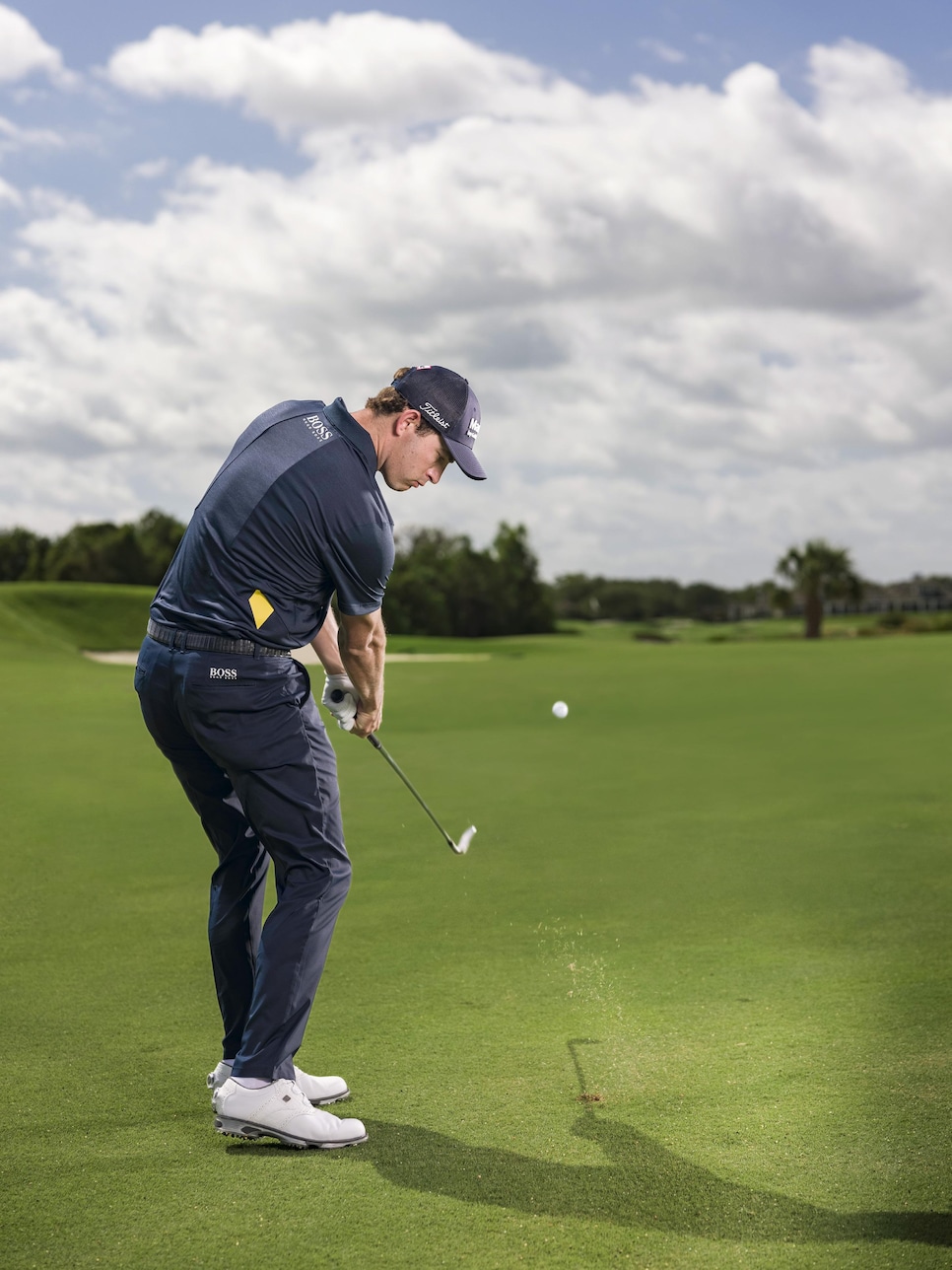 Shot He Loves: Anything tee to green (Ranked third in SG/tee to green)
Shot He Hates: Short non-gimmes (145th from four feet)
What you need to know: His swing is the best of anybody on either team. If you're a good ball-striker like him, you don't want to take ridiculous chances in match play. You want to fairway and green somebody to death.
A regular golfer who is going to see a lot of Cantlay this weekend could pretty much copy anything, and he's easy to copy. Top of the backswing and finish position? His left and right arm are mirror images. He never looks like he's steering it.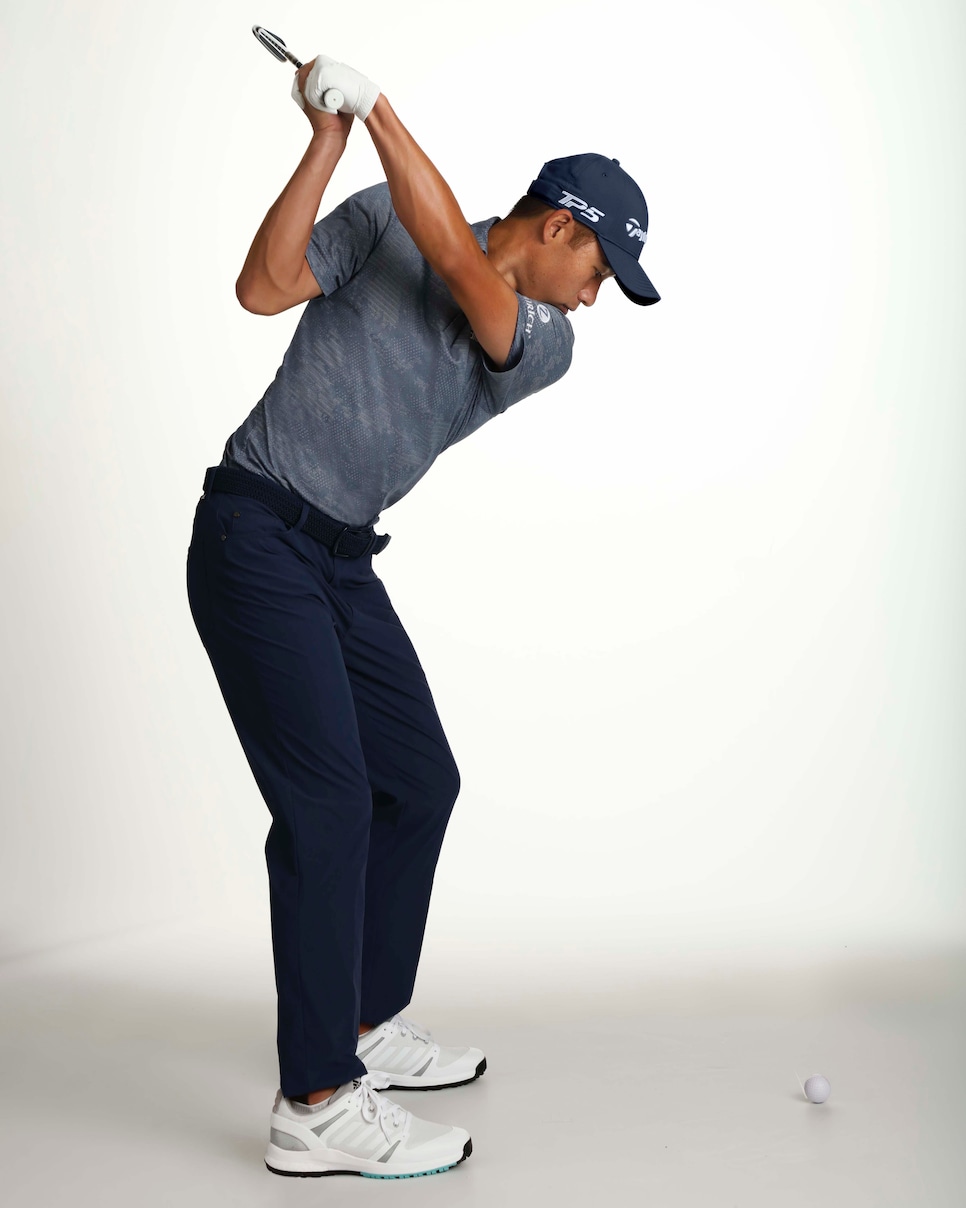 Shot He Loves: Approach shots (Ranked second SG/tee to green)
Shot He Hates: Any putt (177th in SG/putting)
What you need to know: He's very similar to Cantlay in that he's so deadly with his irons. Why can't you hit yours like he does? Because you don't twist the shaft closed enough during the downswing. Instead, most players compensate by strengthening their grip.
Change your grip to be more neutral, so the back of your left hand matches the scoring lines on the sole, and all of a sudden it's going to be much easier to get that face square at the top, and you can use your wrists the way you should.
His putting has never been great. I'd put him with Jordan Spieth and say, let that guy do all the heavy lifting for you. Let him read it and tell you what to do, and you can just divorce yourself from everything except the execution of what you heard.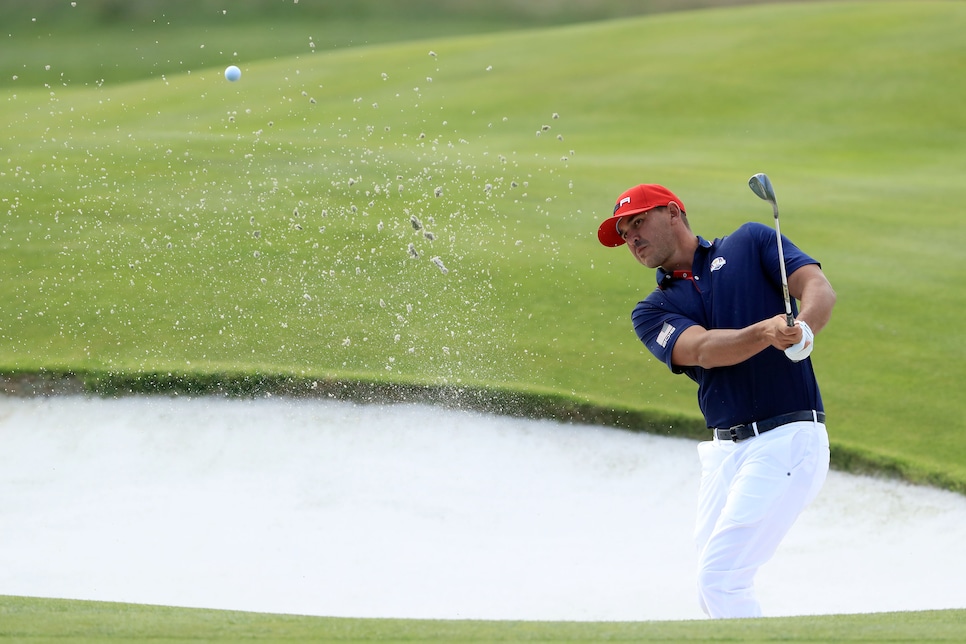 Shot He Loves: Bunker shot (Ranked first in sand saves)
Shot He Hates: Greenside trouble shot from rough (Ranked 194th in rough scrambling)
What you need to know: Good bunker players tend to be players who hold off the face and hit a fade in their full swing, and that's what Brooks does. If you're not a good bunker player, one way you can learn how to do it is to go to the range and hit some fades with full swings and then some partial shot fades—then go in the bunker and hit some fades and try to make that ball scoot to the right when it lands.
Shot He Loves: The driver, baby! (Ranked first in driving distance)
Shot He Hates: Touch wedges (174th from 75-to-100 yards)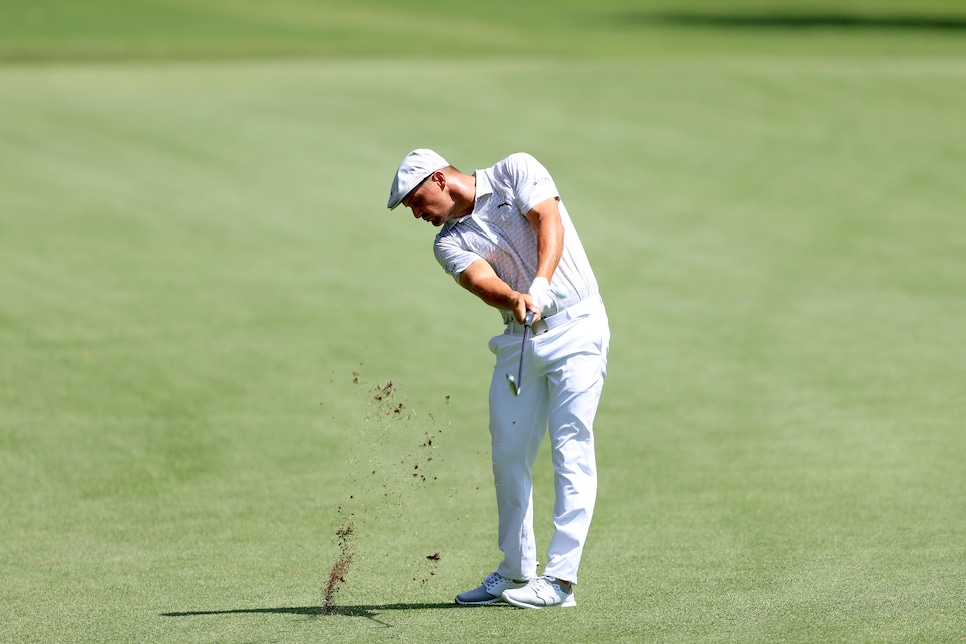 What you need to know: What should be your job if you're paired with Bryson? Hit some predictable shot in the fairway every time. What Bryson has really proven is that anybody can learn to hit it longer. When you let the club go across the line more at the top, it lets your trail arm not be so tucked, so you can actually use it on the downswing. He's also showing you that you don't have to be flat-footed and "balanced." Pretty finishes aren't a thing anymore.
The issues he has are from shorter yardages and less than full swings, and I think that's a product of having his hands high at address. He has to do way more to set the angle than somebody like Daniel Berger or Justin Thomas does.
Shot He Loves: Birdie putts from downtown (Ranked fifth in one-putt percentage)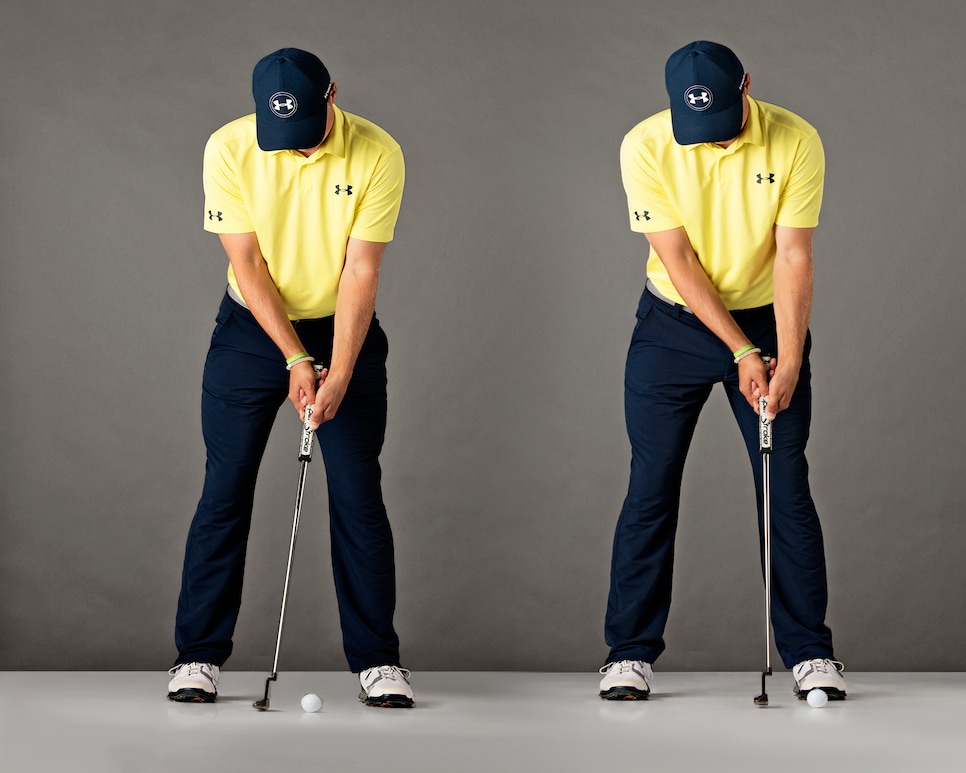 Photos by Walter Iooss Jr.
Shot He Hates: A precision tee shot (180th in driving accuracy)
What you need to know: I've watched Spieth putt a lot. He's trying to make every putt he looks at, and his putting stroke actually works the best on longer putts when he gets to go all the way through it.
The next time you practice, make a tee gate at what you see as the high point of the break, and try to make some. What you'll learn is that you're probably a bad green reader (a skill you can learn!), and that break means nothing if you don't have decent speed. By going through the process of moving that gate to where it needs to be to make the putt, you're building information into your system.
Shot He Loves: Long-range approach shots (11th in proximity from 250-275)
Shot He Hates: Tee shots with trouble (164th in driving accuracy)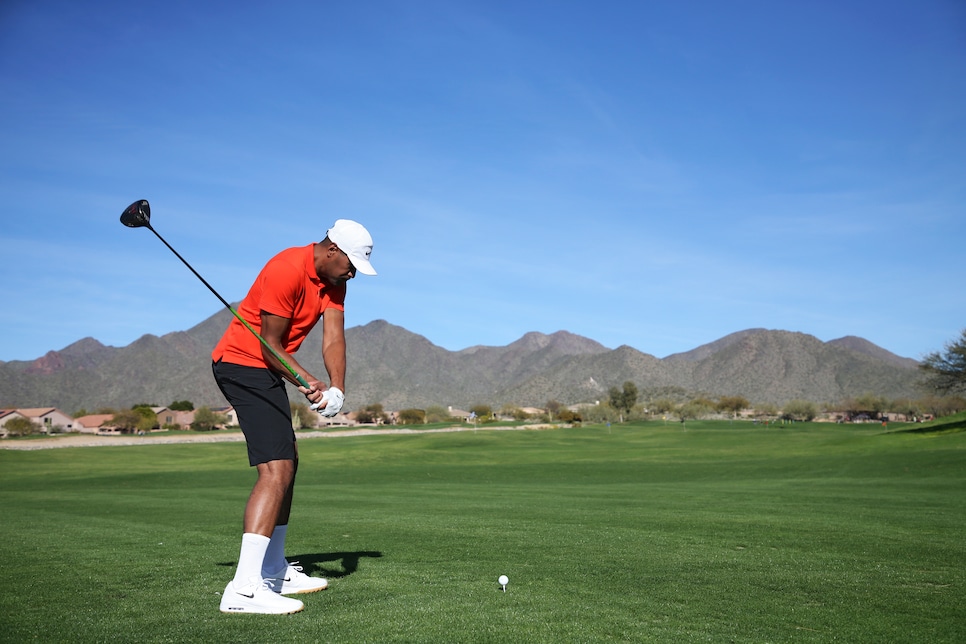 Photo by Walter Iooss Jr.
What you need to know: Finau knows how to hit the clubs that you probably struggle with the most—the ones between driver and 6-iron. When you can launch your fairway woods and hybrids consistently, it makes the game so much easier. You have to learn to swing farther left as the club gets longer. You'll hit it more solid the less inside-out your swing is.
He'd be great with a tactician like Spieth or Cantlay.
Shot He Loves: Any of them
Shot He Hates: Risky go-for-it shot on a par 5 (141st in "going-for-it" percentage)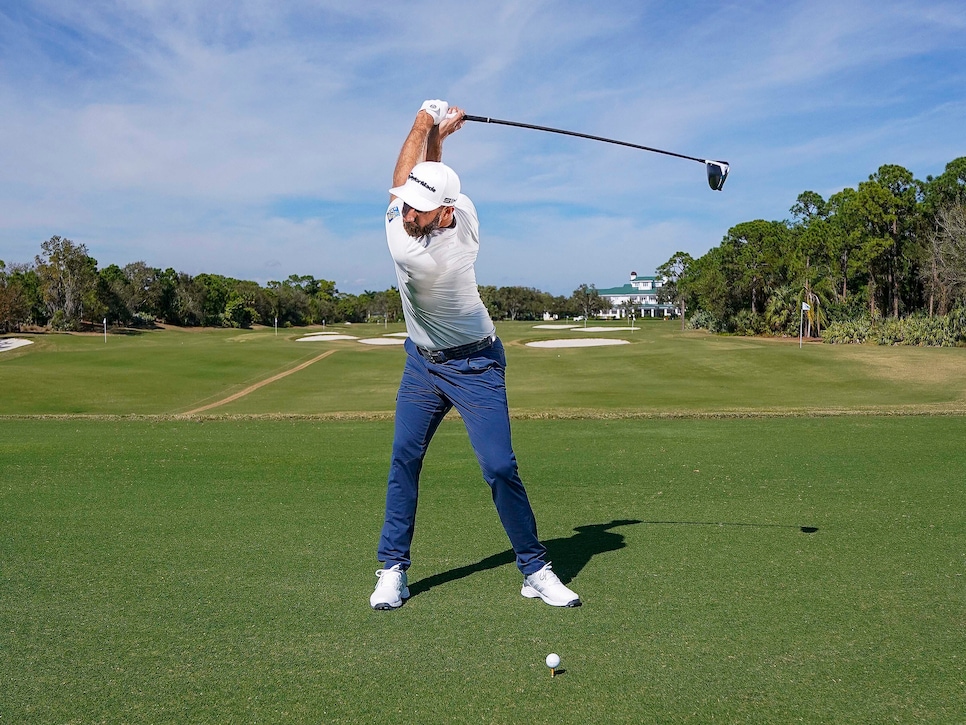 Photographs by Jensen Larson Photography
What you need to know: DJ has the best statistical profile of anybody on the American team. He's at least average in everything, is super long off the tee, and laidback to the point that you could pair him with anybody.
Why is his scoring average so good? Sure, being long helps. But he also avoids throw-away shots—three-putts, missed greens with short irons, penalty shots. You can do that, too, and it doesn't require any more technical skill.
Shot He Loves: Tee shot with everything on the line (First in fairway proximity)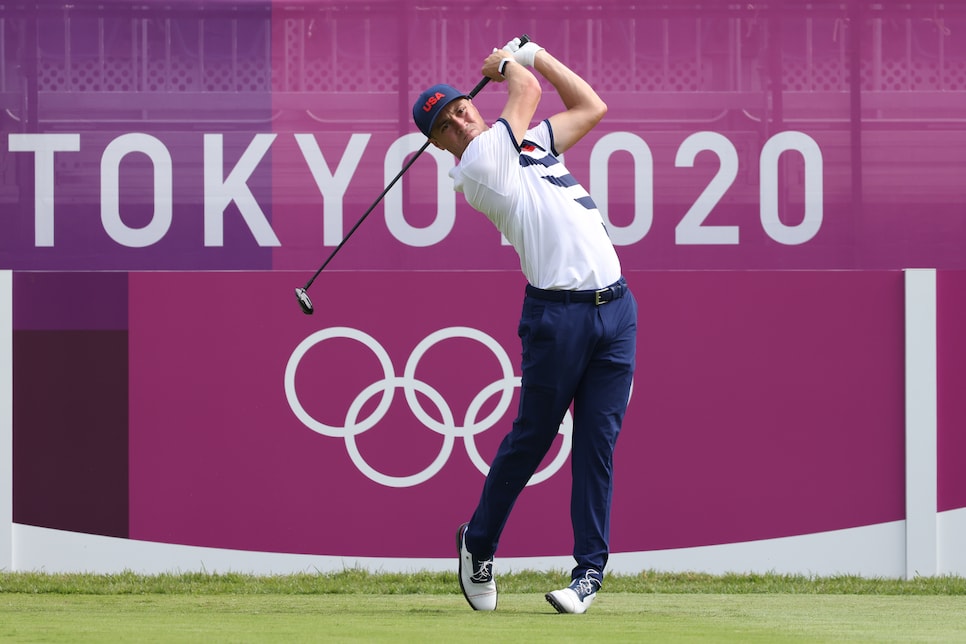 Shot He Hates: Must-make putt (104th in SG/putting)
What you need to know: In an era where everybody thinks flatter swings are better, Justin's swing is more upright than Jack Nicklaus' was. You can make the point that Nicklaus or Johnny Miller—both upright players—didn't hit a lot of foul balls off the tee. If you're upright, that's something you can embrace and not feel bad about it!
As far as putting goes, I knew Justin Thomas when he was young. He played against all my junior players. He was a great putter all the way through. If you putted well in the past, like he has, run down that putter and give yourself a chance to find the magic again. You tend to experiment and change when you struggle, and that's natural. But sometimes it's good to go back. Stop trying to be too exact, and get back to the flow.