Fight Songs
Ranking Team Europe's players by how well their names fit into that sweet Fleetwood/Molinari song
The 2018 partnership between Tommy Fleetwood and Francesco Molinari was incredible for many reasons, chief among them the fact that they went 4/4 as a partnership, and Molinari was a perfect 5/5, the first man to do that since Larry Nelson. Then there was the hilarious video of the two of them in bed with the Ryder Cup ("how good was that for you?" "four out of four"). But my favorite Moliwood content, by far, was the singing chant-slash-dance the European fans did on Saturday. Watch them here:
If this was not already stuck in your head for the past three years, I apologize, because it will lodge itself semi-permanently. It's that good and that catchy. (Worth noting that, no shocker, this song comes from the world of soccer.)
However, we have a problem: Francesco Molinari's form has dipped, and he's not going to be at Whistling Straits. His name fit perfectly into the song, just as Fleetwood's did—not only were they the right number of syllables, but the repeated second syllable ended in the "ee" sound—and if we want to revisit that song, we're going to have to find another teammate for Fleetwood.
Here then, as a public service, is a ranking of each member of Team Europe based solely on how well their names work for the song, which should be the only criteria for Fleetwood up. You're welcome, Padraig Harrington.
A disaster. You can't even really pick out what you'd use for the first two syllables, and the only option is "Wies-y" or "Bernd-y". Both are awkward, and watch what happens when you try to complete the song:
Berndy, Berndy Berndy, Berndy Berndy, Berndy BERNDY-WIESBERG!
Wiesy, Wiesy Wiesy, Wiesey Wiesey, WIESY WEIS-BERG-ER-??
One syllable short, then one syllable too long. Nightmare.
Can't hate on a guy named Shane, but just like my name, he's simply not giving us enough syllables to work with. The only way this possibly works is:
Shane-y, Shane-y Shane-y, Shane-y Shane-y, Shane-y SHANE-Y LOW-RY!
As someone who has been called Shane-y in the past, let me tell you that it sucks even more than it seems to suck in writing, which is a lot.
Same problem as Shane Lowry. Paulie sounds cooler than Shane-y, especially since it was a character in Rocky, The Sopranos, and, uh, that talking parrot movie, but it still doesn't sound right.
Paulie, Paulie Paulie, Paulie Paulie, Paulie PAULIE CASEY!
Kind of a Wiesberger issue here, where going with the very solid Fitzy leaves you one syllable short, and your best bet is:
Matty, Matty Matty, Matty Matty, Matty MATT FITZPATRICK!
The Matty-to-Matt transition at the end just doesn't work for me.
Only possible way to execute this is to use his middle name:
Lee John, Lee John Lee John, Lee John Lee John, Lee John LEE JOHN WESTWOOD!
Which isn't 100% terrible, but let's face it, the "Lee John" is going to confuse anyone. If only his full name was Leland, or something.
I'm only ranking this so high because with two syllables it leads to hilarious repetition that would, if nothing else, make me laugh:
Jon Rahm, Jon Rahm Jon Rahm, Jon Rahm Jon Rahm, Jon Rahm JON RAHM JON RAHM!
Anyone singing this will sound liked a demented yogi, and there are worse outcomes.
This one is such a tease, because "Rory" is a terrific start to the song. The problem is, you can't finish the job. Watch:
Rory, Rory Rory, Rory Rory, Rory RORY MCIL!
You'd have to say the McIlroy part really fast to get it to scan, and frankly, that just feels like forcing it. But the Rory part is really, really good. What a shame.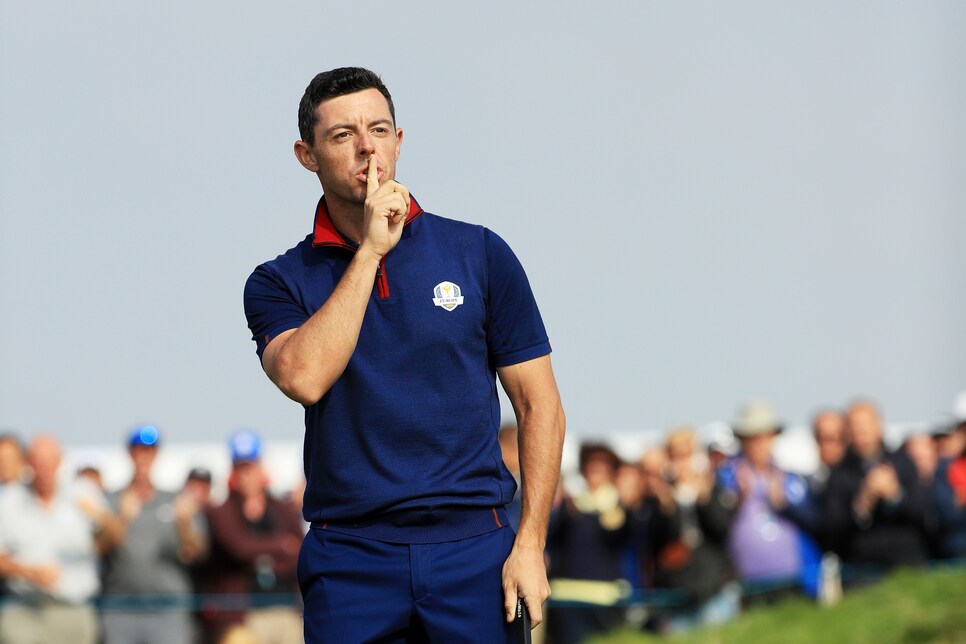 Tyrrell, Tyrrell Tyrrell, Tyrrell Tyrell, Tyrell TYRELL HATTON!
It's better than anything else on this list, so far, but there's something just a little awkward about the Tyrrell part, right? It just feels a little off, so I've had to knock him down to four.
Serge-y, Serge-y Serge-y, Serge-y Serge-y, Sergi-O GARCIA!
What an ending, right?!! Granted, the first part is a little iffy, since nobody calls him Serge-y and it will end up sounding like you're just leaving off the last syllable of his first name, but the shouted part is great.
Viktor, Viktor Viktor, Viktor Viktor, Viktor VIKTOR HOVLAND!
Absolutely no complaints. If Padraig Harrington doesn't like my no. 1, I'm fully on board for this pairing.
It was staring us right in the face the whole time. Of course the Ryder Cup legend would fit perfectly:
Ian, Ian Ian, Ian Ian, Ian IAN POULTER!
Sure, I admit, it's no Molinari. We were never going to find another Molinari. That was a perfect moment of syllabic synchronicity, and we shouldn't spend the rest of our lives chasing an unattainable ideal. But in a pinch, this is about as good as it gets ... the Postman has delivered again.