Gear Effect
Ryder Cup 2021: The clubs Team USA used at Whistling Straits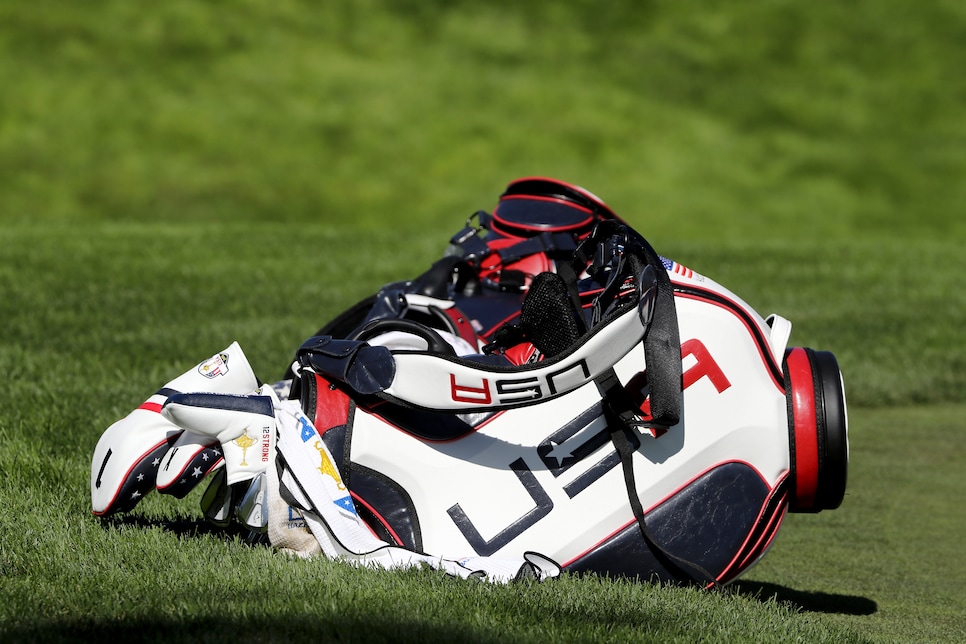 Like the squad itself, the equipment in the bags of the victorious 2021 U.S. Ryder Cup team is an interesting mix—not just in terms of varying companies and models but in set makeup as well.
By the numbers, Titleist has the most golf balls, wedges and putters in play as well as hybrids (the only two that were used, by Patrick Cantlay and Jordan Spieth). TaylorMade has the most drivers, fairway woods and irons. Still, other than Titleist in balls and wedges, it is far from a dominant count. Ping, Callaway, Cobra, Srixon all had clubs in play, as did Bridgestone in golf balls and smaller companies such as Artisan (wedges) and SIK (putters). There also are three clubs from Nike in the bags despite the company exiting the equipment business in the summer of 2016.
The below is what was in the bag at Whistling Straits for the winning U.S. side.
Driver: TaylorMade SIM, 9 degrees
3-wood: TaylorMade SIM2 Max, 15 degrees
Irons (3): Callaway Apex 16; (4-PW): TaylorMade MC Forged 11
Wedges: Callaway Mack Daddy Forged (50, 56 degrees); Callaway Mack Daddy 4 (60 degrees)
Putter: TaylorMade Spider X
Driver: Titleist TS3 (Mitsubishi Diamana ZF 60 TX), 9.5 degrees
3-wood: Titleist 915F, 15 degrees
Hybrid: Titleist TS2, 21 degrees
Irons (4-9): Titleist 718 AP2; (PW): Titleist Vokey SM7
Wedges: Titleist Vokey SM7 (52, 56 degrees); Titleist SM8 (61 degrees)
Putter: Scotty Cameron Phantom X 5
Ball: Bridgestone Tour B X
Driver: Cobra LTD Pro (LA Golf Axis Blue 60 X), 5.5 degrees
3-wood: Cobra Radspeed Prototype B, 10 degrees
5-wood: Cobra King Speedzone Tour 13.5 degrees
Irons (4-5): Cobra King Prototype Utility; (6-PW): Cobra King Forged Tour One Length
Wedges: Artisan prototype (47, 53, 58 degrees)
Putter: SIK Pro C-Series Armlock prototype
Driver: Ping G400 (Mitsubishi Kuro Kage XD 70), 9 degrees
3-wood: Ping G400, 14.5 degrees
Irons (3): Ping G410 Crossover; (4-9): Ping Blueprint; (PW): Ping Glide 3.0
Wedges: Ping Glide 3.0 (52, 56 degrees); Ping Glide Forged (60 degrees)
Putter: Ping Scottsdale HoHum
Driver: Ping G425 LST (Mitsubishi Diamana D+ Limited 70 TX), 9 degrees
3-wood: Ping G400 Stretch, 13 degrees
Irons (3): Nike Vapor Fly Pro; (4-PW): Ping Blueprint
Wedges: Ping Glide Forged (50, 56 degrees); Titleist Vokey SM8 60 degrees
Driver: TaylorMade SIM Max (Fujikura Speeder 661 Evolution 2.0 X), 10.5 degrees
3-wood: TaylorMade SIM2 Max, 15 degrees
7-wood: TaylorMade SIM Max, 21 degrees
Irons (3-PW): TaylorMade P730
Wedges: TaylorMade Milled Grind 2 (52, 60 degrees)
Putter: TaylorMade Spider Tour IB
Driver: TaylorMade SIM2, 10.5 degrees
3-wood: TaylorMade M2 (2017), 16.5 degrees
Irons (3): Nike Vapor Fly Pro; (4-PW): Srixon ZX7
Wedges: Titleist Vokey SM8 (52, 56 degrees); Titleist Vokey SM4 TVD (60 degrees)
Putter: Scotty Cameron by Titleist Newport 2 SLT 10
Driver: TaylorMade SIM (Mitsubishi Diamana D+ Limited 70 TX), 8 degrees
3-wood: TaylorMade SIM, 14 degrees
5-wood: TaylorMade SIM2, 19 degrees
Irons (4): TaylorMade P770; (5-7): TaylorMade P7MC; (8-PW): TaylorMade P730
Wedges: TaylorMade MG2 (50 degrees); Titleist Vokey SM8 (56 degrees); TaylorMade Milled Grind Hi-Toe (60 degrees)
Putter: TaylorMade TP Juno
Ball: Callaway Chrome Soft X LS
Driver: Callaway Epic Speed Triple Diamond LS (Graphite Design Tour AD BB 7x), 10.5 degrees
3-wood: Callaway Epic Speed D , 15 degrees
7-wood: Callaway Mavrik Sub Zero, 20 degrees
Irons (4-PW): Callaway Apex TCB
Wedges: Callaway Jaws MD5 (52 degrees); Titleist Vokey SM6 (56 degrees); Titleist Vokey SM8 (60 degrees)
Putter: Odyssey O-Works Red 7 CH
Driver: Ping G425 LST (Fujikura Atmos Black Tour 7x), 9 degrees
3-wood: Nike VR Pro, 15 degrees
Irons (3): Srixon ZU85; (4): TaylorMade P7MC; (5-PW): TaylorMade P7TW
Wedges: Titleist Vokey SM8 (50, 56 degrees); Titleist Vokey SM8 WedgeWorks (60 degrees)
Putter: Scotty Cameron by Titleist Super Rat prototype
Driver: Titleist TSi3 (Fujikura Ventus Blue 6X), 10 degrees
3-wood: Titleist TS2, 15 degrees
Hybrid: Titleist 818 H2, 21 degrees
Irons (4-9): Titleist T100; (PW): Titleist Vokey SM8
Wedges: Titleist Vokey SM8 (52, 56 degrees); Titleist Vokey prototype (60 degrees)
Putter: Scotty Cameron by Titleist 009
Driver: Titleist TSi2 (Mitsubishi Diamana ZF 60), 9 degrees
3-wood: Titleist TS3, 15 degrees
5-wood: Titleist 915Fd, 18 degrees
Irons (4): Titleist T100 (2019); (5-9): Titleist 620 MB; (PW): Titleist Vokey SM7
Wedges: Titleist Vokey SM7 (52 degrees); Titleist Vokey SM8 (56, 60 degrees)
Putter: Scotty Cameron by Titleist X 5