From the Magazine
Ryder Cup 2021: Everything American captain Steve Stricker must know to whip the Euros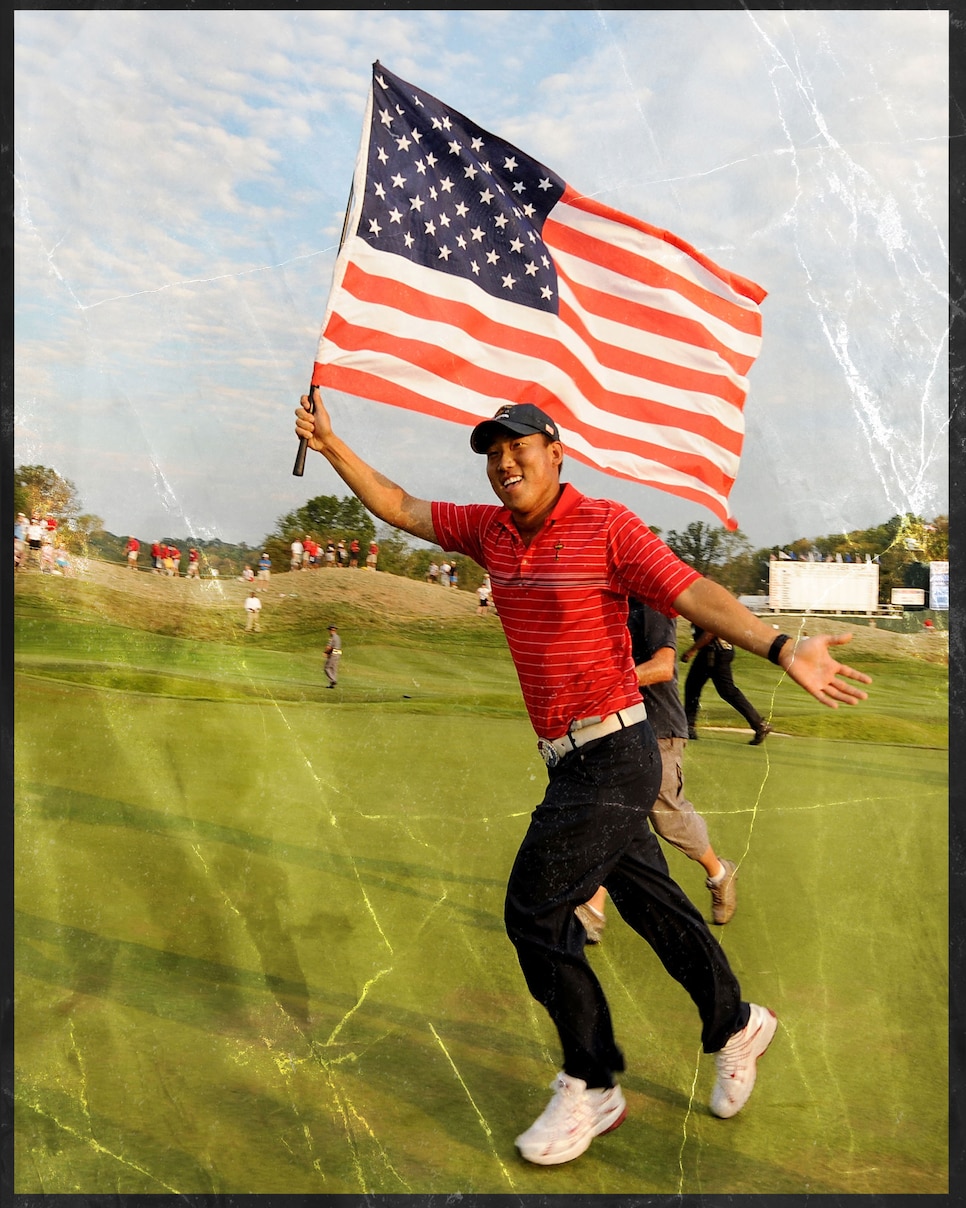 One of the more heartwarming Americana traditions involves the outgoing president leaving a note for his incoming successor. Over the years, several who have occupied the White House have offered well-intentioned advice on how to navigate perhaps the most demanding job on Earth. Without comparing the significance of a Ryder Cup captaincy to the American Presidency, those iconic notes served as the inspiration for this piece. The idea was to take on the viewpoint of the Omniscient Ryder Cup captain by amalgamating the advice and guidance of past captains, players and caddies—and to pass it all along to Steve Stricker, who will serve as Commander in Chief for Team USA at Whistling Straits. —Compiled by Daniel Rapaport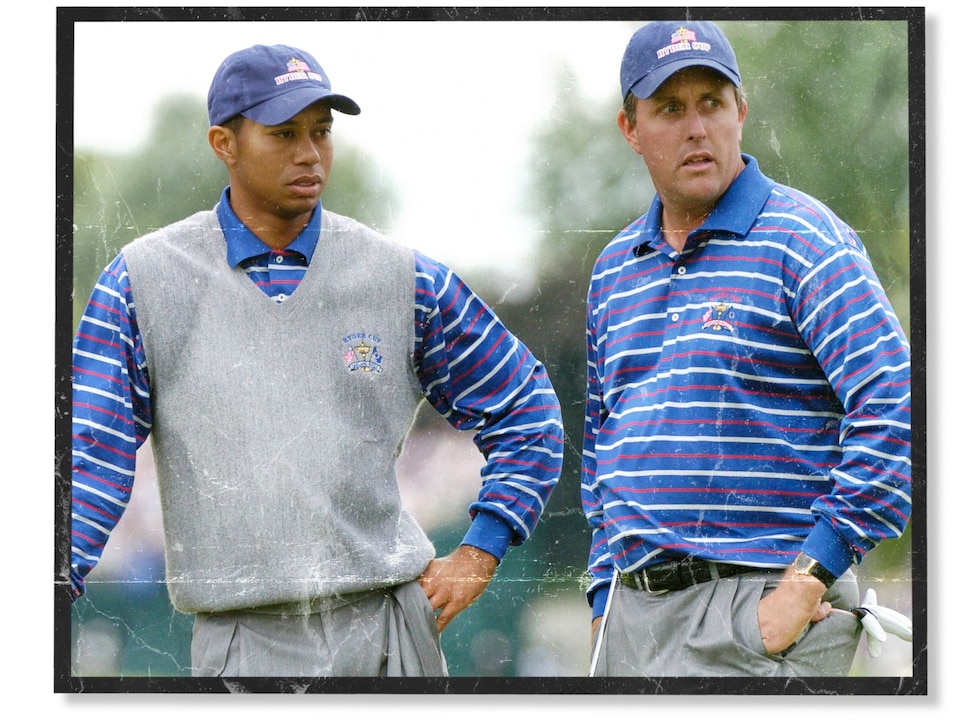 Bad Match: Hal Sutton's pairing of Tiger Woods and Phil Mickelson in the 2004 Cup backfired when they lost both their matches while inspiring the Europeans. (Getty Images)
The first big decision you'll have to make is what to do with those six captain's picks you get because of the pandemic's disruption to the point system. I don't envy you. They didn't even exist until Raymond Floyd's captaincy in 1989, and I thought Paul Azinger was flat-out nuts that he asked for four in '08.
Speaking of Zinger, he gets credit for all the personality stuff, but Dave Stockton went the psyche route first at Kiawah in '91. He and psychologist Deborah Graham profiled his team and settled on picks they thought would mesh. Your job is to be sure every player has at least one potential partner. If a guy no one likes makes the team on points, you best use a pick to find someone who can tolerate him.
Unlike the Europeans, we don't have many players with winning experience, so select guys who are playing well and fit the course. Sounds simple, but Jim Furyk failed to do this in 2018. He went full chalk (Tiger Woods, Phil Mickelson, Tony Finau, Bryson DeChambeau) because those guys were playing well—on American-style courses. In France, the fairways were as wide as a hotel hallway and, except for Tony, those boys were awful. We'd have been better off playing assistant captains Matt Kuchar and Zach Johnson.
For pairings, don't pull a Hal Sutton and pair two superstars who don't care for each other because you think it's intimidating. The team of Tiger and Phil only fired up the Euros, and if that team loses, you're in trouble. Ask the guys who they want to play with and mitigate personality conflicts. In 2012, ZJ was so freaked out by how quiet Jason Dufner was that Davis Love III had to tell Duf to speak up a little. They went 2-1 that week.
The order you trot out matters most in singles. In 2012, DL3 led with Bubba Watson and Webb Simpson because they like to play fast. They were nervous, had a bad start, and Europe pulled off a stunning comeback. The lesson? Go with your hot players first.
The 12 men on your team will be—how should I put this—more particular than the boys of past teams. Each player has a traveling entourage these days: caddie, swing coach, putting guy, mental guru, agent, sandwich maker and the "physio"—which used to be a European word, but apparently it sounds fancier than "trainer," so they all use it. These guys are the stars of their own shows because they can afford to be. Some haven't heard the word "no" in years. This makes Ryder Cup week tricky. It's your job to get them to leave their egos at the mansion and lean into the team dynamic.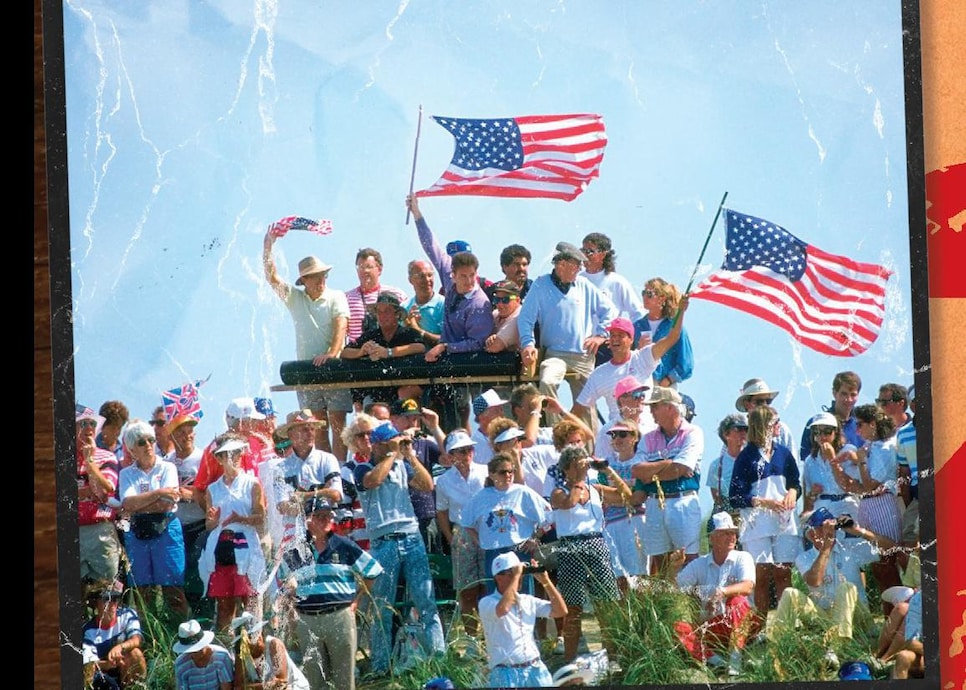 Victory Is Ours: The Americans edged Europe, 14½-13½, in 1991's "War by the Shore." (Getty Images)
Your instinct will be to tell the prima donnas to put themselves second for a week, but that's not how millennials work. They need a common cause. That's what made Paul Azinger's "pod" system of 2008, modeled after the Navy SEALS, so genius. He profiled each of his guys and separated them into three groups of four based on personality types: the Aggressives, the Steadies and the Rednecks, and he communicated with each pod differently. Imagine politely telling Anthony Kim, an Aggressive, to "hang in there, buddy!" He'd tell you to f-off. Zinger challenged him directly on the 14th hole at Valhalla that week: "I thought you were gonna show off for me today? You ain't showing me shit!" That fired Kim up beyond belief. But if you said that to Ben Curtis, a Steady, he might start tearing up. Know your audience.
Figure out what makes each guy comfortable. If one wants an extra hour for practice, like Zach Johnson did after 2010, oblige. Have the weight room ready. If they want their physio, bring their physio. Also, these guys are neurotic about food. Back in the day, you could just put out a buffet. Now? Everyone's got their thing. Tiger hates garlic. DeChambeau's gonna want protein shakes. Jordan Spieth loves guacamole. Avoid raw fish, especially in Wisconsin—too much potential for disaster.
Never stop telling these guys how good they are. You're a cheerleader, not a critic. If you want a guy to go out first against his will, tell him it's because he's playing the best. When you're telling a guy he's sitting, say it's because he looks a bit tired, and you can't afford to have a player of his quality less than 100 percent. You're going to feel like a brown-noser. It's part of the gig.
3.

IF ANY CLOTHING BECOMES THE STORY, YOU'RE IN TROUBLE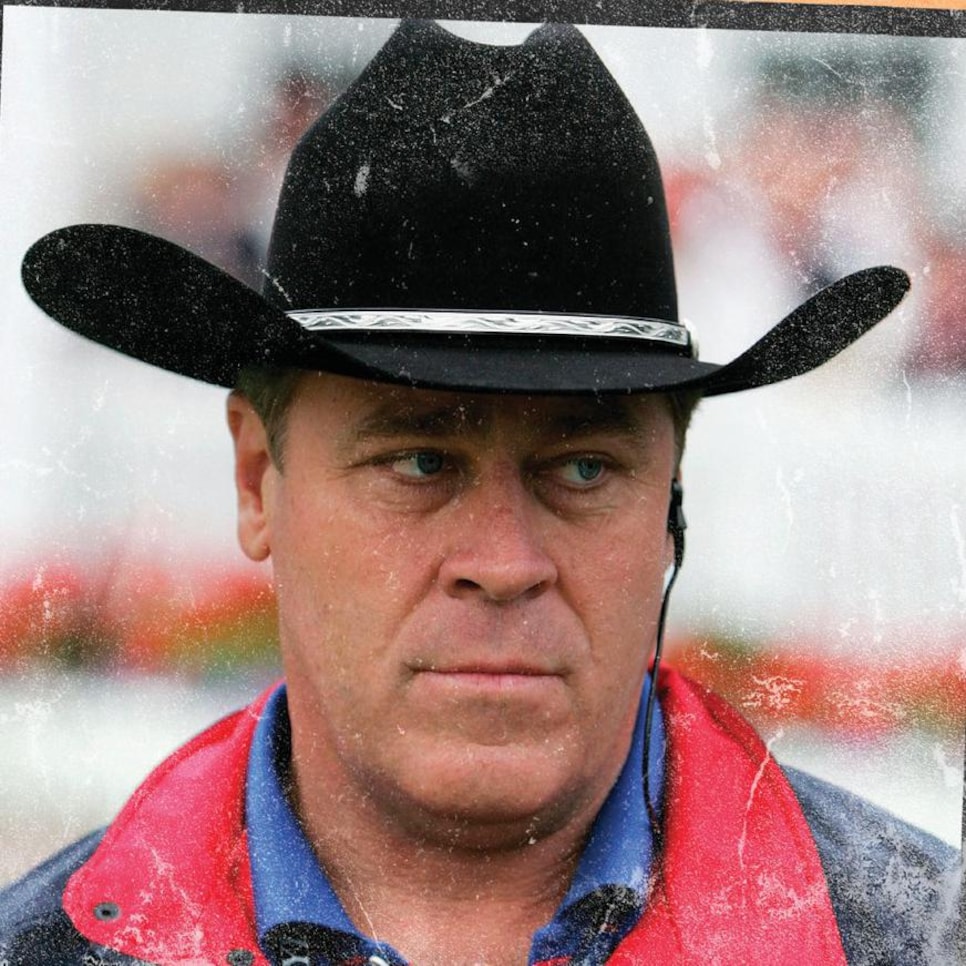 All Hat No Cattle: Captain Hal Sutton wore this on the first day of the 2004 Match, but the Euros rolled to an 18½-9½ victory. (AllSport)
Let's address the rainsuit in the room. What happened in 2010 was a disaster. Granted, a two-foot-thick cube of steel wouldn't have kept all the water out that week in Wales, but a rainsuit has one job: Keep the person wearing it dry. Those didn't do it, and they looked terrible while not doing it—like something a mid-'80s Indiana University Hoosiers basketball team would wear. Lisa Pavin surely had nothing but pure intentions, and she's not to blame for our loss that week, but we can't afford a repeat of that sartorial quagmire.
Ryder Cup apparel has come a long way. In 1975, Arnie's team gifted the Euros new FootJoys because they felt bad about how crummy their shoes were. Our guys used to show up, find some clothes in their locker—medium, large or extra-large—and put them on. If they didn't fit, it was no biggie. Tiger's pants were always too big because that guy has the skinniest legs in American history, and we'd all laugh about it. Now, it's no joking matter. Players are used to having custom-fit clothes, which are way too tight if you ask me.
Get the clothes they're going to wear during Ryder Cup week into their hands months in advance. The fine folks from Ralph Lauren will have four or five staffers on site to address any last-minute fit issues, but everything should be handled well before then.
As far as designs go—the simpler, the better. Out-there shirts, like the picture frame getups we wore in '99, become iconic only if they're worn during victory. If you lose, it's going to go down in infamy. Red, white and blue complement each other wonderfully. Check the 2019 Presidents Cup team for inspiration. They wore a whole bunch of solid colors and looked sharp.
As for your threads, avoid pulling a Sutton. Hal showed up to the first tee on Friday in 2004 wearing a cowboy hat and immediately gave the Euros a caricatured mascot to unite against: the beer-drinkin', dip-chewin', horse-ridin' Yankee. In related news, the boys went to bed that night down 6½-1½. On home soil.
4.

YOU HAVE HOME-FIELD ADVANTAGE—USE IT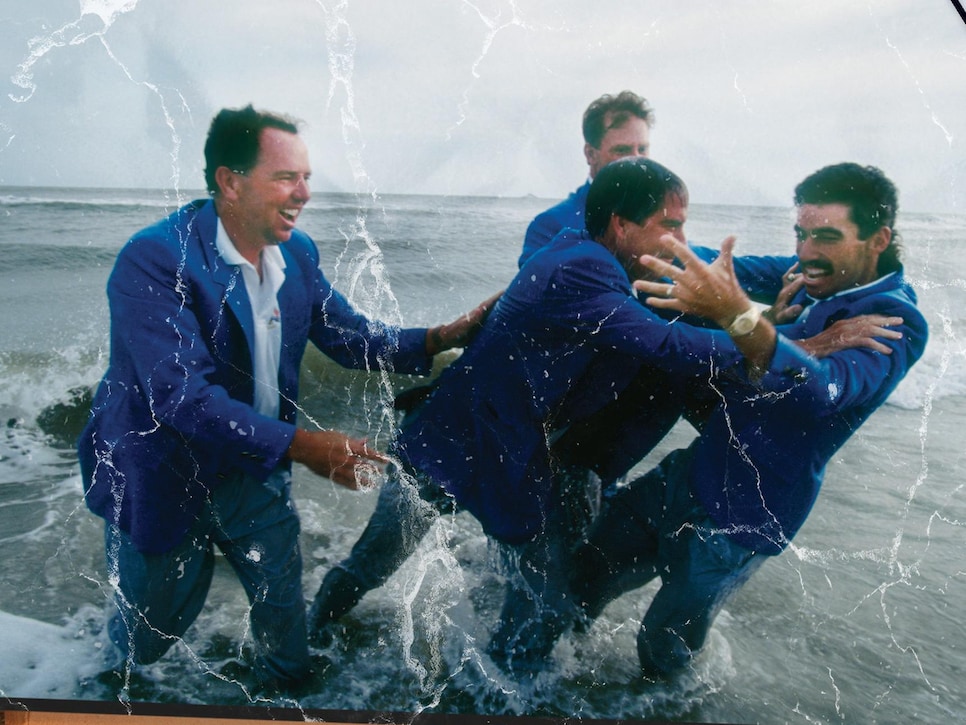 War No More: Mark O'Meara, Payne Stewart, Dave Stockton and Corey Pavin celebrate at Kiawah in 1991. (Getty Images)
The suits will tell you with a straight face that the Ryder Cup should have a neutral course setup. Perhaps they slept through the last matches in France, or they think the super at Le Golf National just happened to make the fairways three yards wide and the rough knee-high by chance. Toying with the course to benefit your team—historically, we hit it farther and more crooked, the Euros are shorter and straighter—is absolutely, positively fair game. We just caught wind of it later than the Euros did. An old U .S. captain asked Tony Jacklin if he'd doctored the setup during his captaincy. His response? "You're damned right I did!"
After we got a lil' frisky in '08, they wrote a clause in the Captain's Agreement to prohibit any last-minute screwery by taking control away from the host captain the Monday before tournament week, 11 days before the first ball is struck. After that, "all daily decisions related to course preparation, including frequency of height of mowing and tee and hole locations, will be taken by the Match Committee alone."
All I see there is that you do have control up until the Monday before tournament week. That's more than enough time to make your intentions known to the lovely superintendent. Buy him a bottle of his favorite bourbon and discuss your vision for the course over a glass of it. Make him your best friend. Back in '08, Paul Azinger cozied up so close to Mark Wilson, the old superintendent at Valhalla, that the guy named his dog Zinger (and last I heard that dog's still kickin'!). Azinger told Wilson months before the Cup that he considered him an integral part of the underdog U.S. team's chances.
There were six guys on our team that year who could fly it, say, 302 yards. What did Azinger do? He put the tees to where 302 carried the bunkers, and he put no rough on the other side of them. Hell, he had two branches cut down to make J. B. Holmes' life easier. Bar set.
Davis Love III kept this going in '16 at Hazeltine but did so in an understated manner, as is his nature. He told Kerry Haigh, the setup chief for the PGA of America, to err on the easier side when it came to pin locations. His logic: We want birdies. Even if they make birdie to match, it's a positive for us because birdies get the crowds going. I don't know if it's possible to produce a bunch of birdies at Whistling Straits unless y'all play the forward tees, but do your best. Make it wide. Cut the rough. Set easy pins. Go all out.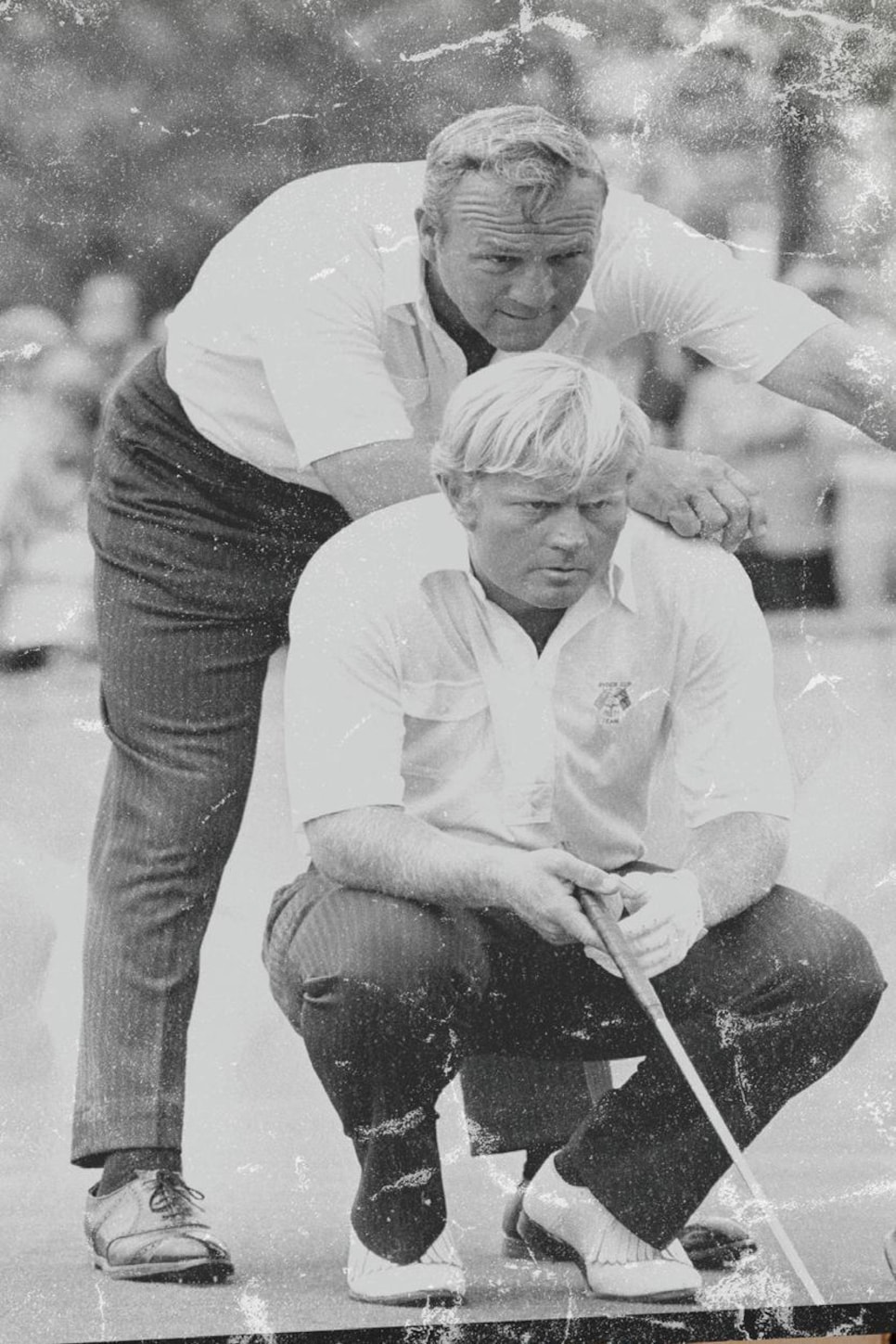 Power Couple: Arnold Palmer and Jack Nicklaus propelled the U.S. team to victory in the 1971 Match. (Getty Images)
The kids won't remember, but for a while no one really gave a crap about the Ryder Cup. Remember, Tom Weiskopf decided he'd rather go big-game hunting than play in 1977. It wasn't until Jack Nicklaus got beat at his own place, Muirfield Village in 1987, that we really started to take things seriously. The War by the Shore in '91 took things to a new level. Now it's the biggest spectacle in our sport, and it's your job to make it feel even bigger than that. That's how you get the players to buy in without offering $2 million for first place.
Everything has to be first class—including the gifts you give the players. Stewart Cink still talks about the bike Tom Lehman gave him in '06. We've had so many cool speakers come into the team room that guys have come to expect it now, and it contributes to the grandness of it all. One priceless moment that jumps to mind is when Michael Phelps was giving the boys a pep talk in '16, and Matt Kuchar pops up and puts his arm around him and goes "Not everyone knows what it means to be an Olympian!" One of the other boys called out: "Hey, Michael—that thing Kuch has on, it's called a bronze medal." Said Phelps: "I think I might have one of those—in a relay."
We've had Coach Mike Krzyzewski in there, and even uber-chill Dustin Johnson was fired up after that one. Lehman set us up with the New England Patriots ahead of Hazeltine. The guys got a priceless lesson by watching Tom Brady interact with his teammates. Davis Love III brought in both president Bushes, which brought Amy Mickelson to tears. You won't have to beg Michael Jordan to come around. Trust me.
Azinger grouped his players by personality type: The aggressives, the steadies and the rednecks.
Still, the best moments come organically from the Ryder Cup fraternity—not some athlete or celebrity's planned speech. Before the flight over to the Belfry in '93, Tom Watson looked at his team and told them, "You're about to go on one of the great golfing adventures of your career." The simplicity of it struck a note. The team was ready to run through a wall, and no U.S. team has won in Europe since those boys did.
You'll have access to Tiger, whether or not he's there in person. He loves to help, and the guys idolize him. Anything he says is going to inspire them. Keep that in mind.
Oh, and one more thing about the team room: The pingpong table is a non-negotiable amenity.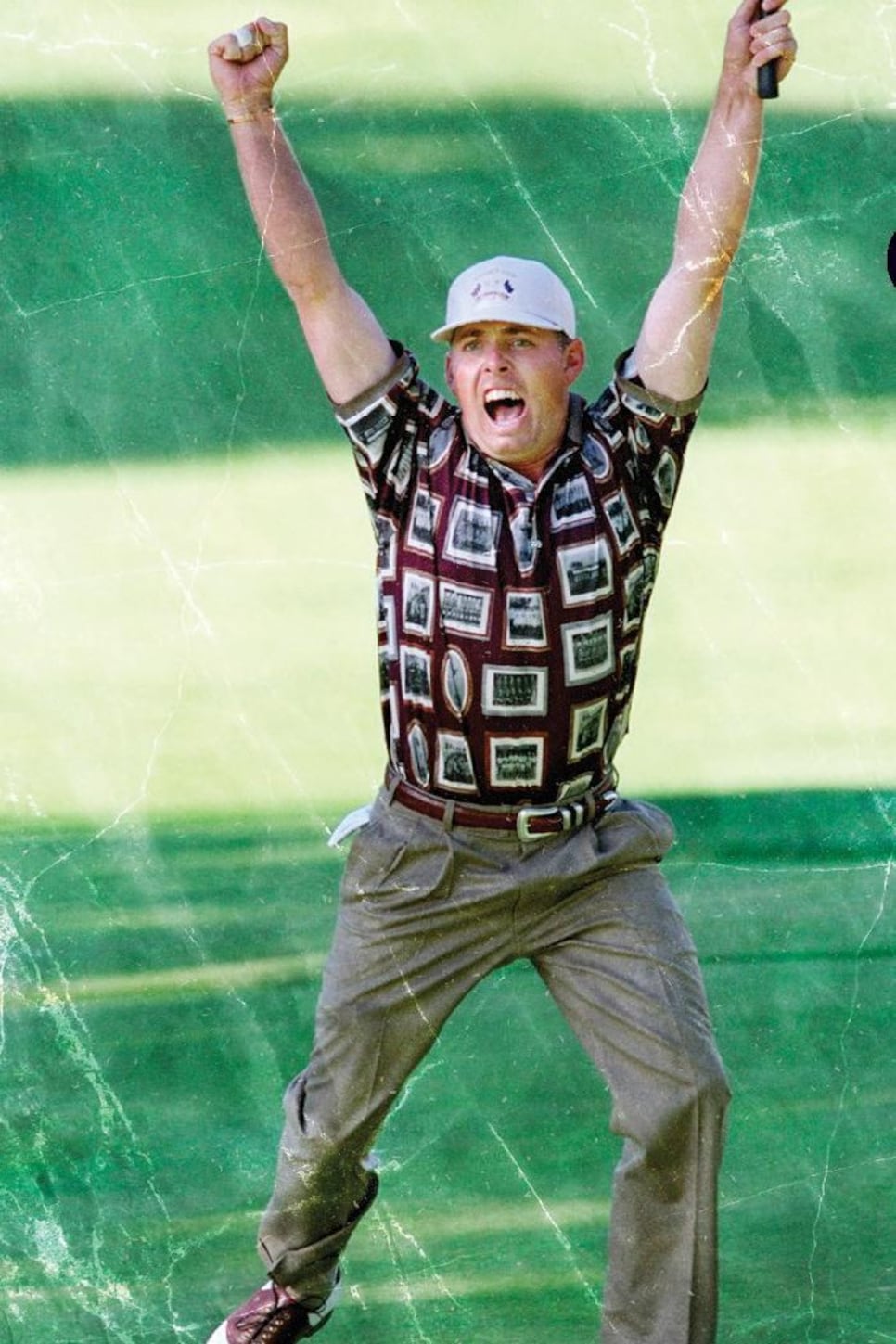 Bombs Away: Justin Leonard celebrates his long birdie putt on the 17th green during singles in 1999 at Brookline. (AllSport)
Weird stuff happens during the Ryder Cup. It's why the fans love it so much—a break from the monotony of 72-hole, stroke-play events, where crowds politely clap and players tip their caps.
Dave Stockton probably had the craziest experience of all in 1991. First, a limo crash injured Steve Pate two days before the Match began. Once it started, Paul Azinger and Seve Ballesteros nearly came to blows. Then Ray Floyd and Seve almost came to blows. Dave hated the term "War by the Shore," but that's what it was, and no amount of planning prepares you for off-the-wall stuff like that.
It's your job to contain the chaos. If there are any squabbles—like, say, Patrick Reed feeling betrayed by Spieth or Brooks and DJ coming to blows—address it head-on, before the media finds out. You don't need anything blowing up on Twitter.
Don't give the Euros bulletin-board material. On the eve of that '91 Cup, two promotional videos were shown. Team USA's lasted 20 minutes. The Euros' video barely made it five. As you might imagine, they were not pleased. We all owe Danny Willett's brother a thank you for calling out our fans in '16, which only made them want to yell louder. Lavish the Euros with praise in every interview you can. There's no one quite like Seve that you have to contend with, but make sure not to piss off Sergio or Poulter.
The focus needs to be on golf. A point hammered home after '14 by the task force—funny enough, that's become a taboo term—was that the PGA of America was running our guys ragged by dragging them to events every night. You don't want them feeling like their golf routine changes for this one week.
Encourage the guys to interact with the crowd if they want, but make it clear they don't have to. There's no right or wrong answer. Remind them that no matter how loud or contentious it gets, it's golf. There's no one playing defense, no one stopping you from stuffing that 8-iron to two feet.
7.

ACCEPT THAT WHICH YOU CANNOT CONTROL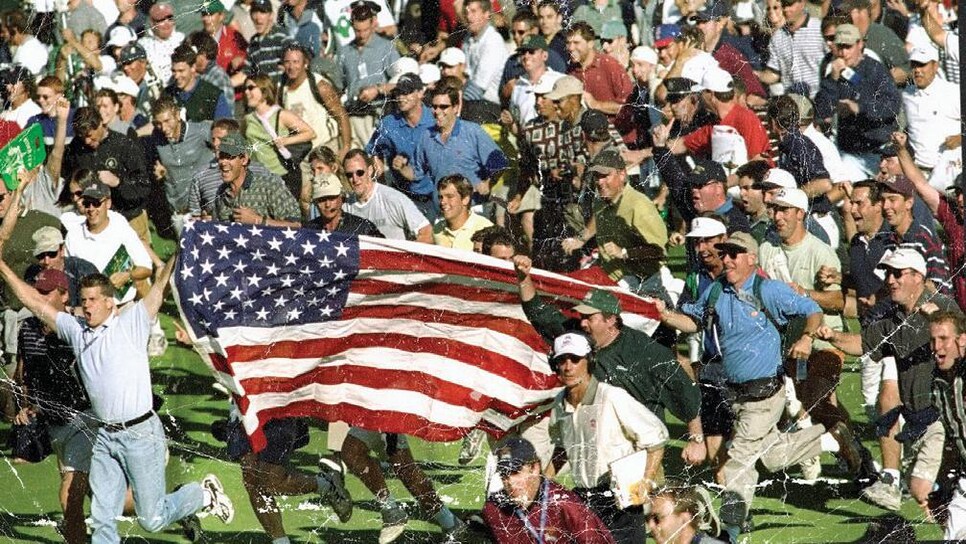 What A Rush: Fans storm the 18th after Team USA's dramatic final-day comeback at the 1999 Ryder Cup (AllSport)
The worst part about being a captain is that you're not a player. You won't hit a single shot, which limits your ability to directly impact the matches. You can follow every direction I've given you, endear yourself to the players and still lose. Tom Kite took all the blame in 1997, but Tiger, Justin Leonard and Phil couldn't make a putt all week. Conversely, the Euros couldn't stand their captain that week, and yet Seve bathed in compliments about his leadership.
Speaking of Tiger, he was a no-brainer pick in '18. Might've been the best, most consistent player coming into the Cup. Then, the week before the matches, he won his first event in more than five years and turned up to France looking like a zombie. That's out of your control. Guys who are playing great coming in hit a wall, and guys who are struggling kick it into gear. There's an element of randomness to this game. You're going to feel helpless as you watch European putts fall and American putts lip-out. Once the first tee shot is hit in every session, all you can do is sit back and hope.
The role of the captain is to put your team in position to win. If you don't, be ready to take the blame—like, all of it. It's the role of a leader. Win or lose, savor every second of the experience. It's the honor of a lifetime.