Steve Stricker has made his captain's picks. And Stricker is going with youth.
The United States Ryder Cup captain named Jordan Spieth, Tony Finau, Xander Schauffele, Harris English, Daniel Berger and Scottie Scheffler as his six captain's picks Wednesday morning.
The six join automatic qualifiers in Collin Morikawa, Bryson DeChambeau, Dustin Johnson, Justin Thomas, Patrick Cantlay and Brooks Koepka to round out America's roster for the biennial event at for later this month at Whistling Straits.
There was no drama surrounding the picks of Spieth, Finau and Schauffele, as the trio had long been expected to make the team. Spieth, making his fourth Ryder Cup appearance, enjoyed a career revival in 2021, highlighted by a win at the Valero Texas Open and contending for the Masters and Open Championship. For Finau, making his second straight Ryder Cup team, a win at last month's Northern Trust broke a five-year victory drought, but his breakthrough was hardly a one-week triumph. During the season, Finau was 14th in scoring and 16th in SG/tee-to-green. Though Schauffele doesn't have an official win, he captured the gold medal at the Tokyo Olympics and finished fifth on tour in total strokes gained. He will be making his Ryder Cup debut.
English was also considered a sure-thing coming off a career-best campaign, winning twice (Setnry Tournament of Champions, Travelers Championship) to go along with high finishes at both the fall and summer U.S. Opens. While he represented the U.S. at the 2011 Walker Cup, this is English's first professional Team USA appearance. English is the oldest captain's pick at 32.
The picks of Berger and Scheffler, however, provided Wednesday's theater.
Berger was statistically one of the best ball-strikers on tour this season, finishing fifth in approach and 11th in strokes gained, while winning at Pebble Beach and racking up eight top-10s across the super season. The analytics favored him as well, as he finished fourth in DataGolf's Ryder Cup rankings over the past three and six months. His lack of Ryder Cup experience was the only knock, but clearly it was not enough of a restriction in Stricker's mind.
Scheffler, also a Ryder Cup rookie, is still in search of his first PGA Tour win. However, he has finished in the top-10 in the past three majors, along with coming in second at the WGC-Dell Match Play. Scheffler, 25, ranked seventh in birdie average and was sixth in DataGolf's Ryder Cup rankings over the last three months.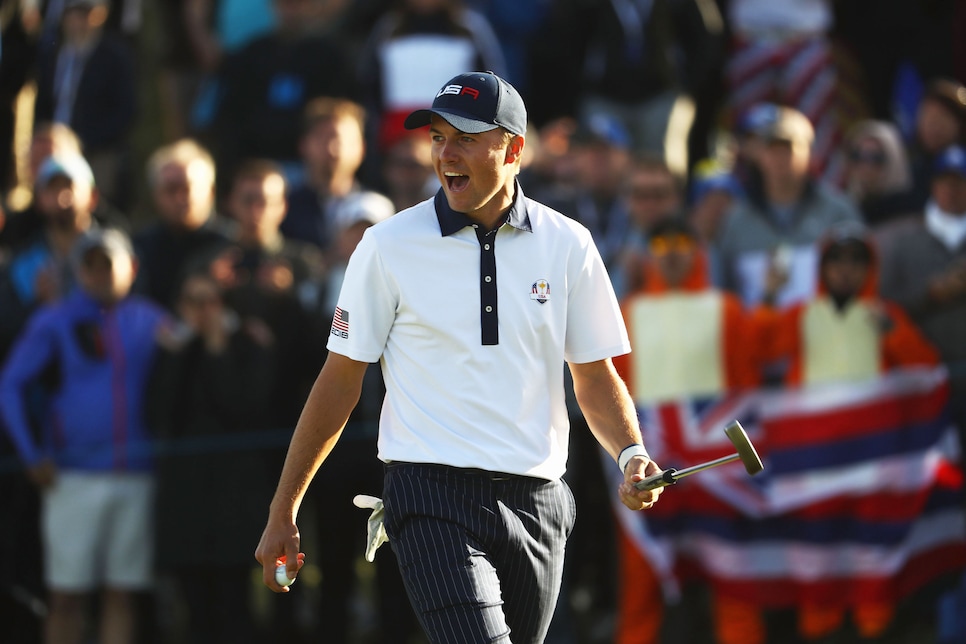 Jordan Spieth celebrates during the rare positive moment at the 2018 Ryder Cup for the Americans.
Jamie Squire
A notable exclusion among Stricker's picks was Patrick Reed. The former Masters champ was not necessarily expected to make the team following his hospitalization with bilateral pneumonia, but Reed returned at the Tour Championship in hopes of making a last-second bid for the club. Reed had played in the past six Team USA matches.
Team Europe will finalize its picks following this week's BMW PGA Championship at Wentworth in Surrey, England. Here are the thoughts of the Golf Digest staff on Stricker's picks.
Which pick surprised you?

Dave Shedloski: Frankly, none of these picks surprise me. This is a solid group of players. Their respective strengths are obvious. They give Captain Stricker flexibility on pairings. But what I like is their personalities. They will mesh well with the automatic qualifiers.
Daniel Rapaport: Scheffler, in that he filled the only spot that wasn't spoken for. The first four—Finau, Schauffele, Spieth and English were shoo-ins, and Daniel Berger all but spilled the beans that he was in last week. So there was really only one mystery left to solve.
Brendan Porath: No pick was a surprise. These were six obvious choices. There were other suitable options to Scheffler, who was likely the last pick with the most uncertainty. But he's not a surprise.
Chris Powers: With all the talk about the Kevins—Na and Kisner—it felt like Scottie Scheffler was going to be the odd man out. Thankfully, that is not the case, because Scheffler's game is perfect for Whistling Straits. This could prove to be Stricker's best selection.
Who was the biggest snub?

Shedloski: Well, let's not mince words here. Leaving Patrick Reed, so-called Captain America, off the team is a pretty big deal. One of America's best putters and strongest competitors, but his negatives were just too obvious. Stricker said he lost sleep over leaving him off. Health was a real question. His 2018 post-match comments to the New York Times on Sunday night in Paris probably didn't help. And, well, other than putting his game hasn't been great.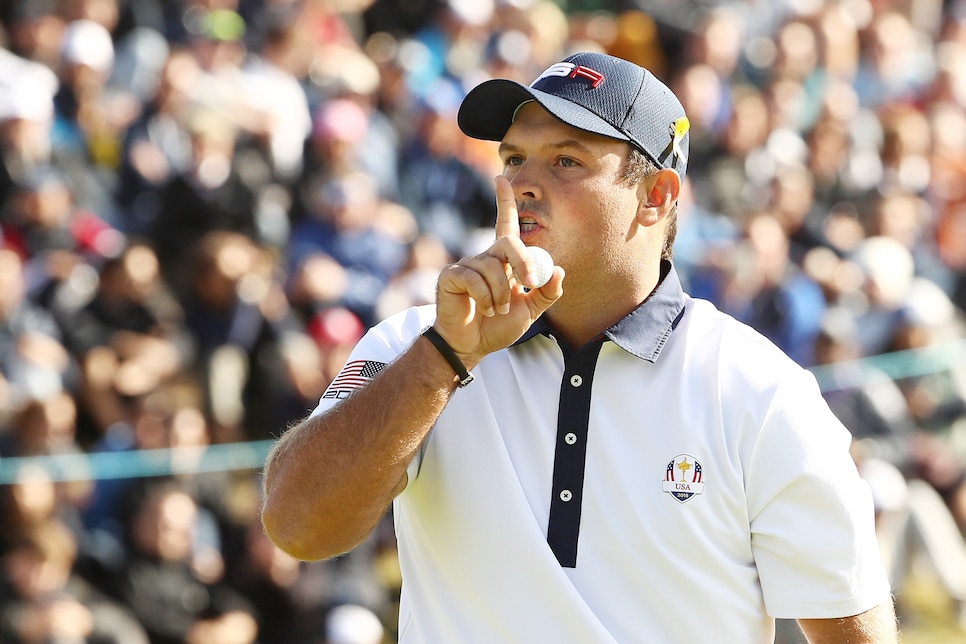 Rapaport: Kevin Na. I've been on this horse for a while—I get that he doesn't fit the course on paper, but if the Solheim Cup taught us one thing, it's about who's going to step up and make pressure putts. Na has that Poulter-like juice, and I thought he'd be a perfect addition to a team already loaded with bombers.
Porath: It's hard to argue for snubs when there were so many options in a crowded field, but I suppose Webb Simpson has an argument for being left out. He was ahead of Scottie Scheffler on the points list and has sacrificed many times over in team events teaming up with partners who might be considered difficult. Reed was also ahead of Scheffler on the points list, but given his health uncertainty and the fact that he burned down the house on the way out of Paris, I don't think he should be considered a snub.
Powers: Patrick Reed, even with the health concerns and poor form of late, is by far the biggest snub. Goes to show how deep this team is when Captain America, who was 11th in the final team standings and has an incredible team event record, gets left off.

Looking at all 12 players, what's your assessment of Team USA?
Shedloski: If Stricker was looking to make the team stronger, he succeeded. In fact, you could argue the six picks are stronger—right now—than the automatic qualifiers, who as a group haven't been trending all that well, aside from Cantlay and DeChambeau. And Brooks Koepka's health is now a question. But seeing these picks makes me feel better about the U.S. team that's heading to Wisconsin.
Rapaport: They're massively talented and will be a sizable favorite. My only concern, apart from the lack of a Na/Reed-type character, is the lack of steady-handed leadership. There's no one in their 40s, and the 30-plus guys—Koepka, English, Johnson and Finau—aren't exactly guys to step up and make a speech.
Porath: It's absolutely rock solid on paper (although isn't that often the case at the start of these matches?). The statistical profiles are perfectly suited for Whistling Straits, and these were the best six captain's picks to pair with the auto qualifiers. There are actually more questions about the six auto bids because of health issues related to Koepka and Morikawa, but Stricker knocked his captain's picks out of the park.
Powers: To add Jordan Spieth, Tony Finau and Scottie Scheffler as captain's picks make this team incredibly menacing … on paper. As for on the course, that remains to be seen, though the Whistling Straits home-course advantage will certainly help.