News
Patrick Reed says he was told he was in danger of dying in hospital while battling double pneumonia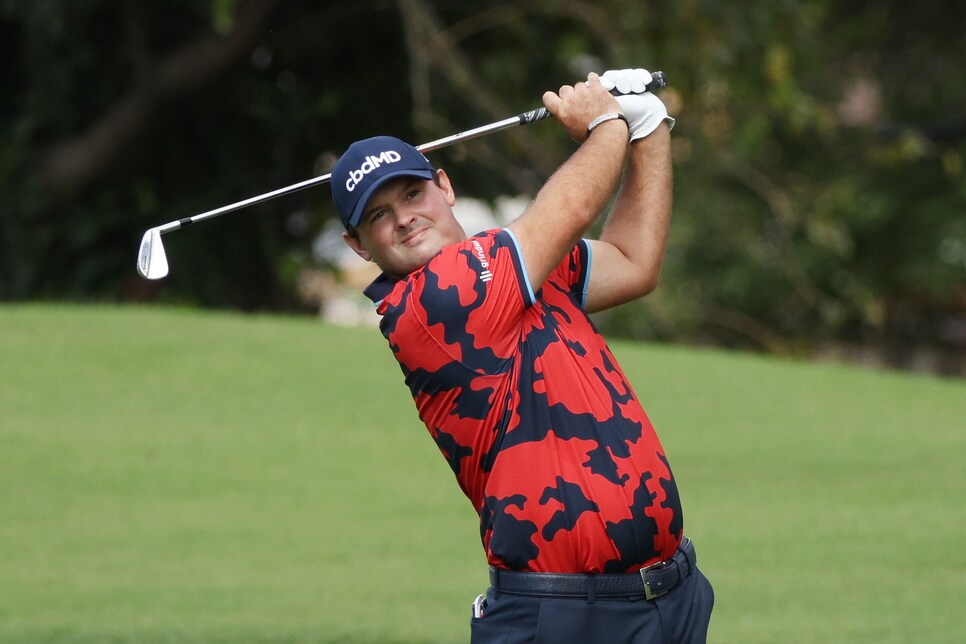 Patrick Reed plays a shot on the first hole during the first round of the 2021 Tour Championship.
Kevin C. Cox
ATLANTA — Following his first competitive round after a week-long hospital stay for bilateral pneumonia, Patrick Reed shed light on the severity of his illness.
"The first couple days they were sitting there telling me that make sure you text your family quite a bit, talk to your family, because you just don't know," he said after shooting a two-over 72 at the Tour Championship on Thursday. "I mean, this is not good. We're not in a good spot right now."
According to Reed, the pneumonia was in the lower lobes of both lungs, a potentially fatal location. He was admitted to a Houston-area hospital on Aug. 19, and estimated that he was in there for "five or six days." His oxygen levels were monitored constantly during that time, and because of COVID protocols, he wasn't allowed to see family members, including his wife.
"The only thing that was going through my mind is, I'm not going to be able to tell my kids goodbye," he said. "I'm not going to be able to tell them I love them. I'm not going to be able to tell my wife that I love her and give her a hug.
"It definitely puts you in a dark space when you're in there, especially those first two days," he added. "I mean, I was battling for my life."
In a statement released on Wednesday, Reed said that he was uncertain about whether he had the delta variant, and on Thursday, when asked directly if he tested positive for COVID, he said they had never tested him. When asked to clarify, he said that he was tested only upon leaving.
"I obviously I got tested when I was leaving and I tested negative," he said. "So that's always a positive."
A hospital spokesperson contacted by Golf Digest would not comment about Reed's case but said all patients are required to take COVID tests before being admitted to the hospital.
Reed won't be cleared for air travel until next week and made the trip from Texas to Atlanta in a van. The first time he picked up a golf club since leaving the hospital was on Monday, and he and his team traveled to Atlanta the next day. When asked if he would have played in the Tour Championship if this wasn't a Ryder Cup year, his answer was no.
In Wednesday's statement, Reed said that he had been vaccinated. When asked for the exact timing on Thursday, he said, "I feel like it was a long time ago," then estimated that it had been about a month. The interview with reporters was cut short before clarifying if he was referring to his first or second shot.
Reed hasn't played in a tournament since the WGC-FedEx St. Jude Championship last month. He was scheduled to play in the Wyndham Championship, but withdrew. He expected to play in The Northern Trust but that's when he came down with pneumonia, withdrawing the morning of the first round. He also sat out last week's BMW Championship, but still managed to stay 30th on the FedEx Cup points list and qualify to play this week at East Lake.
Regarding his golf, Reed struggled with his accuracy off the tee.
"As a whole, I feel optimistic with the way I finished, getting through 18 and not feeling like my health is hindering me," he said. "I think that was the biggest thing today is being first time playing 18 holes, how am I going to feel, how are my lungs going to feel. I know there's going to be some ups and downs on the golf course because I haven't played in a while, but I feel like the health, my lungs and my health hung in there today."