PGA Tour
Patrick Cantlay gives an incredible response on the Bryson DeChambeau heckling issue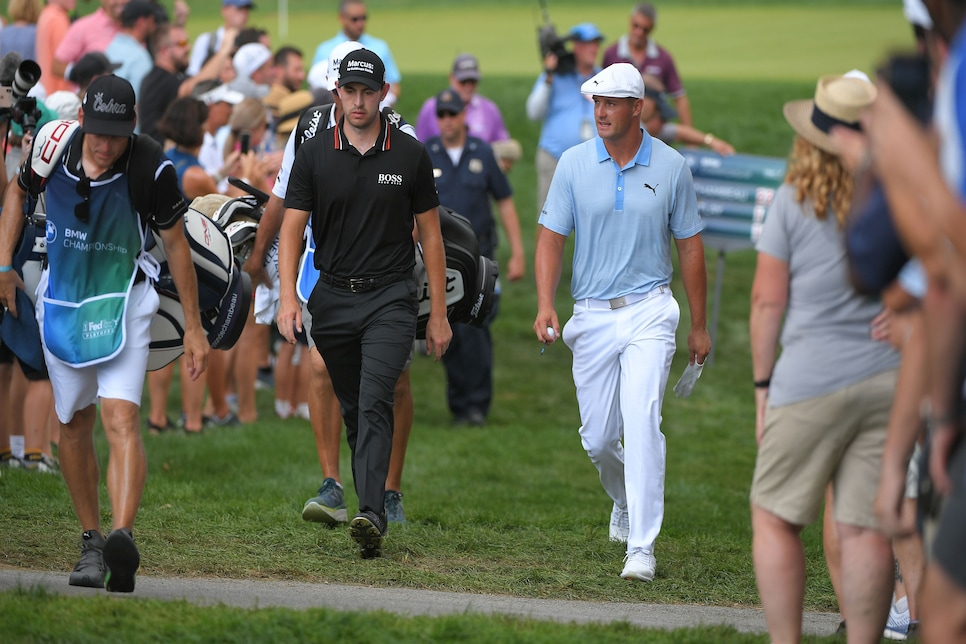 Patrick Cantlay and Bryson DeChambeau walk towards the ninth tee box during Saturday's third round at last week's BMW Championship.
Ben Jared
Wednesday morning, on the eve of the Tour Championship in Atlanta, Patrick Cantlay joined the long line of players who were asked their thoughts on the Bryson DeChambeau heckling issue. The question came in the wake of PGA Tour Commissioner Jay Monahan's announcement the previous day that fans who chant "Brooksy" as a taunt could be kicked out of future events, a step toward making for a more civil atmosphere outside the ropes.
Cantlay, who played in the same pairing as DeChambeau in the final two rounds of last week's BMW Championship, beating him in a six-hole playoff, offered an answer that was surprisingly long, forthright and thoughtful, and it's worth reading in its entirety because, frankly, this level of insight is rare.
Here was Cantlay's response in full:
"I think it's a tough situation. I think, naturally, of course there is some sympathy because you don't want to see anybody have a bunch of people be against you or even be heckled. I think anybody that watches sports and sees someone being heckled, they don't like that inherently because if you imagine yourself as that person, it wouldn't feel good.
"I think, unfortunately, it might be a symptom of a larger problem, which is social-media driven and which is potentially Player Impact Program derived. I think when you have people that go for attention-seeking maneuvers, you leave yourself potentially open to having the wrong type of attention, and I think maybe that's where we're at it, and it may be a symptom of going for too much attention.
"But it can be awesome, too, because if you succeed and you act perfect all the time and you do the perfect things all the time, and then you also go for the right attention-seeking moves, you get like double bonus points because everyone loves you and you're on the perfect side of it. I think it's just a very live-by-the-sword, die-by-the-sword type of deal. And when you leave it to a jury, you don't know what's going to happen. So it's hard to get all 12 people on a jury on your side.
"And if you're playing professional golf on the stage that you're playing on and 98 percent of the people are pulling for you and there are 10,000 people on the green, I don't know, what does that leave, 20 people that don't like you, even if 98 percent of the people like you? And if those 20 people have had enough to drink or feel emboldened enough to say something because they want to impress the girl they're standing next to, then, yeah, like, you're in trouble. Like, people are going to say bad things.
"Golf, unfortunately, doesn't and probably shouldn't tolerate that. I think there's a respect level in golf and there's intimacy that the fans can get so, so close to you, and you're also all by yourself, and you don't have the armor of putting on Yankee pinstripes, and you don't have the armor of having, knowing that if you're on the Yankees and people hate you and you're playing in Boston, you can tolerate it for three hours in right field. But you only tolerate it because you know next week or on Friday you're going to show up and you're going to be in Yankee Stadium and no matter what you do, even if you fall on your face, you're going to have the pinstripe armor on and people are going to love you.
"So golf is different in that respect, that if you only have 2 percent of the people that are very against you because you're polarizing and because you're attention-seeking, then you're kind of dead because those people are going to be loud, and they're going to want to say something to get under your skin.
"And I think golf shouldn't let that happen. I think the Masters is a great example of a place that doesn't let that happen, and it's the greatest place to watch and play professional golf because of the atmosphere they create. I think if you look at the history of the game and you look at the respect that underlies the entirety of the history of the game, we shouldn't tolerate it, and we shouldn't celebrate that. We should celebrate the fan that is respectful and pulls for their side.
"So it's a tough situation. It's a tough topic, but that would be my take on it and I'm sure it's not perfect, but after thinking about it a little bit, it's the best I can come up with."
Nothing is perfect, but as far as introspective answers go, this is up there with the best. Bolstering Cantlay's point is the fact that in his hypothetical example of 10,000 fans, the number of hecklers would actually be 200, not 20. A vocal minority can do a lot of damage, as Cantlay saw first-hand at Caves Valley, and a problem that looks small in terms of percentage can actually be quite large.
Cantlay's response was so good that another reporter wondered if he'd actually read the statement. Hearing that, Cantlay smiled.
"I'm looking around here," he said. "I don't see any prompters."