Ryder Cup
Ryder Cup 2021: Justin Thomas' father, Mike, recovering from health scare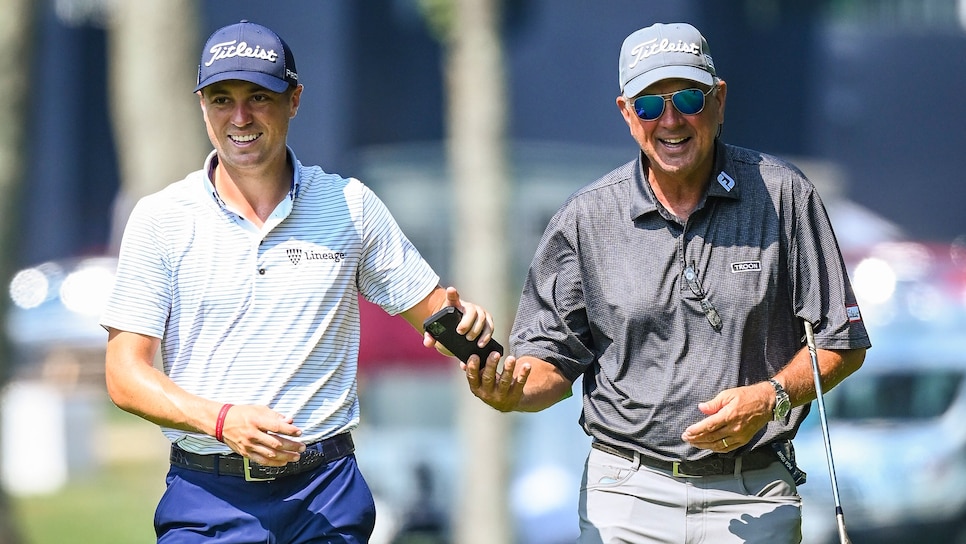 Justin Thomas smiles with his father Mike during practice for the BMW Championship in August.
Keyur Khamar
HAVEN, Wis. — Mike Thomas should be spending Sunday reveling in the final day of the Ryder Cup at Whistling Straits and following his son Justin in his singles match against England's Tyrell Hatton. Instead, he is relaxing—as best he can—at home in South Florida, having to be content watching it on television.
"Yeah, it's killing me not be there," Thomas said by phone with a voice that was softer than usual.
In the next breath he notes that he is lucky to be alive. And he's not exaggerating.
For the first time in maybe four years Thomas isn't part of his son's gallery at a tournament. Not only his father but also his son's teacher, Mike was diagnosed the Tuesday prior to Ryder Cup week with a blood clot in his lung (pulmonary embolism) and is restricted from traveling, or doing much else, for at least a month.
Coming off eight straight weeks of travel, including to England for the Open Championship and Japan for the Olympics, the elder Thomas two weeks ago felt a constant pain in his left side. At first he thought it was pleurisy. When it didn't dissipate the following day and he experienced shortness of breath, his wife Jani insisted he go to the hospital. A battery of tests revealed nothing out of order, but a CT scan found the clot.
"I'm lucky they found it," said Mike, who turns 62 next month. "You know how us guys are. Something hurts one day, and we just ignore it. But the timing of this is horrible."
Thomas was with his son in Paris three years ago when Justin was the American star, going 4-1 in his Ryder Cup debut, but the Europeans dominated with a seven-point rout. This week the tables have turned completely, with Team USA jumping out to the biggest lead, 11-5, heading into singles since the Europeans led by the same margin in 2004.
"I don't watch much TV, because I'm usually at the event, but this is about all I can do," said the long-time PGA Master Professional. "I can teach a little. I can hit a few pitching wedges on the range. That's about it."
He also can talk to his son, and they have traded phone calls frequently. They chatted Saturday night and again Sunday morning. Justin didn't like how he struck the ball Saturday morning as he teamed with Jordan Spieth for a foursomes victory, so they reviewed some video and talked out adjustments.
"He's calling a lot because he's worried about me, but it's also nice that he wants to just share what's going on," Thomas said. "I've been incredibly fortunate to ride along on his journey."
And fortunate that he will get to continue to ride along.