HAVEN, Wis.— Justin Thomas didn't know what to do with his hands, so he clenched them at his side, thrusting his hips to the crowd on the hill at the ninth while prancing to pick up the white ball he made disappear. He shouted to the fans that he could not hear them, which is the PG version of what he actually said. It is the type of reaction this event produces with regularity, but rarely is it produced when a golfer is 3 down after eight holes.
"I've lost a bit of my voice," Thomas said. "I was yelling a little bit. That's what this event is all about."
Then again, Thomas is a golfer in profession but a prize fighter in spirit. You see it in his eyes when he racks up red numbers, which is often, displaying a fire that is a fusion of purpose and passion. And like a pugilist skipping around the ring or waving to the crowd, Thomas is a showman, not afraid to emote and play to and off the galleries that surround him. Yes, anyone can dish out heat and dance when the going's good. What makes a prize fighter—at least a champion prize fighter—is grit, fortitude, an uncompromising capacity to take a punch—and another and another—without letting it stop you from getting where you need to go.
On Friday morning at Whistling Straits, Thomas was knocked to the canvas. Friday afternoon, he got back up.
Thomas was the first man out Friday morning because that's the procession order for alphas, and Thomas is most certainly that for the American team. He won four points in five matches in his Ryder Cup debut in 2018 and followed that performance by leading the team again in scoring at the 2019 Presidents Cup. And it's not that he scored but how, his rounds a visceral experience in symmetry with the intensity that engulfs these events. The United States lineup has a number of players who could qualify as its best player, yet there is no doubting where its heart resides, making Thomas the perfect candidate to lead the charge out of the first-tee stadium tunnel at dawn.
Better yet he would make the walk with Jordan Spieth, his partner-in-crime in Paris where they won three points together. It would not be easy, taking on World No. 1 Jon Rahm and all-time Ryder Cup points leader Sergio Garcia. But if you are Thomas, in this arena, this is what you want. He woke the surprisingly quiet crowd in the first-tee grandstands by smoking his drive and got them yelling with a "Are you not entertained?!?" glance in their direction. Unfortunately for Thomas, that entertainment would not be sustained.
He missed an eight-footer to win the first, and though he atoned with a birdie at the second, the Euros won the third and Rahm rammed a 60-footer at the fourth to take a 1-up lead. Rahm would give one back by splashing his approach at the par-5 sixth, but the Euros won three of four starting at the seventh and the issue was never in doubt, Rahm and Garcia ultimately winning, 3 and 1.
Which is fine. Rahm is coming off a player-of-the-year campaign, and this event turns Sergio from a very fine player into a golfing god. Judging by their card, Thomas and Spieth played OK. Sometimes you don't lose a match; the other team just wins.
And yet … boy, was Thomas cold with the putter Friday. It was one of the few concerns heading into Wisconsin, and the word from U.S. team insiders said this week's practice rounds didn't alleviate those fears. There were a handful of good looks Thomas could not convert, highlighted by a missed 10-footer for birdie after Garcia dropped a 25-footer on the 15th and an eight-footer to end the match after Spieth executed a darn-near vertical flop from the fescue that made Phil Mickelson shed a tear. If the first pairing is supposed to set the tone, it was not the tone Thomas wanted to set.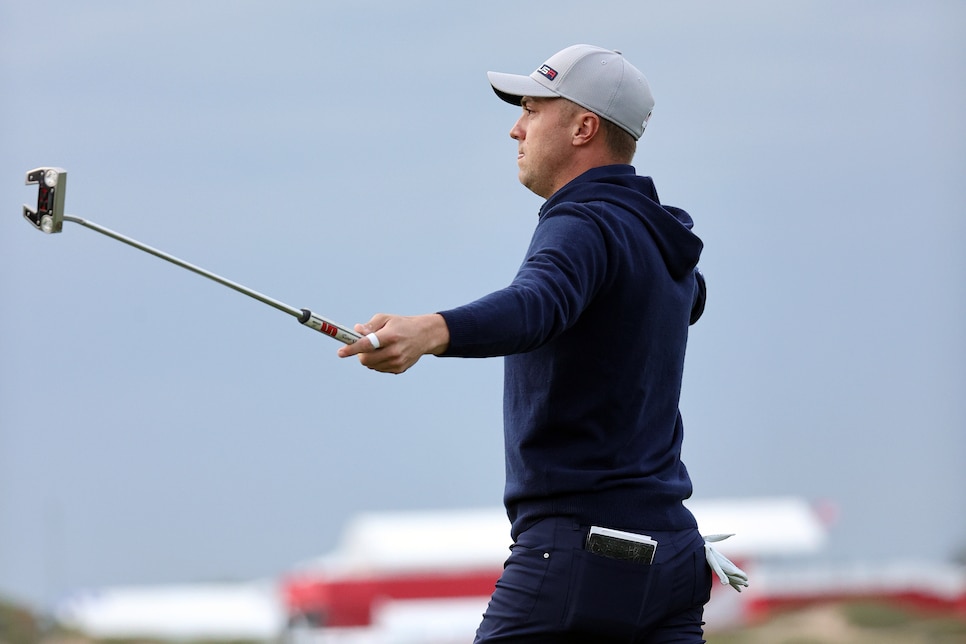 Still, it was just one session and there are five in this little shindig, and Thomas' teammates picked up the slack. While Spieth would have the afternoon to douse the flames, Thomas was thrown back into the cauldron, this time with Patrick Cantlay against Viktor Hovland and Tommy Fleetwood. Any fears that he was a charred from the Rahm and Garcia barbecue were closed when he walked in a 12-footer to win the first.
At least initially. Within an hour it looked like sending Thomas back out had backfired. Thomas failed to birdie the second through eighth, which, even with the wind blowing something fierce in the afternoon, is bad news for four-ball (for the record, Cantlay also failed to make any noise). The American duo lost four in a six-hole stretch, putting them down three heading into the ninth.
Now even the best have bad days, with poor breaks and out-of-sync swings and putts that say the cup has posted a "Sorry, we're closed" sign. But in a three-day exhibition that happens once every two years, every shot and decision and outcome is amplified, and coming out on the business end is simply something we're not used to seeing from Thomas.
So when he dropped that bomb on 9, it was more than merely stopping the bleeding. It was Thomas reminding everyone, and maybe himself, that he remains a bad, bad man.
"You want to be in that spot and it is nerve-wracking," Thomas said. "Don't get me wrong. You know it beats not being there I guess."
He and Cantlay kept close to Fleetwood and Hovland over the next six holes, winning the 12th to cut the deficit to one. Then came the par-5 16th, and from 282 yards, Thomas pierced a 3-wood through the wind, his ball hitting and spinning off a hill and coming to rest 20 feet from the hole. Twenty feet, which he buried. Twenty feet that turned the volume to 11 at Whistling Straits. Twenty feet that had Thomas flapping his arms like an eagle.
They tied the 17th and 18th to tie the match. Truthfully, Thomas' attempt to win from 25 feet was as poor of an effort as you'll see from him. No matter. For one, it was more than a half point. It was a stolen half point, which can have the emotional weight of two.
"I mean, we're two great players," Thomas said. "We've done a lot of things. We have a lot of belief in each other, and it's just, it's fun because this is what we love to do. This is our job, but the opportunity to do this in front of our fans and do it, the opportunity to be the last match of the day, we fought like hell to halve that match."
More importantly, that 20-footer said all that was needed to be said. After spending most of the day down, Justin Thomas was up. That's what prizefighters do.
MORE RYDER CUP PREVIEW STORIES FROM GOLF DIGEST