HAVEN, Wis. — A confession: We initially planned this piece for Sunday evening. It's a bit strange to grade Ryder Cup performances while the Ryder Cup is still going on, but this Ryder Cup has been very strange, indeed. A U.S. freight train has rolled uninterrupted through the four team sessions, and the Americans' 11-5 advantage equals the the biggest lead heading into singles since continental Europe joined the party in 1979.
Sure, there is the possibility of a comeback … just as there's a possibility of The Citadel beating Alabama. The only thing left to determine here is the final margin. The Ryder Cup has been decided, and what happens Sunday has been rendered somewhat superfluous. As such, now feels an appropriate time to hand out marks to all 24 players wearing uniforms at Whistling Straits. We'll start with the visitors and go in alphabetical order.
Padraig Harrington tasked him with shepherding Viktor Hovland through his first Ryder Cup match, and the pair can hardly be blamed for struggling when running into a Dustin Johnson-Collin Morikawa buzzsaw. But then Bernd Wiesberger carried him in a Friday afternoon loss and it was a genuine surprise to see the 44-year-old back in the lineup for Saturday morning foursomes. One hole-out aside, Casey has had little control over his ball and hasn't looked comfortable putting. You wonder if this might be his last Ryder Cup.
Matthew Fitzpatrick (0-2-0) — C
He complained in the leadup to this event about not getting a chance to play four-balls previous Ryder Cup start, in 2016 at Hazeltine, but it apparently fell on deaf ears as Harrington sat him for both afternoon sessions. Fitzpatrick has struck the ball fine but has been weighed down by Lee Westwood's putting struggles, and Fitzpatrick himself has failed to get hot with the putter as he so often does.
Tommy Fleetwood (0-1-1) — C
Played nicely on Saturday afternoon but missed two key five-footers to turn the tempo of the match. A curiuos decision from Harrington to sit him for Saturday morning foursomes in favor of Westwood and Casey.
Sergio Garcia (3-0-0) — A
An ageless wonder in this event and the winningest player in Ryder Cup history. In taking all three of his matches alongside Jon Rahm, he has varied trajectories beautifully, chipped like Seve and been rock-solid with the putter. The 41-year-old is doing all he can do.
Tyrrell Hatton (1-1-1) — B
Might have shot 45 on his own ball in Saturday afternoon four-ball, but he sprung to life on the back nine to help Europe gain a vital point. He also gets credit for summoning a clutch birdie at the last to scratch out a half-point on Friday afternoon.
Viktor Hovland (0-1-2) — C+
He's trying his best and has delivered a number of impressive shots, but Harrington counted on the up-and-coming Norwegian to emerge as a star for this team and he's stuck on half a point. Hovland's lone weakness, chipping under pressure, has been highlighted this week. Smart money says he'll be a more complete and polished player in Rome.
Drew the misfortune of being paired with Rory McIlroy—what a wild sentence to type¬—on Friday afternoon but showed plenty of fire on Saturday alongside Hatton. The Irishman fist-pumped and yelled throughout the match and got up-and-down from 165 yards at the last for a clinching par. He, too, will be disappointed to be sat in half the team sessions.
He was expected to be an emotional leader on this team, a stalwart that could go toe-to-toe with America's top-line stars. Instead, he's 0-3 and none of his matches made it to the 16th tee. Incredibly, he has exactly one hole better than par in 32 holes of playing his own ball. He looks tired and completely lost with his swing. Let's hope this is the nadir of what's been a rough year-plus for Rory.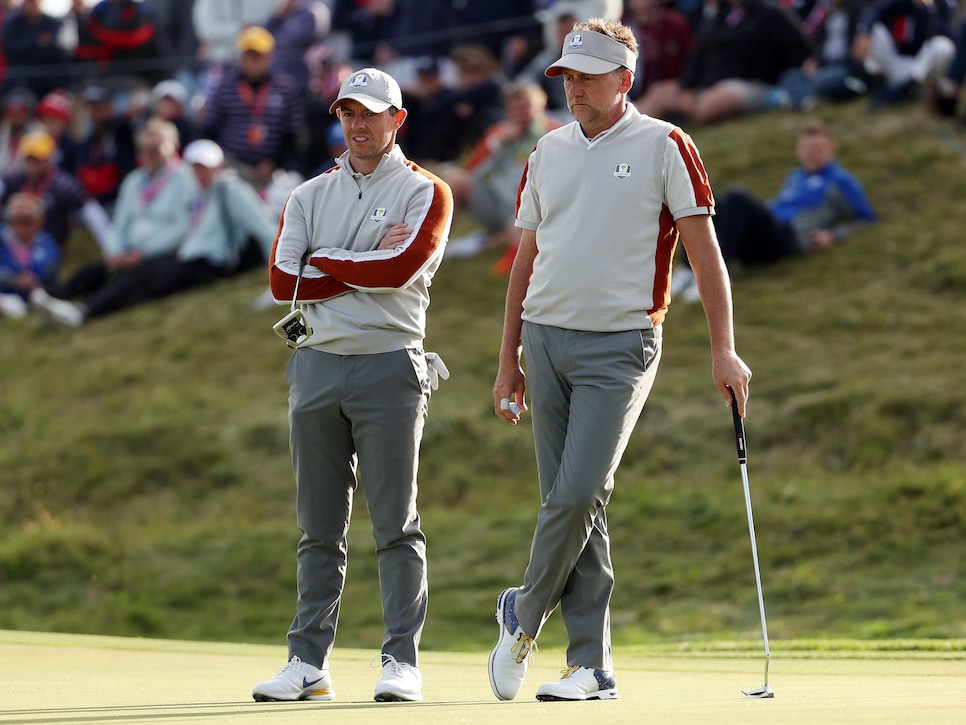 He and McIlroy were 5 down after five on Friday morning, which prevented him from showing the type of emotion he wants to. He tried to manufacture some juice on Saturday afternoon did hole a few putts, but McIlroy was a complete no-show and no one can beat Johnson and Morikawa by themselves.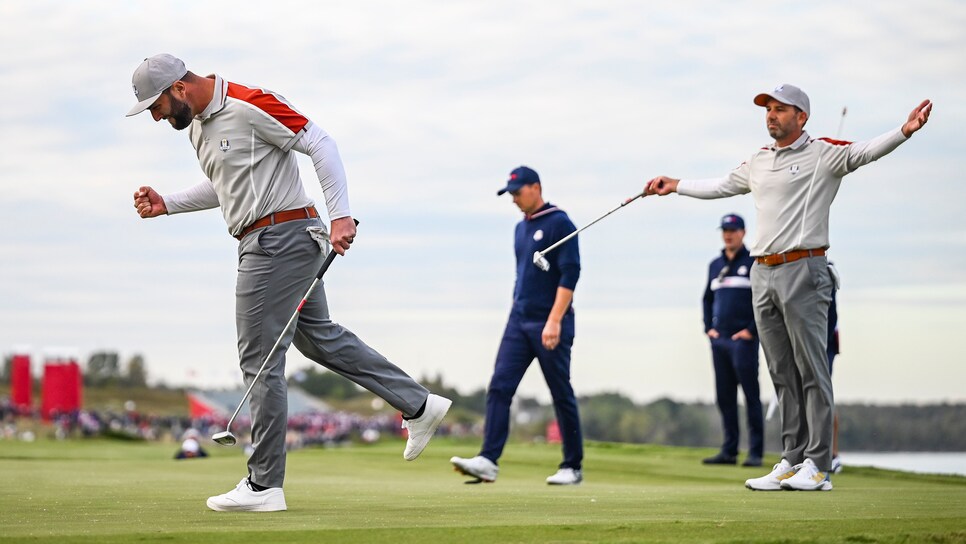 This performance best not be forgotten among the American dominance, for it has been something special. The world's best golfer is playing like an all-time great. Every facet of his game has been firing, and he's been the clear-cut best player on the grounds, Americans included. Harrington has sent him out first three times and he's returned with three points, dispatching three different American duos in the process. He sits alone at the summit of the sport at the minute.
Bernd Wiesberger (0-2-0) — C
Was widely considered the weakest player coming into these matches and while he's hung tough, particularly on Friday afternoon, he's 0-2. A bit overmatched.
The 48-year-old putted like a 48-year-old in losing both matches alongside Fitzpatrick. It's looking like this will be an unceremonious end to a decorated Ryder Cup career for the Englishman. He'll captain one of these teams soon enough.
Daniel Berger (1-1-0) — B-
Was rock-solid on Friday foursomes but struggled with a block and missed a number of putts in his loss on Saturday foursomes. He's shown plenty of emotion and has embraced the team dynamic whole-heartedly.
Patrick Cantlay (2-0-1) — A-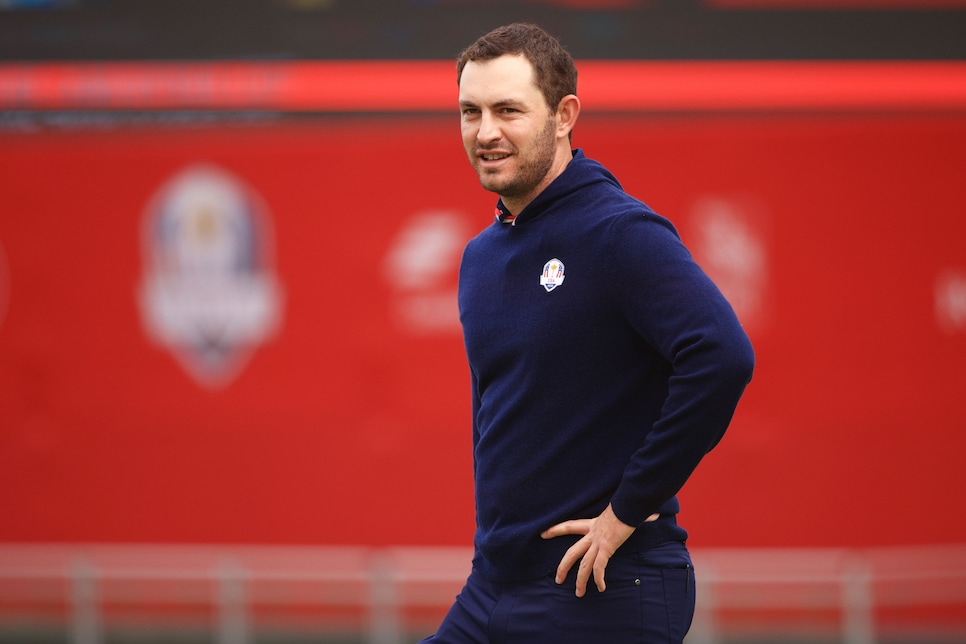 The heater that began at Caves Valley and traveled through East Lake has made its way to Whistling Straits. On a personal level, he's taken an extraordinary leap over the last month-plus. On a team level, he and Xander Schauffele have the potential to become an all-time Ryder Cup team. He's been particularly strong with the putter and has shown more emotion than we've ever seen out of him.
Bryson DeChambeau (1-0-1)— A-
It's been a great week for him. He's been embraced by his teammates and showered with praise by the fans, and he delivered another electric moment with a 417-yard bomb on Friday. He and Scottie Scheffler only got a half-point from that match, but he guaranteed a full one with a dagger long-iron into 17 on Saturday afternoon. Bryson's stock has risen.
Harris English (1-1-0) — B-
Rode passenger as Tony Finau couldn't miss during their Friday afternoon four-ball victory. Struggled considerably with his putting, particularly his speed, in a Saturday four-ball loss.
You couldn't create a better player for four-ball. He made seven birdies in 15 holes on Friday afternoon and has been nothing but positive vibes for his teammates all week.
Dustin Johnson (4-0-0) — A+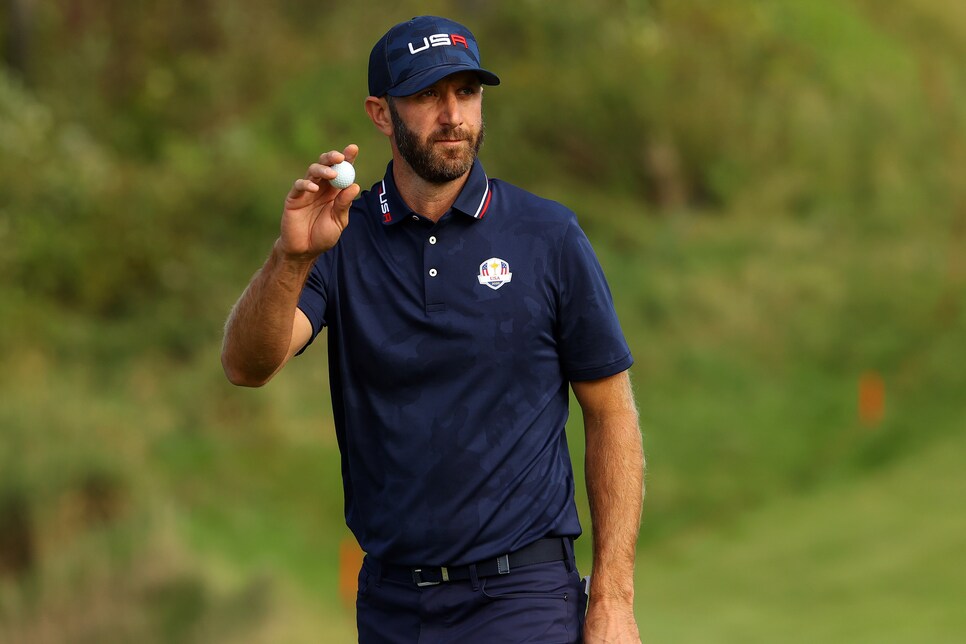 Came into these matches under-the-radar, insofar as the world's No. 2 player can be under the radar. Few expected the oldest American on the team to be the only American to play every team session, let alone win all four. He's been fully engaged and has played like the Dustin Johnson who dominated world golf in the latter half of 2020. Now has the opportunity to be just the second American since 1979 to put put together a perfect 5-0 Ryder Cup performance and add another entry point to a Hall of Fame resume.
Brooks Koepka (1-2-0) — B
He and Berger won comfortably in Friday foursomes before he lost twice, with two different partners, to Rahm and Garcia on Saturday. The second of those defeats was essentially one-on-two as Jordan Spieth could not hole a putt of consequence.
Collin Morikawa (3-0-0) — A
Was perhaps the biggest question mark for the Americans coming in given his recent results and health concerns. He's more than fine, it turns out. Brought his Royal St. George's putting stroke with him this week and has played with his signature brand of quiet confidence. He'll be a mainstay in this event for years (decades?) to come and is off to a perfect 3-0 start.
Xander Schauffele (3-0-0) — A
He's so well-rounded that his putting gets overlooked; he may be the best putter in the world and he's showing it this week. Won both his matches alongside Cantlay and paired with DJ for a Friday afternoon four-ball win.
Scottie Scheffler (1-0-1) — B
Some felt others were more deserving of a captain's pick but he's making Stricker look very smart. Has proven to be the perfect partner for DeChambeau; the two have shown above-average chemistry and he's been perfectly content to play safe and allow Bryson to be Bryson.
Jordan Spieth (1-2-0) — C-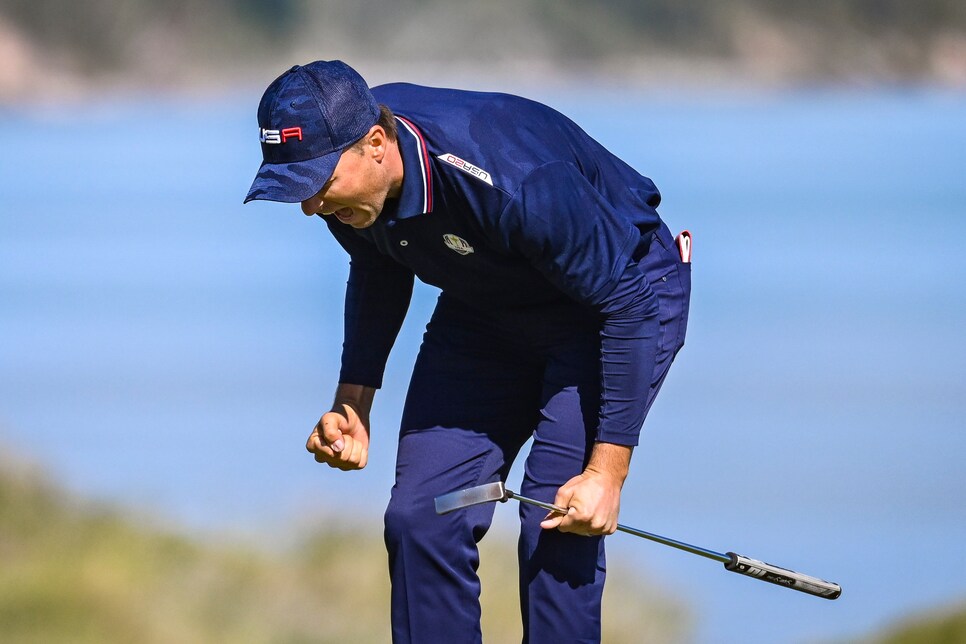 Played nicely on Friday morning while Thomas couldn't make a putt but struggled significantly in his matches on Saturday, particularly in the afternoon four-ball with Koepka. Had a handful of 5-10 footers that could've swung that match in the Americans' favor and he made zero of them.
Justin Thomas (1-1-1) — B
He's the emotional leader of this team. Absorbed a body blow in losing the first match in Friday foursomes but holed a bunch of clutch putts to scratch out a half-point on Friday four-ball. Carried Spieth to victory in Saturday foursomes and greatly enjoyed his afternoon rest, shot-gunning a beer at roughly noon on the first tee. When you're rolling like the U.S. are, anything goes.
MORE RYDER CUP STORIES FROM GOLF DIGEST