HAVEN, Wis. — Littered across the arenaceous floor of Lake Michigan are the hulls and masts and broken dreams of thousands of ships. Many were consumed by storms, wind and high waves, others by fires, wrecks and mystery. No matter the vessel or way of destruction their destination, and perhaps destiny, is shared. It is an end captain Padraig Harrington and his crew know, and a fate they stare down. Baring divine providence, it is a fate they cannot escape.
"We're not in a good position, and it's going to take a beyond monumental effort," Ian Poulter said Saturday night. "So we need a couple of miracles."
The Americans followed Friday's smackdown with much of the same Saturday at Whistling Straits to take a 11-5 lead heading into the final day of the 43rd Ryder Cup. A performance so commanding it begs the question if this event's tide has been turned for the foreseeable future.
Grim as Friday was for the Europeans, the optics were worse than the outcome, 20 of the event's 28 points still up for grabs. Rory McIlroy, the leader and heartbeat of Europe, said on Friday night that his team could counter a 6-2 deficit. McIlroy is not a man who dabbles in proclamations; he said it with conviction because he said what he believed was true. Besides, this is Europe, a team that this century has treated America not as a rival but as its underling.
Unfortunately for McIlroy and his teammates, reigns do not last forever, his belief upended Saturday by a harsh truth.
The Americans won the first five holes and the morning wave was never in doubt, the U.S. hanging its third consecutive 3-1 session on the board. This time, the visuals upstaged the score. Neither side has been accused of playing it cool at the Ryder Cup. Emotions are to be shown, and if possible, yelled to the heavens. But even at Ryder Cups past when they were down, Europeans are known to adhere to a code that has no appetite for surrender. Saturday said otherwise.
Poulter peered at his clubs often as if to say, "How could you betray me?" Paul Casey was lost and knew there was no map to point him in the right direction. McIlroy and his game were on different channels and try as he could he could not find the fight frequency. Shane Lowry put up a fight and the U.S. has no answer for the Spanish dynamo of Rahm and Sergio Garcia, yet even in victory Garcia seemed resigned to what was happening in the larger scope of the match.
"It's great, but it's not," Garcia said after his morning win. "We need more wins and unfortunately we are not getting them at the moment."
The Europeans tied the afternoon session, which we suppose could be seen as a moral victory and provide a spur to a team looking for a spark outside of Rahm. Yet even that nectar goes down bitter, as the Europeans led in three of the four matches most of the afternoon.
"Yeah, obviously we would have liked to have won the session, eaten into that lead," Harrington said. "Six points is a tough one to make up tomorrow, but I think we were a half-point short of that in the Miracle at Medinah on Sunday, so we're just going to have to push for that tomorrow."
Now, there's a habit in sports to not credit the winner but criticize the loser. That's especially true in the Ryder Cup, so much so it's commonly referred to as the "Hindsight Cup." We say that to say this: There's no iteration of do-overs or what-ifs at Whistling Straits. This American team, at this American course, is so much better than its opponent that it does not allow for alternate realities. What it does allow is to wonder what comes next, and we're not talking about Sunday.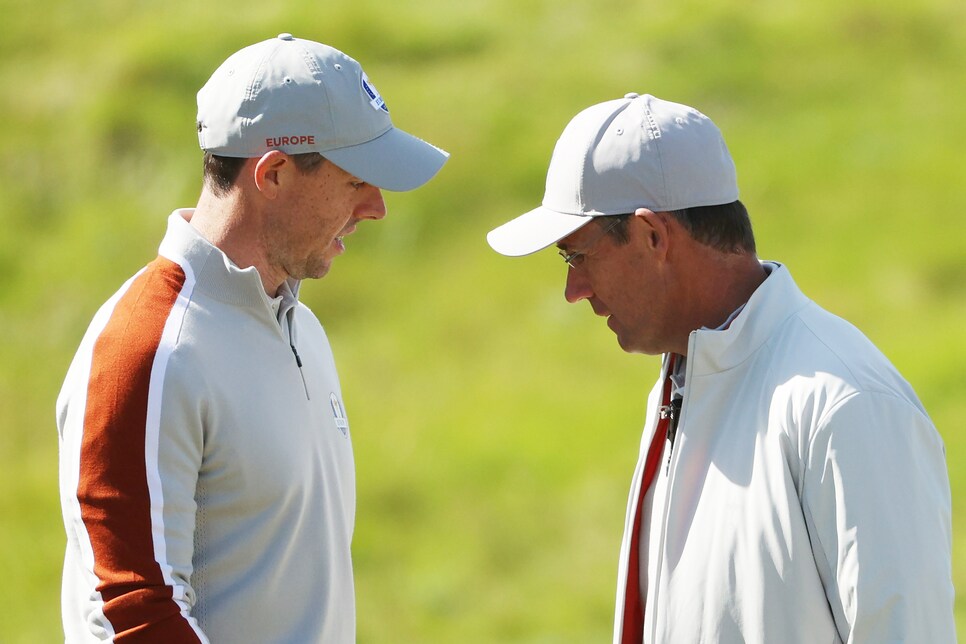 It may seem sensational and premature to call what has happened in Wisconsin a changing of the guard. The United States was favored and had won two of its last three Cups played at home. This narrative was pushed following the Americans' 17-11 shellacking at Hazeltine National, a narrative made to look ignorant and misguided by what transpired in Paris two years later. And because this event transpires over just three days once every two years, and because the Ryder Cup has transformed into something so much bigger than an exhibition, every shot, match and decision is amplified and extrapolated to an unreasonable degree.
And sure, this is golf, where even the best can be humbled with weeks where everything that can go wrong does. In that same breath, this was more than a series of bad breaks and catching an opponent on a heater. This is a good ol' fashioned butt-whooping. What happened in Paris was three years ago. These teams—their presents and futures—look wildly different.
This American club is its youngest ever; eight of its players are in their 20s, only Dustin Johnson is older than 32. Six of them have won majors, one is fresh off a Player of the Year campaign and another has an Olympic gold medal around his neck. Clearly not all of the group's trajectories will maintain or continue to rocket; as we've seen with Jordan Spieth's past, the present is no guarantee of the future. Still, many will continue to shine, and the team's depth goes further than the 12 at Whistling Straits. The stars of Will Zalatoris, Sam Burns and Matthew Wolff are bright; Patrick Reed would have likely been in Wisconsin had he been healthy.
This is in strict dichotomy with Europe. The cabinet is not bare; Jon Rahm cemented his status this week as the best player in the world, and Viktor Hovland has the trappings to be a nightmare in this event for decades to come. Speaking of nightmares, bad of a dream as this week has been for McIlroy, only a fool would bet against the Ulsterman returning with vengeance.
But after that trio the pickings get slim. Four of its dozen here are older than 40. Tommy Fleetwood is a beloved figure on both sides of the pond but to this point his story is one of unfulfilled potential. After seeming to be on the precipice of a breakout, Matt Fitzpatrick took a step back this season. Tyrrell Hatton is a first-class ball-striker but his displays in big events deserve a seat in coach. There are intriguing prospects in Robert MacIntyre, Guido Migliozzi and the brothers ​​Hojgaard. They are just that, prospects; betting on them to come to the rescue in 2023 is not so much a plan as it is a gamble. The Europeans can do whatever they please for course setup come 2023, tinker with strategy, perhaps mirror the Americans' success by giving the captain more wildcard picks. It is the equivalent of adding more muskets to a front line facing a wave of F-15s. Viewing Whistling Straits as the onset of a new era is no act of hubris. It's mere reality.
There is a mathematical chance the Europeans could still win. It is the same chance that Jennifer Lopez has of not finding love at the end of a romantic comedy. Sunday will not be a competition but a coronation. There are new kings of the Ryder Cup, and their reign looks to be long.
But before we award a new crown, let's have a moment of silence for the disposed. The Europeans' run over the past two decades was one that defied expectation and enriched this spectacle. They showed Americans often guilty of dismissing the Old World circuit and its players that they could hold their own. This should not be a moment to mourn but a moment to celebrate. They deserve a proper send-off.
Luckily for the Europeans, they have a Norwegian in the ranks and a lake at their disposal. On Sunday at Whistling Straits, you're welcome to attend a Viking funeral.


MORE RYDER CUP PREVIEW STORIES FROM GOLF DIGEST