Father Time
Ryder Cup 2021: Sergio is playing like a kid again. The other Euro 40-somethings, not so much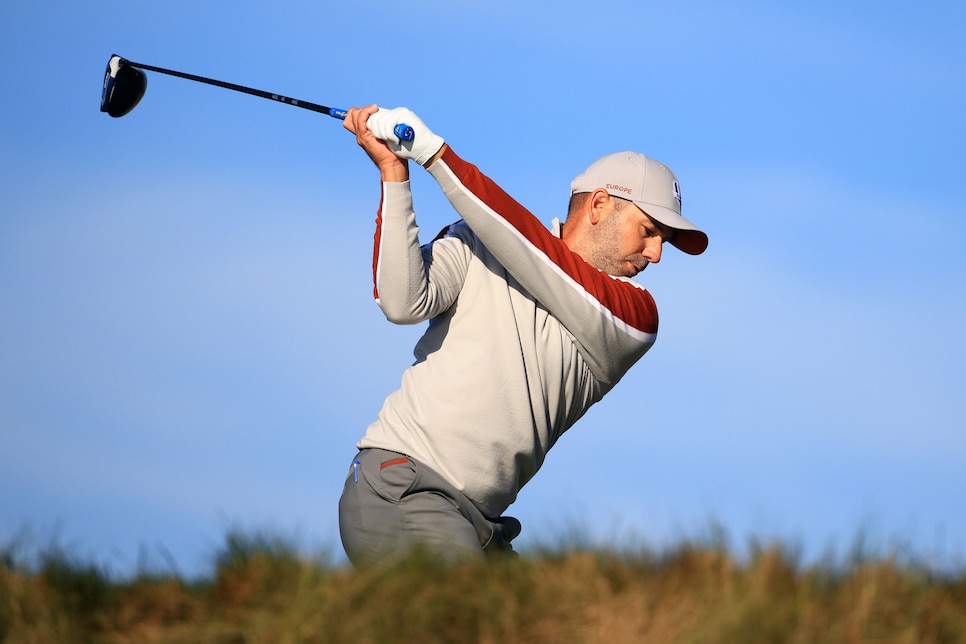 HAVEN, Wis. — Sergio Garcia smiled like a kid without a care in the world. He'd just pulled off an inconceivably good shot from 244 yards to inside five feet. He raised his 3-wood in the air like a victorious matador while the best golfer on the planet, who happened to be his teammate, hop-skipped toward him. The two Spaniards were about to vanquish a powerhouse American duo for the second day in a row—just what their captain hoped would happen. They accomplished their mission, but their teammates were losing the war.
Through three sessions and 12 matches at the Ryder Cup, Rahm and Garcia are the only European players who've won a match. Rahm's excellence comes as no surprise to anyone who's paid even half-attention to world golf this year. Sergio, on the other hand? He's 41 years old and ranked No. 43 in the world. Granted, his best years are behind him—if your criterion is 72-hole stroke play. At Whistling Straits, however, Garcia looks better than ever as he stretches his lead as the all-time winningest Ryder Cup player.
"Obviously Jon and I, we did what we had to and what we could, and unfortunately it just looks like the American guys are just playing a little bit better than us, and it's a shame," Garcia said after a 3-and-1 victory over Brooks Koepka and Daniel Berger, which brought his record to 2-0 in these matches and a remarkable 24-12-7 all time.
"But you know, we are not giving up. We're going to fight until the end as hard as we can. Hopefully we have a good afternoon this afternoon and see what happens."
Garcia is part of a generation of European players that's quite enjoyed spanking the yanks. They did so three years ago in Paris after Thomas Bjorn resisted the lure of youth and used his four captain's picks on Garcia and three of his contemporaries: Henrik Stenson, Paul Casey and Ian Poulter. Stenson's moved onto the vice-captain phase but the other two are here as players, as is 48-year-old Lee Westwood, who was plucked from the vice-captain phase thanks largely to two great weeks in Florida six months ago. Padraig Harrington's side is the only European team ever with four men older than 40. They stood at the razor's edge of a timeless question: At what point does experience become just plain old?
Europe was eventually going to have to turn the page from this generation, just as the U.S. eschewed experience and threw its chips behind the kids for this week. Steve Stricker fielded the youngest Ryder Cup team ever, an easy choice because the only experience the older Americans have is of the losing variety. Harrington hoped his battle-tested core could hold on for one more cycle; after all, his picks went a combined 9-4-1 in Paris. But three years has passed since then, and Sergio aside, the 40-somethings are playing like … 40-somethings. Lee Westwood could not hole a putt and lost both foursomes matches alongside Matt Fitzpatrick. A 45-year-old Ian Poulter wanted to scream like 35-year-old Ian Poulter on Friday morning, but it's hard to pull that off when you're 5 down through five. Paul Casey, 44, fought a two-way miss and is the only player here with an 0-3 record.
Golf is stereotyped as the domain of old men, but at the elite level, it truly is a young person's game. That's not to say the old guys haven't had success recently—just four months ago Phil Mickelson just won a major on the wrong side of 50, and 48-year-old Stewart Cink won twice on the PGA Tour last season. But that is stroke play, where the pressure only really starts to set it on the back nine on Sunday. At the Ryder Cup, in match play, the pressure never stops. And the first thing to go with age is the ability to remain loose when the tension runs hottest—to hole the putts that must be holed. An ability that 29-year-old Patrick Cantlay, to cherry pick one, has in spades.
"It's exactly why we practice and do what we do. And getting in that moment, for me at least, makes it even easier to focus," Cantlay said. "I'm so present and so ready for the moment. It's everything I've been preparing for. It's the best."
Westwood and Casey and Poulter have been there. Have been. Past tense.
MORE RYDER CUP STORIES FROM GOLF DIGEST