HAVEN, Wis. — The disclaimer we need to make here is that no captain is an island. Steve Stricker could dial up all the right moves, but if his American players didn't execute over the course of the first two days of play at Whistling Straits, none of it would matter. There would be no 11-5 lead entering Sunday singles at the 43rd Ryder Cup and whatever wisdom he brought to the table would never be recognized. Padraig Harrington is staring down that reality now; you can nitpick anybody's captaincy, but the Irishman has been largely free of major errors yet his team has been wiped out by superior competition. Stricker has an incredibly deep, productive team that has performed on the course under pressure and that, coupled with home course advantage, has a way to make a captain look good no matter what's happening behind the scenes.
And yet, part of being a leader of a great team is setting the stage to allow them to express that greatness. How many times have we seen an American team that was superior on paper lose to the Europeans due to mismanagement or dysfunction? Stricker was dealt a loaded deck, but it was still up to him to make sure all the parts were used in all the right ways. After four sessions, his team has an historically insurmountable six-point lead and looks poised to reverse the 2018 loss in Paris. What follows are seven moves Stricker has made to ensure that his great U.S. team would be set up to win.
Accepting more captain's picks
Harrington made the odd choice to reduce Europe's total captain's picks from four to three, and then neglected to add more once the pandemic hit. All this despite the fact that the stats show captain's picks tend to perform better than those who finish at the bottom of the automatic selections. Not so for Stricker. He wanted the freedom to truly build his team to the needs of each other and the course, gladly taking four captain's picks originally and adding two more the minute he could. That meant he had complete flexibility in picking his lineup, while Harrington was forced to leave off Justin Rose and others when Lee Westwood made the team on the final day.
The end result is that through two days of play, the six American captain's picks (Scottie Scheffler, Harris English, Jordan Spieth, Daniel Berger, Xander Schauffele and Tony Finau) have posted an 8-3-2 record, while Europe's picks have gone 3-3. More importantly, the bottom three players to qualify for Europe—Westwood, Matthew Fitzpatrick and Paul Casey—have gone 0-7-0. What might have been different if Harrington had six picks like Stricker?
Choosing the correct captain's picks
Jim Furyk has said that his main regret in his Paris captaincy was not selecting picks that fit the course—the Matt Kuchar/Kevin Kisner types whose accuracy would have been more suited to the narrow fairway at Le Golf National. That said, Furyk's hands were tied. How do you not pick Tiger after he won the Tour Championship? How do you leave off Bryson DeChambeau when he won two playoff events? Maybe it would have been easier to leave Phil Mickelson at home, but Phil is Phil—a mainstay. So he took those three, the course baffled them, and they combined for a startling 0-9-0 record. (His fourth and most controversial pick, Tony Finau, was better at 2-1.)
Stricker vowed early not to make this mistake. In his case, the situation was reversed, with a Whistling Straits course that rewarded length. As such, he left players like Kevin Na and Kisner at home, bypassed Webb Simpson and passed over Patrick Reed. Easier choices than Furyk had to make, but the fact is that he learned the important lesson and chose the right players for Whistling Straits.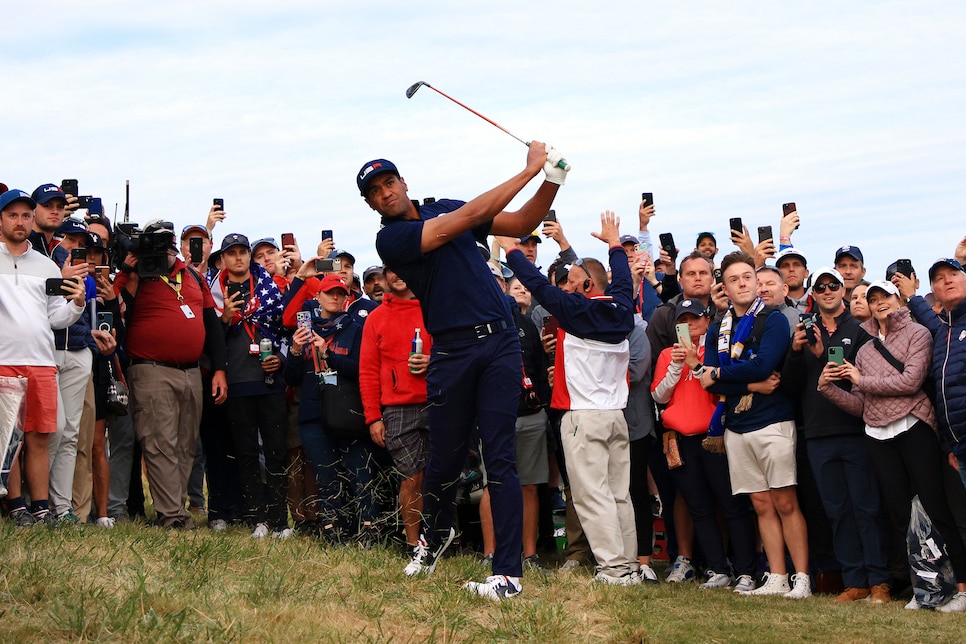 Reducing extracurricular obligations
With an assist from COVID, Stricker managed to cut way down on his players' off-course responsibilities. Brooks Koepka's remarks about the difficulty of Ryder Cup week earned him a fair amount of criticism, but he's not the only one who felt that way, and Stricker himself had been through it as a player. This week, the team ate dinner together each night, but otherwise had nothing but golf vying for their attention. The response was positive—even Koepka said the week has been much easier than in the past. It's a cliché, but fewer distractions means more focus.
Letting his players know what to expect
One of the regular mistakes Ryder Cup captains make is being so flexible that they make impulsive decisions. (The quintessential example here is Tom Watson at Gleneagles in 2014.) Sometimes those gut decisions work out, and sometimes they don't, but they're always unsettling to players who thrive on predictability. Stricker mapped out his Friday matches ahead of time, morning and afternoon, and everyone knew by Monday where they'd play. Then he had them practice together in pods so they could get used to each other. Again, there's a contrast to Harrington, whose Friday morning pairings had only played with each other once this week. By Tuesday, Viktor Hovland still didn't know who he was playing with, and as late as Thursday Jon Rahm said, "I still don't know. You tell me. I think you guys think we know a lot more than you guys know."
This week is long, and distracting as it is, and uncertainty can be unsettling. For America, there was none on Friday, and that provided a stable base for playing with confidence at home that allowed them to stake a lead that they haven't relinquished.
Sticking to the plan after early success
We think of a "panic move" as something that happens after a poor start, but it's equally possible to let early success derail a carefully considered plan. After the 3-1 Friday morning foursomes sessions, it would have been tempting to reprise the Patrick Cantlay-Xander Schauffele pair—especially when he knew he'd potentially be criticized for splitting them up—or to put Dustin Johnson-Collin Morikawa out in the afternoon after a big W, but that would have been throwing his players a curveball. Again, they knew what was coming on Monday, prepared for it all week, and Stricker kept to the plan. He made sure everyone played on the first day and was rewarded with another 3-1 session in the afternoon.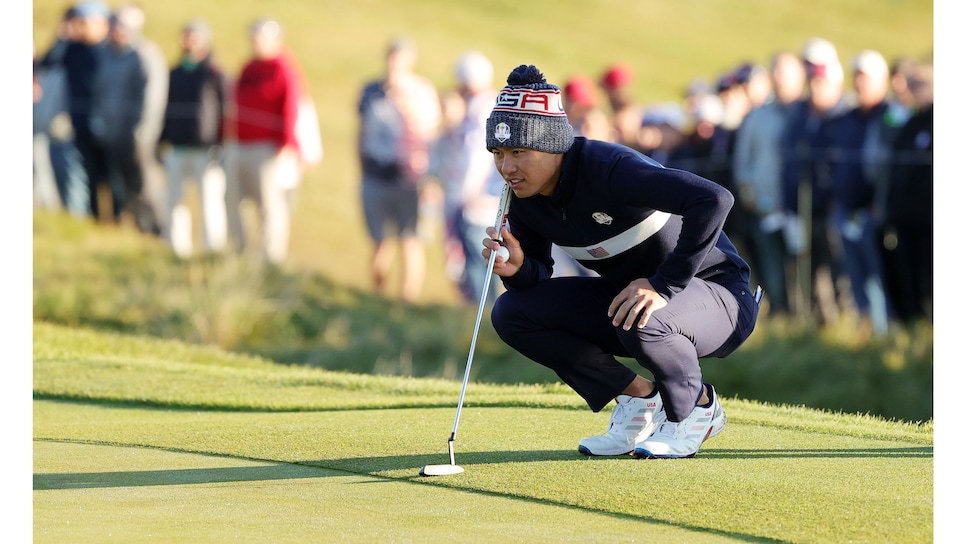 Collin Morikawa lines up a putt on the second green during Saturday morning foursome matches.
Stacy Revere
Giving himself flexibility on Saturday
After his team ran out to a 6-2 lead on Friday, it became clear that Stricker could chase the rare "Saturday victory," a reference to the fact that no team has ever come back from a margin greater than 10-6. In other words, if the U.S. could get to 10½ or beyond, it was miracle-proof. Unlike Friday, Stricker hadn't scripted Saturday, and while he stuck with his same foursomes pairings—why wouldn't you?—he could make moves like running Johnson and Morikawa back out for the afternoon, while resting Schauffele, Cantlay and Thomas for singles. He also came up with the out-of-pod pairing of Brooks Koepka and Jordan Spieth. They weren't all successful—Koepka and Spieth ran into the Rahm-Garcia juggernaut—but he gave himself the opportunity to be strategically nimble without surprising upsetting his players.
Understanding the leadership style the team needed
When Stricker was chosen, there were comments about his personal style and his career. He had never won a major, he wasn't particularly charismatic, and he wasn't what you'd consider a leader in the cinematic Knute Rockne style. The fact is, though, that Team USA in 2021 is filled with players who have enormous self-belief and substantial egos, and they don't need anyone to give them rah-rah speeches or prepare inspirational videos for them. What they needed was what Stricker provided—a terrific plan, low-key confidence, and no surprises. From there, they did the rest. That formula proved successful when he captained Team USA to a blowout win in the 2017 Presidents Cup at Liberty National, and is looking good right now at Whistling Straits.
All that's left for Stricker, then, is to avoid this one mistake that still haunts Davis Love III from his captaincy in 2012. His team had a similarly strong first four sessions, and held a 10-6 lead, but it let complacency open the door to a miracle European road comeback. Judging by how well Stricker has learned from other mistakes of the past, Team USA is in good hands.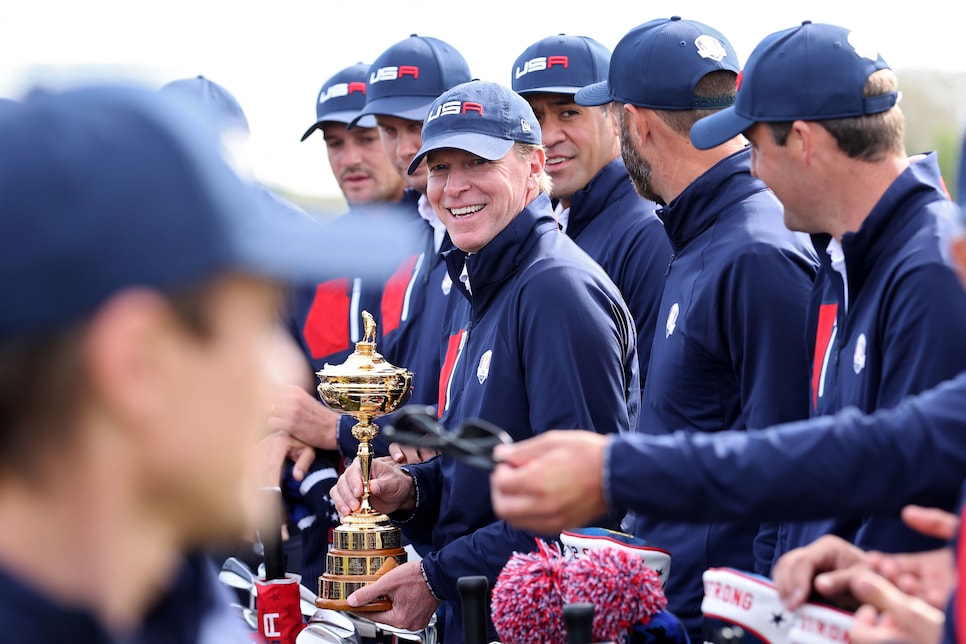 Steve Stricker, holding the Ryder Cup during a Wednesday photo session, is close to grabbing it on Sunday.
Warren Little