Less is more
Ryder Cup 2021: U.S. players are loving this subtle change made to their off-course schedule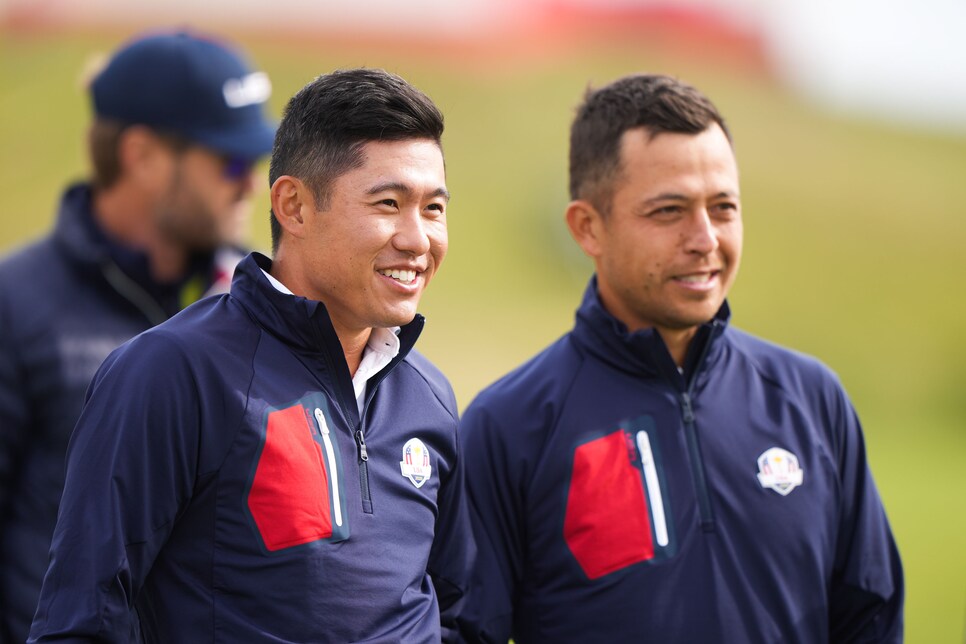 Collin Morikawa and Xander Schauffele are U.S. Ryder Cup rookies who have enjoyed the team-bonding so far at Whistling Straits.
Darren Carroll/PGA of America
HAVEN, Wis. — Brooks Koepka came under fire recently for his remarks in Golf Digest on the difficulties of Ryder Cup week, in which he came off as less than thrilled about the various off-course requirements.
"It's different. It's hectic," he said. "It's a bit odd, if I'm honest. I don't want to say it's a bad week. We're just so individualized, and everybody has their routine and a different way of doing things, and now, it's like, OK, we have to have a meeting at this time or go do this or go do that. ... It's so far from my normal routine. I can barely see my [personal] team. It's hard to even go to the gym. ... There's no time to decompress."
Even if his timing could have been better, Koepka is not the only player who feels this way. Others have voiced similar reservations, which led to the Ryder Cup task force that was formed in the wake of the 2014 Gleneagles loss, specifically reviewing the scheduling burden Ryder Cup week puts on the players, particularly at night.
"We went back and went over every little lesson, every problem, everything the players like and don't like," Davis Love III told Golf Digest. "The PGA of America got it, like, 'Yeah, we're wearing you guys down by partying every night.' "
Thus began a slight reduction in the number of dinners and other events jammed into the days leading up to the event for the Americans. This year, U.S. Captain Steve Stricker has lightened the load to an even greater degree.
"I don't enjoy getting dressed up and getting all … or [his wife] Nicki, for that matter," Stricker said Tuesday. "She's very casual, and I'm very casual. So we're trying to bring this attitude of relaxed and having a good time and being very casual. And we're hopefully rubbing off on the team that we're just here to have a good fun time."
That means dinners with each other every night—but only with each other and only in informal settings. On Monday, they ate at the team room at the team hotel (The American Club), and on Tuesday, dinner was at an actual barn.
"Last night, we spent time in a barn together, which was a cool setting," Xander Schauffele said Wednesday. "There's small talk, sort of talks that we're not really used to having at normal tournaments since we normally have our own teams with us."
Patrick Cantlay echoed Schauffele's sentiments on the benefits of Stricker's laid-back thinking behind the off-course endeavors.
"I think bonding with the guys is really cool," Cantlay said. "I think golf misses that so much because we're all individuals and we almost bond with our own, like, team unit. We'll travel with our teams. So that's where that bonding takes place on a regular week. This week, I'm having dinner with DJ or Daniel Berger or whatever it would be. ... I think they can be more of themselves with less protectiveness. ... This week is great for just seeing those people with their guard down because we see them all the time, but we don't necessarily have a real conversation with them or say, 'How are you feeling?' or 'how is your family?' or whatever it may be because we're all so busy doing our own things."
Stricker admitted that the pandemic has made it easier to forgo some of the usual obligations, such as the dinner with Team Europe that would normally take place close to the start of play.
"My goal coming in there was to kind of cut some of that out, and then COVID has kind of helped us do that," Stricker said. "We're doing the sensible things."
According to Collin Morikawa, even Bryson DeChambeau is getting into the mix. Morikawa was fascinated by a conversation DeChambeau and Jordan Spieth were having, which went beyond the level of discussions he had ever had, and he couldn't stop himself from eavesdropping. When asked for the topic of conversation, he had a short answer: "they were just talking about wedges."
"Trust me," he said, "it was a very interesting conversation."
Morikawa named Phil Mickelson as the best storyteller, but had a caveat.
"I don't know if he's telling the truth at this point," Morikawa said. "You get to a certain age and you kind of just … you make stuff up, and I have a hard time believing some of the stuff I heard, but it is what it is."
Stricker, for his part, is thrilled with the way the team has come together and thinks the camaraderie of the week has translated to the golf course.
"They were goofing around and having fun with one another," he said, "and that's no different when we get back to the team room."
There's one final element that seems to lead to better communication and bonding, and that's something that has been a priority more and more over recent years: involving the wives and girlfriends in the off-course events. There are plenty of social benefits to this, but Xander Schauffele probably said it best:
"They can't hide when their significant other is next to them fact-checking them."