The Bryson Factor
Ryder Cup 2021: Who's going to play with Bryson? We rank the prospects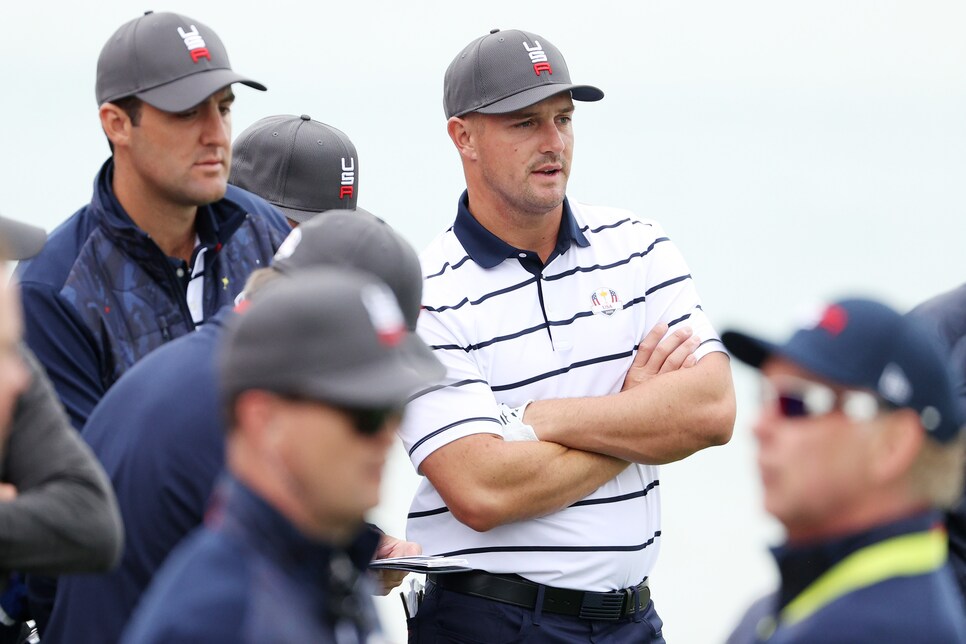 Scottie Scheffler and Bryson DeChambeau are likely to be paired together for four-ball in the Ryder Cup.
Patrick Smith
HAVEN, Wis.—One of the big questions-slash-problems facing U.S. Ryder Cup captain Steve Stricker this week is what to do with Bryson DeChambeau. That pertains to every single facet, but specifically, for our purposes, we're referring to partnerships. The prevailing wisdom around Whistling Straits is that the most likely outcome is DeChambeau playing both afternoon four-ball sessions and being left out of alternate shot in the mornings, but we don't have confirmation of that from anyone, least of all DeChambeau and Stricker.
The one hint we have comes from the pairings in the practice groups, where on Tuesday DeChambeau was paired with Justin Thomas, Jordan Spieth, and Scottie Scheffler. That opened the possibility of a pairing with Scheffler (assuming Thomas and Spieth are set in stone), and on Wednesday DeChambeau was grouped with Harris English, Dustin Johnson, and Collin Morikawa. Since Morikawa and Johnson also played on Tuesday, English seems to be the potential partner there.
But who would work best? Let's count down all the USA players.
This is no Koepka-DeChambeau feud, but there did seem to be some testiness in their duel at Caves Valley. You couldn't catch them chatting ever during their round, and there are mumbles that this isn't the strongest relationship on tour. Forget everything else—you can't risk a personality clash.
There's just nothing here that works. Spieth wasn't elite enough in his short approach game in 2021 to make for a good alternate-shot partner, even if we thought DeChambeau would play alternate shot (again, we don't). And Spieth's bogey avoidance is low enough for an otherwise strong player that in four-ball you can see these guys blowing holes in a reverse ham-and-egg scenario. Plus, they're incredibly different people. The only good thing here is that the crowd's love for Spieth might make life easier on DeChambeau, but other than that, it doesn't compute.
They make a decent four-ball pairing in theory, but how is English going to handle the pressure and distraction of the Bryson Experience? In Memphis, at the WGC, it was a disaster, with English imploding right alongside DeChambeau on the back nine Sunday when he had a chance to get the biggest win of his career. Nor has English shown any special match-play aptitude, though the sample size is admittedly small. From a personality standpoint, this seems like a bad idea; in his first Ryder Cup match, English should be placed in a less volatile situation.
He should maybe be higher, because he's quite simply the best iron player on tour and would probably be the ideal alternate shot partner for the best driver on tour. The fact that they're in the same foursome on Wednesday makes it at least vaguely possible that it could happen, too. But the mitigating factors here are that Morikawa seems to be bound for a DJ pairing. Last, there are questions about Morikawa's form that complicate things further.
It's not going to happen, so this is largely academic, but there's nothing especially wrong here—Xander's got an even keel and wouldn't hate playing with DeChambeau, and while he's not among the best at wedge proximity from short range, he's consistent enough that you can see them working well in four-ball. There are better options, which is why this is off the radar, but it doesn't strike us as an obvious disaster.
DJ gives the impression that he couldn't care less who he plays with, making him the ultimate neutral prospect. So we'll stick him here at No. 5.
This is a good personality match, which is half the battle when you're talking about DeChambeau. The two of them were chatting on the range on Monday and seemed friendly enough, and Finau is the kind of guy who can mesh with anyone. This doesn't seem likely to happen, though, based on practice pairings we've seen, but it would be a solid four-ball pairing for the same reasons that No. 1 on this list works.
His short approach game is fine, but what makes this a really compelling idea is that Berger was third in bogey avoidance in 2021. In four-ball, theoretically, you could set DeChambeau loose with the knowledge that if he drove it 400 yards into Lake Michigan, Berger, the steady Eddie, would have his back. He also happens to make a ton of birdies, so in general he's a great partner for anyone, but particularly someone who likes the freedom to attack every hole.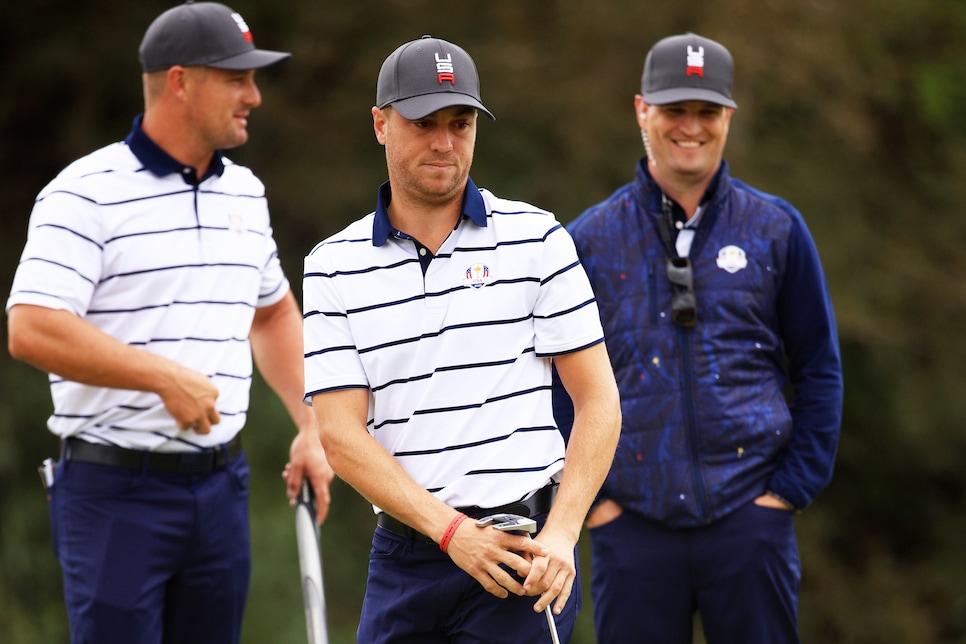 Justin Thomas putts as Bryson DeChambeau and vice-captain Zach Johnson watch.
Mike Ehrmann
Here was something weird on Tuesday: Despite being listed in a foursome with Spieth, Thomas, and Scheffler—which led to the obvious conclusion that Spieth-JT and DeChambeau-Scheffler is how this will play out—Bryson and Thomas actually split off and played alone. It seemed odd when we saw it on the course, but the JT-DeChambeau pairing actually makes a ton of sense. Thomas is great on approach shots, making it a feasible alternate-shot pairing, but even in four-ball he's shown that he can win with multiple partners. If he gets along with DeChambeau well enough, why not?
This seemed like a very good idea from Stricker when the Tuesday practice pairings emerged, and it looks better the more you look at it. It doesn't remotely work for alternate shot, but let's forget that momentarily and focus on four-ball. Scheffler is one of the most consistent players on tour, with only two missed cuts in his last 20 events and a slew of top-10 and top-20 finishes. He was sixth in birdie percentage in 2021, to DeChambeau's third, which makes for some serious ham-and-egg potential if they get hot, and ensures that they'll heap a ton of pressure on their opponents.
There's some concern with throwing Scheffler into the fire with such a polarizing figure in his first Ryder Cup, but he's temperamentally calm, he'll have the crowd behind him, and he seems, at least on the surface, up for it. Plus, as the lowest-ranked captain's pick, there's no sense of entitlement there; if his role is to play with Bryson, he's more likely to embrace it than anyone else. This simply works, and everyone seems to know it.
MORE RYDER CUP PREVIEW STORIES FROM GOLF DIGEST