Ryder Cup
Ryder Cup 2021: Why Rory McIlroy needs this Ryder Cup as much as it needs him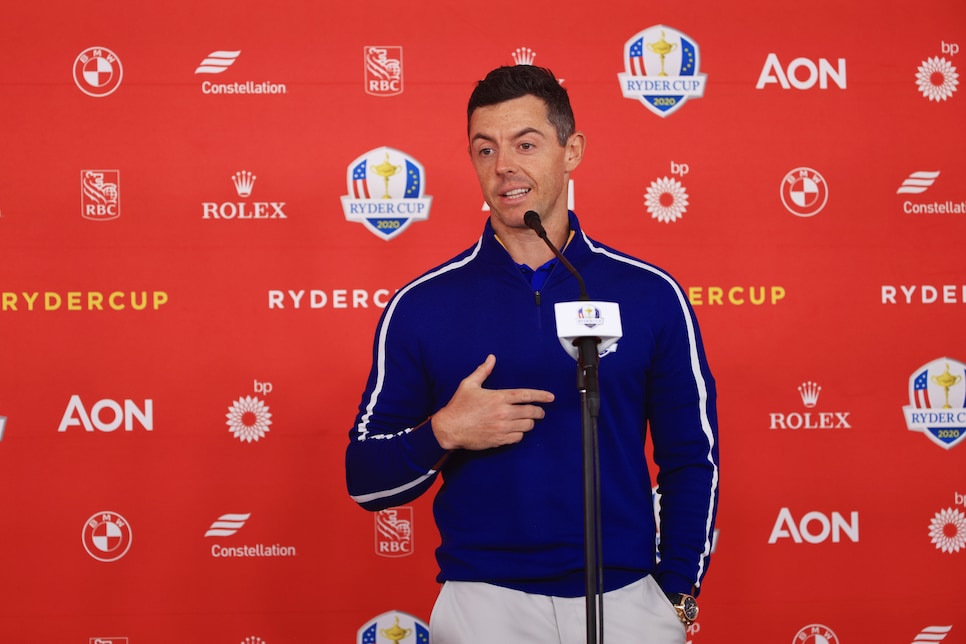 Rory McIlroy speaks to the media prior to the 43rd Ryder Cup.
Mike Ehrmann
HAVEN, Wis—He stood in the 18th fairway with his arms crossed and a slight smile on his face, like a parent watching children fumble on a swing set, both amused and indignant at what stood before him. The photographers in charge of corralling the Europeans were having a hell of a time getting the club in line for the team photo, and while the players awkwardly swayed and stopped at offsetting directions, McIlroy stood back and surveyed the mess.
McIlroy is not one associated with stoicism, not with a strut that serves as the worst poker face in golf. This is his sixth Ryder Cup, so perhaps his stance was one of experience with these promotional photos. Or maybe his nature is a signal of what's to come. For this is Ryder Cup week, which is a week of paradox for Rory McIlroy.
He is the most popular player in the United States save for a certain 15-time major winner, yet for three days every two years he becomes the bane of American golf fans' existence. He lives in this country and heads the PGA Tour's player advisory council, yet he's here representing another continent and a tour he's often at odds with. His legacy is not judged through this, for generational talents are defined by four tournaments and four tournaments only … yet his story is reinforced and more enriched with every Ryder Cup passing.
Most importantly, McIlroy's come to realize this event, the one he once said doesn't matter to him, means so much to so many, including, now, him.
"I think as the Ryder Cup has evolved it's become bigger," McIlroy said at Whistling Straits Tuesday morning. "Ryder Cup is one of the best events that we have in golf, if not the best event we have in golf, and just excited to be a part of another one."
It's no coincidence that the Ryder Cup has become bigger as McIlroy's relationship with it—and appreciation for it—has deepened.
Once dismissing the biennial match as nothing more than exhibition and spectacle (and it's worth noting he's far from the first superstar to do so), McIlroy offered a mea culpa on his previous position to become fully invested in the proceedings. Should one think that reverse was a matter of public relations, his play (11-9-4 record) and efforts suggest otherwise. McIlroy was an advocate in postponing the event amid the COVID-19 pandemic, arguing that a Ryder Cup without fans was a proposition not warranting consideration. "It probably would have been to the European team's benefit to not have [the crowds]," McIlroy said, "but it's not a Ryder Cup then." He now resides on the opposite end of the spectrum, stating some of his Ryder Cup turns, particularly the Europeans' comeback at the 2012 competition, are among the seminal moments of his career.
"Yeah, I mean, I think that the Ryder Cup epitomizes everything that's great in the game of golf," McIlroy said. "It's competitive but there's also a lot of sportsmanship shown."
McIlroy is not the team's spirit animal; that is Ian Poulter, who transforms from mere mortal to superhero at this event. McIlroy is no longer Europe's best player; that honor belongs to reigning U.S. Open champ and World No. 1 Jon Rahm. But McIlroy is the club's heartbeat; as he goes, so goes Europe. Once viewed as a lone ranger and mercenary, he is their alpha.
"Yeah, I think I've already tried to evolve into that role," McIlroy said. "This being my sixth Ryder Cup, 2014 I felt like was the year that I embraced the role of being a leader, and then going on from then."
Of course, it's sadistically fitting that McIlroy assumes this role as his career faces a crossroads of sorts.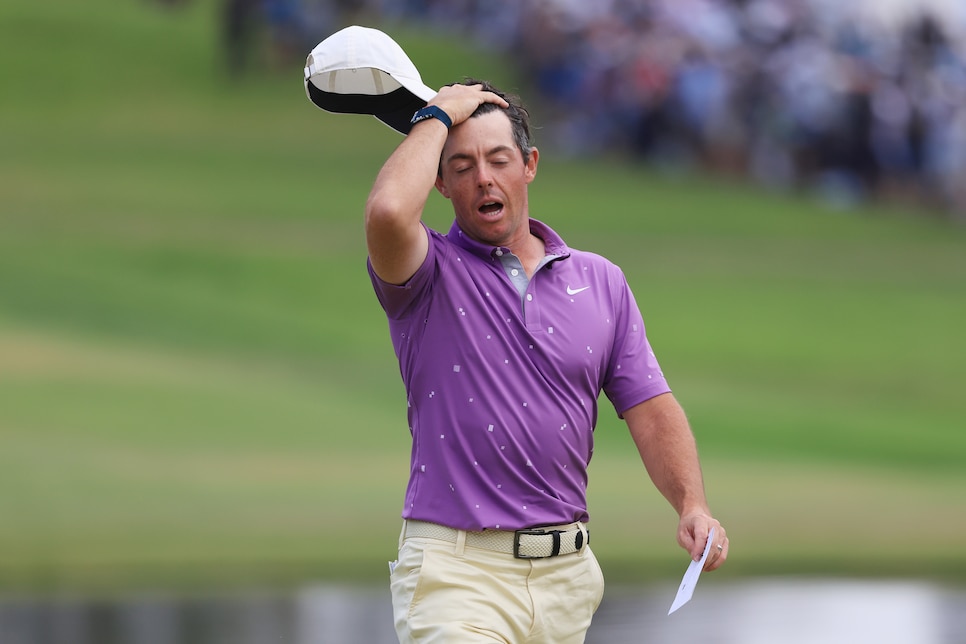 He won in May at Quail Hollow, his first win in nearly two years. He finished first in birdie average on the PGA Tour, seventh in strokes gained and 14th in the FedEx Cup. He contended in the U.S. Open. McIlroy is not lost in the wilderness. In that same breath, his major drought has extended to seven years, with a Sunday stumble at Torrey Pines amplifying the whispers that surround and engulf the Ulsterman at the sport's premier championships. He fell from the world's top 15 rankings for the first time since 2009. That birdie average continues to be undone by his struggle to keep the big numbers at bay (T-123 in bogey avoidance).
McIlroy is 32 years old. Historically that is an age where golfers are in the midst of the prime. But "historically" is the operative word. The profession has seen a paradigm shift in when success is achieved, and while he's turned in flashes of brilliance, the farther he gets from sustained success makes recapturing his former heights that more unlikely.
Which is why, perhaps for the first time in his career, McIlroy needs this Ryder Cup as much as it needs him. To be a reminder of what he once was. What he still is. What he can be again.
"We play for each other. I think that's the best thing that you can do," McIlroy said. "You play for the guys that are beside you. You play for everyone that's helping our team try to win this week. You're obviously playing for your country and your continent and I guess your tour in some way, as well. But most of all, we play for each other."
As for his play, expect a cooler McIlroy than we've seen in past Ryder Cups. McIlroy's "I CAN'T HEAR YOU!!!!" primal screams to the Hazeltine crowd in a 2016 battle with Patrick Reed instantly ingrained themselves in Ryder Cup lore. What history has conveniently forgotten about his match with Reed is for all the fireworks on the first nine, the second nine was sort of a dud, both men physically and emotionally drained. It's a memory McIlroy is keeping in mind as he prepares for what he will face in Wisconsin.
"Yeah, I certainly will try to not be as animated and I'll try to conserve some energy," McIlroy said. "It's a long week. Whether I play all five again, we'll see, but it's a lot of golf. It's a lot of energy just playing, then trying to beat who you're playing against. If you try to beat the crowd, as well, it seems like a bit of an impossible task. I will try my best for this team and I'll try to play the best golf I possibly can, but I sort of learned quite a few things from 2016 about conserving energy."
Eventually McIlroy left his position and joined his team on the 18th fairway, the Europeans finally settling into their positions Tuesday morning. Captain Padraig Harrington and four players sitting in the front, the other eight in the back.
McIlroy? Sitting, first to the right, ready to lead the charge.
MORE RYDER CUP PREVIEW STORIES FROM GOLF DIGEST