Ryder Cup
Ryder Cup 2021: Why Brooks Koepka wanting to make Steve Stricker cry is good for Team USA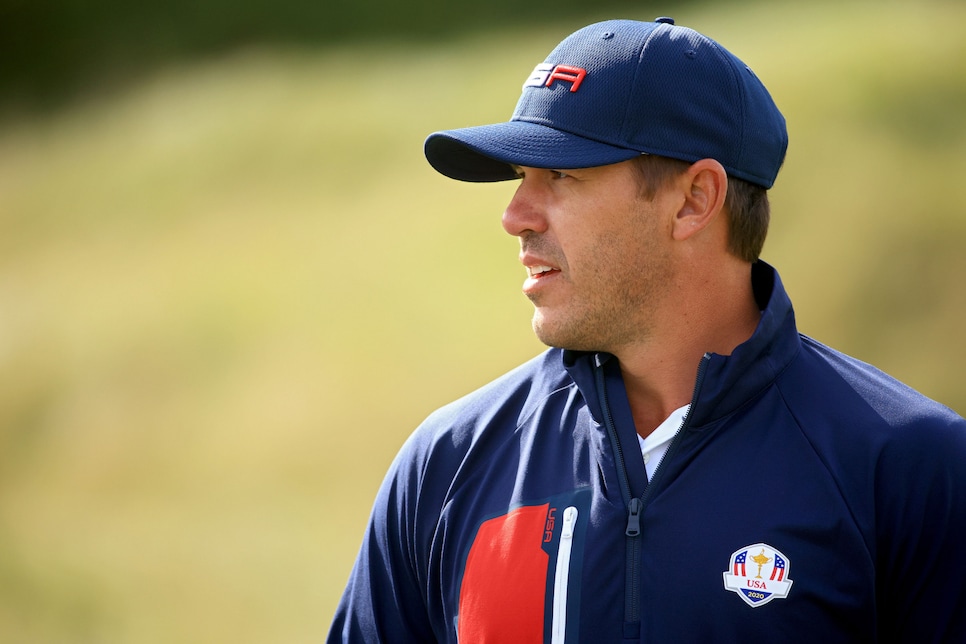 Brooks Koepka looks on during a team photo shoot prior to the 43rd Ryder Cup.
Mike Ehrmann
HAVEN, Wis. — After spending the better part of two years toying with the emotions of United States teammate Bryson DeChambeau, Brooks Koepka this week hopes to make Steve Stricker cry.
In this case, however, the four-time major champion from Florida isn't trying to sound mean. And, in fact, his sentiments towards the captain of the U.S. Ryder Cup team betray his feelings about participating on behalf of his country in this week's 43rd Ryder Cup at Whistling Straits.
Koepka is a guy passionate about winning. And he wants to win this week. And don't even think about throwing comments he made to Golf Digest back in his face about how the Ryder Cup is "tough," which made it sound kinda sorta like he didn't want to be here at Whistling Straits. Not true. Nope.
For the record, here is what he said that drew criticism from NBC analyst and former Ryder Cup captain Paul Azinger and others.
"It's tough. There are times where I'm like, 'I won my match. I did my job. What do you want from me?' I know how to take responsibility for the shots I hit every week. Now, somebody else hit a bad shot and left me in a bad spot, and I know this hole is a loss. That's new, and you have to change the way you think about things. You go from an individual sport all the time to a team sport one week a year. It's so far from my normal routine."
Doesn't sound great, but, OK, it probably didn't warrant vehement condemnation.
"I never said it was negative," Koepka, 31, said Thursday morning at Whistling Straits in reference to playing in the Ryder Cup. "Y'all [in the media] spun it that way. ... I said it was different. Like I said, I've never played any of these team events. I didn't play Walker Cup. Never played Junior Ryder Cup. Never played anything. I just said it's different."
He added that he wouldn't be nervous at this biennial competition if he didn't care.
Stricker, a Wisconsin native who also captained the winning 2017 U.S. Presidents Cup team, is known as an emotional sort, which Koepka clearly isn't. But Koepka has a lot of respect for America's leader, and that individual spirit that drives him to flourish in major championships he can put aside this week. He does care about the outcome as the U.S. seeks to win for just the fourth time since 1995. And his wanting to win has a selfless element to it.
"It would be nice to see him cry," Koepka said of Stricker, who is known to cry after just about every victory in his career. "It would be awesome just because I know how much time he's put in. Growing up in Wisconsin, there's a lot of things [for Stricker] that just kind of are coming together where it would be the perfect storm if we were to win. Everybody knows that and everybody wants to play well."
Koepka comes into this week's Ryder Cup with a 4-3-1 record and with other questions swirling about him, mainly about his health. He insisted that the wrist injury he suffered at the Tour Championship that forced his withdrawal will not be an issue, even if he still is not 100 percent healthy. "I'm like glass, so I wouldn't say I am 100 percent. Left knee, right knee … broken, man. I feel fine. I feel as good as I've felt in a long time."
What remains unbroken, it appears, is Koepka's relative antipathy toward his rival, DeChambeau, even as DeChambeau has tried to patch things up. DeChambeau even hinted at something "fun" the two might be doing together in the near future, though Koepka seemed puzzled by that revelation.
Earlier in the week, a video hit social media showing the two men chatting on the driving range at Whistling Straits. The meeting seemed contrived. And listening to Koepka on Thursday, when he was asked to describe his relationship with DeChambeau, only lends credence to that theory.
They still aren't trading Christmas cards. Let's break down his answer. No negative spin.
"We are on the same team together."
Read: Just don't expect to see us hug out our differences.
"We've had dinner almost every night as a team."
Read: Thank God I have plenty of wing men.
"Everyone who is on our team is interacting, and everybody is participating in conversations and doing everything we need to do."
Read: I use intermediaries to say anything to that other guy (eye roll).
Koepka is ready to win for his captain and for his country, and, well, for most of his teammates, too. He can "go as much or as little as they want," he said, capable of playing 36 holes a day if need be.
Whatever issues linger with his American teammate can wait. First order of business is making another man cry. This time for joy.