Hot Mics
Rory McIlroy's juicy jabs at Patrick Reed—and Phil Mickelson(!)—on 'Full Swing' puts 'Teegate' in even better context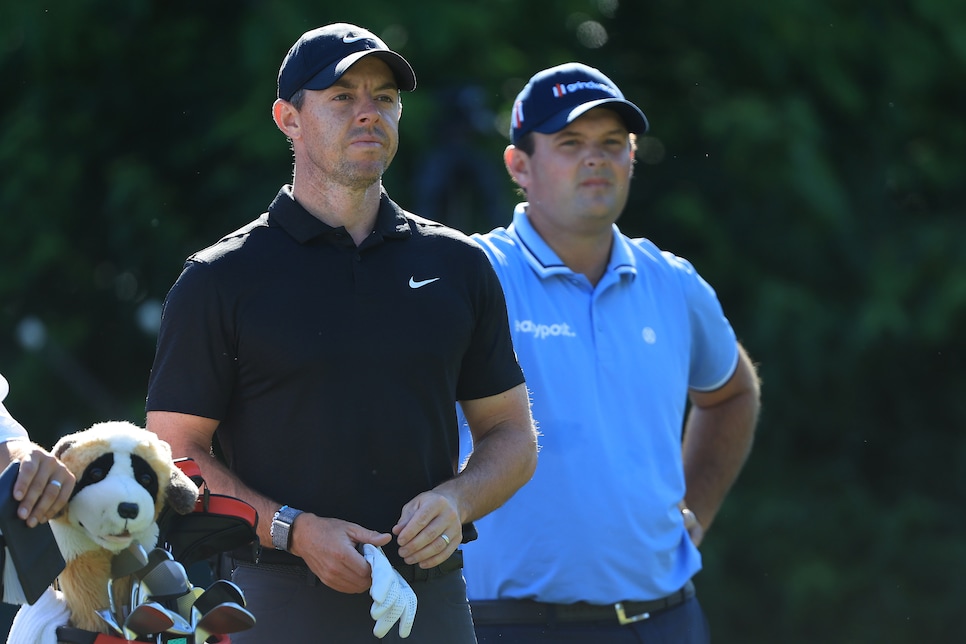 If you thought we were done talking about 'Teegate,' think again! The testy Dubai driving range incident between Rory McIlroy and Patrick Reed is not a part of Netflix's new "Full Swing" golf docuseries that dropped on Wednesday, but the fantastic final episode of Season 1 puts the tension between the PGA Tour and LIV Golf in better context.
In the finale titled "Everything has led to this" that mainly features McIlroy (By the way, you can get FULL 'Full Swing' coverage with our episode recaps and podcasts), the four-time major champ doesn't hold back when discussing the rift in pro golf, specifically when talking about Reed and Phil Mickelson.
The first juicy jab comes on the driving range at the Tour Championship, when Golf Channel's Todd Lewis asks McIlroy about the guys going to LIV. Here's the exchange:
LEWIS: "Seventeen are going?"
RORY: "Seventeen. Absolutely brutal."
LEWIS: "When I saw Patrick Reed went to the Asian Tour again I was like 'Oh my god.'"
RORY (smiling): "And he dropped spots in the world ranking. Beautiful. Beautiful."
Ooo boy. So it should be no surprise that just a few months later, Rory rebuffed Reed when he tried to wish him Happy New Year. And that Reed tossed a LIV tee in McIlroy's direction to send him a message. Of course, there's also the matter of that subpoena Rory received from Reed's lawyer on Christmas Eve, but clearly, the bad blood was there long before.
But Rory wasn't done ripping guys! In another scene shortly after, McIlroy is shown getting treatment in a locker room filled with other tour pros talking football. And then someone comments that he must like Buffalo Bills quarterback Josh Allen because he's a PGA Tour fan.
"Yeah, but he's a Phil Mickelson fan," Rory responds, "so I don't know if that's . . . "
The guys in the room burst out laughing, and then McIlroy offers his final—and sharpest—dig.
"F--- you, Phil!" McIlroy says with a laugh before adding, "I hope that makes it in."
"I guarantee that makes it in," someone responds.
SPOILER ALERT: It made it in. Enjoy!