The Grind
Rory McIlroy's FedEx Cup financial trifecta, Tiger Woods' surprising playing commitment and the worst celebrity golfer on the planet
Welcome to another edition of The Grind, where we're jealous of Rory McIlroy, sure, but also Harry Diamond. The dude lugged around his buddy's bag for four days and made nearly $2 million. Forget about being jealous, I'm more mad that none of my friends growing up went on to become a big-time golfer so I could ride his coattails, or, rather, ride his (sponsored) polos. In any event, Rory and Harry are rich(er), and I'm still writing about them, so here's what else has us talking.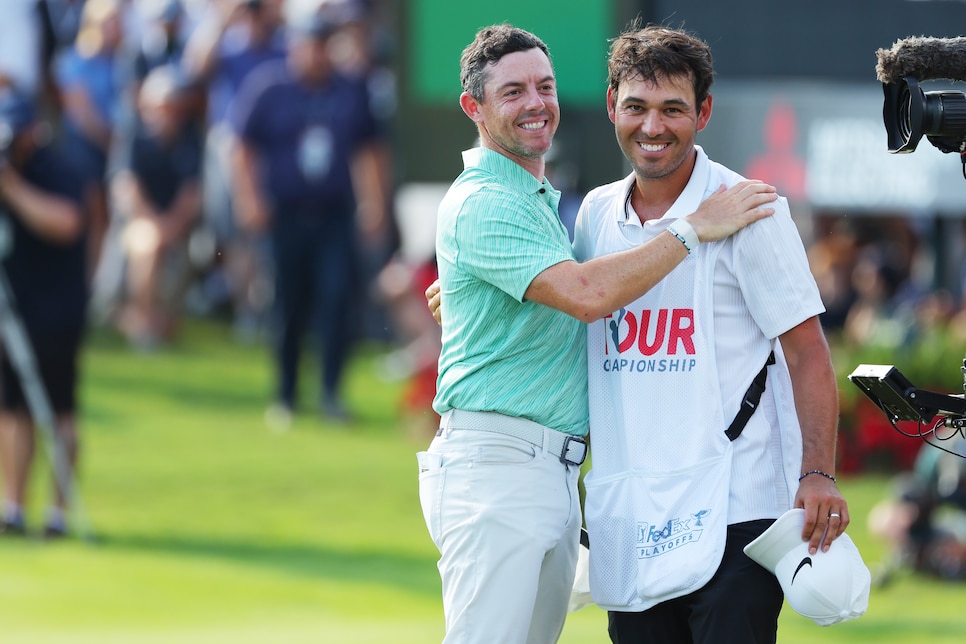 Rory McIlroy: Has there ever been a more fitting winner in sports history? The guy who has been the PGA Tour's biggest supporter through its most turbulent year claiming (by far) the tour's biggest prize? Didn't think so. This was the stuff of destiny. Add in the fact that McIlroy started Thursday's first round at East Lake six shots behind and fell 10 shots back thanks to an opening triple bogey, and it makes Rory's low gross and low net victory at the Tour Championship/FedEx Cup even more amazing.
The win gave McIlroy quite a financial trifecta as he has now won the FedEx Cup at all three of its top prize-levels through the years: $10 million in 2016, $15 million in 2019 and now $18 million in 2022. That's $43 million for winning the same title three times. Heck, even Harry is set for life with just his cut of McIlroy's FedEx Cup loot. With a third FedEx Cup, McIlroy also broke a tie with idol/BFF/business partner Tiger Woods. Speaking of which, Rory, I've got a great tech idea you could invest some of that FedEx Cup cash in. Kidding. But my house needs a new patio.
The PGA Tour: After months of seeing some of its top talent—or, at least, some of its biggest names—poached by LIV Golf, the tour finally punched back with sweeping changes that were welcomed by everyone besides James Hahn. The new schedule revolving around 12 ELEVATED events will mean more weeks of fans getting to see all the best players/biggest stars together in action. And with guaranteed money for earning your tour card and travel stipends, the rank-and-file players benefit, too. And, yes, the tour somewhat copied LIV by throwing around more guaranteed money, but that's what all businesses do. Sorry to go all Bryson-pizza analogy on you, but did Wendy's invent the chicken nugget? Of course not! But for my money they make the best ones and have the best honey mustard. And now I'm really hungry for some.
TGL: It was already a big week for Rory (and Tiger) before he even hit a shot at East Lake. The two superstars and Swoosh wearers announced the launch of TMRW Sports, a tech-focused business venture, on Monday then followed that up with the reveal of TGL, a team golf league that will partner with the PGA Tour, on Wednesday.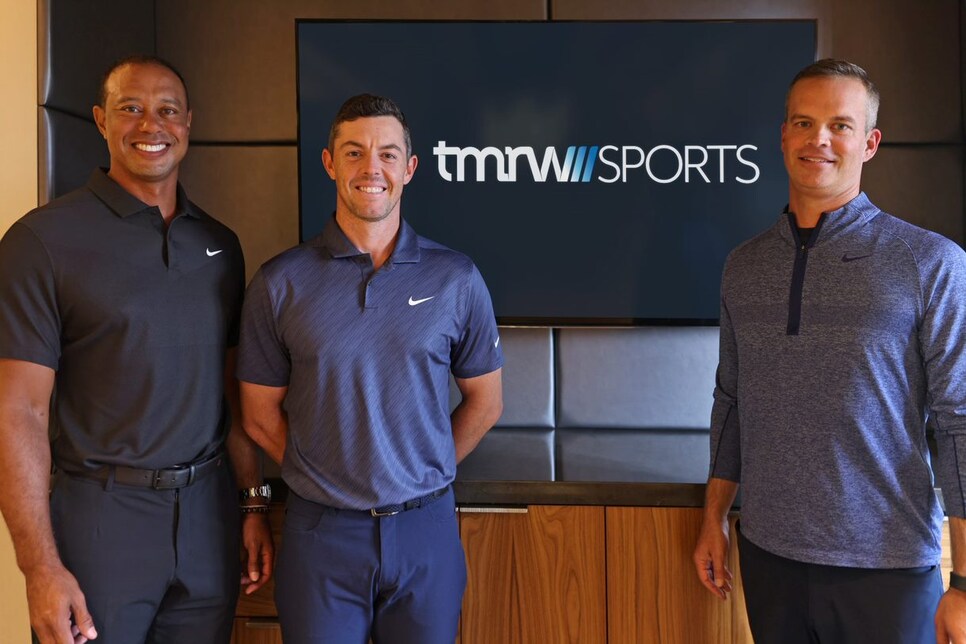 This new league will have Monday night primetime matches between six teams of three PGA Tour players beginning in 2024 on a tech-infused venue. And the best part? Rory and Tiger are committed to play. That's right, we'll get to see Tiger playing golf more. Not actual golf, but we'll take it. This sounds like another big win for golf fans. And maybe another way for Harry Diamond to make more money.
Betting on Max Homa this season: Within the span of a few years we've gone from tip-toeing around golf gambling talk to the PGA Tour publishing results of the golfers who gave gamblers the biggest returns this season. You love to see it. Anyway, as the tour's website concluded, someone betting $100 on every Cameron Smith start this season would have profited $8,600. But that's assuming you got Cam at his opening British Open odds of 50-to-1. So, realistically—not that betting $100 on every player every week is realistic—Max Homa's return of $8,300 thanks to his two wins was the gambling community's best friend. Not that Golf Twitter needed another reason to like Max.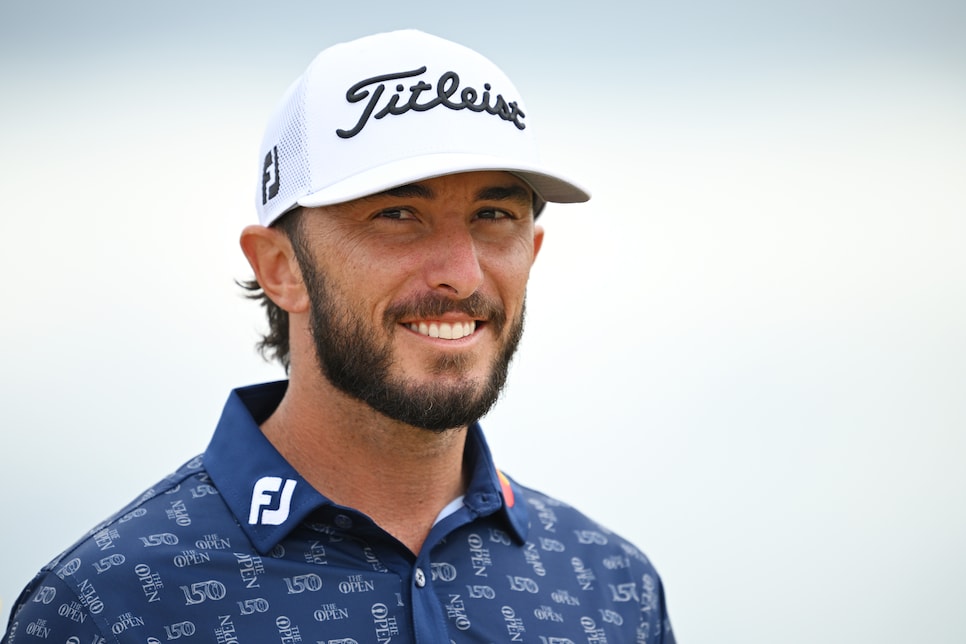 Betting on Collin Morikawa this season: On the flip side—and this is why you shouldn't just bet $100 on every big name every week—Morikawa would have given gamblers a net loss of almost $2 Gs if you made all those bets on him because he didn't win this season. Of course, there are others who gamblers lost betting on time and time again (looking at you Cameron Young with all those close calls), but the two-time major champ was the most surprising. It should also be noted that betting on Will Zalatoris would have made you $100 even with his big playoff win. So like we said after that happened, gamblers basically clawed back to even betting on him.
Scottie Scheffler's Sunday: After shooting 66 or better the first three rounds at East Lake, the FedEx Cup leader for basically the entire season equaled the worst round of the day on Sunday with a 73. It was horrific timing, of course, because it cost him more than $12 million. Ouch. Rory even apologized to Scottie's parents:
On the bright side, Scheffler said he plays golf for trophies, not money, and he should (we think) still win the Jack Nicklaus Trophy for PGA Tour Player of the Year.
This hole-in-one prize: How about the prize Aaron Cockerill won at the European Masters? Some life insurance! Yep, $30,000 worth of life insurance, in fact:
So when Aaron dies, he's set. Well, his family is set. Sort of. That's not a ton of life insurance. What a weird prize. Of course, just making a hole-in-one is a prize in itself. Not that I would know. Obviously.
The PGA Tour … is off! For two whole weeks! But that doesn't mean there still isn't golf going on this week. The LPGA, Korn Ferry Tour and DP World Tour will be in action, meaning there's the potential for even more wacky hole-in-one prizes. Oh, and there's also the LIV Boston event. And now that Cameron Smith and Joaquin Niemann have joined, it's a pretty decent field:
Random tournament fact: There are no random facts about LIV tournaments because they're all new. But we do wonder if Cameron Smith is now the richest dude with a mullet on the planet. Oh, and fellow defecting Cameron, Cameron Tringale, is going to hold onto that record for most PGA Tour earnings without a win for a while now.
RANDOM PROP BETS OF THE WEEK
—Scottie Scheffler isn't still thinking about that bunker shot on 18: 12 MILLION-to-1 odds
—Cameron Tringale will ever win on the PGA Tour: 1 MILLION-to-1 odds
—Cameron Smith will be doing a lot more fishing now: LOCK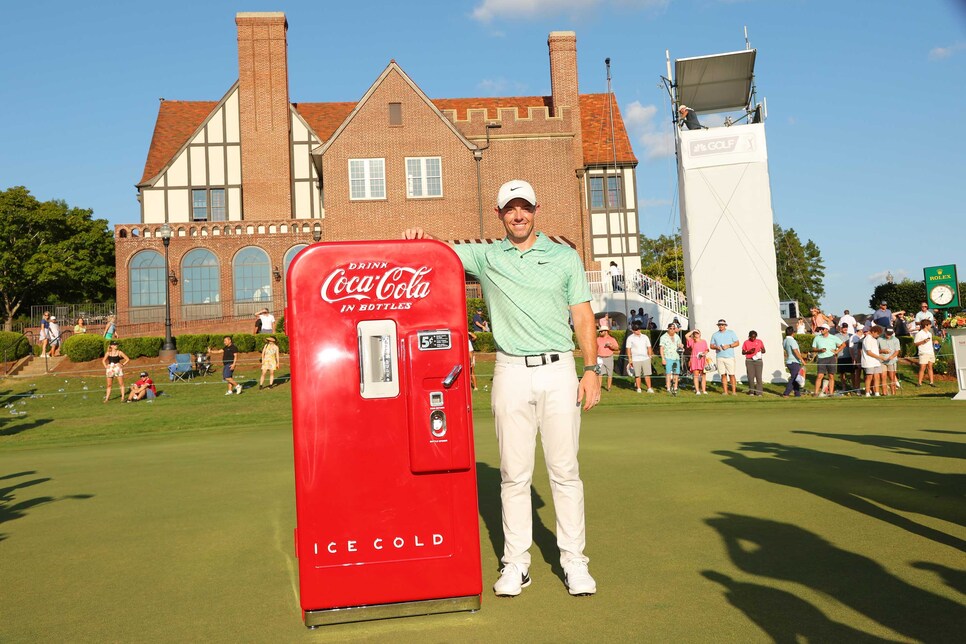 Now that's the real prize. You know how much bottled Coke costs right now?! That's liquid gold right there.
Jalen Rose was a tremendous basketball player, but he might be the worst golfer on the planet. Check out this sequence in which he whiffs five times in a row before finally hitting a little dribbler after getting a tip from Jack Nicklaus:
Good lord, that's hideous. Even Charles Barkley thinks that's hideous. To be fair, putting Jalen on a difficult par 3 with spectators was a tough spot, but you gotta make contact with the ball. Especially since it appears Jalen has been playing golf for at least six years now.
THIS WEEK IN PUBLIC DISPLAYS OF AFFECTION
Check out this amazing scene after Aleksandar Radoicic became the first golfer from Montenegro to qualify for a DP World Tour event:
Pretty cool. But the story gets even better/crazier by the fact he qualified through a four-round tournament on a simulator. Yep, a simulator. This ain't your daddy's European Tour. Well, technically, it's not even the European Tour anymore, it's the DP World Tour. But you get the point. The times they are a changin'! Radoicic shot 75-73 by the way to miss the cut, but he still could probably run for president of Montenegro and win by a landslide right now.
"Look, the money is the money. It's great, and we are professional golfers, we play golf for a living. That is a part of it. But I think at this point in my career, the winning and the journey and the emotions and who I do it with mean more than the check." —Rory McIlroy. Good stuff, Rory. But, yeah, that check must be pretty darn great, too.
Congrats to Paula Reto for winning her first LPGA title in her 157th career start, and beating Nelly Korda by a shot to boot! Reto picked up golf at 15 after a "bad" field hockey injury—well, it looks like a pretty good one now. … Congrats to Thriston Lawrence for winning his second DP World Tour title at the Omega European Masters. And yes, he won on a real course and not a simulator. … Kudos to the Fire Pit Collective's Ryan French for his reporting on this bizarre story of Matt Moroz getting disqualified at KFT Q School. No kudos to Moroz and his caddie for cheating. I did a story on Matt making a few holes-in-one a few years ago and let's just say I'm skeptical he ever pulled that off. … And, finally, after years decades away, I got back into Frosted Mini-Wheats last week: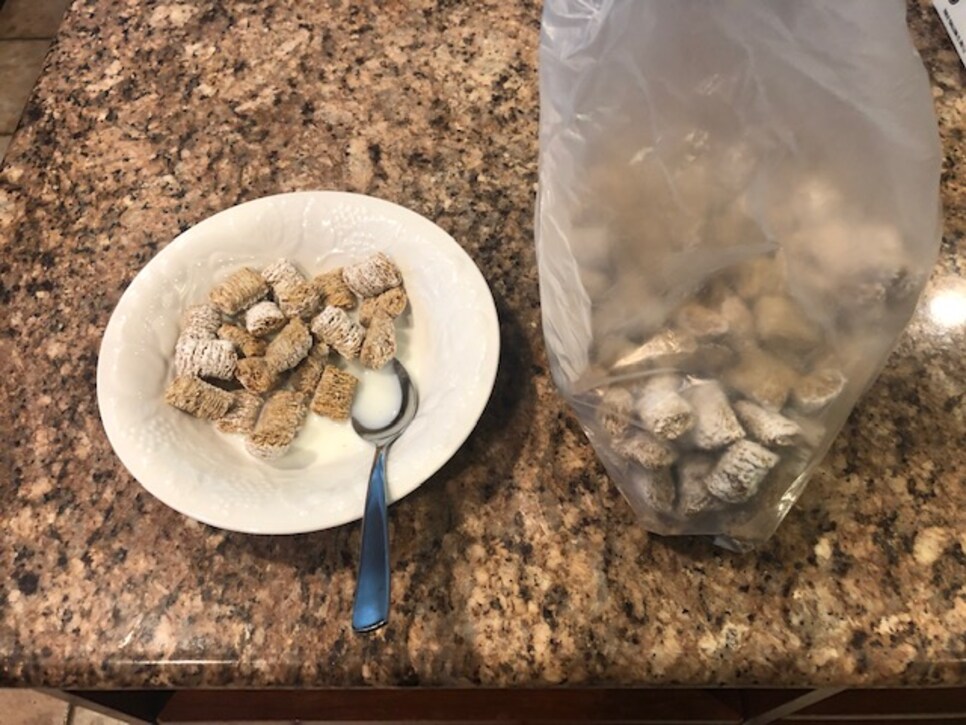 Good lord, that stuff is like crack. Not that I would know what crack is like.
RANDOM QUESTIONS TO PONDER
What's Rory McIlroy going to do with $18 million (more)?
What would I do with that $1.8 million caddie cut?
Can I wait another year to fix the patio?