The Loop
Ranking 11 College Football Playoff scenarios from most tired to most WIRED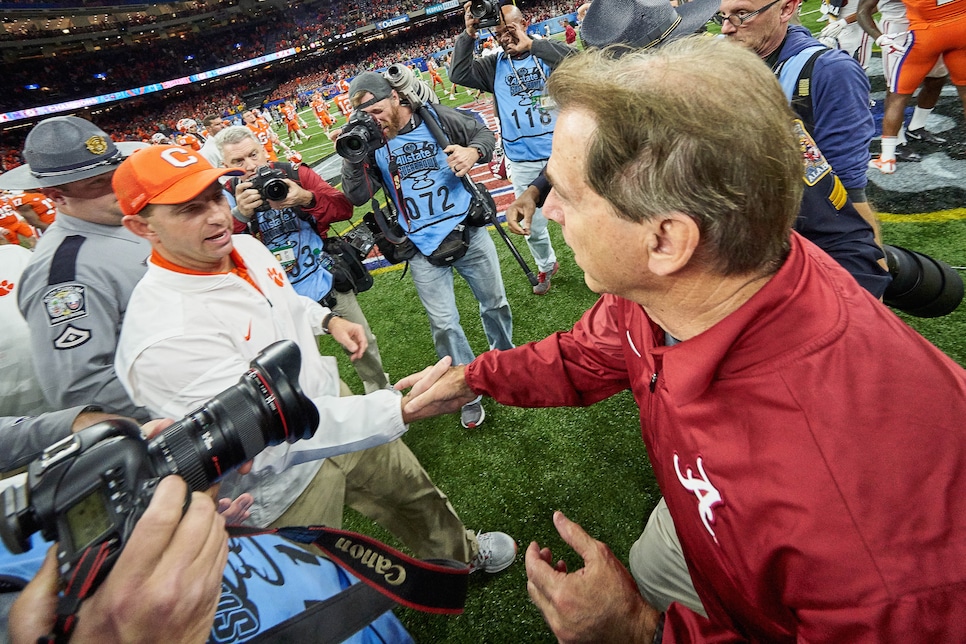 With three weeks remaining in the college football season (plus Army-Navy and conference championship week), the College Football Playoff picture appears abundantly and unfortunately clear. Alabama, Clemson and Notre Dame look like sure things, and then you can simply insert Michigan or Ohio State, and if you want to get WILD, maybe Oklahoma. Just accept it now.
But, what if chaos ensues? It certainly wouldn't be the first time. Once you start penciling in easy victories for everybody, you're playing a dangerous game. Notre Dame almost lost to Pittsburgh, are we to believe they are just going to skate past Syracuse at Yankee Stadium and USC on the road? Could Clemson fall at Boston College this weekend? Alabama has looked unstoppable in past years and still lost a questionable game late in the season. What I'm saying is, there's still hope for some wackiness.
With that in mind, we came up with 11 of the possible scenarios, ranked from the most tired to the most WIRED. Pray for chaos, everyone.
(1) Alabama vs. (4) Ohio State
(2) Clemson vs. (3) Notre Dame
HIGHLY likely. No one's beating Alabama or Clemson, and Michigan has not beaten Ohio State in Columbus since THE YEAR 2000. We all know the Buckeyes are getting in despite the Purdue blowout as long as they win out.
Excitement Level: Low Energy Jeb
While this is the CFP committee's television dream, it just feels so blah. Does anyone really think this Ohio State team can beat Alabama? Can Notre Dame maybe give Clemson a game? Sure. But we all know Alabama-Clemson part three (technically part four if you include last year's snoozefest of a Sugar Bowl) would be imminent in this scenario. And it's going to be great! But with both Tua Tagovailoa and Trevor Lawrence returning under center for both teams next year, that means we're probably going to get it AGAIN.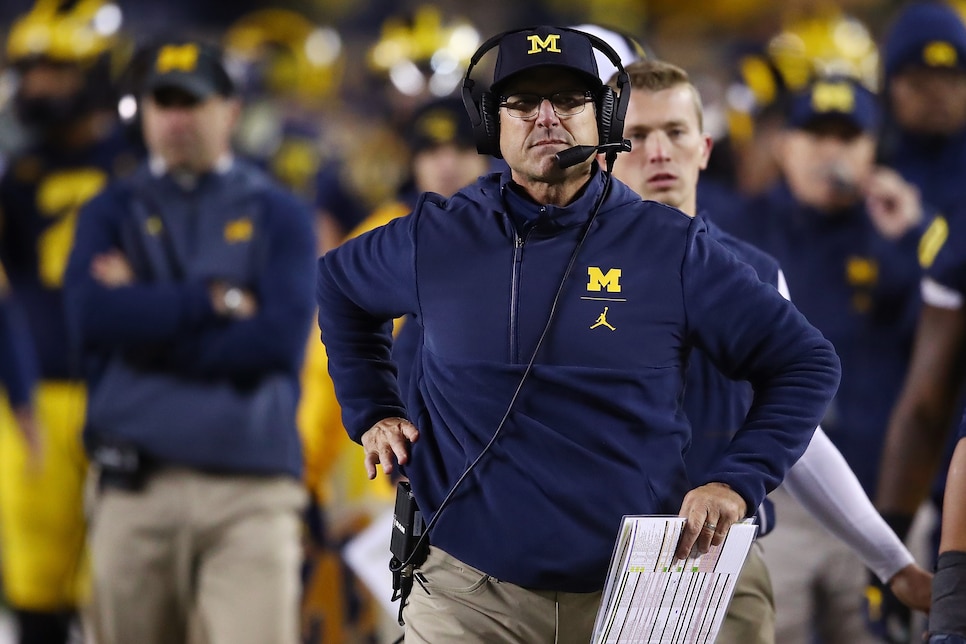 (1) Alabama vs. (4) Michigan
(2) Clemson vs. (3) Notre Dame
If you believe Michigan can break a near two-decade long drought, then this scenario is the next likeliest one.
Excitement Level: Slightly Less Low Energy Jeb
Michigan would be coming in on an absolute ROLL, and perhaps on their best day Jim Harbaugh can get that defense up for Alabama, cause problems for Tua and pull off the upset. That would set up an intriguing Michigan-Clemson matchup, OR, an epic Notre Dame-Michigan rematch that a lot of folks would hate-watch. I'd personally sign for it in a heartbeat.
(2) Clemson vs. (3) Notre Dame
Alabama, Clemson and Notre Dame win out, Ohio State-Michigan winner goes on to lose Big Ten Title game. West Virginia beats Oklahoma in final regular season game, then Texas beats West Virginia in Big 12 title game. Committee leaves out Pac-12 champion Washington State, puts in LSU with stronger resume despite two losses.
Am I the only one that can see that happening? Not the first few parts, but the part where LSU gets in over a one-loss Pac-12 champion and a two-loss Michigan or Ohio State. Alabama got in last year without playing the SEC Title game, though they only had one loss. The fact LSU only dropped to No. 7 in the latest CFP rankings tells you the committee thinks they are still more impressive then one-loss teams like Wazzu, WVU and OSU. So they are not above putting a two-loss SEC squad in, especially if it means an Alabama-LSU rematch, a game that did a better rating than the Monday Night Football game between the Cowboys and the Titans. That being said, for this scenario to play out would be nothing short of a miracle.
Excitement Level: Thanks but no thanks
The only difference between this scenario and the two above is the LSU-Alabama rematch factor. What a gripping 29-0 slugfest that was. HARD pass.
(1) Clemson vs. (4) Alabama
(2) Notre Dame vs. (3) Georgia
Clemson and Notre Dame win out, Georgia wins out including beating Alabama in SEC Title game. Committee puts Alabama in anyway off that loss.
If you think Georgia, with all it's losses on defense and at the running back position, can hang with Alabama and BEAT them this time around, then this is probably the playoff we're going to get.
Notre Dame and Georgia played classic in week 1 of last season, so that'd be a fun matchup on a neutral field. Would Alabama and Clemson meeting before the title game be better? They could knock each other around, thus making the title game more competitive with either ND or Georgia. But the potential Georgia-Alabama rematch, weeks after they just played in the SEC Title game, would probably turn a lot of casual fans away. ND-Alabama part two? That went well last time. Best case scenario here is Georgia-Clemson, a once yearly, heated rivalry that should happen every year for the sake of the sport.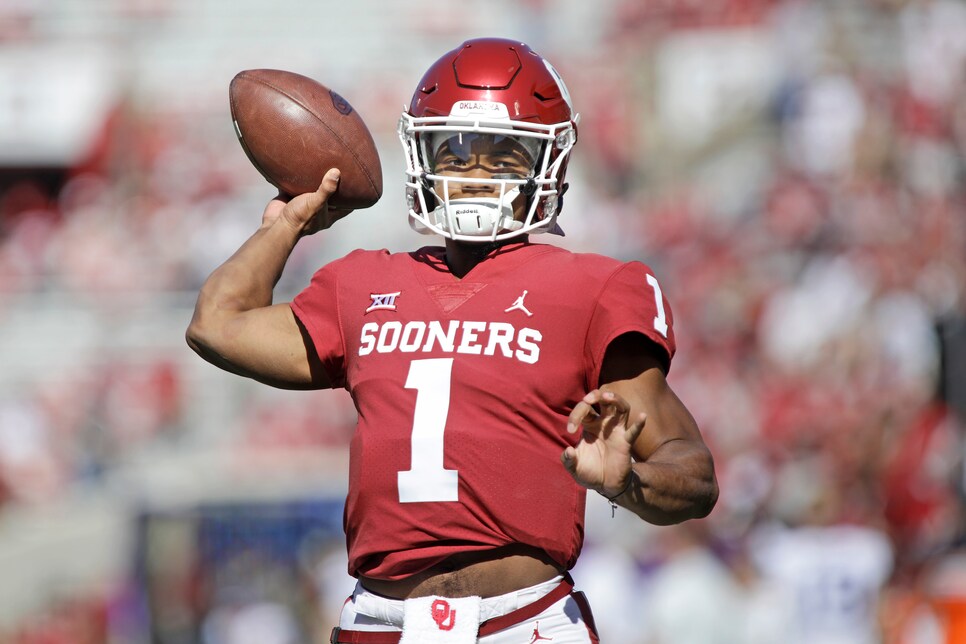 (1) Alabama vs. (4) Oklahoma
(2) Clemson vs. (3) Notre Dame
All four teams win out. Michigan-Ohio State winner loses Big Ten Title game, or a game before they play each other (not likely).
The big wild card here is Ohio State's game this weekend at Michigan State. The Buckeyes have clearly shown they are not opposed to laying a dud, as they got blown out by Purdue and squeaked past Nebraska at home. Could Sparty rally at home? Sooners fans will be rooting hard for it, then for the Buckeyes to knock off Michigan. A one-loss Oklahoma, with what will be two back-to-back wins over West Virginia if they win out, will get in over two-loss Michigan or Ohio State. If either Ohio State or Michigan does get past each other with one loss, Oklahoma will need a massive upset in the Big Ten Title game from a team like Northwestern, Wisconsin or Purdue. Not out of the question at all.
Excitement Level: Not doing backflips, but I'm listening ...
Now we're kind of getting somewhere. Obviously, Clemson vs. Notre Dame remains the constant, and that game could be closer than people think. As for Oklahoma vs. Alabama, many believe that's what the committee was hoping for in the National Championship game last year, pitting the electric Baker Mayfield and his high-powered offense against the Tide. Instead, they got an SEC vs. SEC matchup the rest of the country was sure to loathe. This scenario would give us a second chance at the Sooners vs. the Tide, and make no mistake, Kyler Murray & co. would be able to score on Alabama. The question is, can they stop the much-improved Crimson Tide, Tua-lead offense enough to keep it a game? Would be fascinating.
(1) Clemson vs. (4) Alabama
(2) Notre Dame vs. (3) Michigan
Clemson, Notre Dame and Michigan win out, Georgia loses to Auburn this weekend, then beats Alabama in the SEC title game. Committee puts one-loss Alabama in over two-loss Georgia, who just beat them.
Auburn has to have revenge on its mind following the SEC Title game drubbing at the hands of Georgia last year. No time better to get that revenge than this weekend at Sanford Stadium as a double-digit underdog. For Georgia to then go beat Alabama is a huge ask, and then if they do, the committee is going to keep them out? This is a wild scenario, I'll admit.
Excitement Level: We're getting warmer
Blah blah blah Clemson-Alabama blah blah. The kicker here is the Notre Dame vs. Michigan rematch in round one. Let's not act like that wouldn't be epic. Would we rather see it in the title game like we set up in scenario No. 10? Of course, but it just ain't happening. The scenario ensures we get it.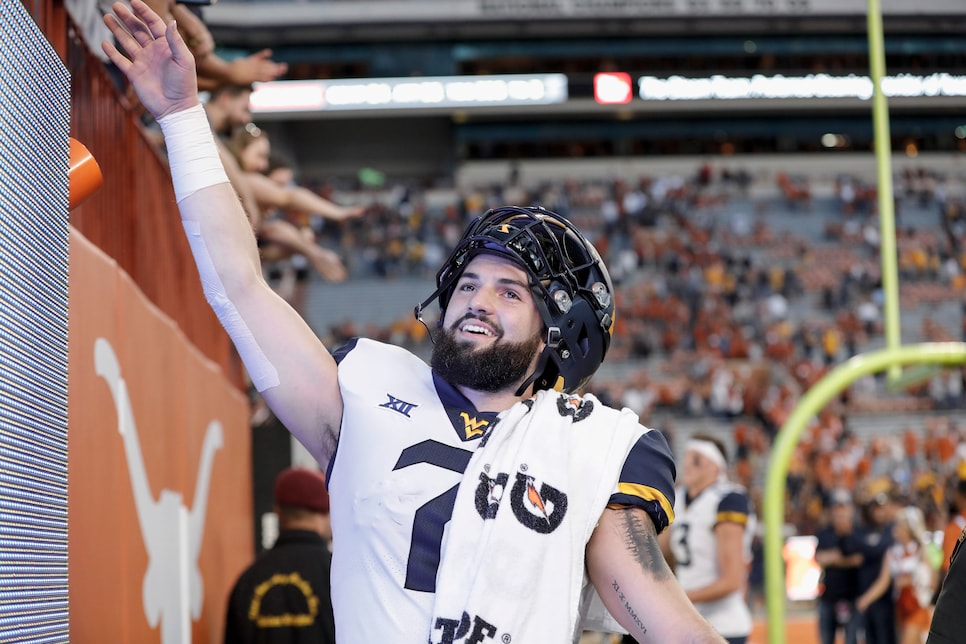 (1) Alabama vs. (4) West Virginia
(2) Clemson vs. (3) Notre Dame
All four teams win out, Michigan loses to Ohio State, Ohio State loses Big Ten title game.
The crazy thing about West Virginia is that had they just beat Iowa State, a very sneaky good team, then the Mountaineers would be undefeated and have a case to be No. 4 in the rankings over Michigan. Last week's wild win over Texas was as impressive a win you'll see from any team this season, and it's given them to opportunity to win out and keep themselves in the conversation. But they'll need help.
Excitement Level: Take me home! Country roads!!!
In case you're not aware, I'm a huge Dana Holgorsen/Will Grier guy. If anyone's going to really shake this thing up, it's going to be WVU. Unfortunately, they haven't proven they can win the big game in the past, and by big game I mean beat Oklahoma. This year they may have to do it TWICE, once at home, then once in the Big 12 Championship game at AT&T Stadium. Though, if Oklahoma does lose to WVU and Texas wins out, Texas would get in the Big 12 title game thanks to its win over the Sooners. Either way, the Mountaineers are going to have to beat a team twice. Tall task, but it would be awesome to see them in the playoff.
(1) Clemson vs. (4) Oklahoma
(2) Notre Dame vs. (3) Ohio State
All four teams win out, Alabama either loses twice, to Auburn and Georgia (HAHAHAAH), or only once and the committee leaves them out (HAHAHAHAHAHAHAHAHAHAHAHA). Oh, Georgia would probably also have to lose to Auburn or Georgia Tech before beating Alabama.
Unless Tua Tagovailoa gets abducted by aliens, this ain't happening.
Excitement Level: No Alabama? Let's pop bottles!
I am by no means an Alabama hater, but at some point it'd be nice to change it up. Notre Dame-Ohio State would be a ratings bonanza, and Clemson-Oklahoma would be L - I - T -- LIT. Any of the championship game combinations would be fantastic in this scenario, but personally I think Oklahoma-Notre Dame would be the dream, ensuring a new National Champion in the CFP era not named Alabama, Clemson or Ohio State.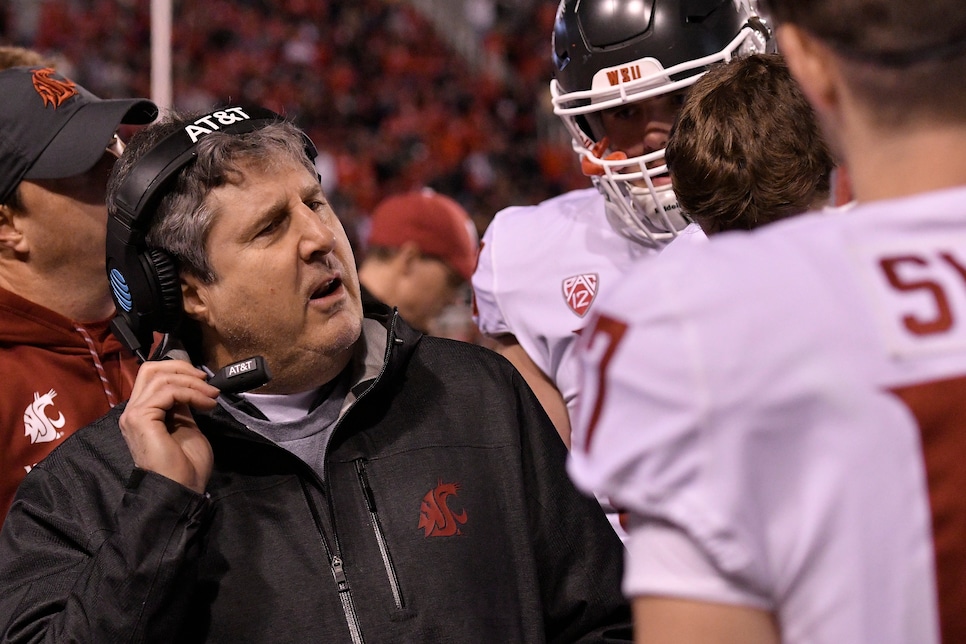 (1) Michigan vs. (4) Washington State
(2) Georgia vs. (3) West Virginia
All four teams win out. Clemson loses to Boston College, Alabama loses one of its remaining games (Mississippi State, The Citadel, Auburn) and loses to Georgia in SEC Title game, Notre Dame loses two of its remaining games (Florida State, Syracuse at Yankee Stadium, @USC)
Excitement Level: Oh helllllll yeah bitch
Mike Leach, Dana Holgorsen, plus two powerhouse programs that don't really win National titles but act like they do? This has it all. That Wazzu offense vs. the Michigan defense? Oh god yes. Georgia-West Virginia? The last and only time that happened it was OFF THE CHAIN. I go to bed at night dreaming up this playoff scenario, one that also sets up a strong title game.
(1) Notre Dame vs. (4) Washington State
(2) Michigan vs. (3) West Virginia
All four teams win out. Clemson loses to Boston College, Alabama loses one of its remaining games (Mississippi State, The Citadel, Auburn) and loses to Georgia in SEC Title game. Georgia loses one of its remaining games before beating Alabama (Auburn, UMASS, Georgia Tech)
See scenario No. 3's "Chances?" section
Excitement Level: Inject it into my veins
Getting Wazzu and WVU in again, AND now possibly setting up the Notre Dame-Michigan rematch? This would be like second Christmas.
(1) West Virginia vs. (4) UCF
(2) Washington State vs. (3) Syracuse
All four teams win out AND Alabama loses twice, then says "No" to the committee's invitation to be in the playoff. Clemson loses twice, also denies their invitation. Georgia loses two of its remaining games and beats Alabama, says "nah, we're good" to the committee's invitation. Notre Dame loses out, accidentally accepts invitation to Music City Bowl before CFP committee's invitation arrives. Michigan loses all its remaining games except Ohio State, who loses out including the Michigan game. LSU and Kentucky lose out.