The Loop
The most un-ignorable college football uniforms of 2018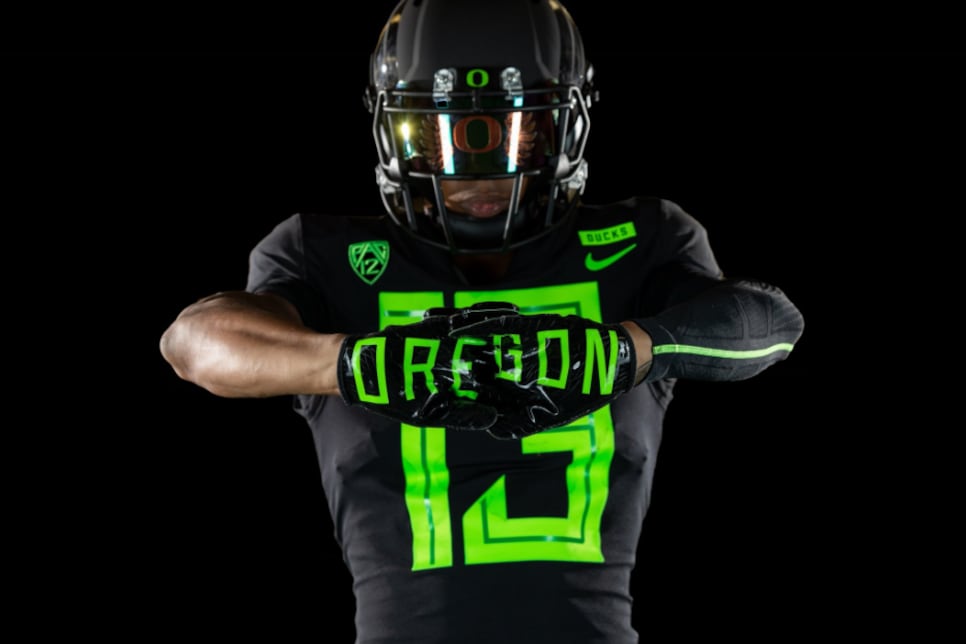 We have good news for you. The college football season kicks off in full this weekend. Your once productive Saturdays will now be devoured by three-hour profanity marathons where you'll find yourself hurling inanimate objects at the projected image of a coach who cares more about the Meineke Brake Pad Bowl than a fellow human life. Hoo boy, this is going to be good. And even if it's not—even if we all end staring into the unblinking maw of another Saban championship by year's end—at least there will be some cool new uniforms to enjoy along the way. Gentlemen, TO THE CATWALKS!
We already called the latest installment of Air Force's Air Power Legacy Series the coolest college football uniform of 2018 and we stand by that. Explosion emojis are probably in poor taste when it comes to these AC-130 gunship tributes, but man if it doesn't deserve them.
Of all programs for Nike to use as the showcase for their new H.Y.P.R.R. Elite unis, Minnesota seems like an odd choice. That didn't stop the swoosh from concocting over 100 possible jersey, pant, and helmet combos for the Big Ten cellar dwellers, however. Only one question remains: How much gopher is too much gopher?
You're going to see a lot of Adidas on this list and with good reason. They went all out this year starting with the Wolfpack's new Little Red Riding Hood-inspired unis, featuring a bold new shoulder pattern, a sinister black alternate, and Tuffy the wolf plastered all over everything. Needless to say, you're going to see A LOT of full moons in Raleigh this fall.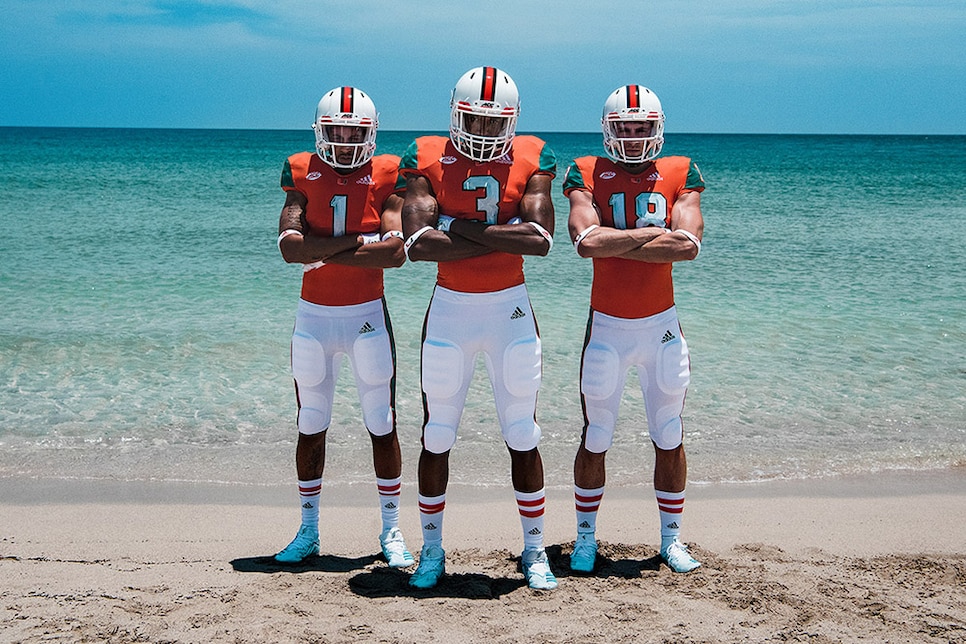 While Miami's evergreen thirds may look like the greenest jersey in college football, that title actually belongs to the Canes' Miami x Parley A1 collabs, made from recycled and repurposed ocean material. Keep your eyes peeled for these bad boys when Miami takes on LSU at Jerry World on Sunday night.
What do you get when you combine two of the most loathed institutions in sports in a single uniform? Notre Dame's Evil Empire-indebted Shamrock Series one-offs, which the Irish will don for their November 17th face-off with Syracuse at Yankee Stadium. Just like the Yanks, you can love them or hate them, but the only thing you can't do is ignore them.
Speaking of black and highlighter green, USF get the Adidas variation of that '80s B-horror movie scheme, including perhaps the craziest dome in college football this year. If you're not feeling that one, don't worry. The Bulls' updated green-and-gold look is one of their finest vintages yet.
One of the few super-clean updates this year, the Cavaliers keep things predictably clean-cut with a new orange alternate, a 10-star collar representing Virginia's 10th-state status, and a helmet refresh featuring a slick two-tone stripe and numbering on the left panel. There's no word if the Cavs will score some free golf for going bowling this year, but at least they'll look like a 10-win team.
Herm is back and to celebrate, ASU is rolling out one of the freshest uniform lineups in FBS this year. Featuring one of Adidas biggest 2018 design initiatives—subtle state flag motifs woven into each university's uniforms—and a clean gray third with a killer matching helmet, the Sun Devils go down as this year's most improved squad...in the mirror at least.
Positively sophisticated by the standards of Under Armour's other big mid-Atlantic account, Maryland, Temple's new unis live and die by their checkerboard gradients, which add a much-needed splash of personality to Owls' four 2018 color templates (maroon, white, gray, and black).
This one just oozes fun. Adidas makes the most of ECU's uber-saturated color palate and pirate iconography, drizzling each uniform with skull n' crossbone doodles and ultraviolet hues that would make Magic Johnson swoon. Even the helmets come with purple chrome facemasks. Needless to say, no small program is going to make a bigger impact under the lights this year than ECU.