What was predicted came to fruition, the Americans defeating the Internationals by five points at the 2022 Presidents Cup. How it played out … well, that didn't necessarily follow the script. On the verge of being blownout heading into the third session, the Internationals responded to an 8-2 deficit with vigor by winning Saturday 5 to 3 to make Sunday worth watching. But an early International push was squashed by the United States and the issue was never truly in doubt, giving the Americans their ninth straight victory in this event.
Here are the grades for all 24 players that competed this week at Quail Hollow:
Sam Burns (0-3-2): B
Burns' record is not indicative of his play and more a reflection of Scottie Scheffler's struggles (which is a damn odd thing to write about the reigning Masters champ and PGA Tour Player of the Year). Still, even with a new pairing in Billy Horschel on Saturday afternoon, Burns failed to register a W in the first four sessions. Unfortunately for Burns, Sunday was more of the same, playing strong and tough golf against Hideki Matsuyama, flipping a 2-down deficit at the turn to a 1-up advantage with four to go. But Burns doubled the 15th and his 23-footer at the 18th to win the match came a foot short. The case can be made that Burns was the second-best player for the Americans this week, yet he posted one point over five matches. Golf, man.
Patrick Cantlay (3-1-0): A
One of the headscratchers of the week was Davis Love III sitting the superduo of Cantlay and Xander Schauffele—who had wiped the floor with Adam Scott and Hideki Matsuyama (6 and 5) on Thursday and defeated Tom Kim and Matsuyama on Friday—for the third session in favor Scheffler and Burns, the latter group which continued their drought. When Cantlay and Schauffele returned Saturday afternoon they were gobbled up by the Tom Kim tornado of electricity. Now, Cantlay already attacks a golf course like he caught it flirting with his mom, and on Sunday that edge seemed to be sharpened after Saturday's L. The result was an old-school butt-whuppin', taking a 3-up lead after four and never giving Scott a chance to respond. Cantlay wasn't a part of the Americans' losing effort at the 2018 Ryder Cup in Paris. He'll undoubtedly be in Italy next fall, which should scare the hell out of the Europeans.
Tony Finau (3-1-0): A-
Big Tone and Max Homa were a formidable pair, winning both of their foursomes matches. Finau took an L Saturday afternoon against Sungjae Im and Sebastian Munoz, although that wasn't his fault (more on this in a second), yet he bounced back in a big way with a 3-and-2 win over Taylor Pendrith in singles. After back-to-back "eh" showings at the 2019 Presidents Cup (0-1-3) and 2021 Ryder Cup (1-2-0), Finau delivered a much-needed reminder of his match-play mettle. In a related note, a goateed Tony Finau might be a top-three player in the world.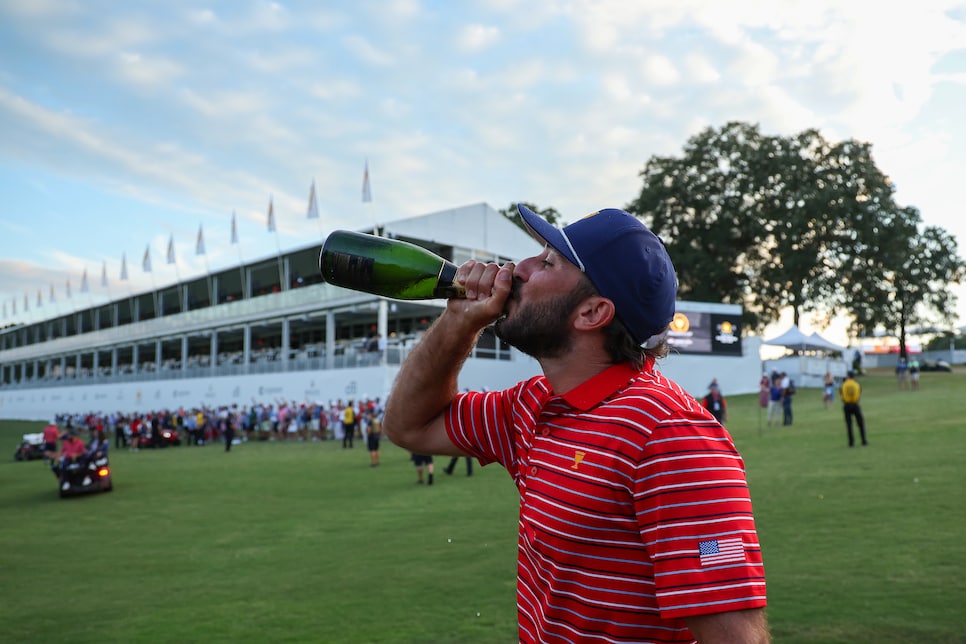 Max Homa (4-0-0): A+
Homa had huge expectations thanks to his popularity and play over the past year-and-a-half. He managed to exceed them, going 3-0 through the first three days—punctuated by a winning putt on Friday evening and an ensuing flury of fist pumps that would make Tiger proud—and taking down breakout star Tom Kim on Sunday for a flawless record. Homa continues to add to his feel-good legend, and while that is all nice and true, he's also become a top-12 player in the world in the process. Better yet, his game is arguably more suited for the notoriously tough layouts Team Europe has employed at the Ryder Cup … and he put together a hard-to-dismiss audition in front of captain Zach Johnson.
Billy Horschel (1-2-0): C
Look, Horschel was likely going to be the final pick on this team; when Will Zalatoris had to drop out with injury there was little rebuttal to his selection. He was also 11th in the point standings above Young, so calling this a lifetime achievement award regarding his numerous near-miss selections for Team USA would be unfair. Conversely, Horschel had been cold since his win at the Memorial, failing to post a top-20 finish over the past four months. To Horschel's credit he carried Homa over the first nine holes against Corey Conners and Pendrith on their way to a 1-up win on Friday. However, he wasn't great on Saturday afternoon—if it wasn't for Burns the match would have ended sooner—and Lee took him to the woodshed Sunday; he was 3 down after 11 and never really threatened over the final holes. Still, good on Horschel in earning his way to a red, white and blue uniform.
Kevin Kisner (0-2-1): D
This is not a matter of hindsight. We know he's a fan favorite down South … but, sorry, this was an uninspired, poor pick. Whereas Steve Stricker picked Scottie Scheffler for last year's Ryder Cup because his game was a fit for Whistling Straits, Love went with Kisner because, on paper, it was the easiest to defend: Kisner has the reputation as a match-play savant and he finished T-7 at the 2017 PGA Championship at Quail Hollow. Only Kisner has missed the cut in four of six Wells Fargo Championship appearances at Quail, and while he annually does well at the WGC-Dell Match Play, there's a chance that performance isn't indicative of his match-play skills and instead is a reflection of his comfortability with Austin C.C. (site of the tournament since 2016). He played OK with Cam Young on Friday to salvage a tie against Christiaan Bezuidenhout and Mito Pereira, but Kisner was mostly a bystander with Finau in a losing effort to Im and Munoz, and ended the week with a loss to Bezuidenhout in singles. This is especially a bummer since this spot could have gone to Sahith Theegala, whose power and charisma would have pluses to the event while gaining some reps as a prospective Team USA member for next year's Ryder Cup.
Collin Morikawa (2-1-0): B
Nothing quite speaks to the Americans' depth than Morikawa's usage this week. The World No. 9 and two-time major winner would have been the Internationals' best player and thus likely competed in all five sessions. Instead, Morikawa only played twice through the first three days, going 1-1 with Young. Whatever frustrations were felt by this lack of playing time did not manifest in a corrosive way on Sunday, as Morikawa mounted a 4-up lead through 10 against Pereira en route to a 3-and-2 victory. Overall, it was an admirable follow-up to last fall's 3-0-1 record at the Ryder Cup and his lights-out approach game makes him a dream teammate and nightmare of an opponent. Any aspirations of an American win in Rome will require more of the same from Morikawa.
Xander Schauffele (3-1-0): B+
Mentioned above, the drama could have been done by Saturday afternoon if Schauffele and Cantlay were in session three. Only thing keeping Schauffele from an 'A' grade was Sunday. Yes, he got the win, the clinching point at that, and theoretically that should be the only thing that matters. He also didn't play well, saved by the continued putrid display from Conners. Overall, another fine week from Schauffele, who has established himself as part of the American core for the foreseeable future.
Scottie Scheffler (0-3-1): F
Following an auspicious debut at the Ryder Cup (2½ points in three matches and a Sunday win over Jon Rahm) and a Player of the Year campaign (including winning the WGC-Dell Match Play), Scheffler was expected to be a bad man against the Internationals. But it's Sunday night and Scheffler is in desperate need of a blanket and hot chocolate. Through the first three sessions the Internationals had just four points … 2½ of which came against Scheffler and Burns. He sat on Saturday afternoon and was seen practicing into the night at Quail Hollow. Whatever Scheffler was searching for he did not find, the World No. 1 losing to Sebastian Munoz in singles. Listen, even the best have weeks with poor breaks and out-of-sync swings and putts that say the cup has posted a "Sorry, we're closed" sign. Scheffler may have come out on the business end of this Presidents Cup. Don't expect him to be down for long.
Jordan Spieth (5-0-0): A++
A tour-de-force from start to finish. Spieth teamed up with Thomas (Did you know they are friends?) to run the table in all four sessions, never seeing the 18th hole. Better yet, after one of his most frustrating seasons on the green (155th in SG/putting), Spieth seemed to be putting at sewer lids in Charlotte. Still, there was the matter of Sunday, and Sundays have been the bane of Spieth's existence at the Ryder and Presidents Cup, failing to log a win in singles. Through the first nine holes Sunday those woes continued, turning in an uneven front against Davis yet remaining tied. Except Spieth birdied the 11th, 12th and 13th (highlighted by a 46-foot bomb at the 13th) to take a 3-up lead and adding to it with a par at the 14th, closing Davis out on the 15th. Spieth became the first American to go 5-0-0 at the Presidents Cup for the Americans since 2011. The only shame is the Masters is seven months away.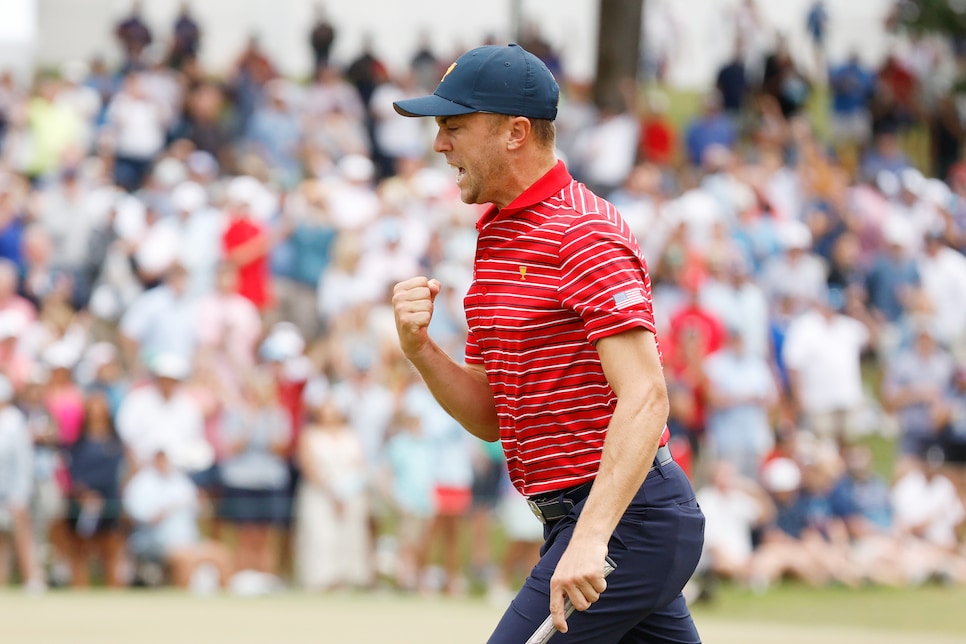 Justin Thomas reacts after making his putt on the 15th green during Sunday singles matches.
Jared C. Tilton
Justin Thomas (4-1-0): A
At the 2019 Presidents Cup and last year's Ryder Cup Thomas emerged as the heart and soul of Team USA, and this week in Charlotte solidified that standing. He embraces the pressure, engages the crowd and, occasionally, enrages his opponents. Thomas lost to Si Woo Kim on Sunday but it was the match of the afternoon, both men playing well and refusing to surrender an inch. He has now scored a whopping 17½ points for the Americans across two Ryder Cups and three Presidents Cup. The Americans have a match-play monster in their midst who is on the trajectory to be the best team member in United States history.
Cam Young (1-2-1): C-
Things looked so bright at the start, working with Morikawa to grab a point in the opening session and earning a tie with Kisner on Friday. But the putter … well, it appeared Young's putter decided to take the weekend off. Short-game problems led to a Saturday loss against Matsuyama and Scott, then opened Sunday with three straight bogeys to give Im a 3-up lead through three. Young made a comeback, bringing the match to even, but he didn't have a birdie over his final 11 holes in a losing effort. At least he earned some experience this week, which should make his introduction to next year's Ryder Cup a bit more palatable.
Few golf course projects had more national attention in recent years than Quail Hollow, mainly because its front nine was redesigned just a year before it hosted the 2017 PGA Championship, won by Justin Thomas. The par-4 first and par-3 second holes were completely torn up, replaced by a new long dogleg-right par-4 opening hole. Several acres of pines to the left of the fifth tee were removed to make room for a new par-3 fourth. (With its knobby green fronted by three traps, it proved to be the most frustrating hole for pros in the 2017 PGA.) More pines were removed to the left of the par-4 11th, replaced by bunkers, and even more trees chopped down on a hill left of the par-4 18th to make room for money-making hospitality boxes. There's no question that this latest remodeling, rushed though it was, improved the course. The course will also be rerouted for the 2022 Presidents Cup.
View Course
Christiaan Bezuidenhout (1-0-1): Incomplete
As a preface, there weren't many moves Captain Trevor Immelman could have made that would have led to an International win. That said, why Bezuidenhout—one of the best putters in the world—played just two matches is borderline indefensible (especially when Taylor Pendrith played four). In limited playing time Bezuidenhout answered the call, tying a Friday four-ball match and winning his singles battle against Kisner.
Corey Conners (0-0-4): F
Legitimately feel bad for Conners. At No. 26 in the OWGR he was the fourth-highest ranked player for the Internationals. He's also one of the 10 best second-shot players on the PGA Tour, ranking no worse than 16th over the past three seasons in SG/approach, which should have made him a formidable opponent. But Conners is also a mess on the greens, an Achilles' heel that was exposed at Quail Hollow. And for what it's worth his irons weren't much better. The path to victory was already narrow for the Internationals. Conners putting up a goose egg sealed their fate.
Cam Davis (2-3-0): B-
Not much was expected from Davis, who was 25th in the Internationals point standings and only here thanks to a number of LIV Golf defections. Yet it proved to be a laudable Presidents Cup debut. Davis and Si Woo Kim were the only guys preventing a 5-0 American sweep on Day 1 with their victory over Burns and Scheffler. Davis then teamed up with his idol Adam Scott for a 1-up victory against Burns and Horschel on Saturday afternoon to keep this thing interesting heading into singles. That two of his losses came against Spieth is nothing to be ashamed of. Envision Davis to be part of the team in 2024.
Sungjae Im (2-2-1): B
After leading the Internationals in points in 2019, Im put forth a darn good follow-up in Charlotte. Had he been paired with anyone but Conners during foursomes he could have managed more than his more-than-respectable 2½ points, and why he was put on the back end of the Sunday lineup was a curious decision by the team's braintrust. With a game that travels, he's going to be a problem in this event for quite some time.
Si Woo Kim (3-1-0): A
Let's be real. Si Woo Kim, 2017 Players champion, has not aged particularly well. Since his triumph at TPC Sawgrass he has been slightly better than a rank-and-file player, reaching the playoffs in each of the past seven seasons but making it to East Lake just once, never posting a top-10 at a major and his only other win coming at the American Express in 2021. Only Davis was lower than him on the team's point standings. Yet it was Kim who finished as the International points winner in Charlotte, teaming with Davis to knock off Burns and Scheffler on Day 1, then shocking Cantlay and Schauffle out on Saturday afternoon with Tom Kim at his side. He then went mano a mano with Thomas on Sunday—and at one point shushed the crowd!—ultimately winning the match with a birdie at the 18th hole. If Tom Kim leaves as the face of the International team, Si Woo was its engine, quietly working under the hood.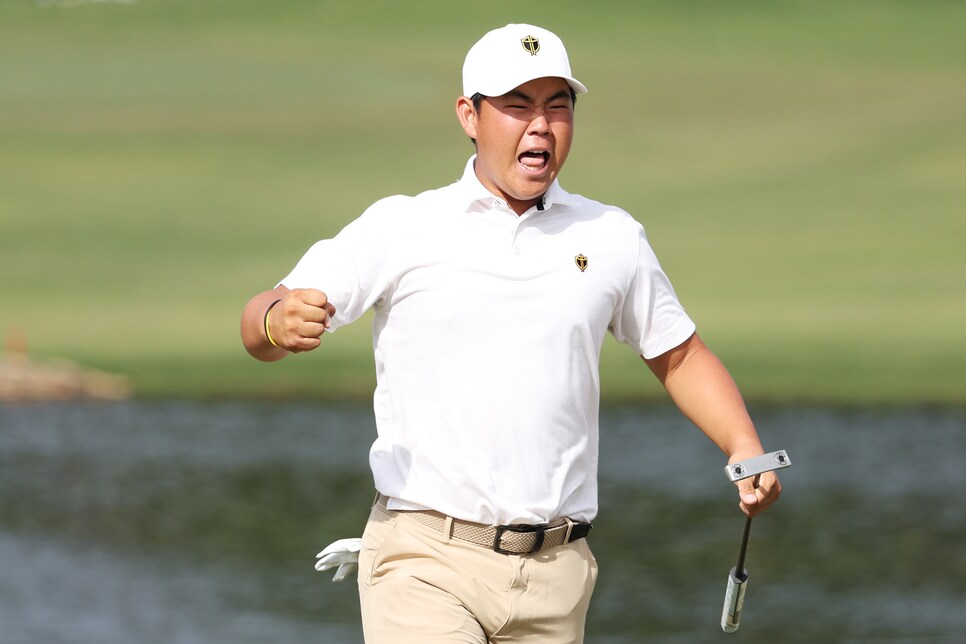 Tom Kim celebrates a putt made by teammate Si Woo Kim on the 13th green during Saturday afternoon four-ball matches on Saturday.
Warren Little
Tom Kim (2-3-0): A+
For the first time in 30 years the cauldron of the Presidents Cup provided a moment. Or maybe it was the player that gave the Presidents Cup a moment. Whatever your interpretation, this week belonged to Tom Kim, whose recklessly entertaining play was only matched by an energy that can be best described as a beautiful golden retriever on caffeine. The list of Hall-of-Fame international players is long. The list of those who have resonated with an American audience is short, if even a list at all. Kim has the capacity and the game to assume that mantle, and the sport is richer because of it.
K.H. Lee (2-1-0): B
Was viewed as one of the weaker players coming into the week. Leaves as one of the team's bright spots. Lee racked up two wins, his only loss coming in a battle against Morikawa and Young. Won the first hole against Horschel on Sunday and never surrendered the lead. If he can improve on his approach play by the next time this event rolls around Lee could be a sneaky captain's pick.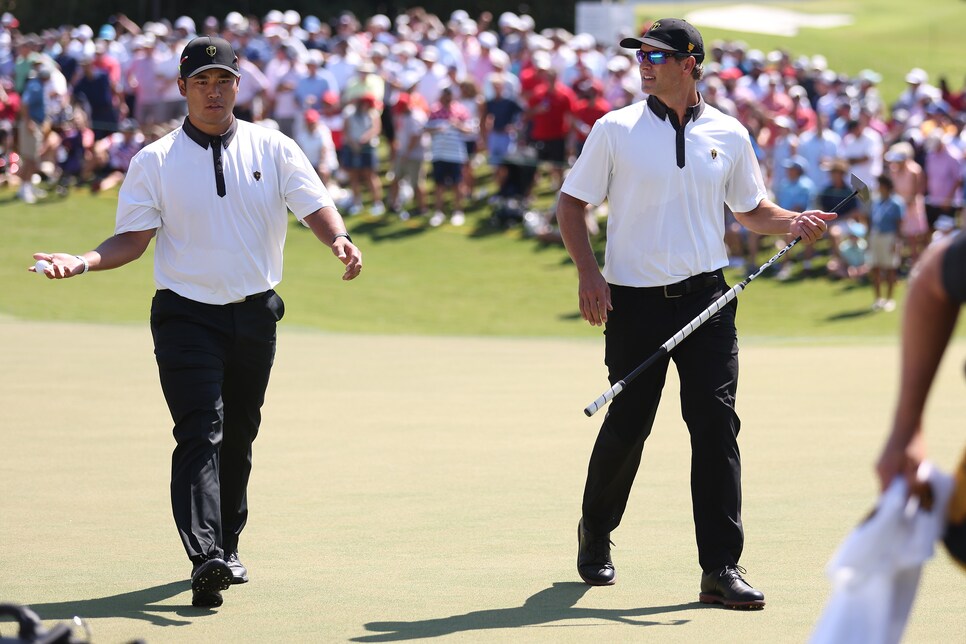 Hideki Matsuyama and Adam Scott opened the Presidents Cup with a lopsided loss.
Warren Little
Hideki Matsuyama (1-3-1): D
As the team's best player, Matsuyama needed to get, at minimum, three points for the Internationals. He managed only half of that ambition and lost three of his first four matches. Even his singles tie with Burns was a defeat, as the Internationals needed an early W to give them a shot at a Sunday surge. Thing is, this course suited Matsuyama well, as he nearly won the 2017 PGA Championship at Quail Hollow, making his performance all the more disappointing.
Sebastian Munoz (2-0-1): B+
Yes, fans and media are guilty of hindsight at team events, and sometimes it's unwarranted. We say that to say this: it sure seems like Munoz—one of two players on the International roster without an L on the week—should have played at least one more match. His game is compatible with most teammates and he seemed undaunted playing in front of the large and loud galleries that were pulling for the other team. Definitely a guy the team wants to return in 2024.
Taylor Pendrith (0-0-4): D-
On paper, this was a nice, outside the box, horses-for-course pick by Immelman. But Pendrith, who ranked 134th in SG/putting last season on tour, couldn't get anything to drop all week.
Mito Pereira (0-1-2): D
Pereira needs to expel whatever demons are plaguing him on 18th tees. After losing the PGA Championship with a wild drive at the 72nd hole at Southern Hills, a similarly poor tee shot on the final hole in his foursomes battle against Homa and Finau led to a bogey and an American win. Pereira got a tie on Friday afternoon with Bezuidenhout but sat out all of Saturday. Judging by his performance Sunday, he probably wished he would have skipped that session as well, losing 3 and 2 to Morikawa. Pereira was viewed as a potential X-factor for the Internationals. Instead he was mostly a sipher.
Adam Scott (2-3-0): C
We can't be too harsh; after all, the cat is 42 years old. But Scott was teamed with Matsuyama as the first pairing on Thursday, hoping to set a tone for the Internationals. In a sense they did, getting run off the property, 6 and 5, by Cantlay and Schauffele. The former Masters champ did win two matches on Saturday, but any hopes of an International comeback lied with early points on the board Sunday, and in the fourth match of the day Scott fell to Cantlay once again. If that was Scott's final Presidents Cup appearance, he deserved better.