Taking care of business
Presidents Cup 2022: The Americans didn't just win at Quail Hollow. They learned a valuable lesson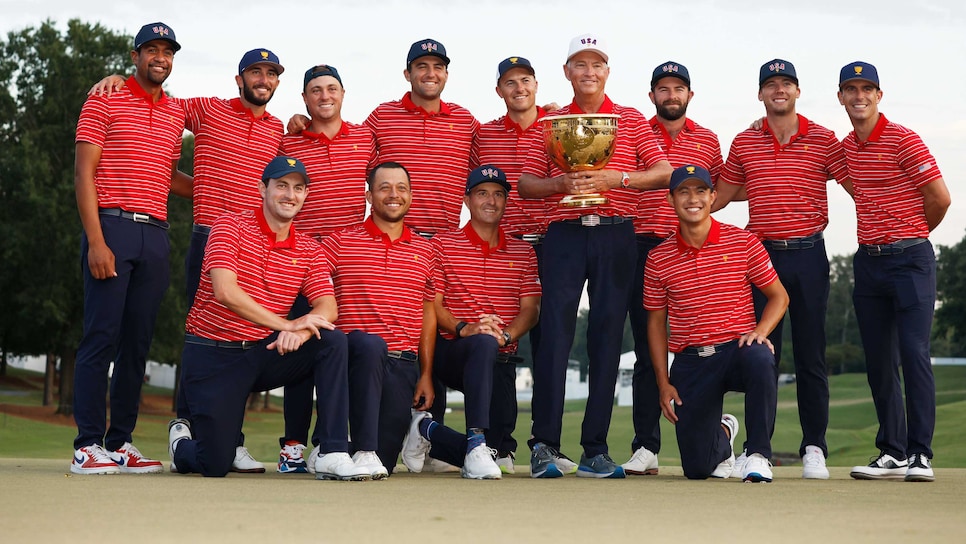 Photo By: Jared C. Tilton
CHARLOTTE — The United States celebrated its ninth straight win in the Presidents Cup on Sunday at Quail Hollow Club with beer, cigars and laughter, and rightfully so for dispatching a young and inexperienced—and yes, short-handed—International team that did more than just serve as an accommodating foil.
They did the Americans a favor.
Despite fielding a record eight rookies, the visitors did not go gentle into that good nightmare scenario. They were billed in some corners as no more than patsies. And captain Trevor Immelman obviously was paying attention, angrily saying afterward that his team was "no joke." There was talk even before the Americans broke to an 8-2 lead through the first two days that their powerful dozen could wrap up 14th Presidents Cup by Saturday. The Internationals had no hope of preventing the U.S. from improving to 12-1-1.
As it turned out, yes, the Americans were clearly the better team, backing up their record victory over Europe last fall in the Ryder Cup at Whistling Straits by closing out a 17½-12½ triumph on an overcast fall afternoon in North Carolina. Seven of America's 12 players who contributed to that 19-9 thrashing of Europe in Wisconsin competed this week, another indicator of the anticipated dominance expected of them under captain Davis Love III.
Still, what unfolded was no Wisconsin walkover but a genuine tussle that proved two things at once: that American golfers are exceedingly good, and even with superior talent, they will get tested and will have to find a way to respond. It's a lesson that will serve them well when they travel to Rome next fall for the 44th Ryder Cup.
This victory, closed out officially when Xander Schauffele beat Corey Conners, 1 up, should keep the U.S. squad grounded—or one figures that it should. An intelligent reading of the events of the last four days is that American players, having to work harder than they expected to put away the International team on home soil, must prepare for trying times in Italy. That's not to suggest they can't or won't win next year. It's just they haven't won abroad since 1993. And just being the favored doesn't guarantee victory.
But, thankfully, they won't travel overseas with overconfidence. "No, not at all. There's no chance of that," Love said Sunday night. "I mean, at one point today it was looking like it could go either way. And so that's what Europe's gonna think next year. Hey, look, look what, what the internationals did to them."
Steve Stricker, Ryder Cup captain last year and an assistant under Love this week, agreed: "Today, at one point I got on the radio and I said, this is a lot closer than what we wanted, you know? It was in the balance there for a little while. But we continue to learn. I mean, when we were 4 points up, you know, and we think about Medinah [where the U.S. blew a four-point lead to Europe in 2012], what we learned from that. And it's just like trying to win a tournament when you're leading, going into the last day, you know, the pressure's on you to win."
Indeed, Schauffele saw Conners claw back from being 3 down to square their match through 15 holes. And Tony Finau and Max Homa had to rally to pull out their points. Sam Burns pulled out a valuable half point in his match with Hideki Matsuyama. Without all this, an upset was imminent.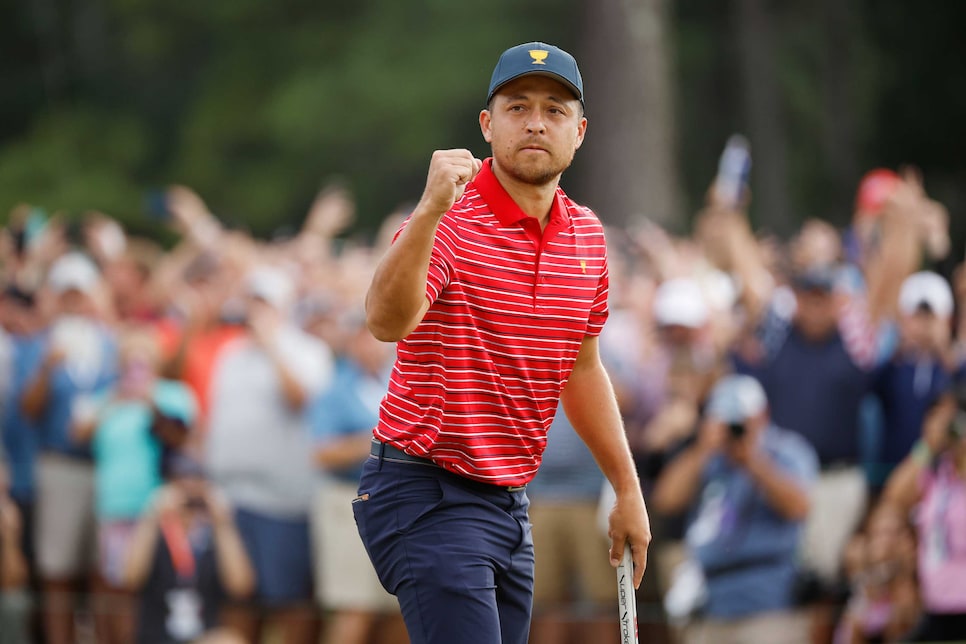 Xander Schauffele secured the winning point for Team USA on Sunday at Quail Hollow.
Jared C. Tilton
The Americans played with that pressure all week, and they came through, though not without hiccups. Think of how many favored U.S. Ryder Cup teams, stacked with Tiger Woods, Phil Mickelson, Love and other accomplished players, didn't meet the expectations of being better on paper. The U.S. was clearly better on paper at Quail Hollow, and then they went and proved they were the superior force on the golf course.
"We didn't come here to help out the American team; we came here to win," said Mike Weir, one of Immelman's assistant captains. "But I guess you could say that they will get some lessons out of this week, just as we will. They are incredibly talented, but they had to play it out. They had to learn to play being the heavy favorites, and even last year you wouldn't say they were favored by a lot."
"We realize that every point mattered," said Collin Morikawa, one of the seven who contributed to the Ryder Cup victory last year. "I mean, you really don't know. This international team, obviously, we've seen it, but these guys are great golfers. These are some of the best golfers in the world. You can't let up. I know we have a very strong team, but it's golf. We all know anything can happen."
Nevertheless, the Americans reaffirmed that their current personnel has an air about them. The Internationals pushed them with a Saturday rally, but the American squad, annoyed but still focused, just didn't appear in the mood to let an upset unfold, winning 6½ of the 12 points available in singles play on Sunday.
"These guys here, this core group the last two years, is so good," Stricker said. "And they're so good with each other that every time that they are in a different position, they're winning, and they keep putting that same feeling together and they keep winning. And they're close. They played junior golf together. They're good people. Their wives are close. Put it all together and it just builds more and more confidence."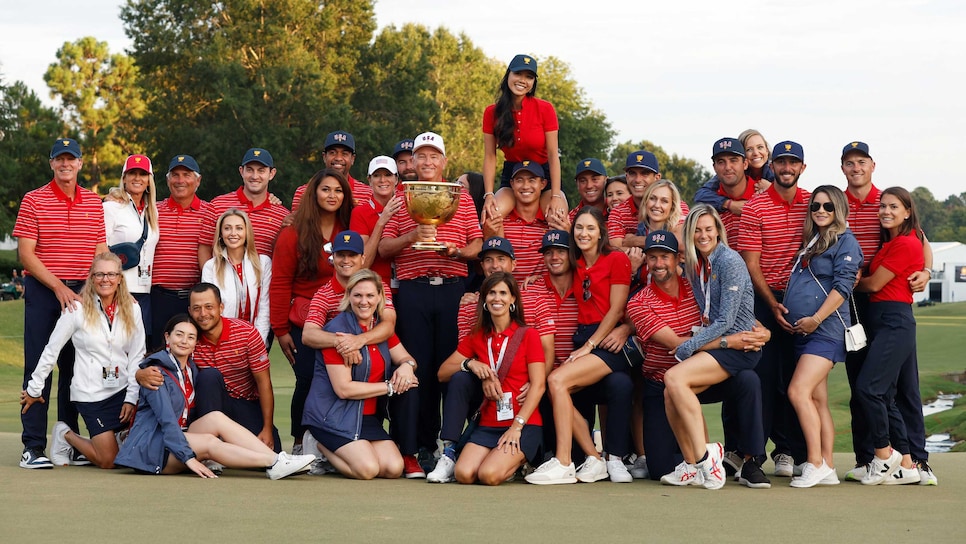 While sweating things out for a while on Sunday, the Americans and their families were all smiles at day's end.
Jared C. Tilton
The U.S. has lost just once in team competitions since the 2014 Ryder Cup—that coming in 2018 in Paris. They are riding high. Jordan Spieth believes they can maintain their level of play. He likes America's chances in Italy.
"It's a tall task to ask, going over there. I mean, I've played in a couple of away games now, and they're very different," the Texan said after going 5-0, the fourth American to run the tables. "But I mean, I'd take this team over there against anybody in the world. And the kind of team rooms that I've mentioned that we've had the last few years, it's going to stay that way, and I'm very confident in our ability to go over there and win. You could tell me the last time it happened over there, but nobody here has any scar tissue."
Love said the identity of the 2022 American team comes from how serious each member is about being prepared. "It's just incredible what they go through to be the best in the world. There's a reason why they can hit incredible shots and play incredible day after day after day."
"What was so cool, which has been very consistent in the previous few Cups that I've been involved in, is everyone's really, really good at what they do," Spieth added. "Stay to your routine, do what you normally do to prepare for the biggest tournaments, and they did that. Nobody took anything lightly. They went through their same routine that I've seen guys go through for the final round of the Masters when they're in the final group. And to do that for your team and country was super cool to watch."
Indeed, no one took anything lightly. They couldn't afford to, no matter how good they are individually or as a group. And they are plenty good. "And I think they think they have more to prove," Love said.
They are a scary bunch, these Americans. Scary good. Talented. Driven. Special. And after this week, even a bit wiser.