All it cracked up to be
Presidents Cup 2022: This story from Max Homa will have you feeling extra happy he went 4-0 at Quail Hollow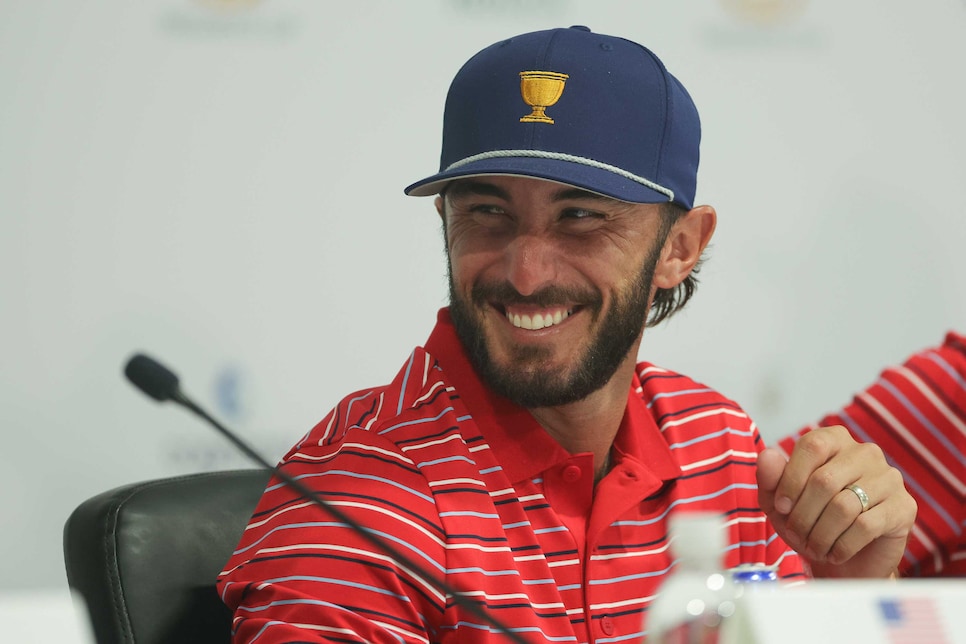 CHARLOTTE — There was plenty of success to go around Quail Hollow for the American team this past week, and Max Homa in particular seized the moment in his Presidents Cup debut. He went 3-0 in his pairs session, then staged a terrific late comeback to defeat International firebrand Tom Kim in singles.
On Friday, Homa shined bright when he made a critical putt on the 18th hole to win his four-ball match, and was almost poetic in describing how it felt.
"I was nervous as could be over that putt, but it was fun," he said. "I was telling my wife, when we talk about things money can't buy, money cannot buy that feeling. And that was something that I will remember forever, and I will tell anybody who ever wants to hear about it how that felt."
On Sunday, after the U.S. defeated the International team by a closer than it sounds 17½-12½ margin, Homa was asked to describe the week. With his usual sharp insight, he contrasted what he felt on that podium with a moment that happened at the PGA Championship in 2021, not so long before the Ryder Cup.
"Last year, at Kiawah, doing the fitting for the Ryder Cup, knowing I didn't really have much of a chance anymore was tough," he said. "Looking at yourself in the mirror and all the USA gear, it was hard. But I've got a thing seared into my brain, and my main focus this season was to make this team, to play with these guys."
You can almost picture him, standing in front of the mirror, decked out in Team USA clothes, understanding that this would likely be the last time he'd wear them that year. It's a sad moment, and a heavy one for someone who had never made a U.S. team as a professional, but instead of wallowing in the disappointment, he turned it into inspiration and used that feeling to propel him to make the Presidents Cup team.
And once the former NCAA champion and U.S. Walker Cupper who grabbed his fifth PGA Tour win a week earlier in Napa, finally got to wear American colors, he turned in a performance so impressive that if he's anywhere close to making next year's Ryder Cup team, he'll have to get serious consideration from captain Zach Johnson, provided he doesn't qualify automatically.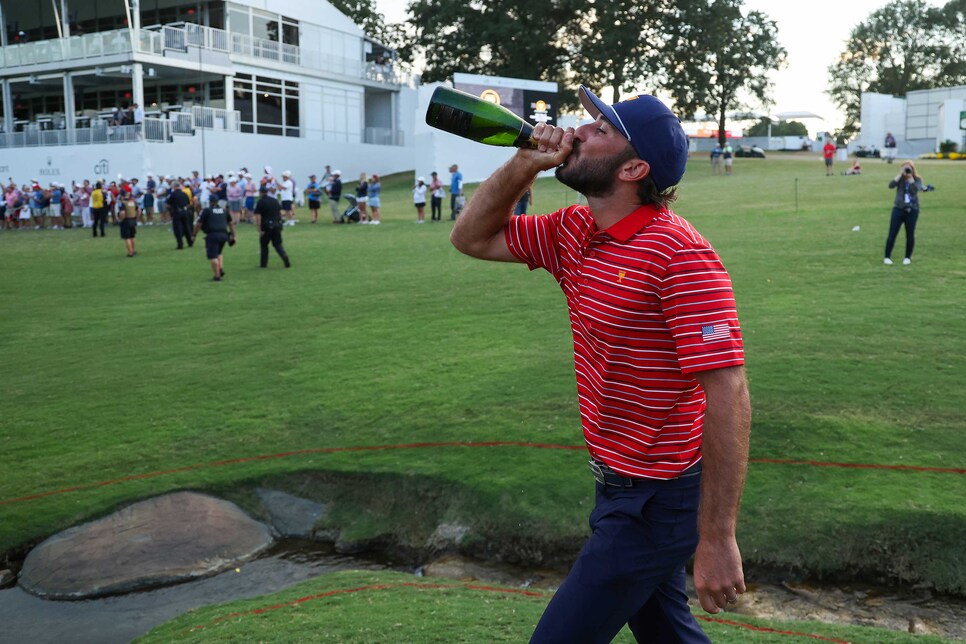 Max Homa celebrated the U.S. victory on Sunday at Quail Hollow after winning his singles match against Tom Kim.
Rob Carr
Homa comes from a bit of a different background than your typical American golfer, and though he's popular on social media for his wit, it doesn't lend itself to close friendships with some of his fellow PGA Tour pros. That's something he wanted to change in Charlotte, too.
"I'm not super, super close with a lot of the guys on the team, just considering, you know, where I live and where I've kind of just been," he said. "I'm in the middle of the age range."
At that point, Sam Burns shouted out, "We love you, Max!"
"Sam's a perfect example of somebody I've always gotten along with great, and somebody I was looking forward to getting to spend real time with," Homa said, without missing a beat. "So it was cool to get to be around people I respect so much and look up to and want to play like...this week has been beyond special, validating, meaningful, all of the above."
From the bittersweet fitting at Kiawah to 4-0, Homa has been on an incredible journey the last two years, and with four wins in the last two seasons on Tour, that journey shows no signs of slowing. There will be another fitting next summer for the 2023 Ryder Cup, and this time, he plans to wear those clothes in Italy.