PRESIDENTS CUP
Presidents Cup 2022: If it felt like Jordan Spieth made everything he looked at on Sunday, it's because he did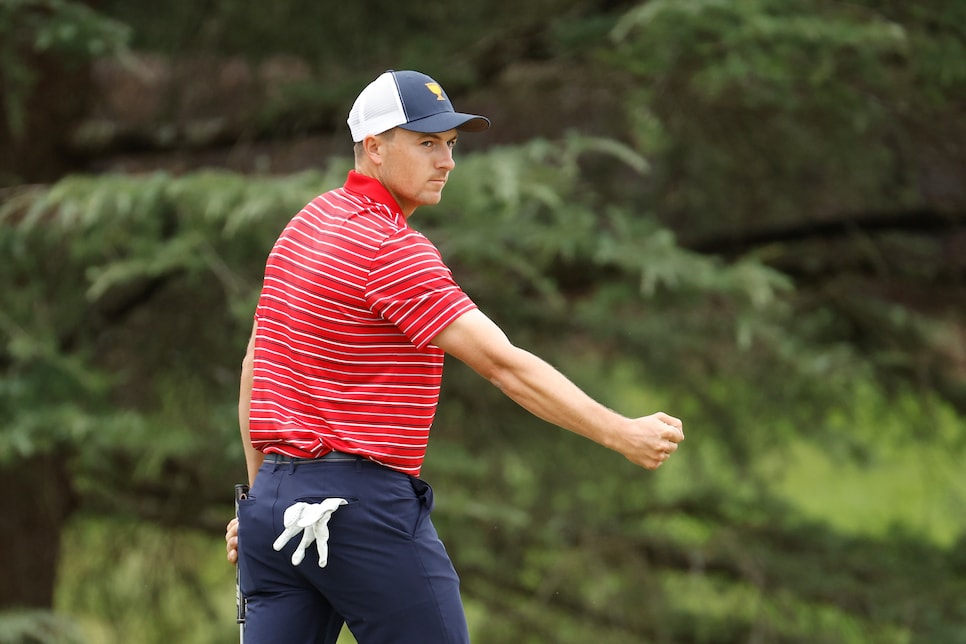 Jordan Spieth, match-play machine.
The 29-year-old American veteran—he had played in the most Presidents Cups of any member of the U.S. team—entered Sunday singles in the second position for Captain Davis Love III, just behind Justin Thomas. Spieth and Thomas played together in all four team matches for the U.S. and went a perfect 4-0-0.
Spieth quickly found himself 2 down after two holes to Aussie Cam Davis. After the minor hiccup, Spieth then went berserk and made seemingly everything he looked at on the greens over the next three hours. Ultimately, it ended with a 4-and-3 victory over Davis, ending the week with a perfect 5-0 record, making him the sixth player in Presidents Cup history to accomplish the feat. (Si Woo Kim defeated Thomas, 1 up, for Thomas' only blemish of the week.)
What's more bizarre is that it was Spieth's first singles victory in this, his eighth appearance for the U.S. in either the Ryder Cup or the Presidents Cup. He was previous 0-3-0 in three previous Presidents Cups and was 0-3-1 in four previous Ryder Cups, his tie coming to Tommy Fleetwood last year at Whistling Straits.
Rather than describe Spieth's antics Sunday at Quail Hollow, it's just easier to show you some of the amazing things he did to help the Americans.
Everything started on the first hole when Spieth held up 10-month-old son Sammy and presented him to the gallery, Lion King style.
Here is Spieth's first birdie of the day, from 24 feet on the fourth hole.
To tie the match early on the fifth hole, from 20 feet.
More of the same, this one from just off the green.
The hits just keep coming. Spieth drains a putt from 46 feet on the 13th hole to move 3 up.
For the record, they don't always go in from on or around the greens for Spieth, even though it seems like it.