PRESIDENTS CUP
Presidents Cup 2022: Can Jordan Spieth ride the 'Cup Bounce' into a great 2023?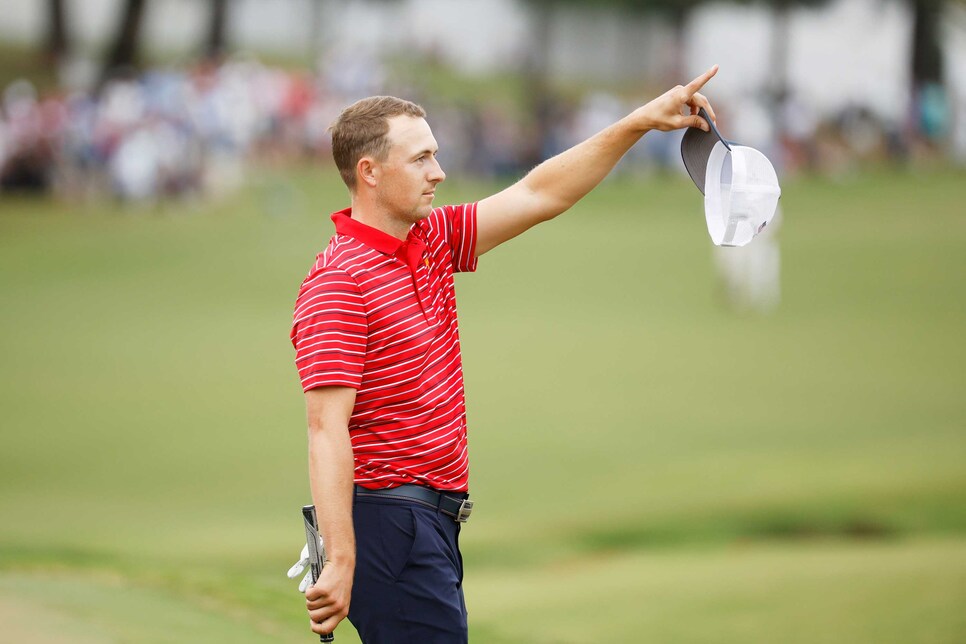 CHARLOTTE — Let's define (and maybe trademark) the phrase "Cup Bounce."
Cup Bounce (n.) - The streak of great play that follows a strong performance in the Presidents Cup or Ryder Cup, based on the confidence gained from success in the team format.
Whether it's a real thing, Scottie Scheffler made it seem like a real thing following his performance last fall at the Whistling Straits Ryder Cup. After playing well in the pairs sessions and defeating Jon Rahm, the heart and soul of the European team, on singles Sunday, he proceeded to have an electric six-month stretch that culminated with his Masters victory. Scheffler himself credited his Ryder Cup showing with what came after, saying, "it gave me a good bit of confidence and belief in myself … that kind of maybe catapulted me a little bit for sure."
Earlier in the week, International assistant captain Mike Weir was asked what the Presidents Cup had meant to him, despite the fact that he lost all of them as a player, and he backed up the concept.
"I think there were different times in plenty of Presidents Cups that there may have been a little sign of hope in my game that parlayed into good play going forward," Weir said. "So those are things that are always important. You see that on both teams, that guys play team events and then play well after. So there's been a little boost to my career."
There are a few players who could experience that Cup Bounce this year: Tom Kim, Cam Davis, Sebatian Munoz, and maybe even Christiaan Bezuidenhout on the International side, and Max Homa for the Americans (though he may not exactly need a bounce, considering that he won on Tour last week). A bigger name we might want to consider, though, is Jordan Spieth.
Spieth was one of two Americans to go undefeated in the U.S. victory at Quail Hollow, along with Max Homa, and the only one to post a 5-0 record by winning every session. It wasn't just the wins, either; it was the quality of his play, marked by the litany of long putts he hit, one after another, on Sunday. They're all documented here and it's staggering to behold. It came at a critical time, too; with Thomas losing his first match in the No. 1 spot, Spieth's relatively comfortable win was important for American momentum on a day when things became unexpectedly tense. This performance came one day after he putted so well with Justin Thomas in both sessions on Saturday that Thomas legitimately picked up his marker more than he actually attempted putts.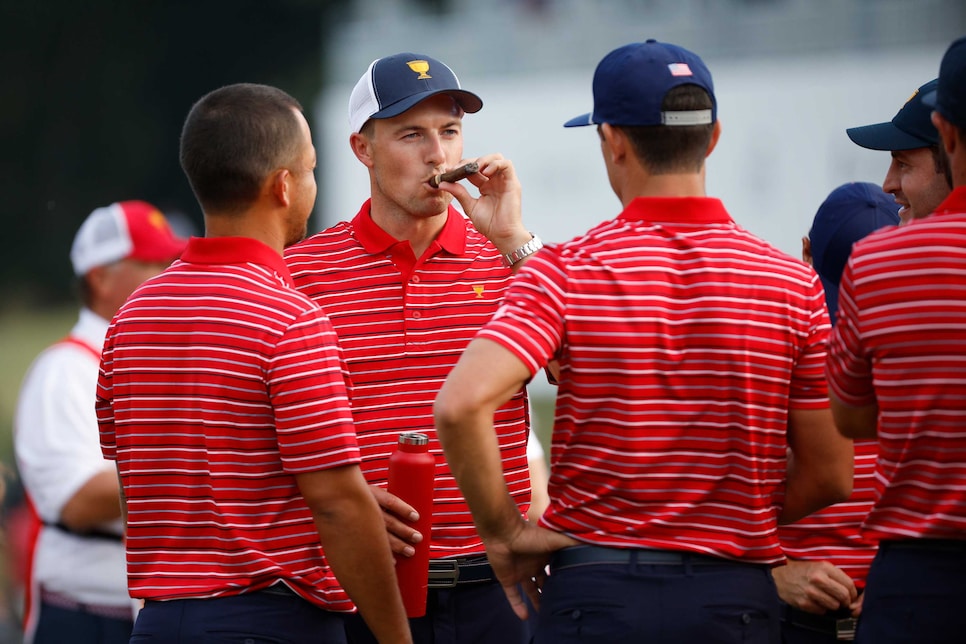 If Spieth does inherit the Cup Bounce mojo from Scheffler, what might that look like? He's won one time each in the last two seasons after an uncharacteristic dry spell from 2018 to 2020 and has registered three top-10s in majors in that span. Simply put, if he can gain anything from the Presidents Cup, it could mean more wins and even another major title. With Augusta coming up in just six months, his torrid form bodes well at a course where he's already won once and come close on four other occasions.
It's impossible to script out exactly how the next few months will look for him, or what will happen in the winter interval. But it might be worth noting that Spieth not only believes it can happen, but has experienced it before.
"I used my example in here of the 2014 Ryder Cup and the 2015 season," he said, referring to his success with Patrick Reed at Gleneagles, and winning two majors the following year. "I thought Scottie's last year into this year, I don't want to put words into his mouth, but I thought he could probably draw on the experiences of last year's Ryder Cup into his season this season.
"Especially coming off the finish line against Patrick Cantlay in the playoff," he said, using the opportunity to jab Cantlay, who was sitting to his left, on his loss to Scheffler at the 2022 Phoenix Open. "To be honest, it's not that hard to beat Patrick Cantlay in a playoff. I did it this year too. But I will say, like, when he did it, I thought it was difficult. So parlaying that into the rest of his season, I thought that was obviously really impressive."
Spieth's excitement about his play was evident—he called it his best golf of the year—and on questions of confidence, it ultimately comes down to self-belief anyway. If he thinks the 5-0 run at Quail Hollow can vault him to a solid 2023, then it's a good bet it will come true. We shouldn't fit him for a green jacket quite yet, but there are far worse people to pick, and the Cup Bounce is as real as he wants it to be.